Sometimes you just need to sink your teeth into a juicy burger. Whether you crave a traditional or plant-based one, there are some delicious burgers to be had in Orlando.
If you're on a Walt Disney World vacation, enjoying Universal Orlando, or exploring the local area, these are the best places to find a burger in the City Beautiful.
The best burgers at Walt Disney World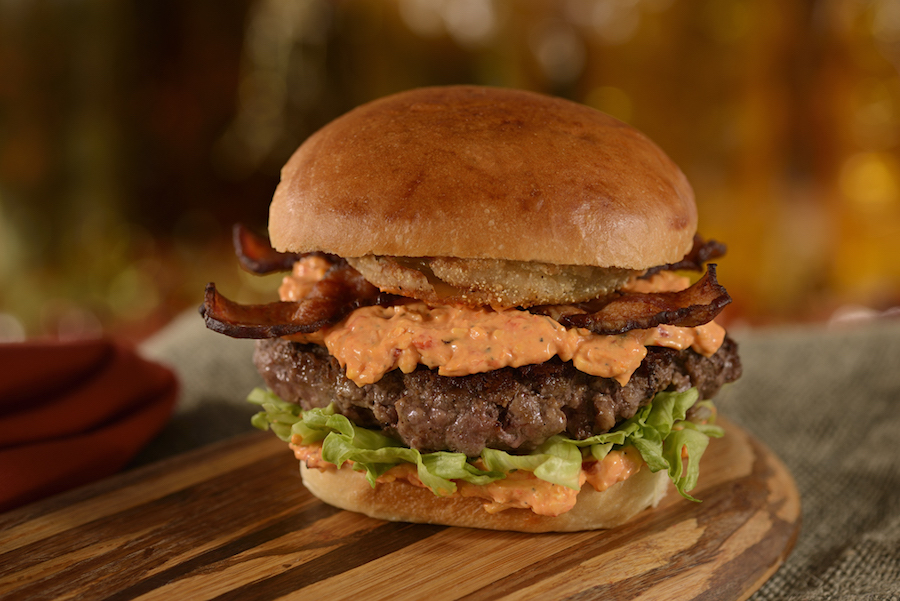 If you're enjoying Magic Kingdom, both Pecos Bill Tall Tale Inn Cafe and Cosmic Ray's Starlight Cafe are popular spots for a quick meal. The burgers here are not mind-blowing, but the toppings bar at each location allows you to fully customize your sandwich. (We should note that, for the foreseeable future, toppings bars are removed at all locations due to COVID-19, but you can still customize your order on Disney's mobile app).
A satisfying plant-based burger can be found at Regal Eagle Smokehouse at EPCOT – the BBQ Jackfruit Burger with plant-based mayo is a hearty such option. If you're at Animal Kingdom – and if you like to experiment – head to Satu'li Canteen inside Pandora – The World of Avatar. Here, you can find one of the most creative takes on a cheeseburger in all of Orlando: the Steamed Cheeseburger Pods, which are a flavorful twist and worth ordering.
For upscale gourmet burgers, consider the Welsh Pub Burger at EPCOT's Rose & Crown British Pub or the OMG Burger at Disney Springs's Raglan Road Irish Pub and Restaurant. Both are sinful, with savory toppings like beer cheese and caramelized onions and leeks.
Don't overlook Walt Disney World Resort's hotels, several of which feature some fantastic options. One of my favorite dining spots in all of Disney World is Geyser Point Bar & Grill at Wilderness Lodge Resort; this lakeside open-air lounge-style restaurant is relaxing and serves a delicious Bison Cheeseburger, which boasts a lean and flavorful bison patty that's topped with bacon, crispy onion straws, marionberry sauce, lettuce, tomato, and garlic aioili. And then there's Ale & Compass Restaurant at Yacht Club Resort, where you can savor the rich flavors of the Bacon and Vermont Cheddar Burger – as the name implies, smoky bacon and sharp Vermont chedder top this sandwich, as do caramelized onions and herb mayo.
The best burgers at Universal Orlando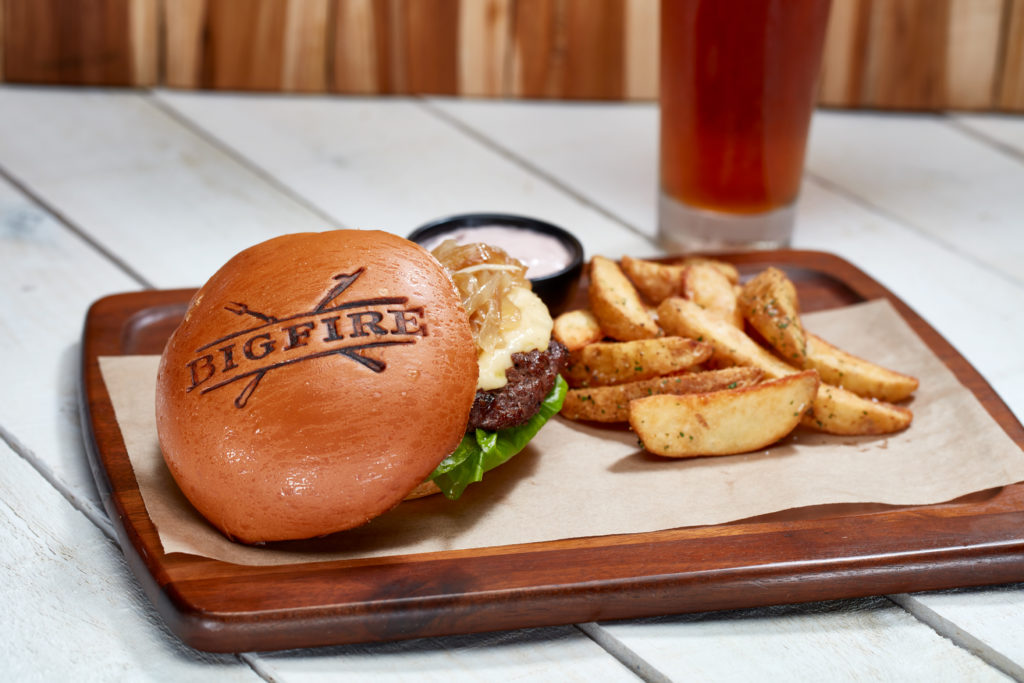 Among the excitement of thrill rides and immersive experiences, there are great dining choices to be had at Universal Orlando Resort. Inside Universal Studios Florida, you can eat your way through Fast Food Boulevard at Springfield: Home of the Simpsons, where you will – naturally – find Krusty Burger. The burgers here are some of my favorite Universal eats because of the secret and cheddar-cheese sauces they use. Plus, they pair perfectly with a Duff draft beer!
Also inside the theme park is Finnegan's Bar & Grill, a beloved Irish pub-style restaurant that's a popular place among fans of Universal Orlando. The Webb Burger is a creative dish – a half-pound beef patty is topped with corned beef, Swiss cheese, and an onion-and-potato webb. It'll make you raise a glass and say, "Sláinte!"
Over at Islands of Adventure is a burger that adventurous eaters are sure to love. You can devour the Mythos Signature Lamb Burger at – where else? – Mythos, an iconic restaurant with a mythical Greco-Roman theme. It's hard for me to resist a lamb burger, and this one is no exception – the patty itself is hand-packed, giving it a hearty, fresh flavor, and the grilled onions and feta-olive aioli on it take it over the top.
Finally, at CityWalk there are plenty of great burgers to enjoy – in fact, the very best burgers at all of Universal Orlando can be found at The Toothsome Chocolate Emporium & Savory Feast Kitchen. There are four gourmet choices to savor, and it is hard to pick a favorite: bacon lovers will gravitate to the May Contain Bacon Burger or the Cheddar Bacon Burger; cheese lovers will dig the Pub It Up Burger, with its cheddar cheese and colby andouille queso (plus the grain mustard on a pretzel bun); and, finally, the Tour de France is Universal's most indulgent burger, with bibb lettuce, roasted tomatoes, a sunny-side-up egg, avocado, crispy onions, French Brie, and a half-pound beef patty, all on toasted brioche.
The newest restaurant at Universal Orlando, Bigfire, offers a savory Bison Burger. And I'd be remiss if I didn't include the home of cheeseburgers in paradise, Jimmy Buffett's Margartaville – few things make me happier than sitting outside and listening to Jimmy Buffett music while munching on a cheeseburger and sipping a cold Landshark draft beer.
Best local restaurants for burgers in Orlando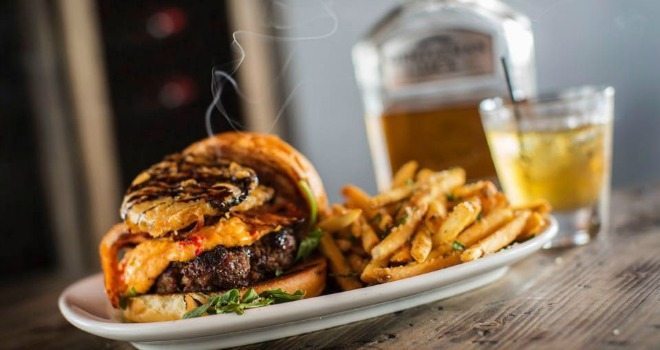 Take a break from the Orlando theme parks and check out the best local spots for a burger.
Near Universal Orlando Resort, you can explore Restaurant Row, along Sand Lake Road. You'll find The Whiskey here, which many locals consider to serve the very best burgers in the entire city – it's impossible to select a favorite, but if you want something you can't get anywhere else, consider getting The Salty Pear, with its whiskey onions, bourbon poached pear, and a dollop of creamy brie. There's also Teak Neighborhood Grill, another local favorite which houses some of the most creative burgers in all of the Orlando area; options range from the super spicy Wholey HELL to The Waffle Burger, which replaces the traditional bun with two homemade waffles!
On International Drive, you can indulge in Twisted Stuffed Burgers at Hash House a Go Go. These big burgers can have a variety of toppings on them, with stuffing in-between two beef patties. Tin Roof lets you enjoy awesome live music while chowing down on such tasty morsels as the Southern Burger, with its bacon jam and smoked cheddar cheese.
Not too far from Universal Orlando, on Kirkman Road, is Junior Columbian Burger. This small and super-casual burger joint offers a big variety of sandwiches, plus a few Columbian street-food items. For something different, go for the Chicken Burger, Turkey Burger, or the Burger Dog, which is a burger topped with a hot dog and crispy potato sticks.
A local burger-bar chain, Graffiti Junktion has multiple locations in the area. No matter which you choose, you'll be greeted by colorful, graffiti-covered walls, a full bar, and a casual experience. The burgers range from classic to extravagant, and there's even an Impossible Burger selection, too. The Iron City burger is popular and is topped with shaved ham, fried eggs, American cheese, and sauteed onions.
The final best place is a family favorite of mine that I have been going to for nearly 30 years. Colorado's Prime Steak is quite a drive from the Orlando attractions area, but if you're flying into Sanford International Airport, it is just 10 minutes away. A really good burger deserves really good French fries, and no place does fries better in the City Beautiful than Colorado's Prime. As soon as you enter the dining room, you'll see a board that is updated daily to highlight where the potatoes used to make the fries were grown. The burgers are simple, but the patties are made with ground sirloin.
---
A great trip to Orlando deserves a great hamburger, and this is just a sampling of the best of the best. Do you have a favorite burger place in the area? Let 100,000+ other theme-park fans know in our Orlando Informer Community on Facebook.
And be sure to follow Orlando Informer on Facebook, Twitter, and Instagram for the latest news and tips at Universal Orlando, Walt Disney World, and other Orlando destinations.