Scooby-Doo may be 49-years-old, but the franchise has managed to maintain a firm place in the pop-cultural landscape thanks to its nearly-infinite number of television series (which have continued on up through this year), films, direct-to-video releases, and spinoff tie-ins, which even include stage productions. Likewise, it's already been 16 years since the two live-action theatrical movies, Scooby-Doo and Scooby-Doo 2: Monsters Unleashed, were released, but that hasn't stopped theme-park fans from doing what they do best: engaging in a bit of armchair designing and asking that time-honored question of "what if?"
In this case, out in the conceptually fertile ground that is Twitter, that interrogative has been expanded to, "What if Universal made Spooky Island?" It turns out the prospect is so tantalizing, whether you're a Scoob fan or not, it's worth our taking a moment or two to flesh the scenario out.
Petition for Universal Studios to build Spooky Island from the Scooby Doo movie pic.twitter.com/9gCeEJtkZg

— Hannah Davies (@hannahydavies) June 11, 2018
Wait – don't think this is a viable piece of blue-sky daydreaming? It's actually a bit more feasible than you may think: not only is Warner Bros. currently in the midst of a big-screen revival of the Scooby-Doo franchise, with an animated film that's expected to drop in 2020, there have been several theme- and amusement-park rides already dedicated to the Scoobster, including the Spooky Island-themed Spooky Coaster, which is located over at Warner Bros. Movie World in Australia. (As if the Great Dane and his gang weren't already as timeless as, say, King Kong or Dr. Seuss.)
(No, we're not saying that Spooky Island is in the works for Universal Orlando. The point of this article is exactly what it says: to see what it would be like if the company did go ahead and make Scooby-Doo into a themed land.)
Wait – what's Spooky Island again?
First things first – let's just briefly touch upon the subject in question a bit, to make sure we're all on the same Scooby page.
The 2002 Scooby-Doo live-action film essentially operated as a sequel to or extension of the animated source material, showing the Scooby Gang – that's Fred Jones, Velma Dinkley, Daphne Blake, Norville "Shaggy" Rogers, and the titular canine, of course – already world-famous for their ability to solve mysteries and unmask the supposedly-supernatural baddies perpetrating them. The crew is invited to look into some enigmatic goings-on at Spooky Island, a huge amusement park located on a beautiful tropical island that is a Mecca for spring break-headed college students – a task they ultimately succeed in, discovering that the island was home to a race of demons (yes, real, live paranormal entities for a change) until the resort was founded and subsequently crowded them out. The creatures are defeated, the student tourists are freed from their brain-washed state, and Spooky Island is free to return to its carefree ways.
That summary is already halfway to a themed attraction, isn't it?
Why would Spooky Island be a good fit at Universal?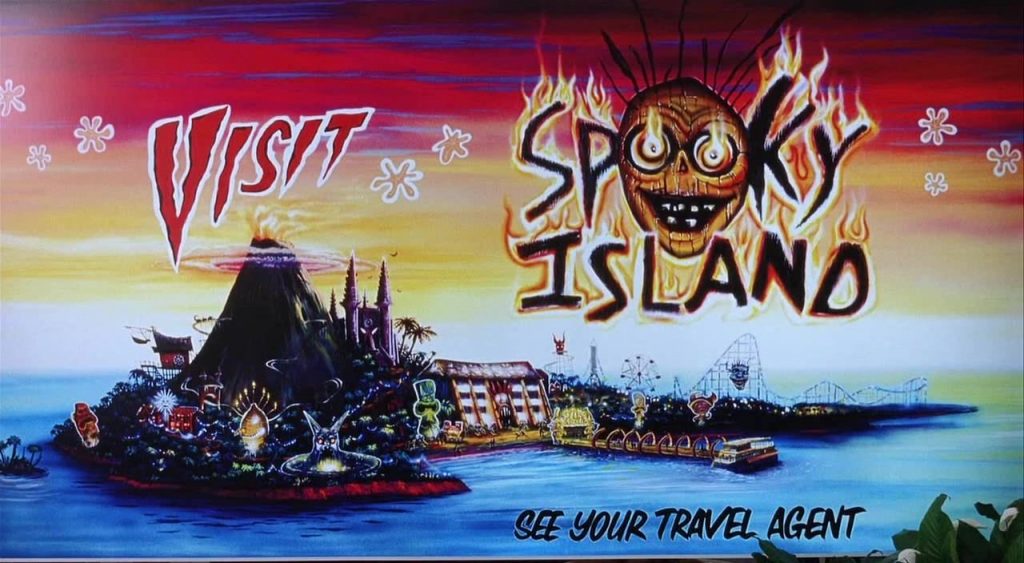 Although the fictitious park might look like just a variation on the Cedar Point or Six Flags theme when it's first introduced in the movie, with its island-stretching roller coasters and spinners and gondolas, it becomes almost immediately clear that Spooky Island's actually a giant parody on Walt Disney World Resort, with such experiences as the Electric Torture Parade, the "world-famous" Splatterhorn, and It's a Dead World, After All.
Both of these points put the prospective theme-park land almost automatically in the Universal column: not only is Universal Orlando Resort renowned for its bigger, more thrilling amusement-park-esque rides, like The Incredible Hulk Coaster and Hollywood Rip Ride Rockit, it also has been known to veer more towards parody and satire, such as the absolutely hysterical Simpsons Ride and the former Bill & Ted's Excellent Halloween Adventure stage show at Halloween Horror Nights. The island's giant skulls and monster edifices would be right at home on Universal property, fitting almost perfectly into the pre-existent themed skyline.
Then there are a whole host of other elements that make Scooby-Doo's first live-action movie a shoo-in for either of Universal Orlando's two theme parks. The college-oriented, party-it-up lifestyle is already serviced well at the resort, with its greater emphasis on thrills and its near-ubiquitous scattering of bars and various specialty alcoholic drinks, from CityWalk's various venues to Springfield, USA's lineup of Duff Beers. And the interesting cross-section between silly, more juvenile hijinks and (potentially, at least) scary theming can already be found at Islands of Adventure alone, where the whimsical Seuss Landing sits just across the lagoon from the more menacing – and thematically-appropriate – Skull Island.
"Spooky Island is all about realizing your fears," the resort's founder, Emile Mondavarious, tells our characters in Scooby-Doo. Sorry, Harry Potter – there actually might not be a film or television property more tailor-made for a Universal theme-park land.
How Spooky Island could be realized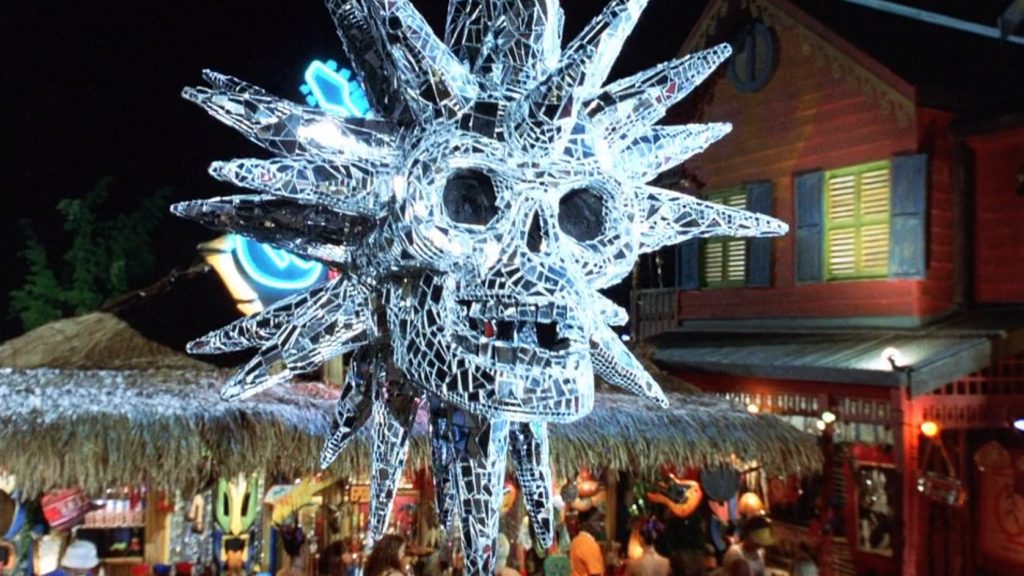 What's most interesting to note about Scooby-Doo's Spooky Island, beyond its aesthetic or thematic overtones, is just how easily the movie's events can be transplanted to the theme-park setting.
Let's tackle the hypothetical attractions first. Yes, there are those massive roller coasters and spinners that we've already talked about, which are just ready and waiting to be physically realized, but then there's Spooky Castle, the central dark ride in the film (and the section that was made into Australia's Spooky Coaster) which would have guests board appropriately-goofy ride vehicles and take a spin through cartoony suits of armor, banquet sequences, and slinging blades of death – think of it like The Cat in the Hat, with a dash of Despicable Me: Minion Mayhem thrown in for good measure. And the movie's finale, in which the Scooby gang has to free everyone's souls from a giant vat of protoplasm in an underground cavern, could make an excellent Harry Potter and the Forbidden Journey-esque experience, with the possessed college youths gathered around and all the demons running amok, and this would be doubly true if we were to extend the sequence to include the ATV chase across the island that leads up to the final showdown.
Food is, arguably, even more of a slam-dunk. The Spookapalooza that Daphne crashes early on is some type of cross between Universal's Caribbean Carnaval and Disney's Trader Sam's Grog Grotto, where live entertainment, "holographic" projections of dark elves dancing in the central fire's flames, and a fully-themed setting all combine to create what would be an unforgettable evening. When taken with all the ample opportunities for exclusive food and (especially) drinks – there are plenty of bar scenes in Scooby-Doo, given the spring-break vibe – the culinary portion of Universal's Spooky Island would be a one-two knockout, even possibly out-Volcano Bay-ing Volcano Bay.
Now, the only question remaining is when, Universal? Just when will we get a chance to get our paws on all this?
–
Be sure to follow Orlando Informer on Facebook, Twitter, and Instagram for the latest news and tips at Universal Orlando, Walt Disney World, and other Orlando experiences.