Philadelphia is known for having one of the richest histories in the United States, and it recently became richer in another sense with the opening of a Toothsome Milkshake Foundry. We're on the way right now to Philadelphia for a Toothsome Milkshake and compare it to what we've got here in Orlando. Dive in for the decadent details we know so far.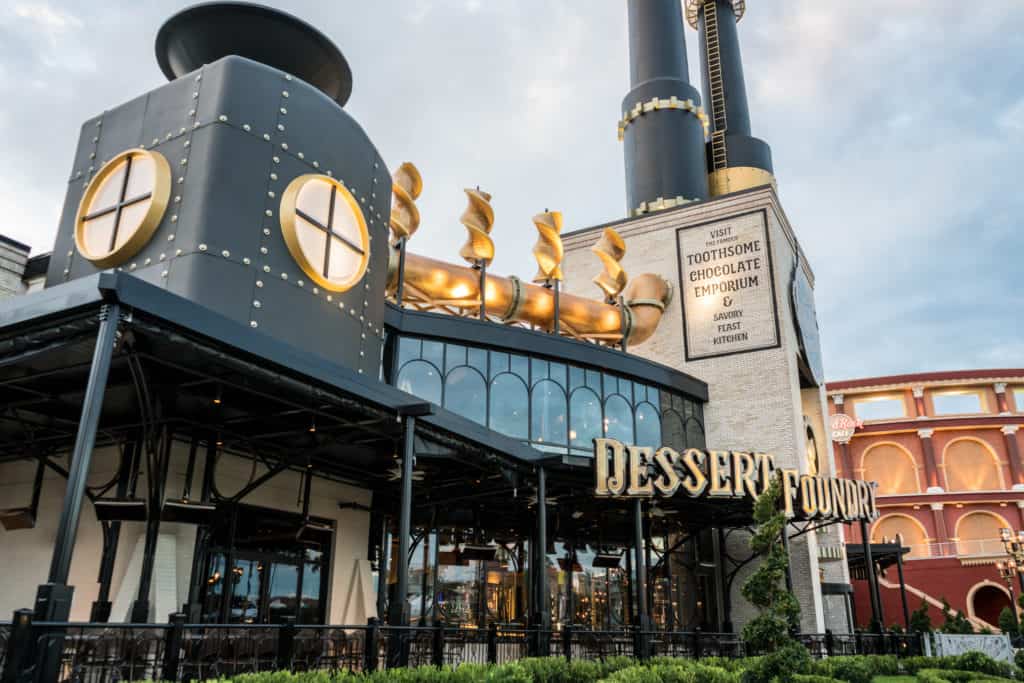 Tomorrow, Toothsome Milkshake Foundry opens in the Wells Fargo Arena in Philadelphia, Pennsylvania. Toothsome is original to Universal Parks & Resorts, and the Foundry opened in the mezzanine level of the arena marks the first time the artisan milkshake brand has opened up outside of the theme park industry. Just as it does here in Orlando, Toothsome will provide guests with the extravagant desserts the kitchen is known for. We'll be there when it opens to cover all the delicious details.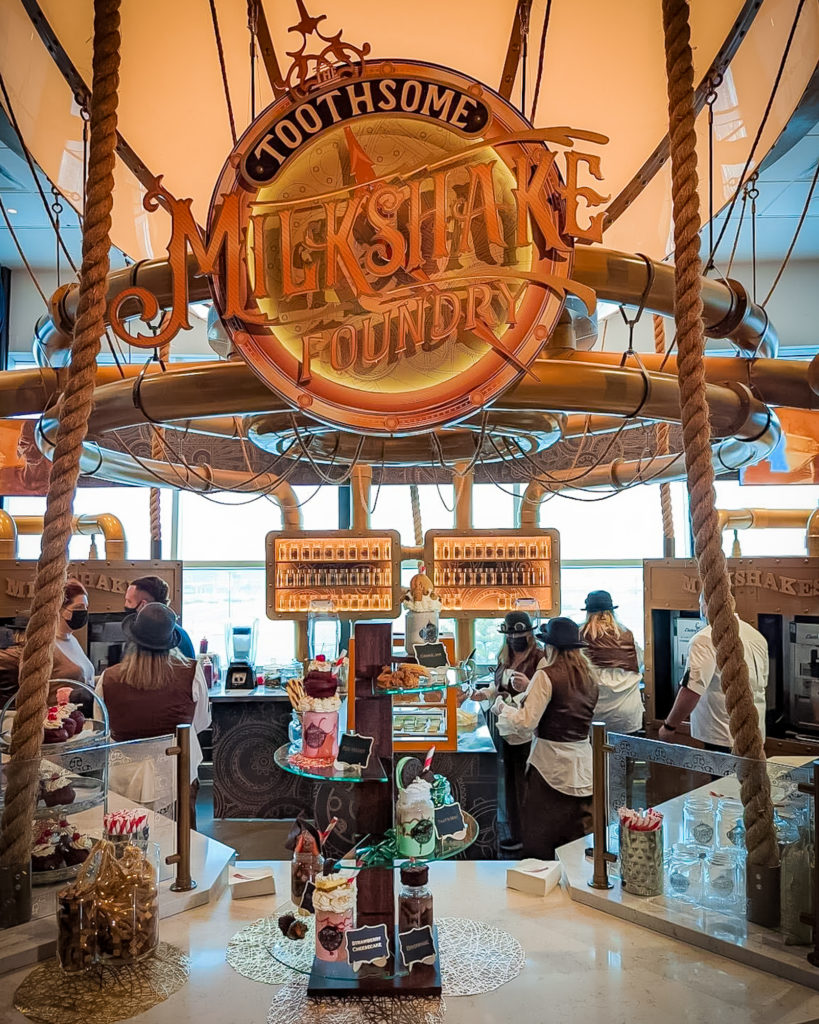 Toothsome Chocolate Emporium & Savory Kitchen has an established reputation in Orlando, opening in 2016 and providing guests with varied and delicious menu items ranging from dessert crepes to Beef Filet Mignon. Guests can rest their feet after enjoying the parks and fill up on Truffle Fries, Avocado Bruschetta, or Chicken Bourguignon. If they're in the mood for something sweeter (which, let's face it, is what Toothsome calls for), there is a selection of crepes, waffles, and – of course – decadent milkshakes. These milkshakes carry names like Heavenly Hazelnut, Cookie Jar, and Key Lime Pie. But Toothsome is more than just a milkshake bar. Here in CityWalk, guests can enjoy purchasing a variety of steampunk merchandise in the shop, drop by the bar for milkshakes or sundaes, or sit in the dining room to partake in a full menu of fine dining options.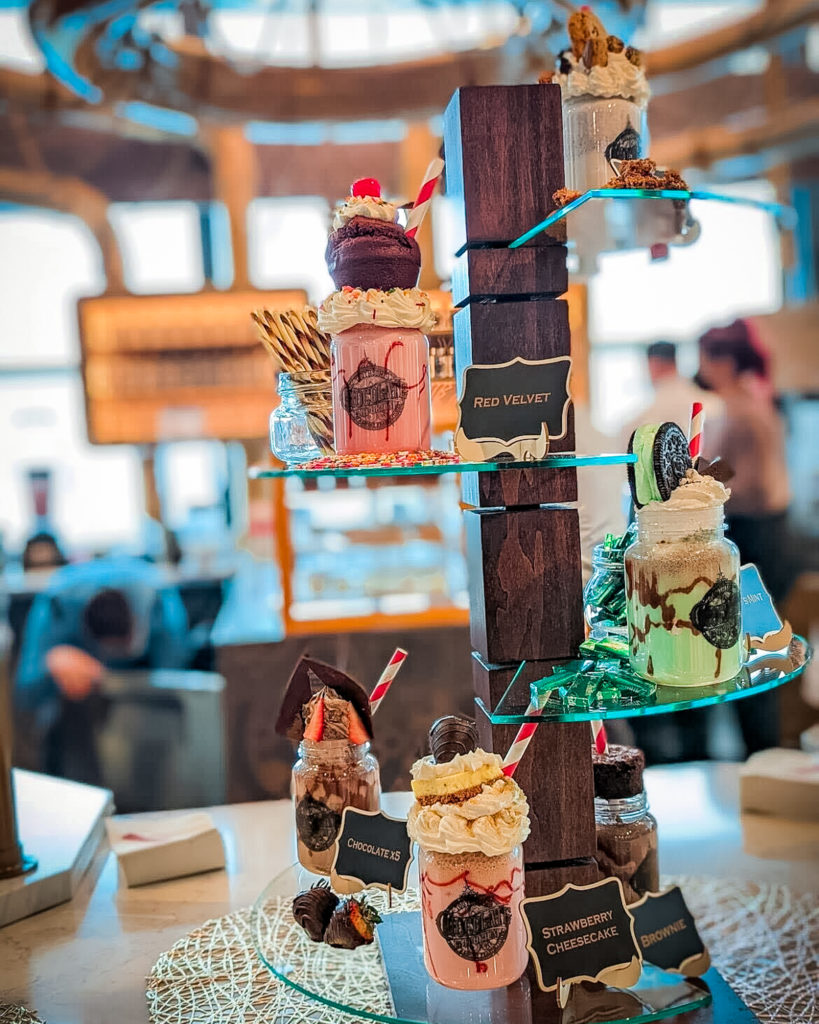 The Toothsome in Philadelphia is decidedly more low-key, which makes sense given the context. The Toothsome Milkshake Foundry is in the Wells Fargo Center, a sports arena that hosts the local NBA and NHL teams, the 76ers and the Flyers, respectively. Ironically, both teams this weekend are playing Kings from California (the 76ers host the Sacramento Kings after the Flyers host the L.A Kings), but our focus will be on trying the milkshakes offered at the Toothsome food venue on the perimeter of the arena. If you want to follow along on that journey, keep an eye out on our on Facebook, Twitter, and Instagram accounts tomorrow and a full video reviewing the whole experience on Monday!
The Toothsome Milkshake Foundry in the Wells Fargo Center incorporates the steampunk nature of the original idea and carries menu items such as the Cookie Jar, Red Velvet, and Brownie. The milkshakes are almost identically priced, with milkshakes in Orlando coming in between $14.50 – $16.00, and milkshakes in the Philly location ranging from $14.99 – $15.99. Of course, given the constraints of the venue, the menu is more limited than the one in Orlando, and the weather might be a factor here as well. While the climate in Orlando lends itself well to milkshakes and sundaes sounding appealing almost year-round, the temperature for when we land in Philly is expected to be a balmy 28 degrees – with snow showers.
Here's what's on the menu at Toothsome Milkshake Foundry:
Cookie Jar – $14.99
Vanilla ice cream, Oreo chocolate and oatmeal cookies, whipped topping
Chocolate x5 – $14.99
Chocolate ice cream, chocolate chunks, chocolate sauce, chocolate spirals, chocolate whipped topping, strawberries
Strawberry Cheesecake – $15.99
Strawberry ice cream, cheesecake, graham crackers, whipped topping, chocolate dipped strawberry
That's Mint – $15.99
Mint ice cream, Andes mints, mint chocolate chip ice cream sandwich, whipped topping
Red Velvet – $14.99
Vanilla ice cream, red velvet cupcake, raspberry sauce, rainbow sprinkles, whipped topping, maraschino cherry
Brownie – $14.99
Chocolate ice cream, brownie, milk chocolate swirl
This past year, a Toothsome Chocolate Emporium & Savory Kitchen opened in Universal Beijing Resort, and Universal Studios Hollywood has plans to open another Toothsome soon. We can't wait to see if additional Toothsome Milkshake Foundries pop up in venues across the United States, becoming as much a staple as a stadium hotdog or bucket of popcorn.
---
Where would you like to grab a Toothsome milkshake? Connect with Orlando Informer on Facebook, Twitter, and Instagram to let us know and get all the latest news, tips, and information on all the theme parks and attractions in Orlando.