Fresh A-Peel: Delicious and healthy quick-service restaurant at Downtown Disney
Fresh A-Peel shares its home with the more visible Pollo Campero in what was once Downtown Disney's McDonald's location.  It's menu, comprised of all natural burgers, hot dogs, wraps, and salads, is designed to be more inline with traditional American fast food selections than its Latin counterpart.
During our visit we ordered the savory chicken wrap and the skirt steak salad.  Each item was made in front of us by hand.  As far as taste, we both very much enjoyed our items.  The freshness and seasonings were quite impressive for quick service food.  We were also very pleased with the quantity–ample portions indeed.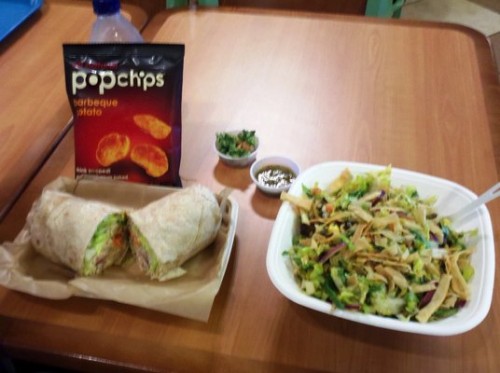 OI tip Although a fairly minor feature, my favorite aspect of the restaurant was the salsa bar!  I got to add lots of yummy, freshly prepared salsa to my salad.  I really like that touch.
The trade off for increased taste and portion size is price.  Our meal with one bag of chips and one bottle of water (total, not per person) came to $21 and change.  So while Fresh A-Peel may not be as economical as the McDonalds it helped replace, I am nevertheless happy to see the health-conscious, quick service menu added to Downtown Disney.
I definitely recommend Fresh A-Peel, and we will definitely be back.
UPDATE: I did go back, and here's what my Albacore Tuna Salad looked like…
Official website: http://disneyworld.disney.go.com/destinations/downtown-disney/dining/