2021 marks the 50th anniversary of Walt Disney World creating wonderful magic and making dreams come true. In the past, they've elevated the average guest experience to mark special occasions with anything from an extra helping of fireworks during their night shows to a whole refashioning of park landmarks (like for their 25th Anniversary, when they infamously gave Cinderella Castle a temporary birthday cake layover). But all these extravagances were just a taste of what's in store for their upcoming semi-centennial festivities, which have cumulatively been deemed as "The World's Most Magical Celebration."
There have already been countless announcements regarding event gestures occurring across each theme park leading up to the October 1st kickoff, which will formally begin 18 months of celebrating. You might have caught headlines about limited-edition event merchandise, or anniversary embellishments located across all four of their main theme parks, and even new, epic nighttime shows. Since there's so much exciting information to behold and absorb, we've compiled this handy list for your perusal and easy reference.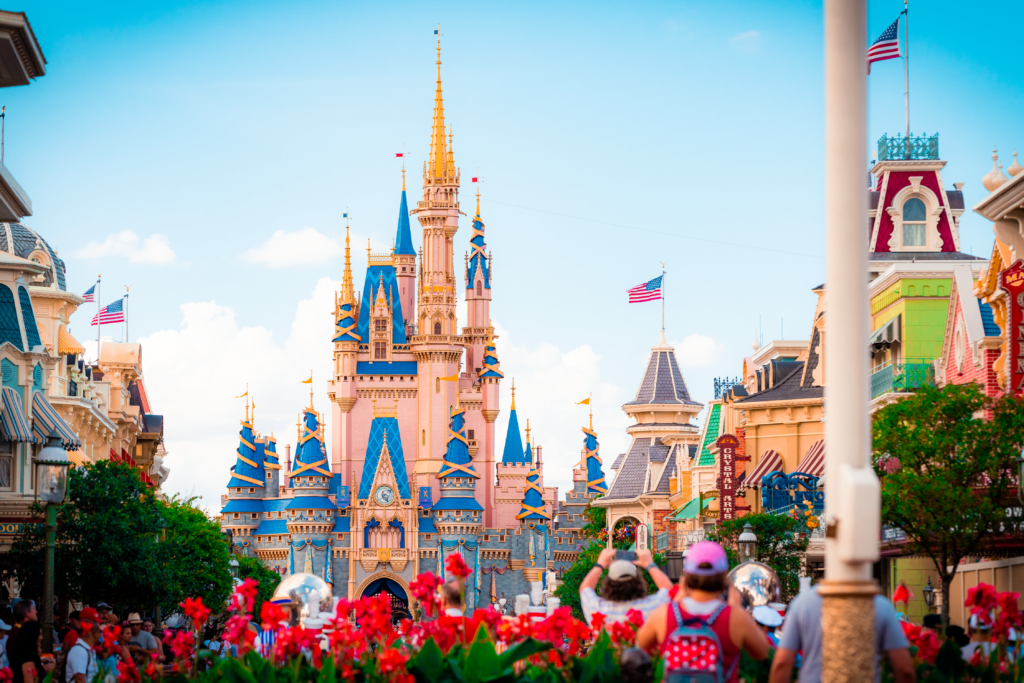 1. Iconic Makeovers
Cinderella Castle has been a canvas for many celebratory looks in its time. Despite a full shutdown in 2020 during the heat of the pandemic, Walt Disney World stayed hard at work in their efforts to celebrate both Cinderella's 70th cinematic anniversary as well as their own 50th operating anniversary, and the end result is captivating. The castle's body has been transformed from the former gray and blue concept to a lustrous blend of pale pinks; the spires are topped with a hue of dark, bold blue and are elegantly trimmed and ribboned with glittering gold. While the recent change has sparked some debate, it certainly defines the"EARidescent Excitement" theme encompassing the event.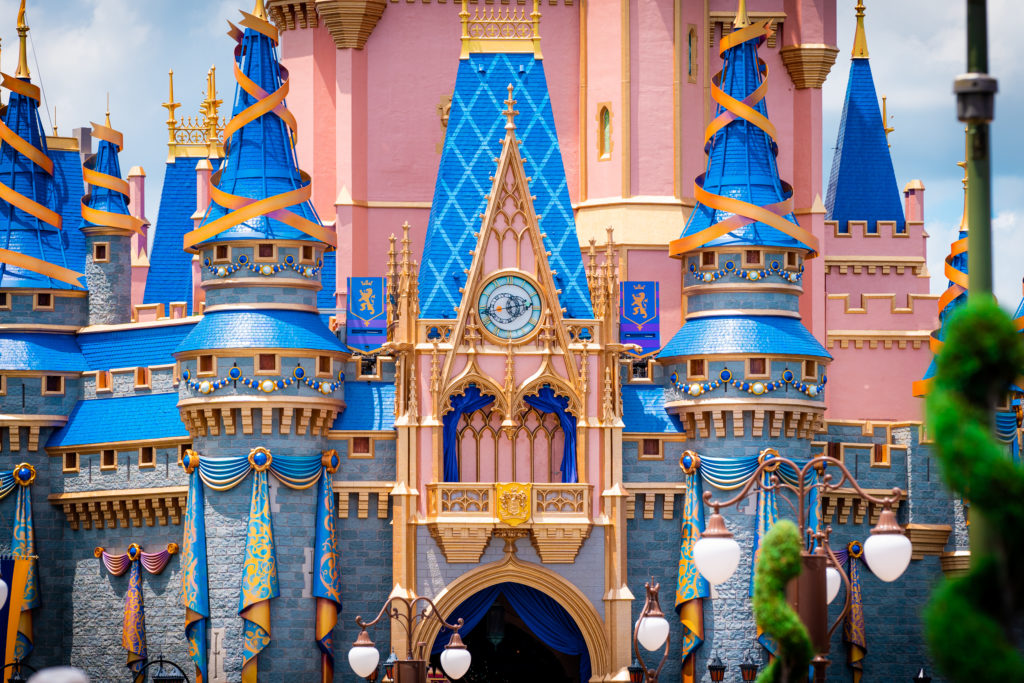 Mickey, Minnie, Donald, Goofy, Pluto, Daisy, and Chip and Dale (the "EARidescent 8" as they've been honorably dubbed for the event), are also getting in on the action! Each character has received wardrobe enhancements in the form of custom-cut garb featuring the EARidescent blue, pink, and purple tones of the celebration as well as impressions of Cinderella Castle embroidered into the shimmering fabric. Of course, what's a festive makeover if you can't then show it off? During various hours of the day, Mickey's Celebration Cavalcade will make their way around the Magic Kingdom. This will not only give guests an up-close showcasing of the gang's new fashion, but also get everyone in the spirit for the 18-month event.
2. New Attractions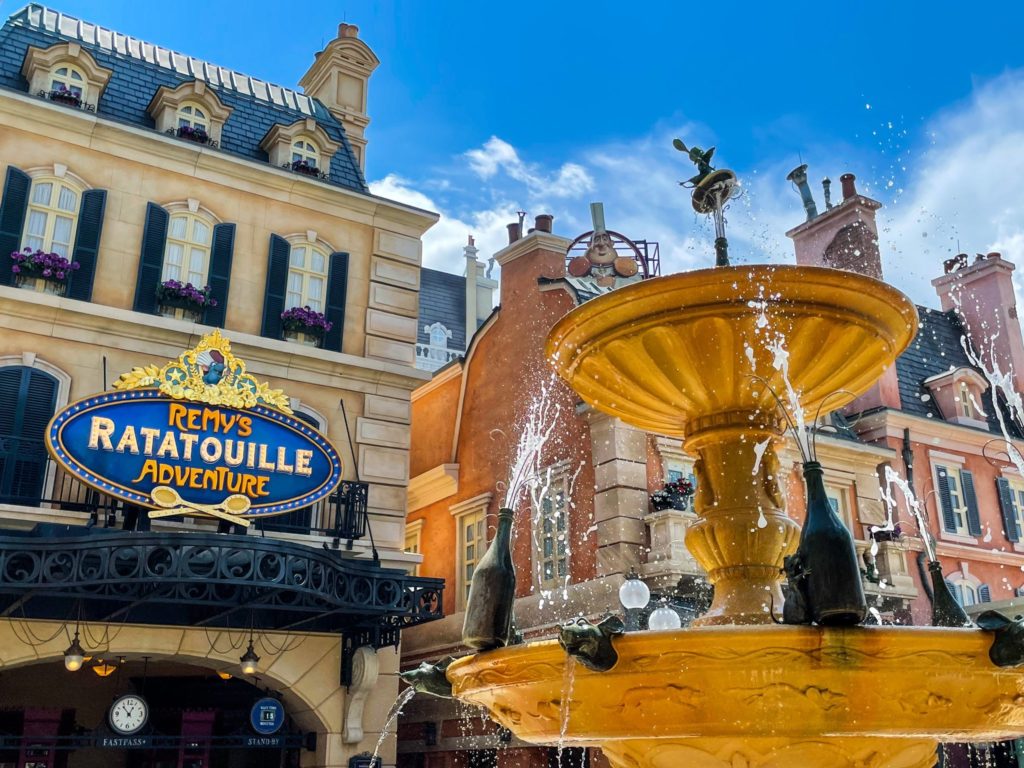 Remy's Ratatouille Adventure
Location: EPCOT, France Pavilion
After a postponement in 2020, Remy's Ratatouille Adventure has made a new home in the France Pavilion in World Showcase. (This is a fitting placement, as our Little Chef is no stranger to EPCOT. Alongside Figment, Remy has found himself a natural mascot of EPCOT's International Food & Wine Festival.) In this new attraction, guests are shrunk down to rat-sized and scamper with Remy through Gusteau's restaurant in this amazing, trackless, 4-D experience! Even the little ones can get excited to take part since there isn't a height requirement for this family ride. This attraction is latent with references from the movie, from the Parisian roof queue to nuanced scenery in the surrounding outside area in the France Pavilion, the details of which caused the area to nearly double in size during expansion.
3. Daytime Shows and Night Spectaculars
Disney Enchantment
Location: Magic Kingdom, Cinderella Castle and Main Street U.S.A.
Naturally, the Mouse House is setting the expectations high as they promise to take guests on an empowering journey of wonder and adventure set to the tune of You are the Magic, an original song by popular songwriter Phillip Lawrence. The park's brand new night spectacular will incorporate aspects of Disney and Pixar's robust library of cinema and soundtracks with fireworks, breathtaking light effects, and visual projections layered across both Cinderella Castle and the buildings of Main Street U.S.A. Everything leads up to an inspirational moment where Tinker Bell flies across the audience and moves us to believe in magic all over again. This moment is groundbreaking, as it's the first time any of Magic Kingdom's night shows has expanded past the castle. Disney Enchantment is yet another example of Disney exceeding in its endeavor to breathe new life into their parks.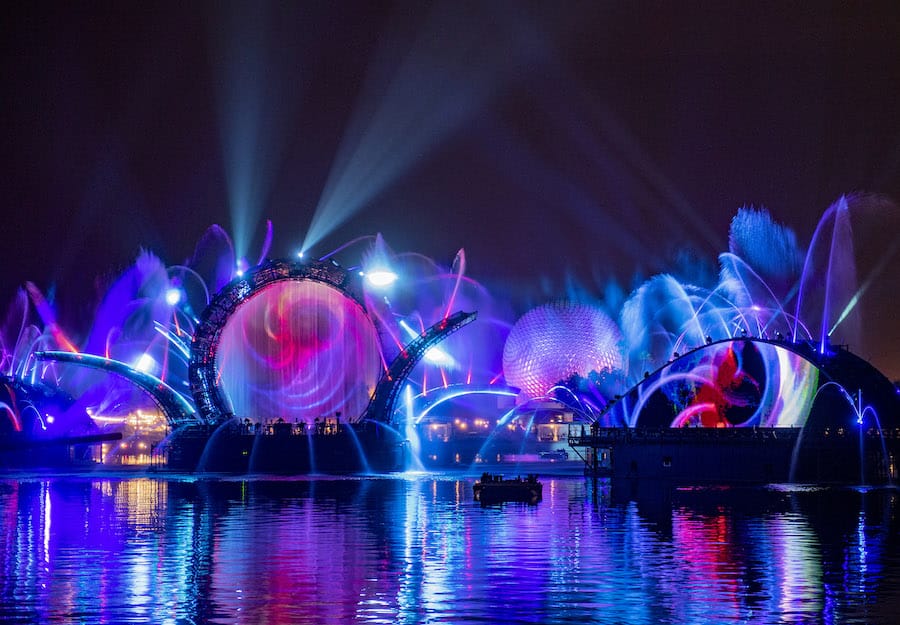 Harmonious
Location: EPCOT, World Showcase Lagoon
On October 1, Harmonious will make its debut at EPCOT, taking the place of Epcot Forever. This show is being boasted as one of the largest nighttime spectaculars ever created for a Disney park, and, if what few details given are any indication, it's pretty clear why. Harmonious will enable guests to re-discover their favorite Disney anthems sung in over a dozen languages in collaboration with over 240 artists. The show's intention within the show is to bring the world in harmony through their musical catalogue and the magic of special effects, which include pyrotechnics, moving fountains, lighting, and other inspirational visuals. This message is delivered in three parts: "Gather," during which guests are welcomed to become part of the world family around the park's lagoon; "Celebrate," which transports guests around the globe in celebration of each other through the art and magic of Disney; and lastly, "Unite," the show's epic finale that showcases the spirit of what EPCOT is about.
Disney Kite Tails
Location: Animal Kingdom, Discovery River Amphitheater
Guests venturing out to Animal Kingdom will have the opportunity to enjoy a new daytime show at the park's Discovery River Amphitheater, which astute readers and Disney goers will remember as the former stage for Rivers of Light. In order to bring this show to life, Disney performers and water crafts will parade colorful wind catchers and kites of all shapes and sizes — some reaching upwards of 30 feet long!— to tunes from the company's rich catalogue of movies and television shows. While your ears are being dazzled by a soundtrack of timeless Disney classics, you'll see three-dimensional representations of Simba, Baloo, Zazu, King Louie, and other "animal friends." Of course, Disney Kite Tails will take place several times throughout the day, so there will be plenty of chances for every family to catch a showing.
4. Beacons of Magic
Location: across all parks
In "Beacons of Magic," each Disney park icon (Cinderella Castle, Tower of Terror, Spaceship Earth, and the Tree of Life) will receive their own visually-projected adornments and accompanying rendition of "The Magic is Calling," an original song created for the 50th anniversary celebrations. Hollywood Studios' Hollywood Tower Hotel will take on its own EARidescent shimmer as it evokes the glitz and glamour of the golden age of imagination and adventure; Animal Kingdom's Tree of Life will illuminate as enchanted fireflies summon the spirit of Nature; Spaceship Earth at EPCOT will receive a new projection overlay as its reflective panels sparkle and twinkle like the galactic planes; and Cinderella Castle in Magic Kingdom will receive its own spectacular shimmer through the dazzle of pixie dust.
5. New Dining Experiences
La Creperie de Paris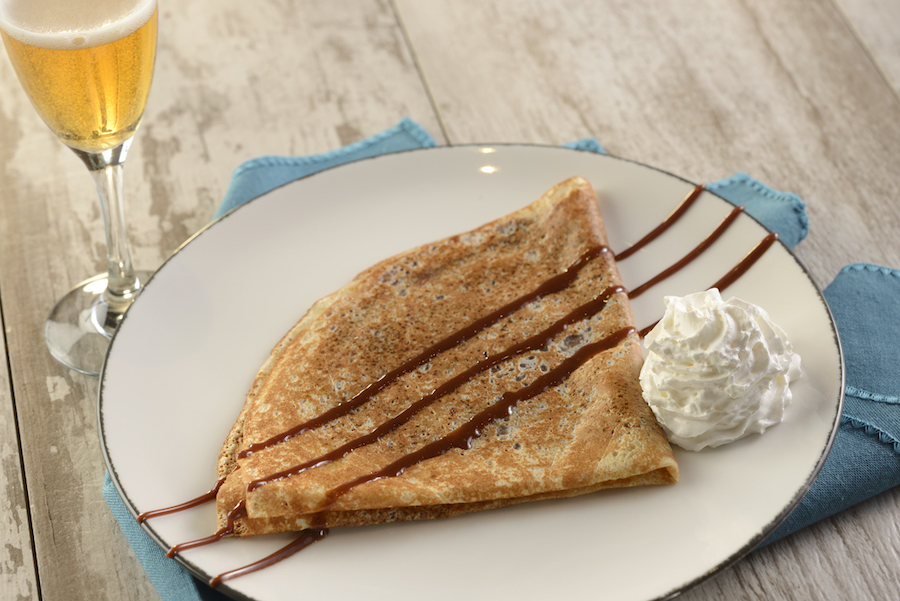 Location: EPCOT, France Pavilion
La Creperie de Paris offers hungry guests a menu conceived by celebrity chef Jerome Bocuse and was inspired by France's Brittany region. The restaurant is a traditional creperie, offering both quick- and table-service with a focus on made-from-scratch crepes and galletes. In order to add authenticity to the experience, Disney has even imported buckwheat exclusively from Brittany, and the restaurant features three distinct flavors of hard cider popular to the region. As this is located near Remy's Ratatouille Adventure, there are new enhancements and details in its perimeter, seamlessly tying together hints of Remy's world, La Creperie de Paris, and the Brittany region of France. Given all the new embellishments and additions, I'd dare to say this is worthy of even Ego's approval.
Space 220
Location: EPCOT, Future World
Boarding one of two elevators located near Mission: Space, guests will ascend 220 miles from Earth to board the Centauri Space Station, where they can dine from a prix fixe menu put together by Executive Chef Marc Kusche. While specifics have yet to be disclosed, we know we can look forward to a selection of fine wines, phenomenal cosmic cocktails, and out-of-this-world culinary offerings that will, as Disney themselves put it, "bring new meaning to 'the height of dining!'" Once seated, guests will be able to look out across the cosmos, taking in a breathtaking view of our big, blue planet as well as observing activities performed around the space station's atmosphere. This astro-themed restaurant is set to be a one-of-a-kind fine dining experience and will begin daily lift offs on September 20th of this year, so we'd recommend to get your reservations soon!
6. Other Exciting EPCOT Updates
New Entryway
Starting back in 2019, preparations were announced not only for Walt Disney World's 50th anniversary in 2021, but also for EPCOT's 40th in 2022. As part of its thematic overhaul, EPCOT's entry way was redesigned, inspired partly by the original look of the park. Guests will be greeted by twelve flags celebrating each of the six original pavilions from their opening day concept; once inside the gates, guests will encounter the new prism fountain centerpiece directly in front of Spaceship: Earth. New nighttime lighting, including a color-coordinated ribbon, and music throughout the day will also be part of the ambiance for visitors. Considering how well Disney has already executed a modern spin on nostalgic concepts, this writer is excited for the final product.
Club Cool
Location: Future World
Prior to the pandemic in 2019, Club Cool closed their doors in preparation for the sweeping renovations to EPCOT's Future World. After a 2-year hiatus, the Coca-Cola sponsored gift shop and attraction will officially return at their new location near the former home of Mouse Gears! Just as before, the venue will offer samplings of Coca-Cola products from across the globe — including the much beloved Beverly — as well as select merchandise for purchase. From what's been shared, the new location looks promising, and we love the incorporation of the new font that can be found throughout EPCOT as part of the overall transformation.
Creation Shop
Location: Future World
Just next door to Club Cool, the Creation Shop will premiere as the EPCOT's new flagship store. This unique shopping experience blends a contemporary aesthetic with hints of nostalgia, and sports a hand-painted mural of Mickey Mouse spanning over 35 feet. It also features an open concept with large windows allowing natural light to cascade in. The combination of the shop's sleek design as well as its use of Mickey as a creative inspiration makes it as a perfect representation of its home, World Celebration. We expect some pretty stylish finds here, possibly including the new 50th Anniversary merchandise.
Speaking of which…
7. Limited Edition 50th Anniversary Merchandise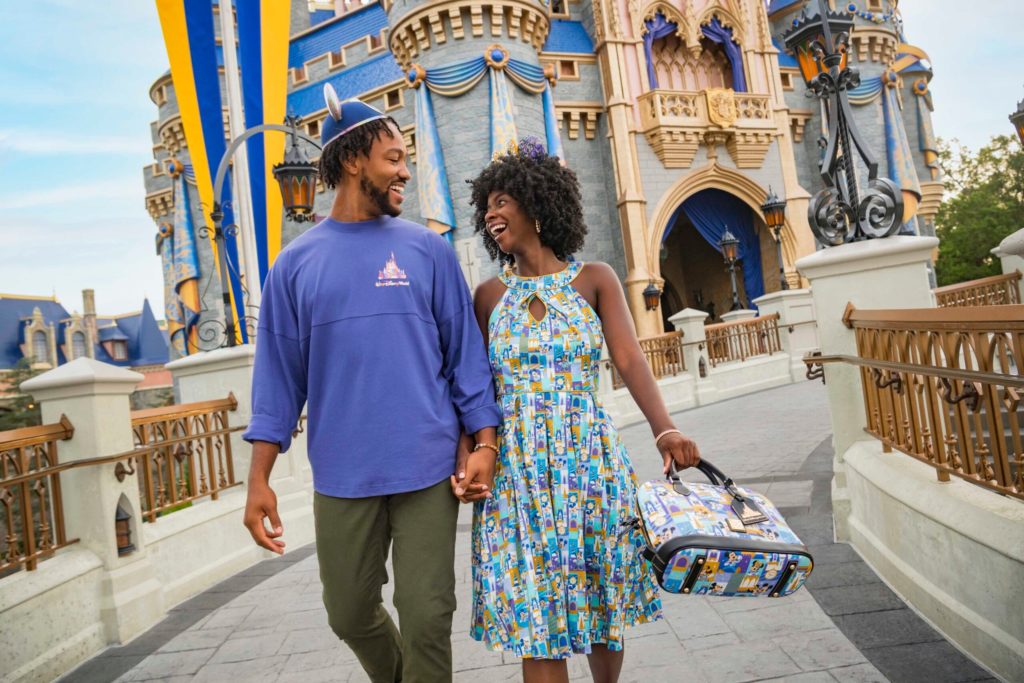 Location: across all parks
As with every celebration, Walt Disney World has announced their new lines of 50th Anniversary Merchandise. Overall, there will be five unique collections inspired by the event. Three of these collections will be released alongside the October 1st kickoff: Celebration, which features a wide variety of items that provides guests with everything they'll need to remember the anniversary celebrations; Disney Castle, which is expected to pull its inspiration from the park's definitive icon; and the Vault Collection, which will harken back to the colors and styles from the park's opening days. Later in October, the EARidescent Collection will debut with stylish items showcasing the event's festive themes. Finally, the Luxe Logo Collection will premiere with high-end fashion pulling from Mickey's color palette. No matter which one speaks to you, there's certainly something for everyone.
8. Fab 50 Statues
Location: across all parks
Keeping in the spirit of their 50th anniversary, Walt Disney World is debuting their Fab 50 statues, a golden dedication to 50 of their most beloved characters, honoring each one's legendary status. Along with Mickey, Minnie, Donald, Daisy, Chip, Dale, Goofy, and Pluto, visitors will come across others from the long and distinguished lineage of Disney characters who've crossed our screens and warmed our hearts. At the moment, the complete list of statues has yet to be fully revealed, but judging by what's been presented thus far, it seems safe to say that majority of your favorites can be found at the Magic Kingdom. Since the statues will be placed throughout all four of Walt Disney World's major theme parks, you'll find characters suited to certain locations, like Timon and Pumbaa at Disney's Animal Kingdom, or Woody and Bo-Beep over in Hollywood Studios.
9. Disney Genie Replacing Fastpass+
While this isn't officially part of the celebration, the Disney Genie Service is being introduced as part of the enhancements leading up to October 1st. This comes two-fold. On the list of its complimentary services, the My Disney Experience app upgrade seems to offer a good deal of help. It provides all-day itinerary updates, a tip board displaying current and predicted wait times for your favorite attractions, and assists with virtual queue capabilities and mobile-ordering services.
Switching gears to its purchasable add-ons, Disney Genie+ also utilizes the soon-to-debut Lightning Lane entrance through a couple options. For the nominal cost of $15 per ticket per day, this option allows guests to schedule return times for the attraction they wish to experience. Guests who purchase this particular upgrade will also receive unique Disney parks-themed audio experiences, special augmented reality lenses, and unlimited Disney Photo Pass downloads. It's worth noting that it's only one selection at a time throughout the day as opposed to the three attractions allowed by the former Fastpass+.
Separately from Genie+, guests can purchase individual return times for the more popular attractions. This option is only valid for up to two attractions per day, costs for this have yet to be determined. If you want my direction, I'd choose Genie+. Even though it's limited to one attraction at a time, the freedom to use this service throughout the day is more appealing to me. However, if I was visiting from out of town, wanting to make the most of my trip, the latter could be of considerable value to my experience. This is especially considering that it provides the opportunity for a guaranteed ride on attractions like Rise of the Resistance, which is a Lightning Lane attraction.
10. The Return of Annual Passes
Walt Disney World returned their Annual Pass program on September 8. With this, there are some changes to be expected as Disney moves from the old to the new system. There are now four newly-minted tiers: Disney Pixie Dust ($399 + tax), Disney Pirate Pass ($699 + tax), Disney Sorcerer Pass ($899 + tax) and Disney Incredi-Pass ($1299 + tax). Although this system was designed based on guest feedback, it has been received with mixed emotions (to say the least). It should also be noted that the majority of these options are currently only available to Florida Residents (with the exception of the Sorcerer Pass which is also exclusive to Disney Vacation Club members, and the Incredi-Pass, which is available for everyone).
On top of the perks we know and love (like free general parking and select discounts), Passholders will also have access to an integrated calendar. This new feature will allow them to quickly identify what dates they qualify for and which are available to reserve. On that note, on top of the allotted reservations available to their pass, there will also be "bonus reservations" days added occasionally as time goes on. While this may seem like a lot to take in, don't fear — we've already assembled a handy guide to help you choose which pass is right for you.
We hope all these announcements make you as excited for the 50th anniversary as they make us. Walt Disney World has brought joy to people all over the world for decades, and this year simply celebrates a milestone in that accomplishment. We will continue to provide updates as they develop over the next 18 months!
---
What are you most excited about on this list? Let us – and thousands of other Disney fans – know in our Orlando Informer Community on Facebook.
And then be sure to follow Orlando Informer on Facebook, Twitter, and Instagram for the latest news, tips, and more at Universal Orlando, Walt Disney World, and other Orlando attractions.