It's another year of the D23 Expo, and we have been buzzing with anticipation to learn more about what will be arriving soon at Walt Disney World Resort! This year's event occurred from September 9 through 11 at the Anaheim Convention Center. Our interest was piqued by Sunday's panel, titled "A Boundless Future: Disney Parks, Experiences and Products," hosted by Josh D'Amaro, the Disney Parks, Experiences and Products Chairman. Traditionally, this yearly, Theme Park-centered panel is a can't-miss event as it has historically been known to hold many headlining announcements for the Walt Disney World Resort.
This year was certainly no different! D'Amaro presented additional information regarding Magic Kingdom Park's previously announced attractions, including TRON Lightcycle / Run and Tiana's Bayou Adventure. Details surrounding exciting offerings and lands were also released for Magic Kingdom Park, EPCOT, and Disney's Animal Kingdom Theme Park.
Happily Ever After Returns
As the presentation was kicked off with a performance by Jordan Fischer and Angie Keilhauer singing Happily Ever After, it was only appropriate that this was the initial announcement at this exciting presentation. D'Amaro announced that this song featured in the previous nighttime spectacular of the same name will be incorporated into a new evening entertainment offering at Magic Kingdom Park in 2023.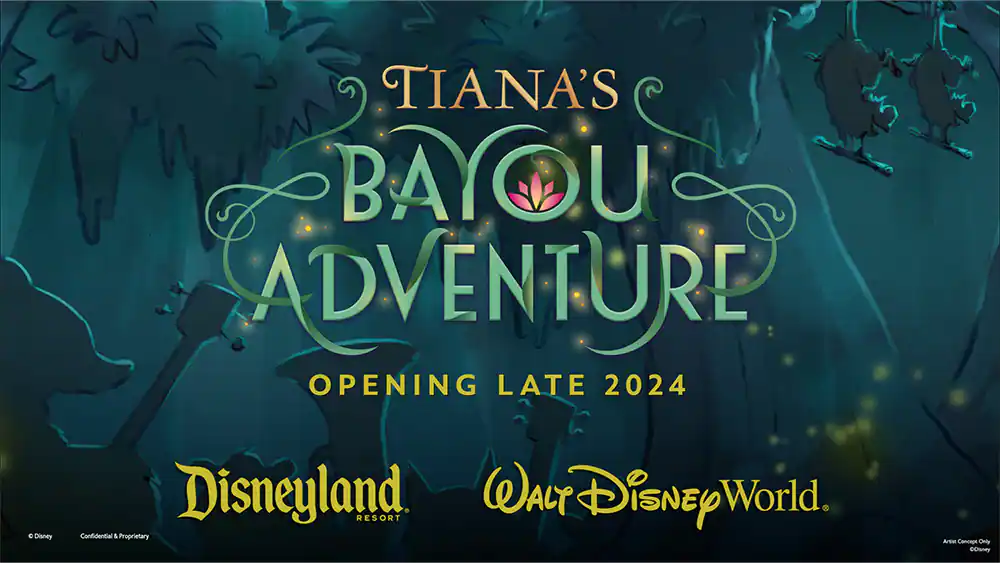 Tiana's Bayou Adventure
Earlier in the weekend, the much anticipated Splash Mountain revamp to Tiana's Bayou Adventure had its scaled model unveiled at the Disney Parks and Experiences Wonderful World of Dreams pavilion. This model notably features a water tower with "Tiana's Foods Employee Owned Est. 1927" inscribed and a banner over the barn that reads "Tonight Only! – A Celebration of Family and Friends of New Orleans At the Proud Home of Princess Tiana and Prince Naveen – Everyone is Welcome." The foliage has also been updated to match the setting of this New Orleans experience in the bayou. Artwork was released alongside the model, detailing the inspiration for Tiana and Naveen's next journey.
Additional details were divulged of Princess Tiana's dedicated attraction regarding its storyline and technical features throughout the experience. The ride occurs immediately after the closing scene in The Princess and the Frog as Princess Tiana throws a party for her friends in New Orleans but is searching for a missing ingredient. The attraction will use a combination of lights and mist to transport guests into Tiana's world. The original voices of Princess Tiana, Prince Naveen, Mama Odie, and Louis will return to this attraction with an opening suggested for 2024.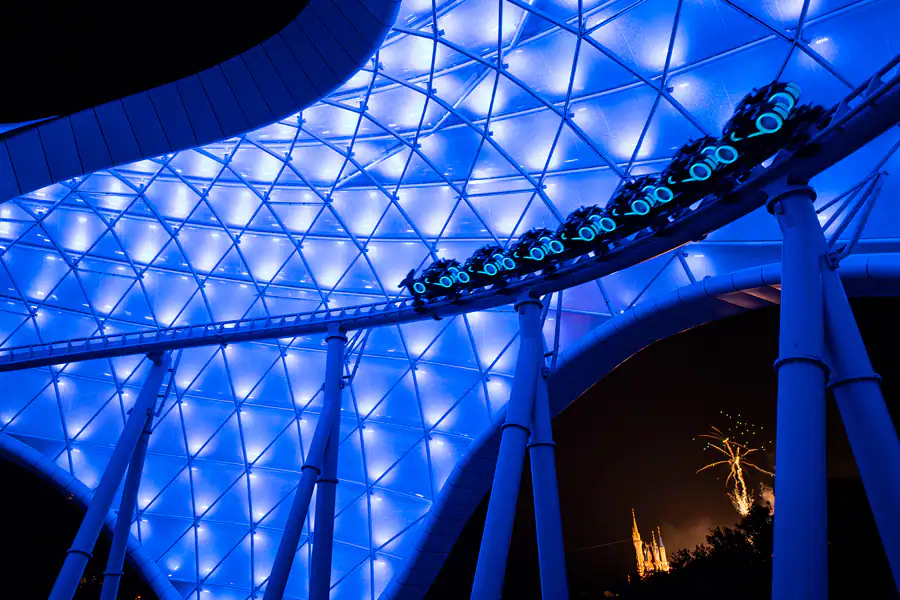 TRON Lightcycle / Run
All eyes have been on the Magic Kingdom Park skyline as TRON Lightcycle / Run has been erected over the last few years. In recent months, this digital adventure has been testing trips to the Grid and preparing for guests to join in the journey. It was announced at this D23 Expo panel that it will open in Spring 2023.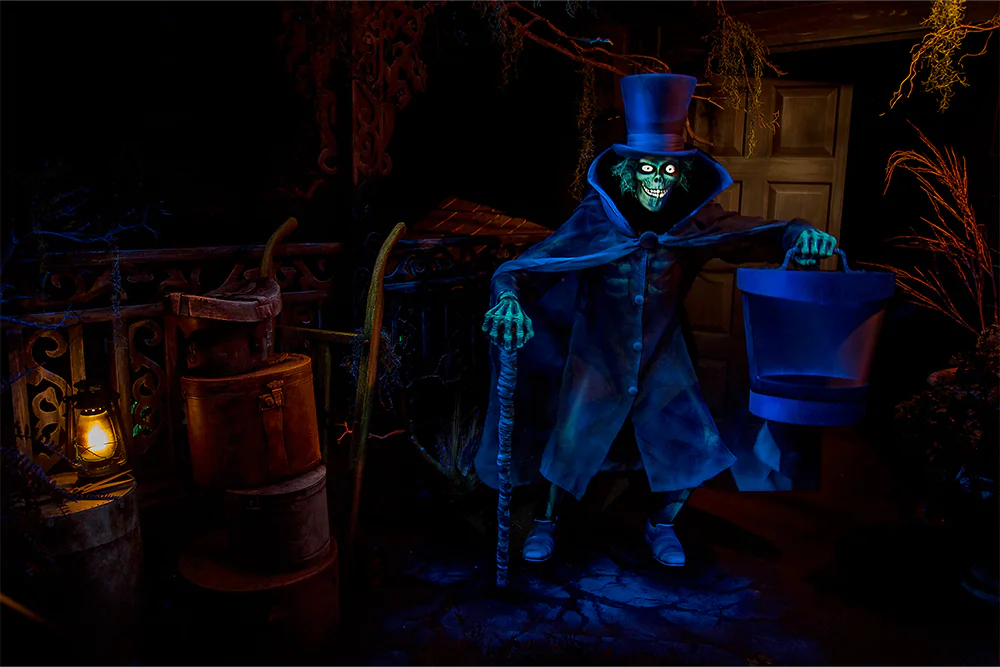 Hatbox Ghost in The Haunted Mansion
For many Haunted Mansion fans, the Hatbox Ghost is a character with longstanding lore. In its opening, he was a character that was part of Disneyland's Haunted Mansion. However, his animatronic was removed shortly after due to technical issues with the optical illusion he performs.
Thanks to years of innovation and perseverance, this character returned to the Disneyland Resort in 2015. This Disneyland addition has left many to wonder over the last few years when this ghost will become part of the 999 happy haunts at Walt Disney World Resort's Haunted Mansion. The wait ends in 2023 as the Hatbox Ghost will be arriving at Magic Kingdom Park's version of Master Gracey's home.
New EPCOT Nighttime Spectacular
A new, unnamed nighttime spectacular for EPCOT was announced for 2023. While not many details were revealed, the show is currently in production, according to D'Amaro.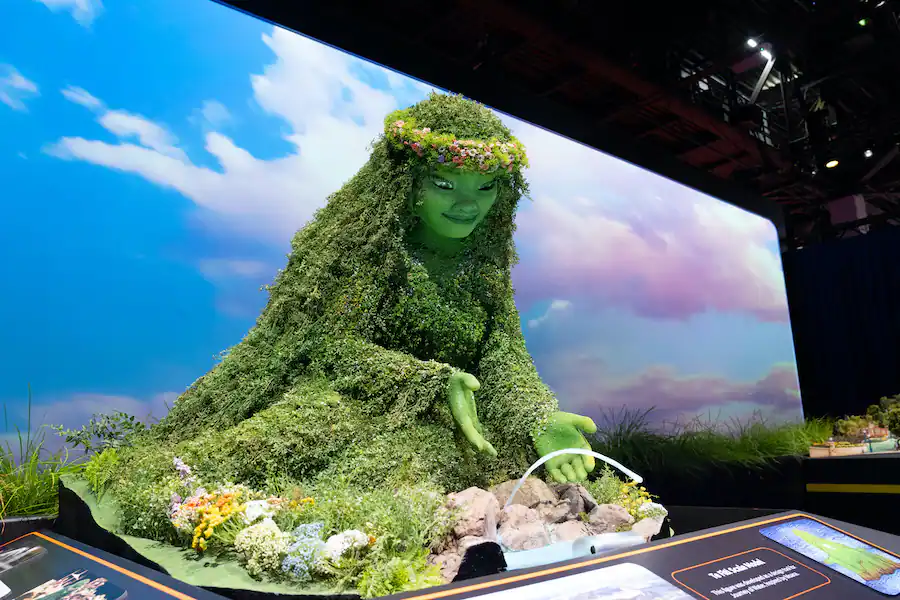 Journey of Water
Earlier in the weekend, a scaled model of Te Fiti was on display within the Disney Parks and Experiences Wonderful World of Dreams pavilion. She will be part of EPCOT's newest experience, Journey of Water, which is based on the movie Moana and is scheduled to open to guests starting in late 2023. This attraction promises to be a walk-through experience showing the water cycle throughout its various stages.
Figment Meet & Greet
With many changes coming to Epcot in the near future, Imagineers are also taking the time to acknowledge the park's history and roots. EPCOT's favorite purple dragon, Figment, is arriving at EPCOT to meet with guests once again starting in 2023.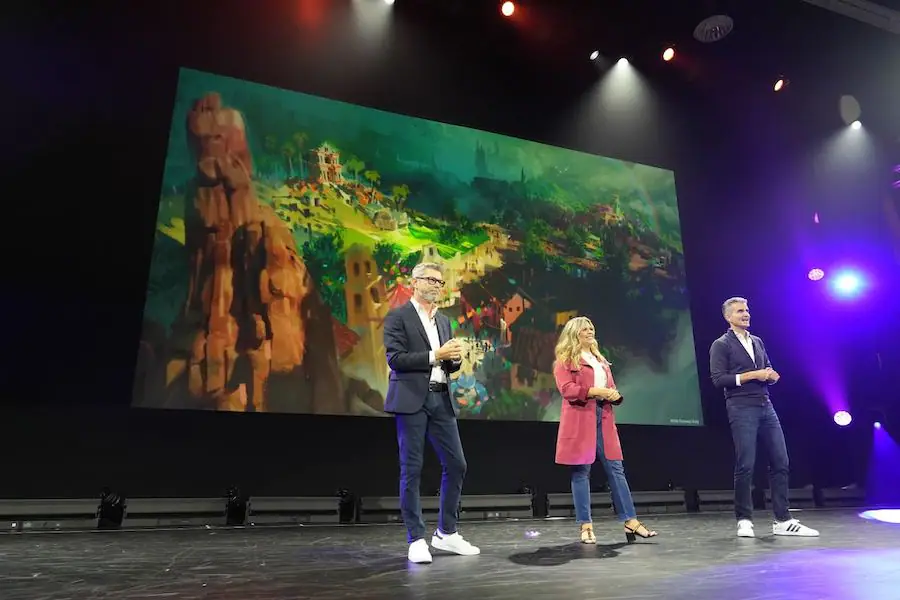 New Lands Coming to Various Walt Disney World Resort Theme Parks
While many details were kept close to the chest, Imagineers showed concept art for new areas that would be coming to Magic Kingdom Park and Disney's Animal Kingdom Theme Park as part of their Blue Sky discussion. The area behind Big Thunder Mountain Railroad would be utilized for Magic Kingdom's latest park expansion featuring the stories of Disney Villans, Coco, and Encanto. Animal Kingdom Theme Park would transform Dinoland, U.S.A. to immerse guests into the worlds of Zootopia and Moana.
This presentation showed that there truly is a boundless future for the Walt Disney World Resort. It will be exciting to watch these new offerings take shape in front of our eyes over the next few years. Follow our social media for the latest updates on these developments as they come to fruition. Discuss it all with 150,000+ other Disney die-hard fans in our Orlando Informer Community on Facebook.