Update October 19, 2018: Voodoo Doughnut is now open! You can find the rumor of its arrival that we originally published in September 2017 below.
Not familiar with Voodoo Doughnut, East Coasters? That's going to change – and soon.
Universal will be bringing the fast-growing mom-and-pop doughnut chain to CityWalk. It's a good fit – not only is the small company's quirky sensibilities and funky wares compatible with the likes of The Cowfish Sushi Burger Bar (or, even, Bread Box Handcrafted Sandwiches's décor), it already set up shop over at Universal Studios Hollywood's CityWalk just earlier this year. When combined with the two previous culinary newcomers to Universal Orlando, Toothsome Chocolate Emporium and Savory Feast Kitchen and NBC Sports Grill & Brew, the resort's dinning/shopping/entertainment complex is in top gastronomical shape.

There are actually several elements that make Voodoo Doughnut an absolutely exciting addition, starting with its wild, eclectic menu of "sinfully delicious, unconventional line-up of fried creations." There's the Voodoo Doll, a raised-yeast doughnut topped with chocolate frosting, which is impaled by a pretzel stake and whose head "bleeds" raspberry jelly; the Tangfastic doughnut features vanilla frosting, tang flavoring, and three marshmallows; and the Memphis Mafia fritter comes equipped with banana chunks, cinnamon, peanuts, chocolate frosting, and peanut butter and is topped with chocolate chips. And then there's the special vegan creations, or artsy tribute doughnuts for when celebrities pass (which are, sadly, for display only), or the Wooden Coffin of Doughnuts, which is exactly what it sounds like: a four-foot hand-made wooden coffin filled with – what else? – doughnuts.
But in case all that isn't enough for you, there's so much more the company has managed to do in its short, 14-year lifespan. After opening its first store in downtown Portland, Oregon in 2003, it has since spread to six other locations, ranging from a food cart also in Portland to storefronts in Denver and Austin, with the CityWalk Hollywood's opening on March 9, 2017 marking Voodoo's first foray into California. (Fun fact: Universal originally approached Voodoo Doughnut about coming down to Los Angeles in time for The Wizarding World of Harry Potter's grand opening there last year, but the scheduling, sadly, couldn't be worked out.) Along the way, the company has become a staple for weddings (yes, ceremonies are really performed there); opened up its own music label, Voodoo Doughnut Recordings, which is home to such artists as the Deep Fried Boogie Band; and continues to partner with local Oregon businesses to create limited-edition offerings, such as Rogue Ales's Bacon Maple vodka and Lemon Chiffon Crueler and Pretzel ale (yes, you can order [some of] them online).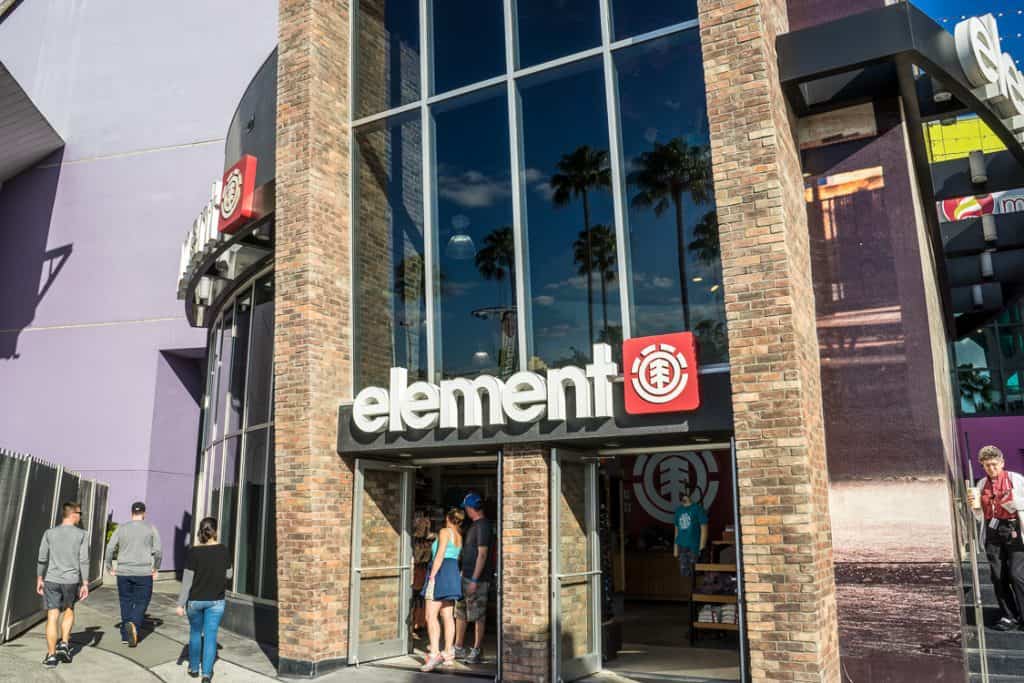 Just where will the unusual doughnut purveyor be setting up shop in CityWalk? Since the area's 30 acres are already pretty well occupied, another inhabitant will, unfortunately, have to move out in order for Voodoo to move in – and, in this instance, that occupant will be Element, a small store situated right next to NBC Sports Grill & Brew. A skateboard (and "eco-conscious") company founded 25 years ago by practitioner Johnny Schillereff, Element deals in everything related to the pastime, from equipment and apparel to footwear and backpacks. Although culturally chic, the store just may be redundant in terms of CityWalk specifically – Quiet Flight Surf Shop is just around the corner, and it also handles "skateboarding lifestyle" items in addition to its expected surfing lineup, albeit in a West Coast as opposed to a New York fashion.
And given Quiet Flight's prime real estate right on the main drag of CityWalk, along with the hard-to-miss surf-wave photo-op in front of the store, this is most likely the reason why it's staying and Element will be shuffling off of the Universal mortal coil.
Although inside sources were the first to tip us off to the imminent move, it's actually Element itself that has put the final nail in the (doughnut) coffin: employees there have been openly speaking of the transition to guests, and the store-wide half-off sale certainly doesn't help keep things quiet, either.
Expect Element to close sometime within the next several weeks, with Voodoo Doughnut most likely arriving sometime next year.
–
Be sure to follow Orlando Informer on Facebook, Twitter, and Instagram for the latest news, tips, and rumors at Universal Orlando, Walt Disney World, and other Orlando attractions.