For almost 10 years, Universal Orlando has challenged itself to think outside the normal theme park fare and create food and beverage offerings that are as unique as the other experiences they craft. Since then, we've seen addition after fantastic addition become part of the new norm, and it's been delicious. Gone are the days of the slushie – long live the Toothsome milkshake.
That said, is there a line? Can too much of a good thing really be a thing? What started out as a harmless joke in the office quickly mutated into a real-life experiment that would have even Victor Frankenstein himself say, "Calm down, bro – it's a little much."
This week, we took four Voodoo Doughnut doughnuts and paired them with four other resort favorites. The following was done without professionals and under the supervision of nobody. Viewer discretion is advised.
1. Mango Tango on top of Margaritaville's Mango Margarita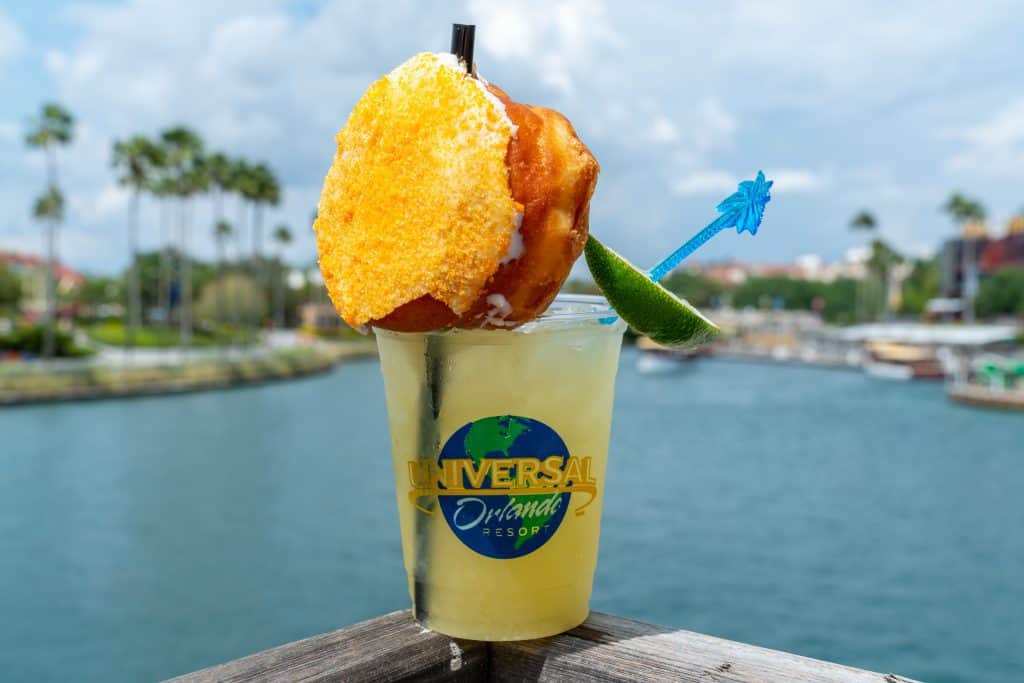 Sure, it sounds disgusting, but imagine our surprise when we realized the tastes play fairly well together. The strong, sweet, and tangy notes of the doughnut go well with the subtle flavors and refreshing taste of the margarita. If you're going to brave one of these concoctions, we recommend trying this one out. 
2. The Loop on top of the Jolly Berry cotton candy from Honk Honkers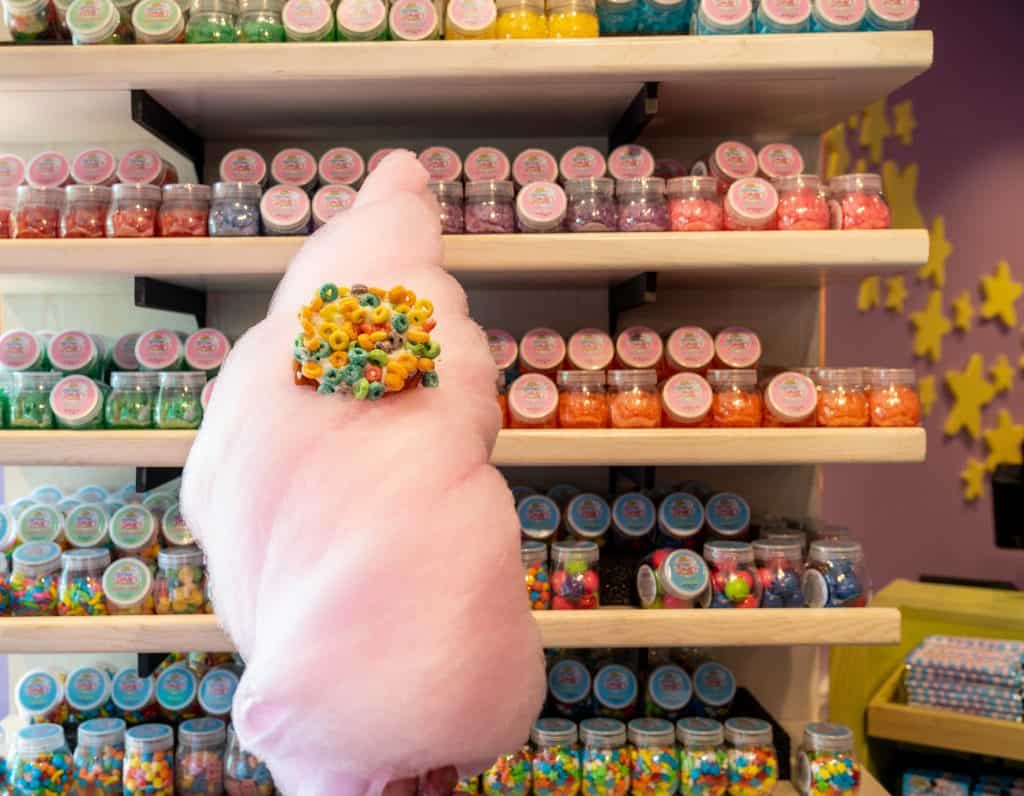 Is it normal? Nope. Practical? Not even a little bit. Easy to eat? Hahaha.
That said, does it make for a pleasing photo? Absolutely… but just don't try eating both at the same time. Contrary to popular belief (when consulting a room of seven-year-olds), a giant helping of spun sugar is not best enjoyed with a doughnut covered in Froot Loops. We made it halfway through the incredible mountain of Jolly Berry cotton candy, and five bites of the doughnut, before we started to realize the error of our ways.
3. Bacon Maple Bar on top of a Frozen Butterbeer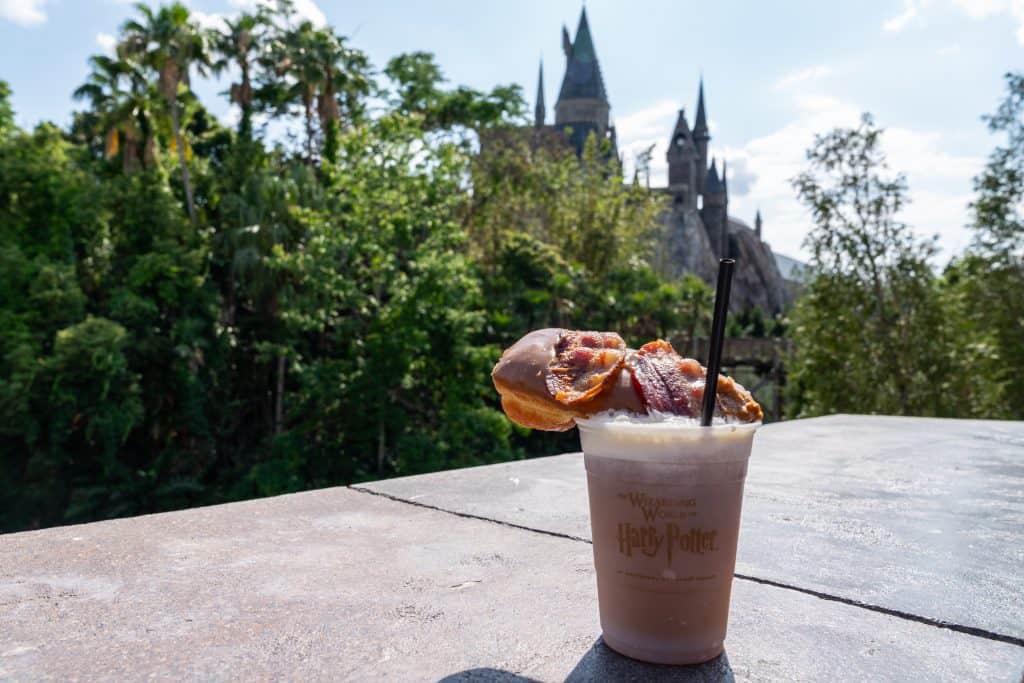 We're still on the fence about this one, and probably will be for a while. On the one hand, the salty flavor of the bacon works as well for the Butterbeer as the maple doughnut it sits on. On the other, however, the combination as a whole brings sweet to a whole new level. Regardless, this photo made our dentist cry.
Let's say, for now, both are incredible treats that are a must-try (on their own) during your next trip.
4. Voodoo Doll on a Toothsome Red Velvet Milkshake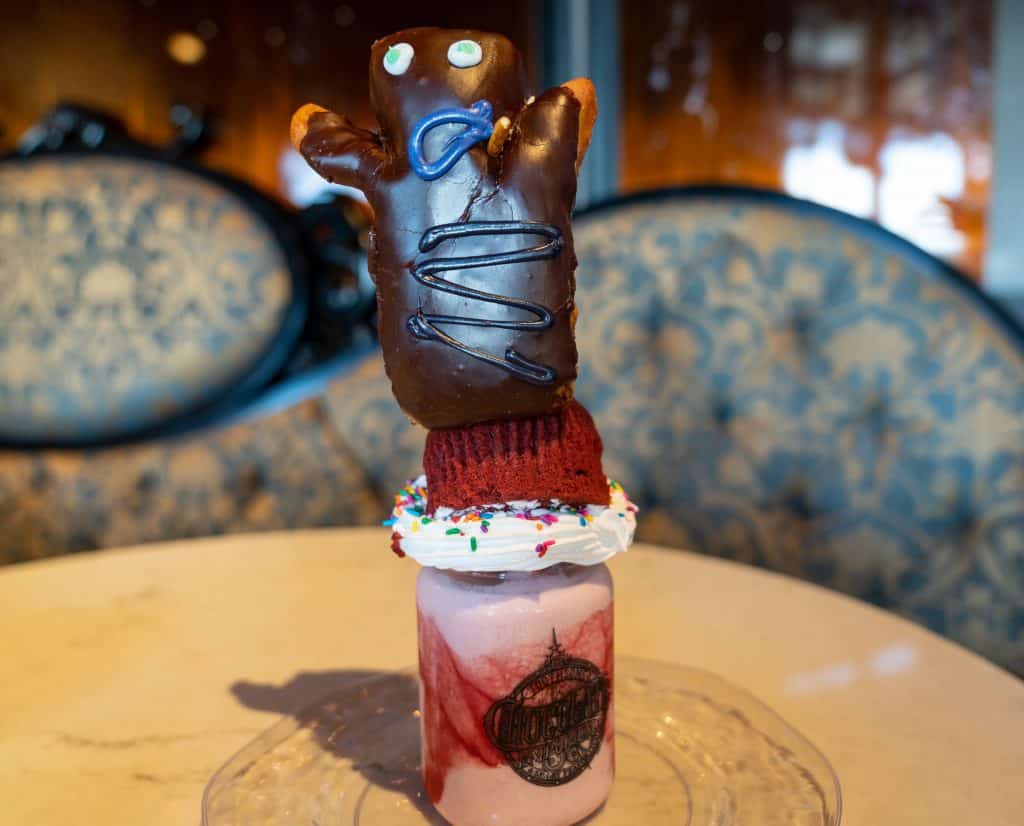 If there was ever a photo or food pairing that came off as extra, this would be it. Period.
A rich milkshake topped with a big cupcake – and a giant doughnut. What's interesting about this marrying of madness is that the two share a delicious raspberry component: the swirl in the shake and the filling in the doughnut. The shake itself is light enough to eat with the doughnut; however, all bets are off when you try incorporating the cupcake or the frosting on the top of the shake.
It was clear after the fact that this was a step too far. Next time, we look forward to enjoying both – separately.
–
Be sure to follow Orlando Informer on Facebook, Twitter, and Instagram for even more updates on everything Walt Disney World, Universal Orlando, and other Orlando experiences.