You've gotten your ticket (no easy task!), waited in line for Early Park Admission, and, of course, snagged your TapuTapu upon entering the front gate. What now?
There's a lot to do at Volcano Bay, from leisurely activities to some pretty high-end thrills, and this is precisely the way that Universal has designed it – a complete experience that can last from day to night, allowing guests to pace themselves by alternating their brief episodes of sheer terror with long stretches of relaxing down time.
https://www.youtube.com/watch?v=Qoo1LSLzsiY
All of which makes the prospect of settling on one activity as your first undertaking all the more important. We've sketched out three different possibilities, and we're ranking them by order of importance – or, at least, what we think will be the hierarchy; we still need to actually set foot in the park and scope the situation out for ourselves before we can definitively recommend any type of touring plan, naturally.
So, which of these first tasks should you set out on first?
1. Stake out your territory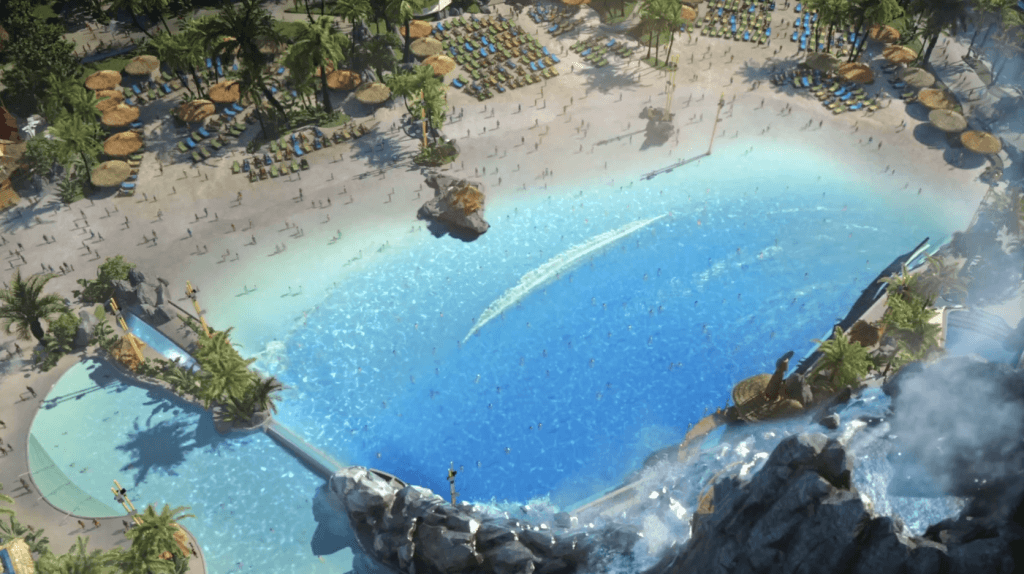 If you're going to be hanging out in the park all day – and, quite frankly, even if you're not – you're going to need to grab a little slice of heaven for yourself, to set it up as your base of operations while the rest of your party goes off to brave the rapids or graze at one eatery or another. (This is even more important at Volcano Bay than at other water parks, as Universal's much-touted Virtual Queue will be fully implemented for each and every ride, thereby increasing the amount of down time you'll have at your disposal.)
Snatching a plot of land at Waturi Beach will probably be the first order of business, allowing you to soak up some rays, eat your grab-and-go bites, and have your towels dry while you hop off into the Kopiko Kai Winding River for the nth time that day (or into the two pools that are stationed right next to Waturi Beach, we should probably add). Since the beach is one of the very first (major) things you see when entering Volcano Bay, it's going to be pretty in-demand for the entire day.
But the beach won't be your preferred spot if you have extra funds to devote to your volcanic escapades. Premium Seating is the first add-on available for purchase; Universal will select your home base for you (probably in designated, high-value zones, if we had to guess), and then throw some extra bones your way for your troubles, such as padded loungers and an area attendant.
The best of the best in this regard, however, are the private cabanas that are situated all throughout the water park. These one- or two-story private getaways come with a whole laundry list of perks, including bottled water and a complimentary fruit/snack basket, topped off by getting your very own concierge who will personally deliver food and drinks from an exclusive menu. There's going to be no finer way to experience Volcano Bay, we're sure, but we're also pretty positive that it's going to cost an arm and a leg.
(We should note here that Universal will allow guests to secure their Premium Seating or cabanas before they even arrive at the front gate, and we wholeheartedly recommend making these reservations well in advance – this way, your very first task in the park can be something more of the fun variety instead of the logistical.)
Read our complete insider's guide to renting cabanas and procuring Premium Seating here.
2. Take the plunge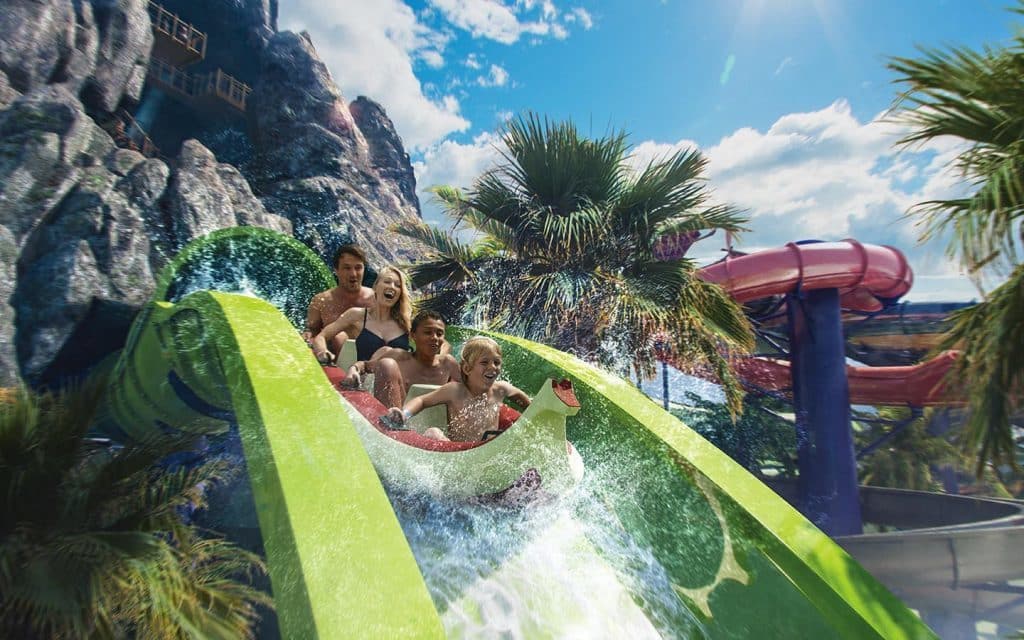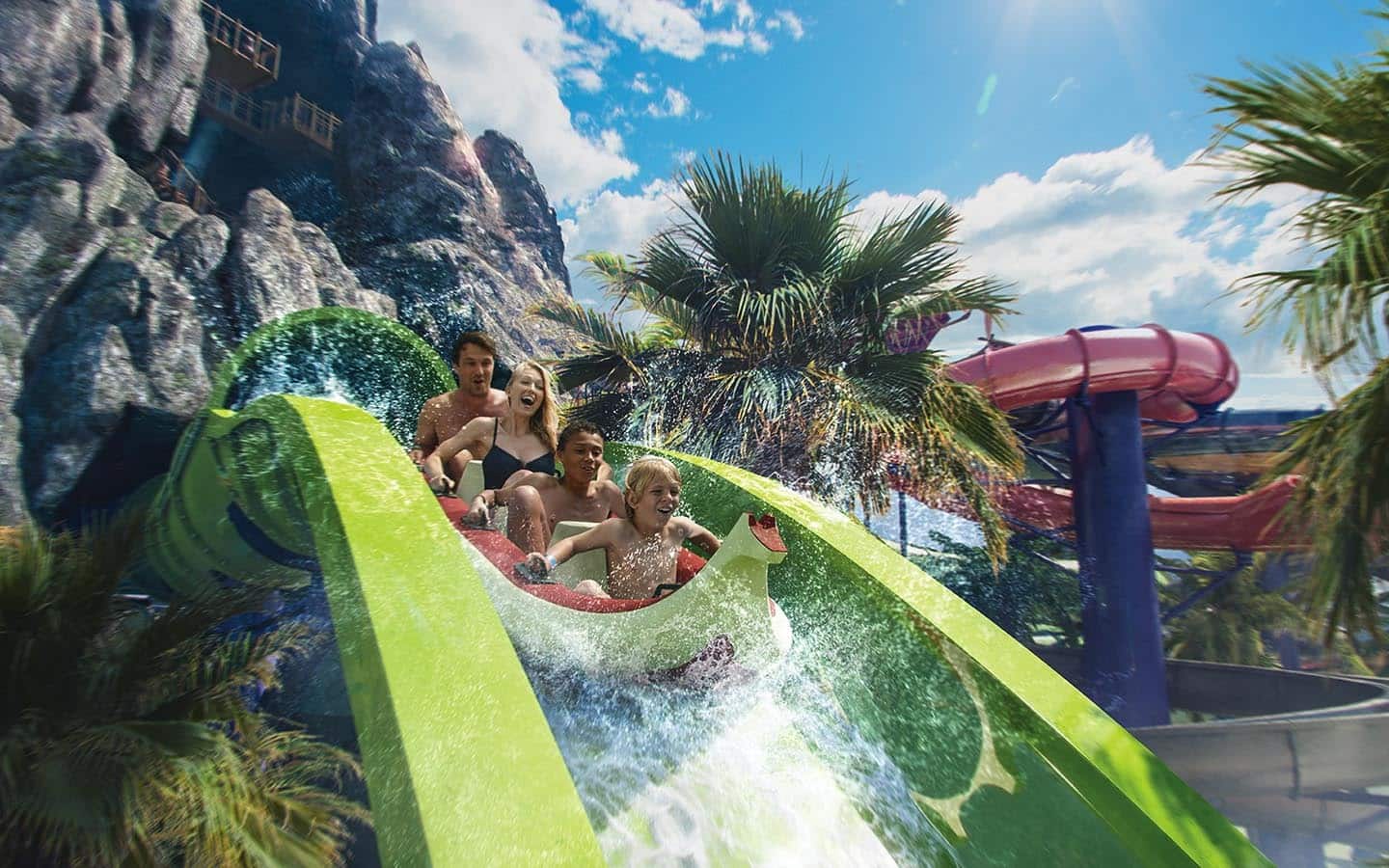 Now, this is, in many ways, the real heart of Volcano Bay – slides and raft rides in all shapes and forms, ranging in appeal from families to the most hardened of thrill-seekers. It would behoove you to nab return times for the water attractions as soon as possible, so that you won't have to wait until well later in the day in order to hop on them – and, maybe, so that you can get a few ride-throughs in before you call it a night.
It's our belief that some of the most thrilling of these rides will be the most popular and, therefore, the hardest to secure, starting with the park's flagship experience, the Krakatau Aqua Coaster – a roller coaster that uses a four-person raft but which still shoots you up hills (Incredible Hulk Coaster-style) and plunges you into the dark twists and turns of the Krakatau volcano. In fact, our best guess as to how the park will work is this: when you first receive your TapuTapu wearable, it'll already come preprogrammed with a reservation for Krakatau Coaster, meaning the sooner you arrive, the sooner you'll be able to tackle the beast.
Since we're at it, here's another guestimate for you: the other must-do, most-(virtually)-crowded attractions will also be located at Krakatau. The Ko'okiri Body Plunge is a massive, 70-degree, 125-foot water slide (which cuts through the Reef leisure pool, to boot), while the Kala and Ta Nui Serpentine Body Slides dispatch two guests at a time and have their paths crisscross several times on their way down the face of the volcano.
Sound exciting? Yeah, it will to everyone else, as well. Make sure you secure your spot in their Virtual Queues as soon as you possibly can.
3. Relax!
https://www.youtube.com/watch?v=TV-2pkwLBog
You've gotten up early, packed all your belongings, already secured your private rental accommodations in Volcano Bay, and have laid claim to your temporary abode for the day. Now it's time to get to the really serious part of your vacation – sitting back and relaxing (and preferably in the water, right?).
The whole other half of the water theme park is dedicated to making you while all your worries away. There's that Waturi Beach we've already mentioned to lay out on, but there's also Volcano's two leisure pools and, if you want something a little more adventurous, the multi-directional wave pool. When combined with the huge, snaking lazy river, there's more than enough hours of rest and relaxation to be had at hand.
But floating into oblivion is only half of the leisurely picture – for what can be more relaxing, after all, than eating? There are four quick-service restaurants strategically placed all throughout the park, with each one offering up a slightly different take on the South Pacific cuisine (and each participating in the Universal Dining Plan, we should mention). Kohola Reef Restaurant and Social Club specializes in BBQ, burgers, and chicken; Whakawaiwai Eats, pizza and hot dogs; Bambu, burgers and chicken tenders; and, finally, The Feasting Frog, tacos.
It may at first seem silly to prioritize food so much, but, in all actuality, it isn't – in addition to Universal specifically designing Volcano Bay to revolve around food in the very same way that The Wizarding World of Harry Potter revolves around Butterbeer, there has already been many a message left in our inboxes or on our Facebook group that says guests are seriously considering going to the new park solely for the purpose of eating. (Mission accomplished, Universal.)
Given all this extra attention being paid to the Mango BBQ Pulled Pork Slider or (our personal favorite) the Chocolate Pineapple Upside Down Cake, wanting to grab a dish for yourself straight away makes perfect sense – along with clearing your stomach for plenty of drops, splashes, and raging rivers throughout the rest of the day.
Read our top six favorite sips and eats at Volcano Bay here.
–
Be sure to follow Orlando Informer on Facebook, Twitter, and Instagram for the latest news, tips, and more at Universal Orlando, Walt Disney World, and other Orlando attractions.