I know it seems like we've been talking about Volcano Bay's food for ages already, but that's the result of two different factors: our honest, unbridled enthusiasm for the South Pacific cuisine, and Universal's attempts to create something truly unique. In fact, in a special media presentation held today at Universal Studios Florida, we got to hear Ric Florell, the Senior Vice President and General Manager of Universal Orlando Resort Revenue Operations, talk about how the company spent as much effort and passion on the new water park as it did on The Wizarding World of Harry Potter. "Imagine walking around the Wizarding World without a Butterbeer in hand," he said – you'd be missing half the experience. He's not wrong at all.
https://www.youtube.com/watch?v=aypXKL54nRM
We can't help but reach the preliminary conclusion that Universal has been successful in its attempts at replicating that very same approach with Volcano Bay; there are several different dishes or drinks that are so good – and will (we think) complement the overarching immersion – that going to the upcoming water theme park just to eat won't be considered outlandish in the slightest.
What do we think the crème de la crème so far are? We're glad you asked – we have six specific items in mind.
6. Chocolate Lava Cake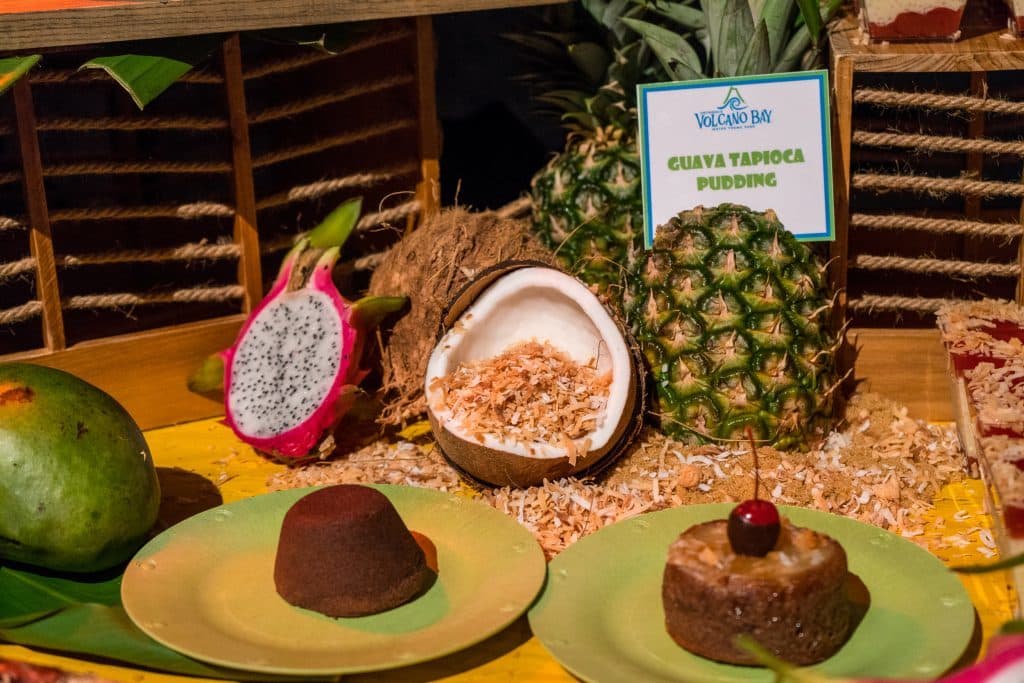 Volcano Bay's version of a Chocolate Lava Cake is pretty much just a standard cake – no unusual flourishes or taste infusions here, unlike most of everything else we tried – but, then again, this dessert was so good, it didn't need anything extra to make it stand out. Put simply: the lava cake is delicious, rich, and, best of all, it just melts in your mouth.
What else could you possibly ask for in a dessert in a tropical paradise?
5. Pog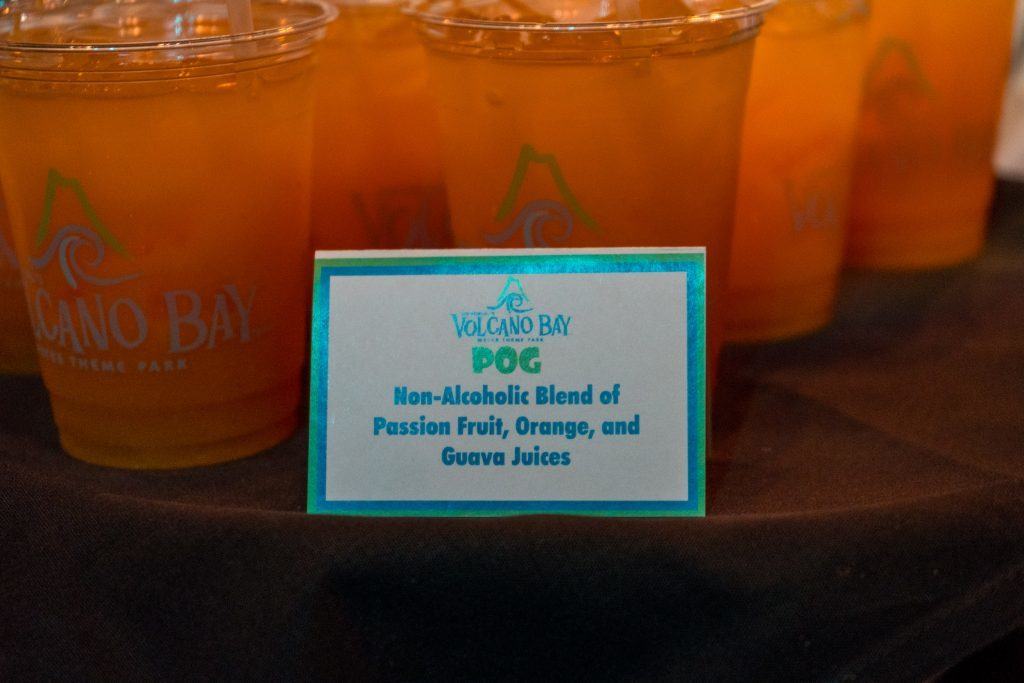 Don't let Pog's placement on our list fool you – this is actually one of the offerings that we're most excited about. In fact, we'd even go so far as to say this is Volcano Bay's version of Butterbeer – the signature drink that everyone will just have to have while floating down the lazy river or sitting down for a full meal.
(Yes, we know that Disney has had a version of Pog for quite some time down the street at Walt Disney World Resort. Seeing as how it's never been offered on Universal property, however, the precedent doesn't really apply.)
What's in this magical elixir of a beverage? It's a non-alcoholic blend of passion fruit, orange, and guava juices. It's refreshing, which is a good thing – considering that there really aren't that many other non-frozen or -alcoholic drinks out there, Pog is mostly standing tall by itself.
4. Mango BBQ Pulled Pork Slider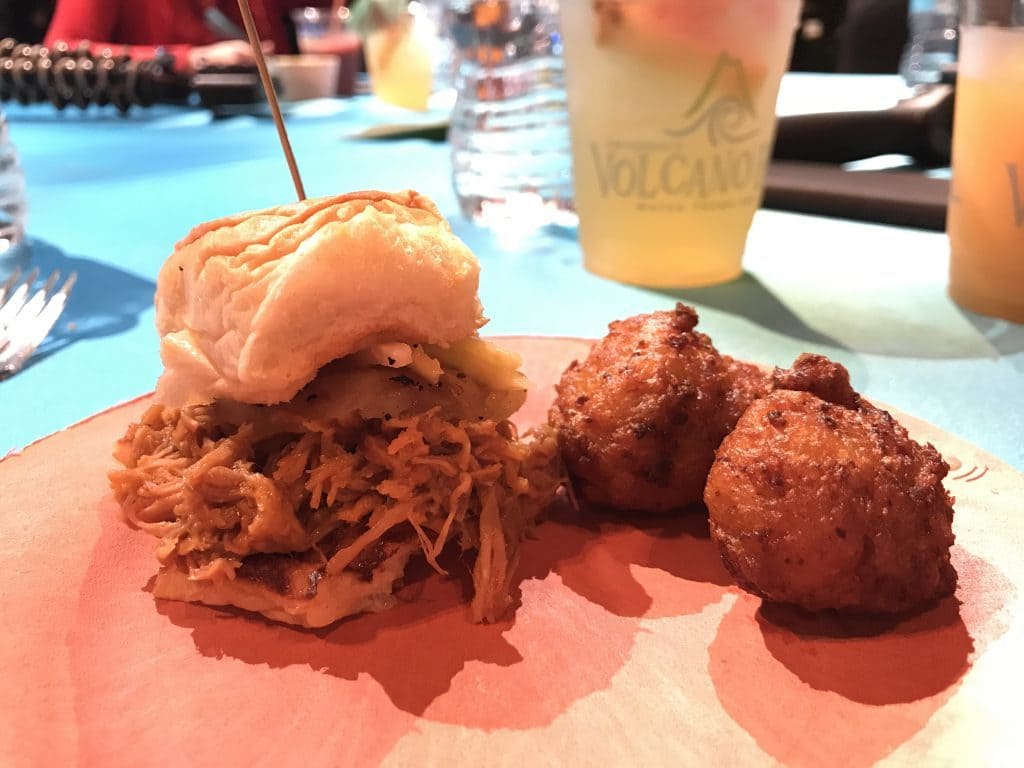 When Universal first pulled the curtain back on its volcanic culinary selection, this is the dish that immediately seemed to stand out above all others. We're incredibly happy to say that the Mango BBQ Pulled Pork Slider didn't disappoint in the slightest.
Topped with caramelized pineapple (a common ingredient in almost every single dish) and fresh cabbage and mango slaw – and then placed on a toasted King's Hawaiian roll – the flavors are all well balanced, with none particularly standing out. Even better, the pork was super tender, which made for a nearly divine experience when sampling it.
3. Hawaiian Ribs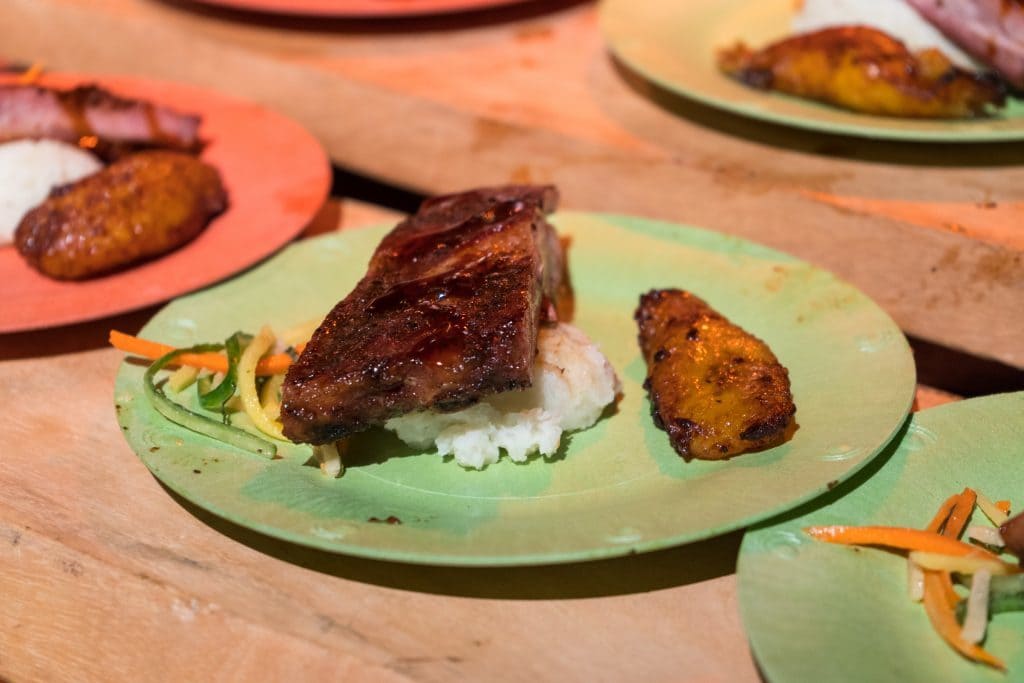 This was the surprise standout for a lot of the journalists who were in attendance this afternoon. Served with boniato mash and sweet plantains, the Hawaiian Ribs are a little smoky and a little sweet and contain what can be called the perfect glaze – pretty much exactly what you think of when someone mentions ribs to you.
If Pog just might become the most popular beverage option at the park, then we wouldn't be surprised – at all – to see these ribs become its food counterpart. Yes, they're that good.
2. Coconut Curry Chicken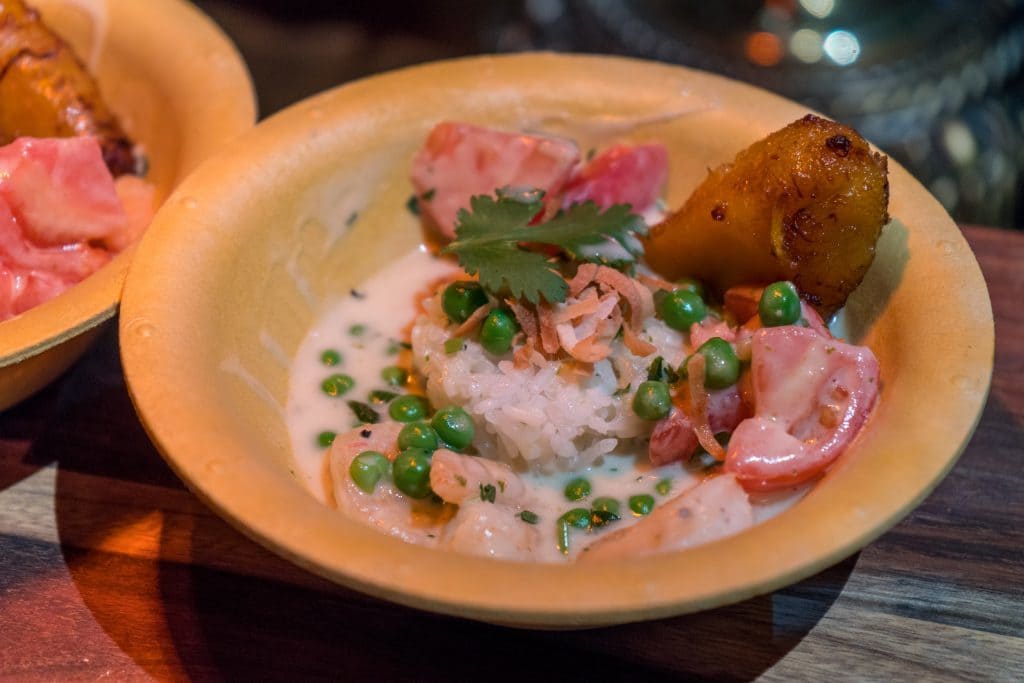 One of the chefs on-hand recommended this dish to us. Unsurprisingly, he was right on the money – the Coconut Curry Chicken is delicious, warm, and all sorts of tasty. (Trade secret: Universal uses the chicken thigh instead of the breast in order to make for a more savory, more textured meal.)
We're already giving this the mantle of "perfect water park food" – it's filling, but not too heavy, so you can hop right back into the water not long after scarfing it down.
(OI pro tip: the Coconut Curry Shrimp, which uses essentially the same ingredients, isn't quite as good. Opt for this dish instead whenever you can.)
1. Chocolate Pineapple Upside Down Cake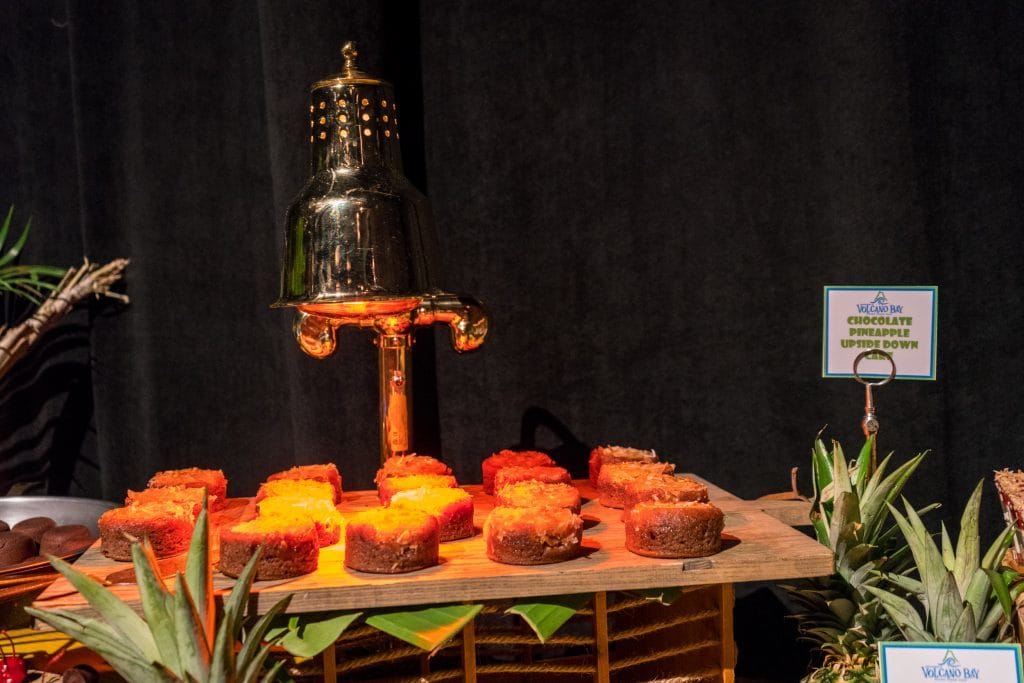 Forget everything else on the menu – we did as soon as we tried this magnificent beast.
Volcano Bay's Chocolate Pineapple Upside Down Cake has little pieces of coconut inside and a hard chocolate casing on the outside, making for a brilliant texture. When combined with the chocolate-covered cherry on top and the simple, little fact that it's served warm, you couldn't ask for a better, more delicious dessert option – or a more fitting nightcap to your day of splashing down slides and relaxing on the beach.
It's all sorts of wonderful, and it belongs in our bellies right this very instant.
–
Is everything Volcano Bay-related just too much to keep straight? Don't worry – our complete insider's guide has everything you need to know, all laid out in a nice, orderly, straightforward fashion.
In the meantime, be sure to follow Orlando Informer on Facebook, Twitter, and Instagram for the latest news, tips, and more at Universal Orlando, Walt Disney World, and other Orlando attractions.