Universal has revealed a whole score of details regarding a wide range of items at its upcoming Volcano Bay water theme park, including cabana rentals, Express Passes, and a brand-new feature called Premium Seating.
Although we're still waiting to learn all of the details (Universal has published and then taken down the information at least once already), we do have enough of the basics to paint a pretty good picture of how your day at the park will play out and what different options will be available to you as you relax at Waturi Beach or plan your next plunge down the Kala and Ta Nui Serpentine Body Slides.
Cabana rentals at Universal's Volcano Bay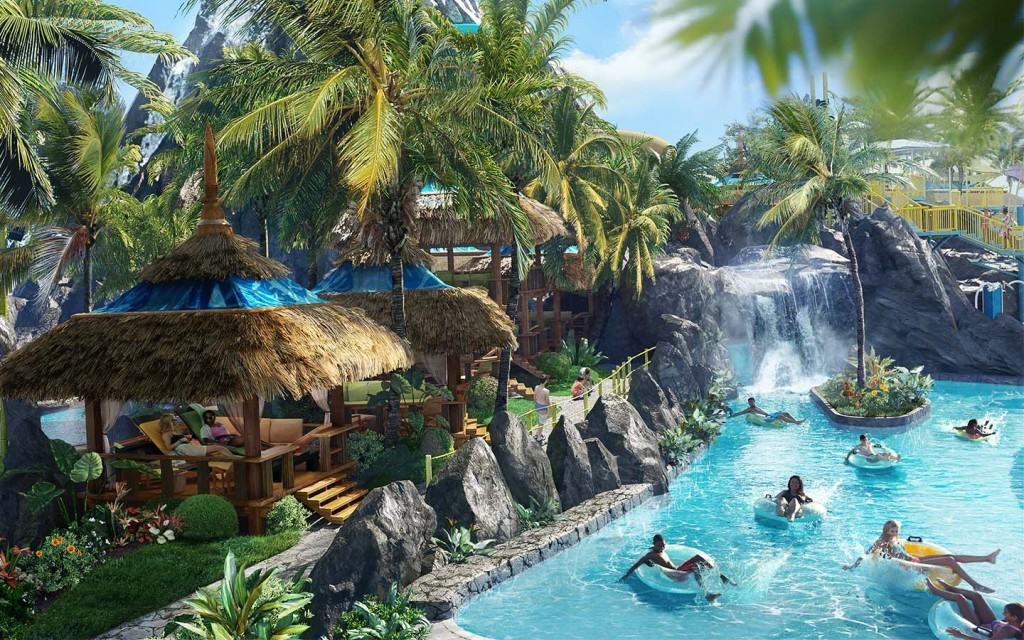 Volcano Bay has been designed from the ground up to take advantage of Virtual Queues, which allow you to wait for your turn at an attraction without actually physically standing in line; guests' TapuTapu wearable will let them know when it's time to hightail it back to a ride. (This is a process that has already been instituted at Race through New York Starring Jimmy Fallon, and it'll be built into next year's Fast & Furious: Supercharged, as well – along with, presumably, literally every new attraction Universal does from here on out, given the company's feelings on the matter.)
What to do with all that suddenly-freed-up time that used to be spent locked in a queue? While Universal would be happy to have you check out all of Volcano Bay's delicious (and unusual) food items, what it's really hoping for is that you'll rent one of its private cabanas – a little home-away-from-home that comes equipped with "extra-comfy seating" (such as padded lounge chairs), a small fridge that's stocked with bottles of water, and a complimentary fruit and snack basket. What truly makes a cabana a premium experience, however, is the towel/locker and concierge services, the latter of which has you ordering various dishes and drinks off of an exclusive menu and then receiving them via special delivery.
https://www.youtube.com/watch?v=OZPwb1V6-g8
There is no word yet on how much, exactly, a cabana will cost to rent, but we do know that (a) they come in both one- and two-story varieties, and (b) they are located all throughout the water park (thereby helping Universal to keep its promise that all of Volcano Bay's various amenities will be scattered across its 30 acres, instead of being concentrated just at the front).
Single-day Tickets to Universal's Volcano Bay
Details have been released for the much-anticipated single-day ticket to Volcano Bay, which – as the name might imply – is only valid for one day of entry to the new water park. Adults will pay $67 to get in, while children will cost $62. It's important to note that, unlike either Universal Studios Florida or Islands of Adventure, this one-day pass isn't seasonally priced – meaning that it's a flat rate no matter what time of the year you go.
You can learn more in our Volcano Bay Tickets guide.
Express Passes at Universal's Volcano Bay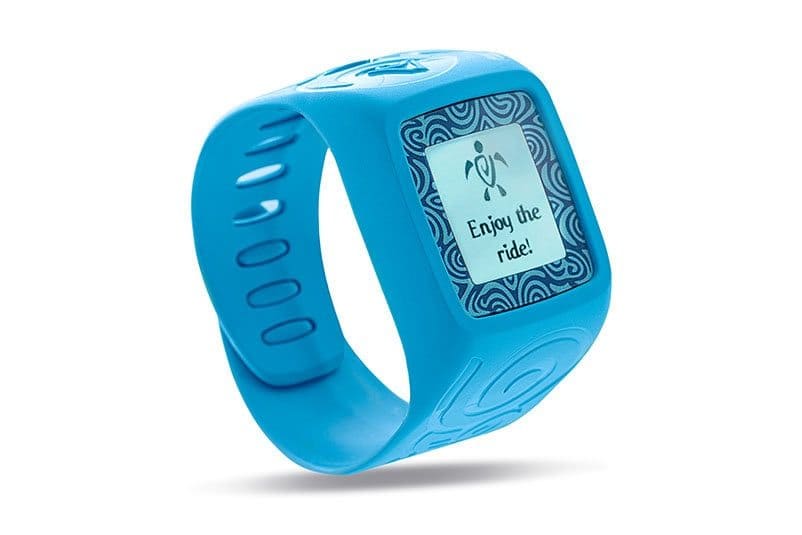 Yes, just like the two theme parks, Volcano Bay will be getting Express Passes. Unlike either Universal Studios Florida or Islands of Adventure, however, this front-of-the-line access will work differently at the water park: rather than getting into a different, shorter line than the standby queue, guests will simply skip nabbing a return time for the attractions and will instead proceed directly onto them. Your Express Pass access will be loaded onto your TapuTapu. There's no need to carry around a paper ticket.
(There is actually a second, possibly-contentious point of departure from the usual Express Pass status quo, this time revolving solely around annual passholders. You can find out all about that in our comprehensive [and exclusive!] AP breakdown.)
There are still many similarities, of course, including the fact that only select rides will support Express Pass access (we have a list of those in our complete guide) and that guests will be expected to purchase the Express privilege. Preliminary pricing puts standard Volcano Bay Express Passes at a range of $24.99-$49.99 (they'll be more expensive on busier days), while Unlimited Express Passes have a initial range of $49.99-$79.99. These prices were originally mistakenly listed as starting at $19.99 and $39.99 on Universal's website. Pricing is currently only available for May and June.
(Need a quick refresher on what differentiates a standard EP from an unlimited one? Easy – the former can only be used once at a participating attraction, while the latter is, well, unlimited.)
You can learn more in our Universal Express Passes complete insider's guide.
Premium Seating at Universal's Volcano Bay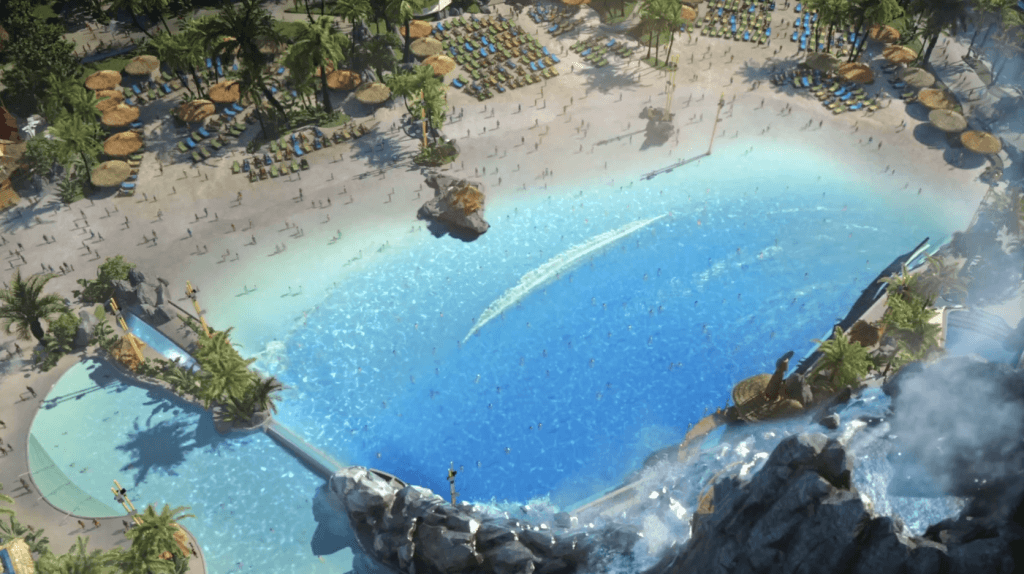 Universal's water theme park can get crowded, especially – we expect – at Waturi Beach, where guests will sprawl out to soak up the sun or to stow their towels while they go for a swim in either the wave pool or the Reef leisure pool. Families will need to stake out their spot, and Universal is more than willing to help – for a price.
Enter Premium Seating. For a still-undisclosed fee, the company will reserve a special spot just for you, and it'll also throw in two additional perks: a pair of padded loungers (replete with adjustable shade canopy and a built-in storage lockbox for your belongings) and an area attendant, who'll take your food and drink orders (but who, unlike his private cabana counterpart, will be shared with several others).
Dining Plan info
Universal's Dining Plan has been extended to include all four of the water park's quick-service venues (Kohola Reef Restaurant and Social Club, Whakawaiwai Eats, Bambu, and The Feasting Frog) and its four snack carts (ice cream, lemon slush, Dippin' Dots, and Icee).
We'll have our Dining Plan complete insider's guide updated very soon.
–
Learn everything you need to know about Volcano Bay (and everything else Universal-related) in our OI Universal Center and in our Facebook group.
Then be sure to stay tuned to Orlando Informer on Facebook, Twitter, and Instagram for the latest news, tips, and more at Universal Orlando, Walt Disney World, and other Orlando attractions.