If it seems like Disney and Universal are in something of a marketing war, you're right on the money: Pandora: The World of Avatar, an expansion at Animal Kingdom, bows on May 27th, while Universal's third park, Volcano Bay, will hold its grand opening two days earlier, on the 25th. And seeing as how we got our first glimpse at one of Pandora's queues just last night, it's now Universal's turn to respond by pulling back the curtain on Volcano's narrative.
The company's official blog has spilled the beans on the entire backstory, and what's interesting to note is how sweeping it is (well, compared to the other themed water parks in the area, we should probably note – Game of Thrones this is not). The origin story of Volcano Bay, from its creation to the arrival of the wayward Waturi people, is rather involved; it also comes replete with a pronunciation guide, which shows you just how seriously Universal is treating the whole endeavor.
Volcano Bay's cosmogony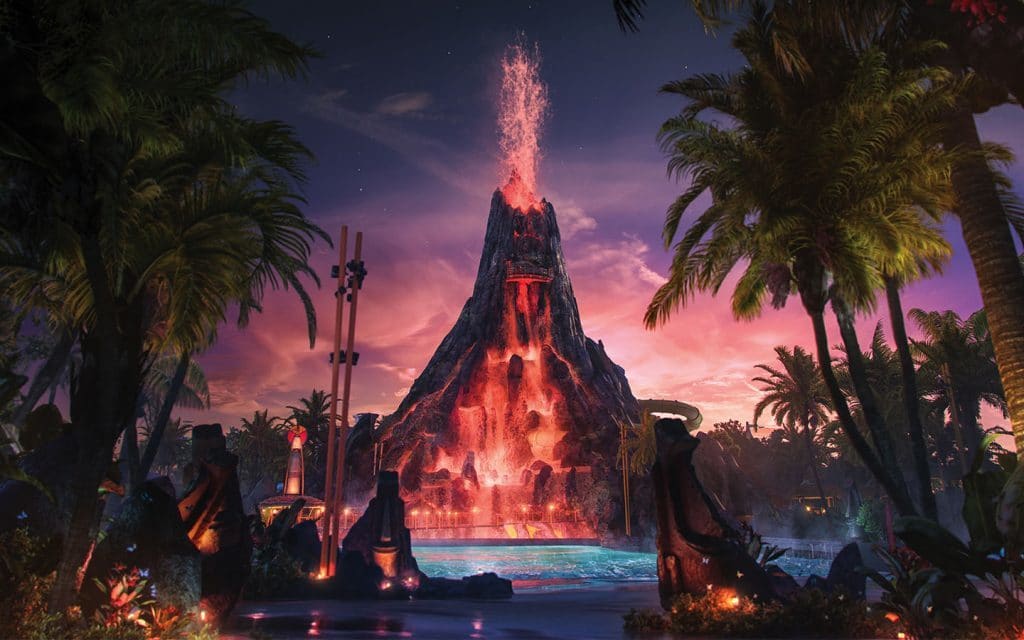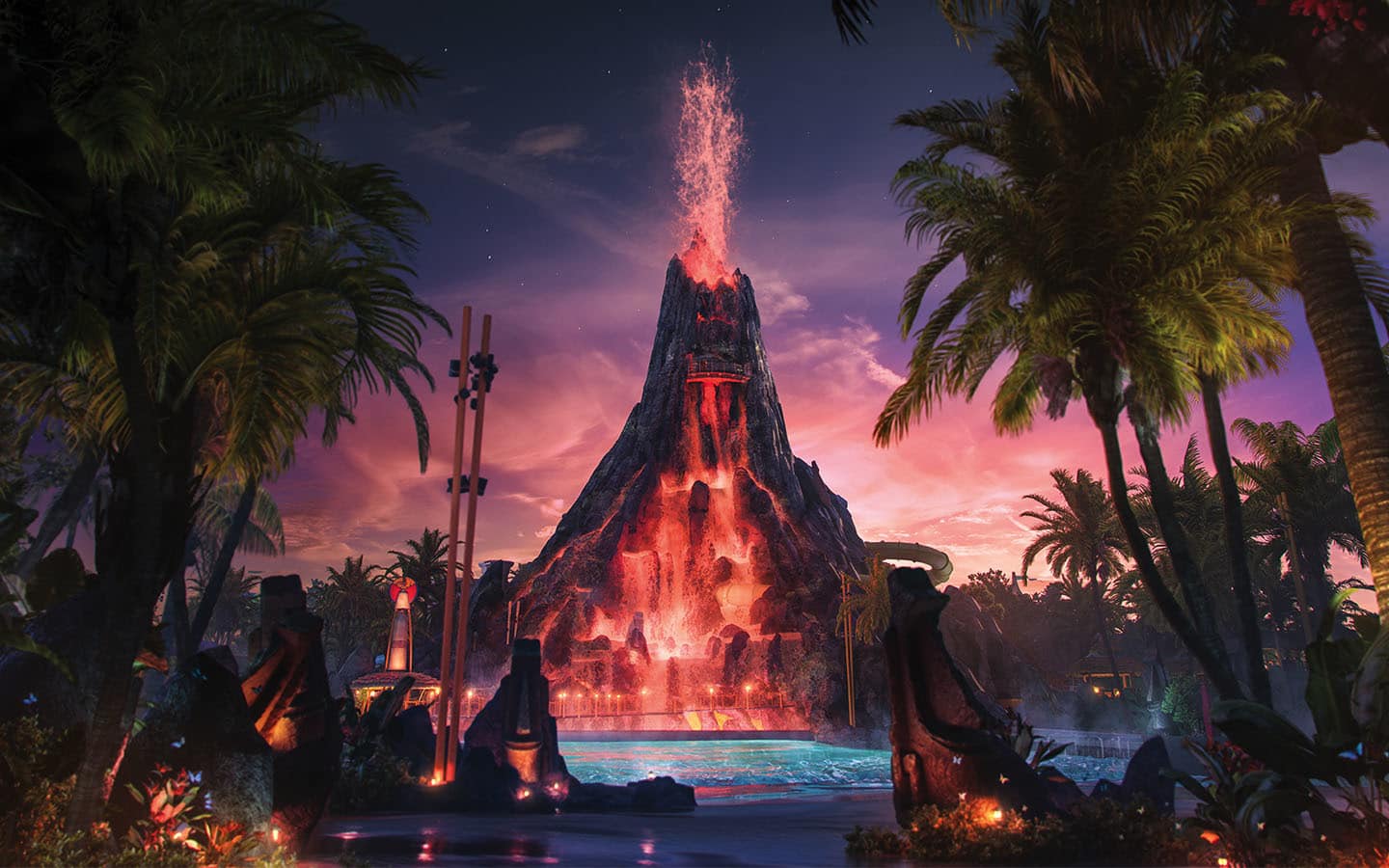 The water park's creation story starts with the Waturi, who, for some unknown reason, set out on their outrigger canoes for a new home. According to their legend, a mystical, many-golden-finned fish named Kunuku was destined to guide them to their new home, but the Waturi searched all across Pacifica, visiting many islands – Bali, Tahiti, and Easter Island among them – and never once encountered her.
Finally, just as they were approaching the very edge of the world, they found Kunuku playing in the waves. "You are ready," she said to the people, and then turned and swam away. The voyagers followed her, and, within a day, they caught sight of a smoking mountain on the horizon – Volcano Bay.
This island was pristine, beautiful, lush – everything they would want in a new home. The Waturi settled there, taking with them all the customs, music, and art of the various cultures they had encountered along their journey. It is the closest place to being paradise on Earth.
But, it turns out, the island wasn't always so peaceful:
It all began with the fiery god Krakatau. Though his wrath and fury dominated the land, he couldn't contain the adventurous spirit of his daughter, Tai Nui. She fell in love with a native youth named Kala, and when her fiercely protective father learned of the romance, he flew into a rage. He banished Kala forever to the sky, where he became the Moon.
Overcome with grief, Tai Nui's tears became the Sea. Krakatau then realized he had only succeeded in destroying what mattered most to him: his daughter's happiness. Determined to reunite the young lovers, he reached into the earth and pulled it to the sky – creating the volcano of Volcano Bay. Krakatau trapped the remains of his anger and jealousy in the form of the fire spirit Vol, whom he imprisoned deep within the volcano.
This is how the Sky, Sea, and Earth united to form the paradise of Volcano Bay.
The real-world reasons for the fictitious story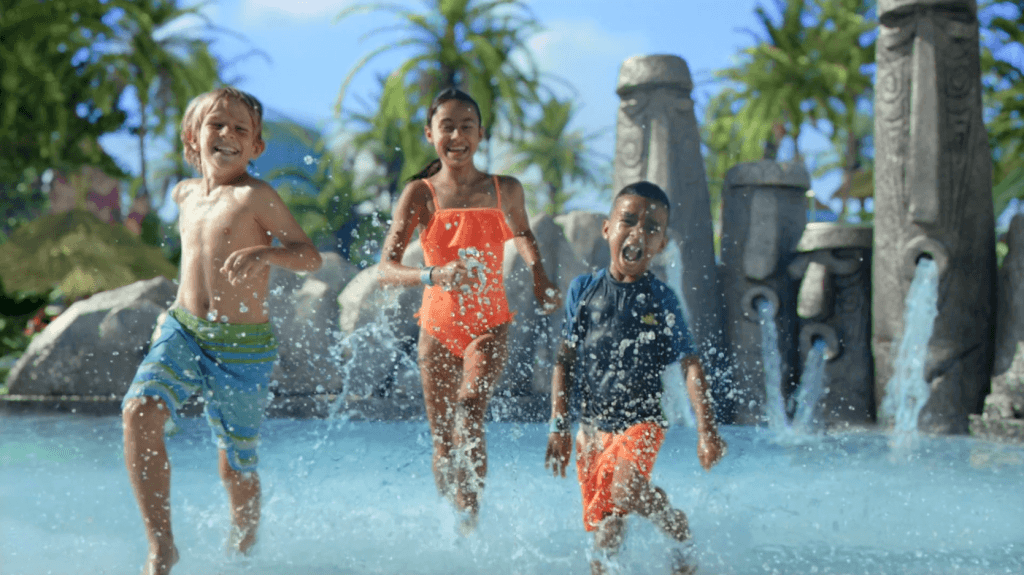 One of the reasons Universal went to all this trouble is, in time-honored themed-attraction tradition, to justify all the various real-world realities that guests will encounter in the creative space. The first, of course, is in the fact that Universal Creative drew upon all of the various cultures that dot the South Pacific when it created the architecture, style, and ambiance of Volcano Bay; by directly incorporating them all into the backstory of the Waturi, they've managed to share rather than steal – a nifty narrative trick.
Even more importantly, all of this is a grand preamble to pull off the biggest feat that Universal needs to do in order to make its water park as successful as it possibly can: it wants its guests to be put as thoroughly in the desired state of mind as possible. This cosmogony – telling a tale of how the Waturi were greeted with friendship at every stop they made, which is why they, in turn, welcome all visitors to their new home so warmly – and the TapuTapu wearable together will allow everyone to "live on Waturi time and feel as one with the island's carefree way of life."
TapuTapu Play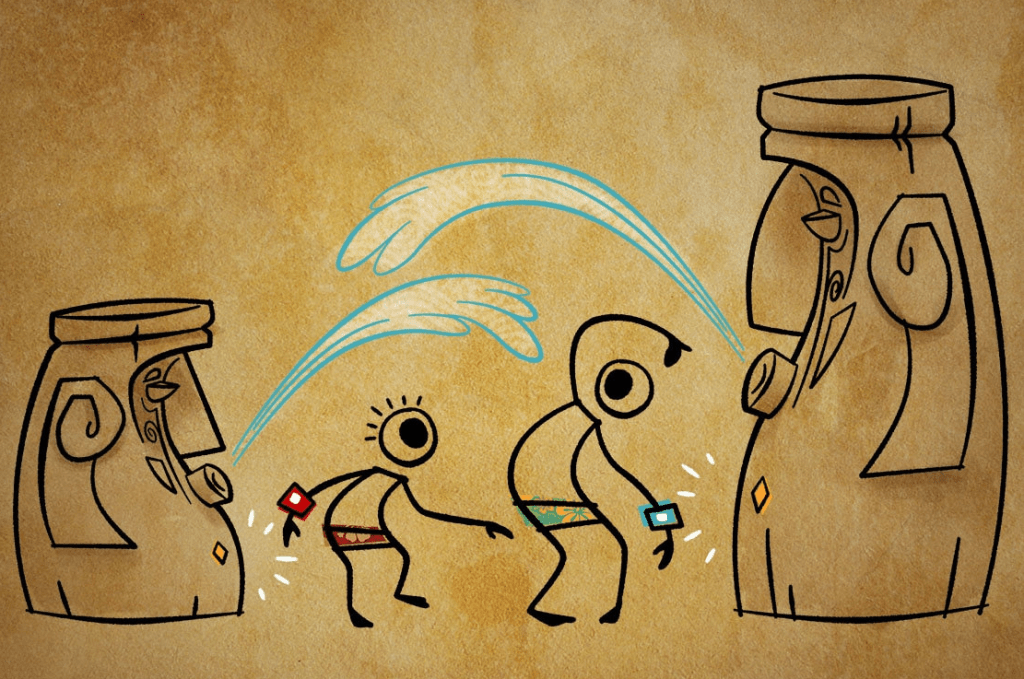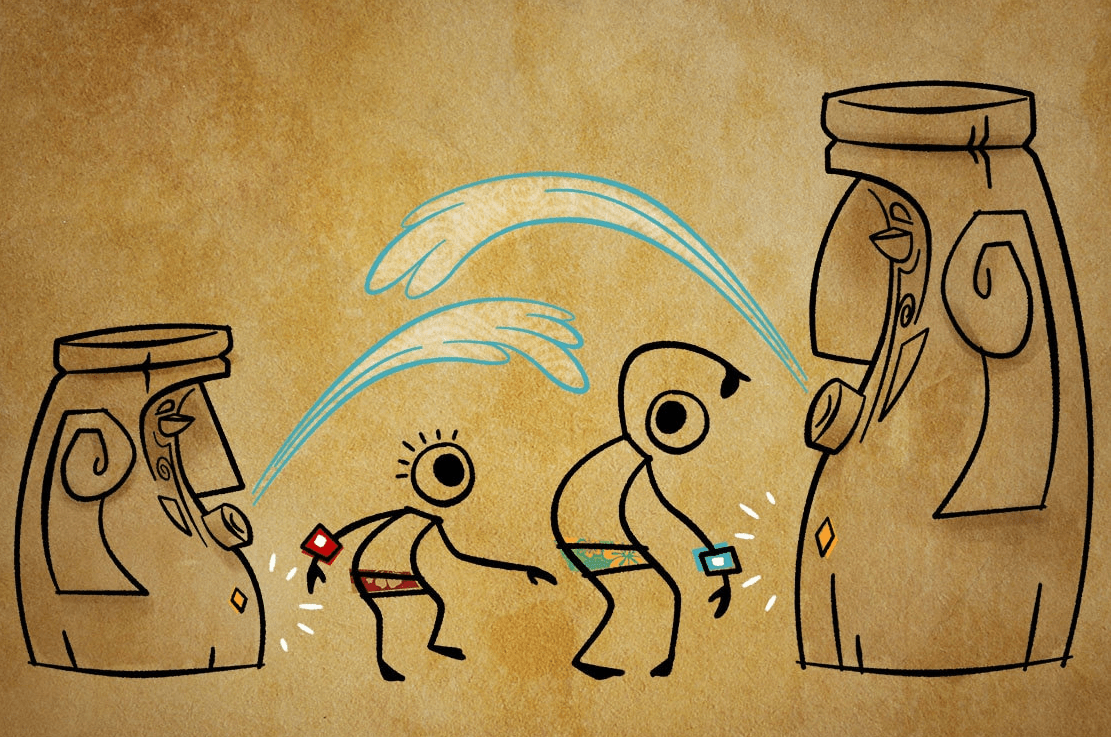 There's one final ulterior motive to Volcano Bay's narrative – it also (seemingly) provides for a number of the interactive, TapuTapu-fueled experiences that will be spread all throughout the park, experiences that we now know will officially be referred to as TapuTapu Play.
We've already known that some of these elements would involve the lighting of a cavern inside Mt. Krakatau, the titular volcano, or the activation of water sprays, but now we can add another item to the Play list, one that would seem to take the cake already: being able to locate and then talk to Vol himself, the ancient fiery spirit that is trapped inside Krakatau. We expect this to work something like the Mystic Fountain inside of The Lost Continent, but, of course, it's still too early to draw any definitive conclusions.
Much like the Krakatau Aqua Coaster, which is the water park's flagship ride and which was purposely held in reserve when Universal initially announced Volcano's roster of attractions last year, Vol is a nice little surprise, and his announcement reminds us of just how much is left to discover about Universal's third park. It also serves as something of a hint: perhaps the company's latest batch of interactive experiences will be a step above what we see with the Wizarding World's interactive wands, as those were thematically derived from the Harry Potter mythos but which had no narrative connections to either the land or its source material. What if, in speaking with Vol, guests can help to learn even more of the Waturi's journeys or of Krakatau's world-creating history? And what if this, in turn, helps us to locate even more TapuTapu Play locations?
And, perhaps most importantly of all, what if this is just another refinement on the interactive theme, helping to pave the way for the next batch of elements, which will arrive in next decade's Super Nintendo World?
Our heads are already swimming with the possibilities.
–
Ready to start living on Waturi time yourself? Check with Orlando Informer Travel to get a free quote on your Volcano Bay vacation.
And, as always, for the latest news, tips, and rumors at Universal Orlando, Walt Disney World, and other Orlando attractions, be sure to follow Orlando Informer on Facebook, Twitter, and Instagram.