Let's talk about two of SeaWorld Orlando's newer animal attractions (and one of them is a ride too!).
We'll start with one of SeaWorld Orlando's most popular attractions, Antarctica: Empire of the Penguin. This ride and animal encounter was announced in 2011 and opened in May 2013 to much excitement. The attraction was a major development for SeaWorld Orlando and spreads over 4 acres of the SeaWorld property. Featuring a new, state-of-the-art ride where riders get to pick the intensity of their ride (making it perfect for families of different thrill-seeking appetites), Antarctica also features a beautiful area to greet SeaWorld's penguin population, which used to only be viewable by a moving walkway.
The outside area of the ride is a work of art itself. The "ice" archway and walls give you the feel of being in a much colder place than Orlando, Florida. There are also penguin carvings with numbered tags so you can learn about different penguins.
The ride itself follows the tale of Puck the penguin. Shortly after Puck hatches, a blizzard sweeps through Antarctica, and you'll follow Puck and on a wild, and chilly adventure through his arctic world. As you wind through the icy tunnels of the queue, you will eventually pick which kind of ride you want, "mild" or "wild". Each version is a trackless ride vehicle that smoothly skates through Antarctica. "Mild" will be a very smooth ride, whereas "Wild" will feature more spins and rocking in the ride vehicle, but still is "chill" enough for most riders.
Eventually, you will end up at the actual penguin colony, which is filled with all sorts of cold-weather penguins including emperor, king, gentoo, Adelie, chinstrap, and rockhopper. (The add-on SeaWorld penguin encounter features Magellanic penguins, which are warmer weather birds. I've done the penguin encounter and it's definitely worth it to get to meet the Magellanic penguins up close!) But wow, what a sight the Antarctica habitat is! The inside of the habitat is meant to directly recreate conditions in Antarctica. This means the temperature of the enclosure is very chilly (although refreshing in the middle of a Florida summer), and that it is lit to mimic the sunlight levels in Antarctica. There's a nice, big body of water for the penguins to dive into and swim, as well as lots of platforms where you'll see them standing, laying down, or hopping around. But be sure and check Antarctica out from October and into the spring – that's when penguin mating season is, and you'll be able to see a bunch of cute baby penguins!
Once you move along from the initial land exhibit, guests have the opportunity to see the penguins behind a 20-ft tall aquarium. Here, you can watch the penguins dive and play! If I had a coat, I could honestly stand there all day and watch these guys. A SeaWorld Ambassador is generally on hand as well in this area to pass along fascinating facts about these water-gliding birds.
When you leave the exhibit, of course there is a gift shop with all kinds of great merchandise, and if you're hungry, check out the Expedition Café, which is a cafeteria style eatery that features food from different places in the world, such as China, Italy, and America. (Pro-tip: Once you've paid for your meal outside, go straight forward to the building located past the picnic tables. You'll thank me for the air-conditioned area to sit and eat later.) And don't forget to check out the snow-mobile photo ops in the courtyard area as well! (Pro-tip: There are also lockers in the Antarctica area, large ones too, so if you need to stow some things and don't want to walk back to the front of the park, this is another option.)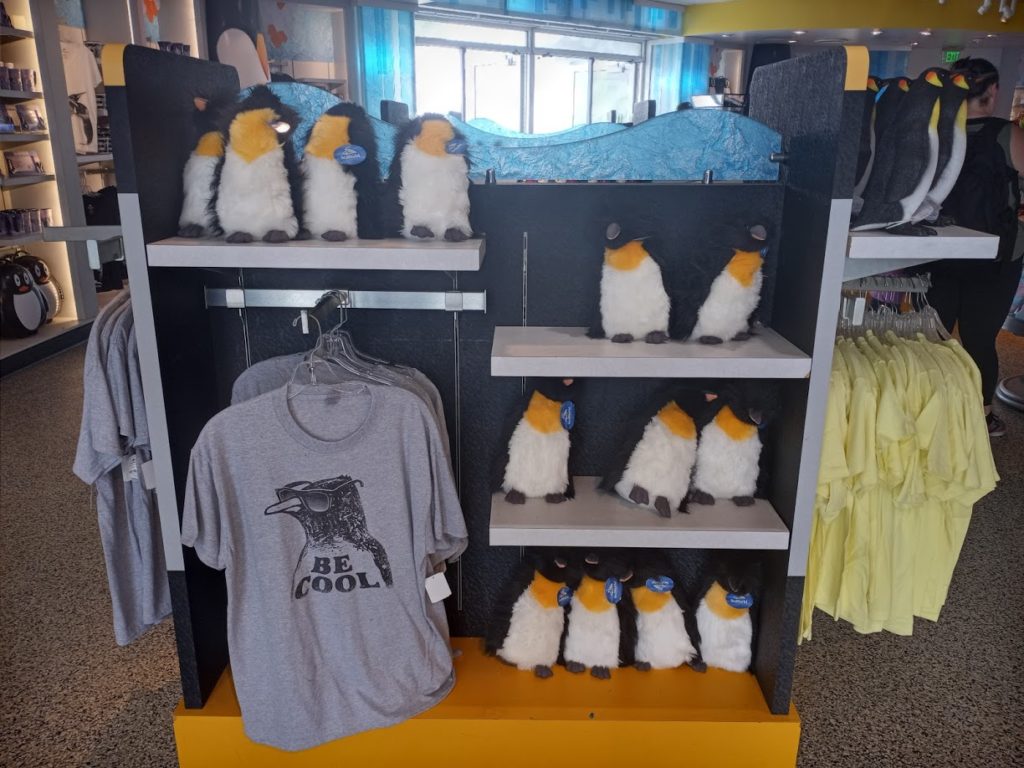 Turtle Trek is another relatively new exhibit that opened right before Antarctica: Empire of the Penguin. Turtle Trek opened in April 2012, and sea turtles being my absolute favorite sea creature, I was thrilled! My family and I went not too long after it had opened, and while it's somewhat different today than it was when it first opened, it's still a top notch attraction. When you enter Turtle Trek, the queue leads you to the underwater manatee viewing area where you can stand and watch the manatees that call SeaWorld home. All of them are rescued manatees, including a very special manatee named Sarah. Sarah was rescued as an orphaned baby several years ago. Baby manatees nurse from their mother, and Sarah's mom was sadly killed by a boat strike, so Sarah needed help in order to survive. SeaWorld was able to take her in and give her the care she needed, including round the clock feedings for the then 80 pound calf. She now weighs in at 3000 lbs, making her SeaWorld's largest manatee resident!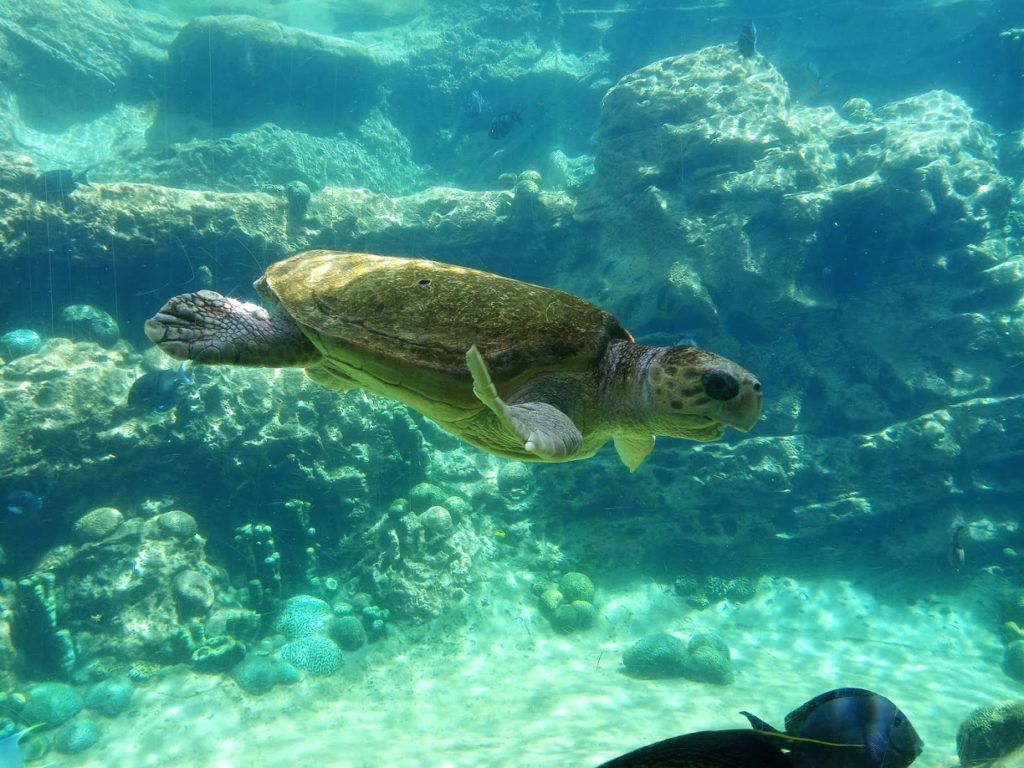 Manatees have no natural predators, but are highly susceptible to boat strikes, cold snaps, and lack of vegetation due to pollution. Because of this, SeaWorld Orlando is on hand all year long to assist with rescues and rehabilitation of this native Florida species. If you check out the various signage around the exhibit, you can learn how you can also help protect these wonderful animals. Many of the manatees SeaWorld cares for are released back into the wild if Florida Fish and Wildlife approves the release. Otherwise, the manatees stay at SeaWorld to be cared for by the amazing SeaWorld veterinary staff.
After you're done checking out the manatees, you're brought into the underwater sea turtle viewing area (I'm not going to lie, I've gone scuba-diving with sea turtles before, and this is the next best thing. You get to see these beautiful creatures up close and personal in their amazing enclosure, which also features saltwater fish such as triggers and groupers. Guests can learn about these animals from an Ambassador at the above-water viewing section of Turtle Trek, which we'll get to in just a bit. After the underwater turtle viewing, you can then experience (if you choose, you can also just proceed to the exit) the 360 degree dome theater to follow Nyah the sea turtle as she hatches on a beach, and faces all kinds of challenges that all sea turtles face, as she grows and matures and returns to the beach to lay her own eggs. Follow Nyah, as she escapes predators like birds (as a hatchling), and sharks (as an adult), navigates her way through ocean pollution like plastic bags, which turtles will eat sometimes because they look so similar to one of their natural food sources, jellyfish. The dome theater really brings Nyah's story to life in this beautifully rendered seven-minute film, and on my most recent visit I was glad to see people of all ages filling the space and learning all about sea turtles and how we can help protect them.
After the movie, you'll proceed back outside where you can go to the above-water viewing area which I mentioned earlier. This is where I learned about Stitch, one of the green sea turtles that resides at Turtle Trek. Stitch is missing her entire front right flipper. Stitch was found drifting listlessly in the ocean by somebody who called SeaWorld, who came and got her and nursed her back to health. They suspect the injury was due to a shark attack, and fortunately Stitch survived. Even with her injury, she was initially released back to the wild, but she was located again weeks later, underweight and unable to take care of herself, and now lives at SeaWorld permanently.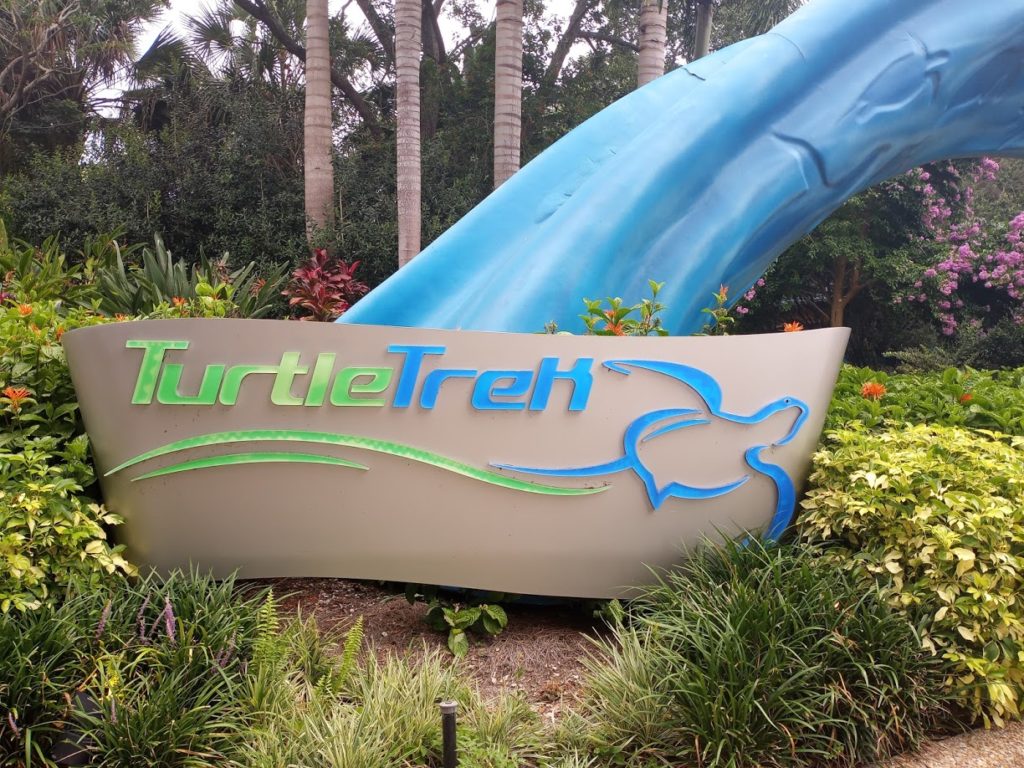 A fairly recent addition, which used to be exclusively part of the behind the scenes tour, is the baby manatee care area. As you exit the above-water viewing area if you look to your right, you'll see a pavilion, and if you head over, you'll be able to visit the smallest of SeaWorld's manatee residents (if there are any they are taking care of at the time). And believe me, there is nothing cuter than a baby sea cow!
Antarctica: Empire of the Penguin and Turtle Trek, are both very important additions to SeaWorld for different reasons. I enjoy them both because getting to be that up close with these animals is a great feeling, but Turtle Trek in particular really brings to light the important conservation and rescue work SeaWorld does on a daily basis. Definitely be sure and check out both on your next visit!
---
You can share your love for all things SeaWorld Orlando with other die-hard vacation-planners in our newly formed SeaWorld Community on Facebook.
And be sure to follow Orlando Informer on Facebook, Twitter, and Instagram for the latest news and tips at Universal Orlando, Walt Disney World, and other Orlando destinations.