From sweet to savory, this year's Halloween Horror Nights menu offers a diverse selection for our plant-based pals! With so much to choose from, the goal of this guide is to be your ultimate navigator, sifting through your options so you can fuel up and continue to get your fix of fears.
Don't forget to have your ticket in hand to unlock the hauntingly delicious realm that awaits you at Halloween Horror Nights. Discounted admission can be found here through Orlando Informer!
Vegetarian Dishes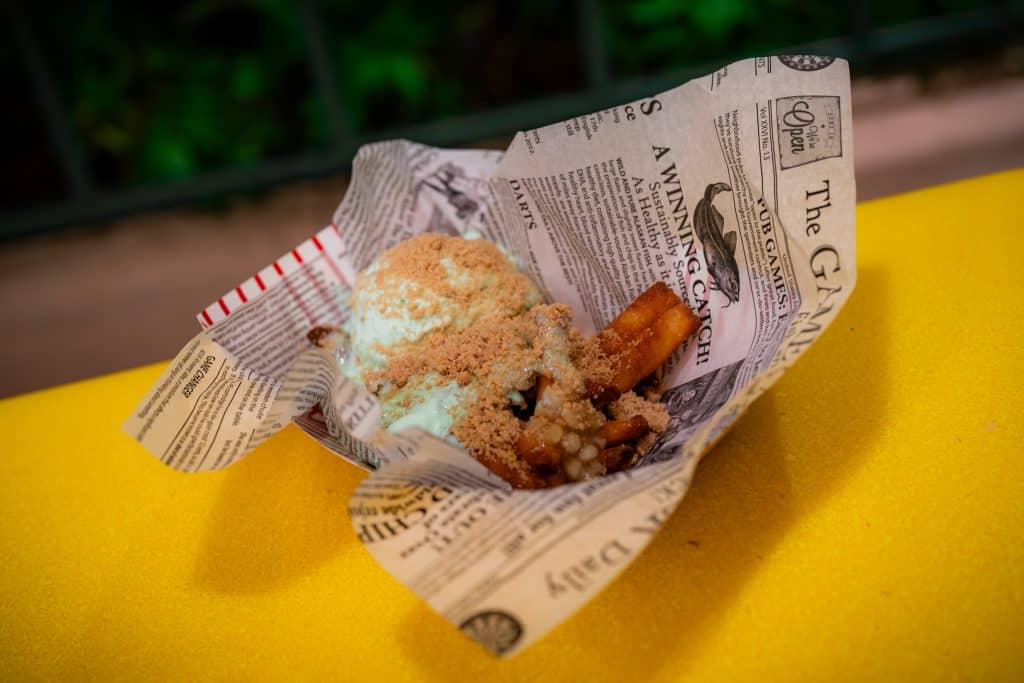 Sour Apple Pie Funnel Fries – $9.99
Gramercy Park, Oddfellow
Much like the sour heart of this year's HHN icon, Dr. Oddfellow, this treat has a tart twist with its composition of fried dough, apple pie filling, and streusel, it includes a tart twist with sour sugar seasoning and sour apple ice cream.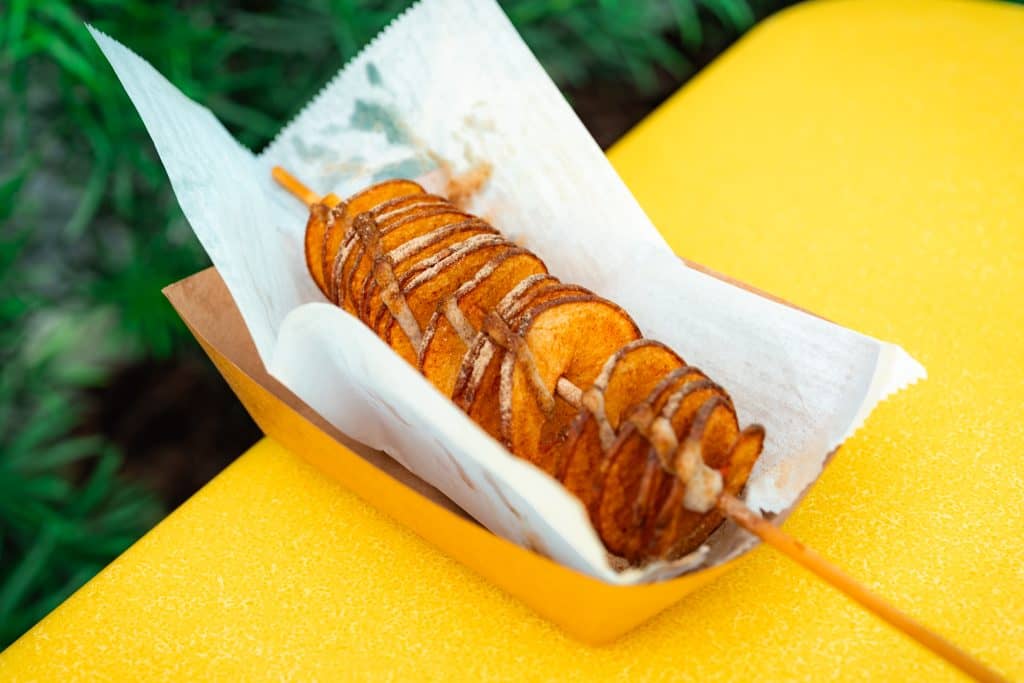 Twisted Tater – $9.49
Gramercy Park, Last of Us Twisted Tater & KidZone, Twisted Tater
Twisted Taters are a classic Halloween Horror Nights snack, and we are ecstatic that Universal Studios Florida is serving up two delicious vegetarian options this year! Enjoy this iconic spiraled ribbon potato grub with either Garlic Parmesan or Sour Cream & Chive for $9.49. 
Mummy Cheesecake Pop – $6.49
Gramercy Park, 57 Scare
This Oreo cheesecake handheld dessert, resembling a comical cloth-dressed cadaver, takes the cake with its fun Halloween-theming and delectable taste.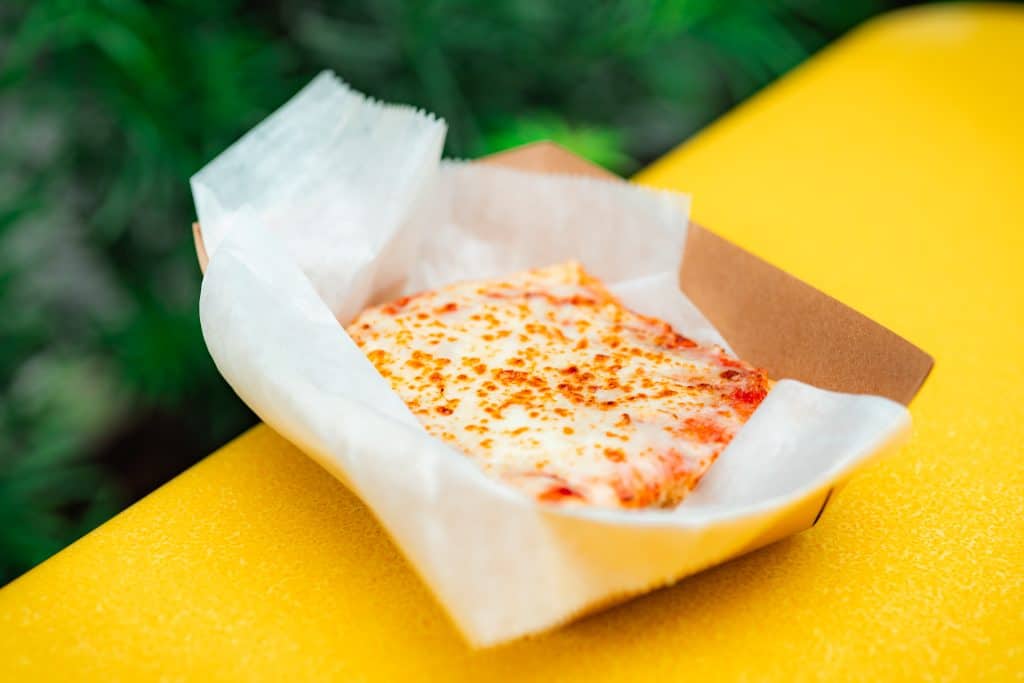 Surfer Boy Cheese Pizza – $8.99
Gramercy Park, Surfer Boy Pizza
Surf's up, Surfer Boy Pizza! Munch on this classic 'za, made with French bread and cheese, for a simple, yet filling plate.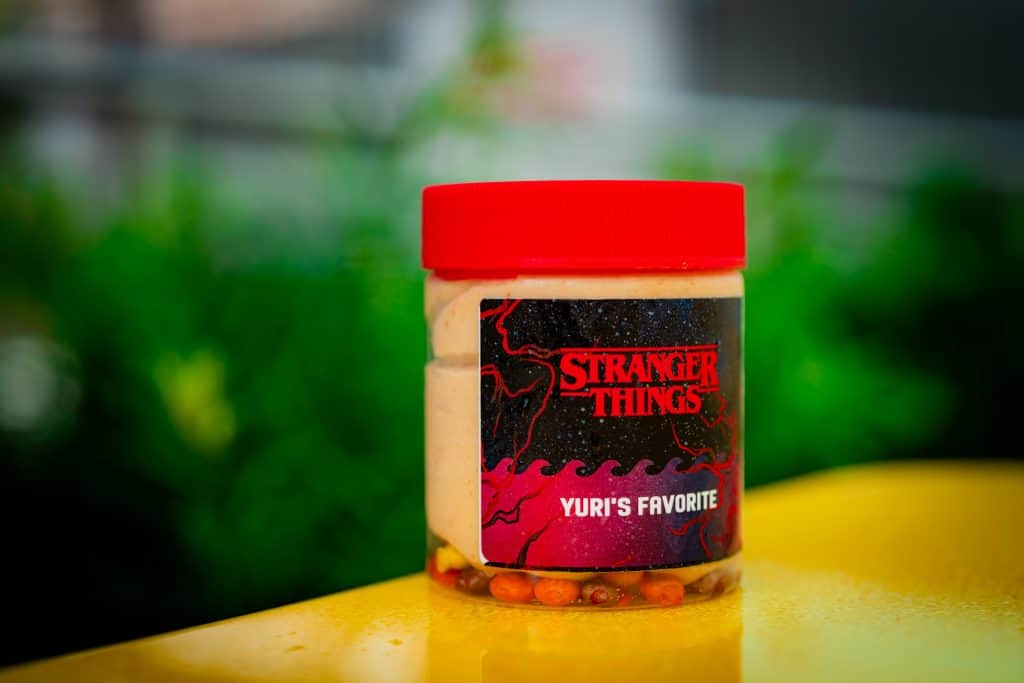 Yuri's Favorite – $5.99
Gramercy Park, Surfer Boy Pizza
Dip your fork into this rich dish, crafted with chocolate cake, peanut butter mousse, and Reese's Pieces. Like Yuri, you can smuggle this dish into your bag while on the go with its resealable container (after purchase, of course!).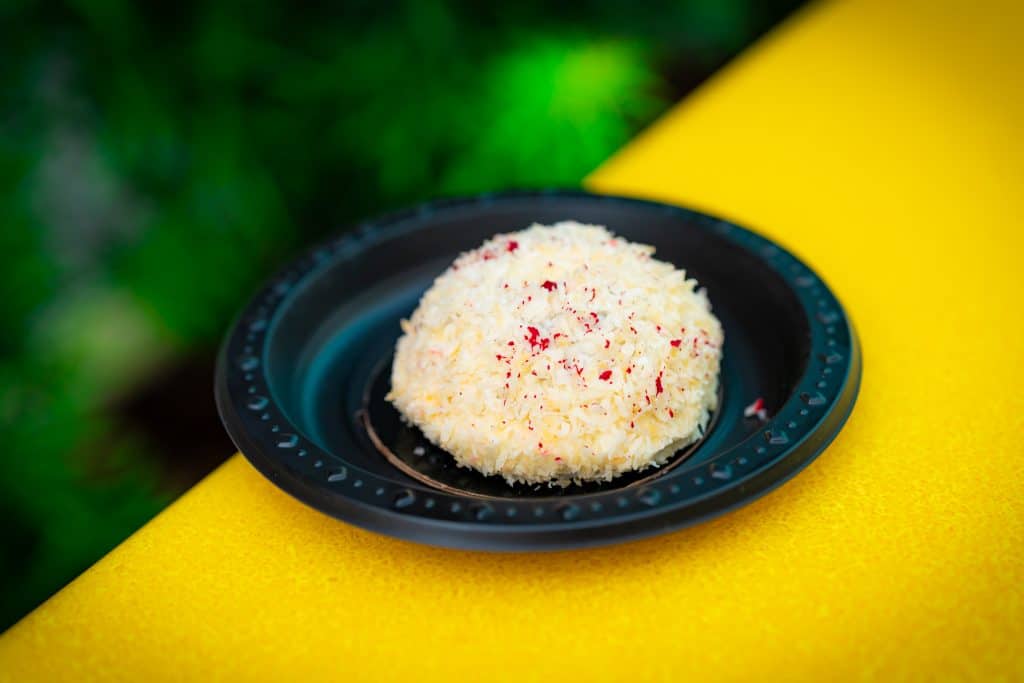 Bloody Snowball – $5.49
Gramercy Park, Yeti
Bloody Snowball is a scrumptious chocolate cake with marshmallow buttercream and dusted with desiccated coconut, inspired by the bone-chilling horrors from YETI: Campground Kills. 
Little Stevie Stuffed Pretzel – $7.49
Gramercy Park, Avenue Bites
Pretzels and theme parks are a dynamic duo, just like fog and Halloween Horror Nights! This year, elevate your snack game when you try this unique take on a timeless treat! Avenue Bites is dishing out a thrilling duo of pretzels – one stuffed with savory spinach and feta, and the other packing a spicy punch with jalapeño and cheese.
Créme Caramel Flan – $5.99
Gramercy Park, Avenue Bites
Dying to satisfy your sweet tooth? Take a bite out of this vegetarian-approved flan for a quick treat!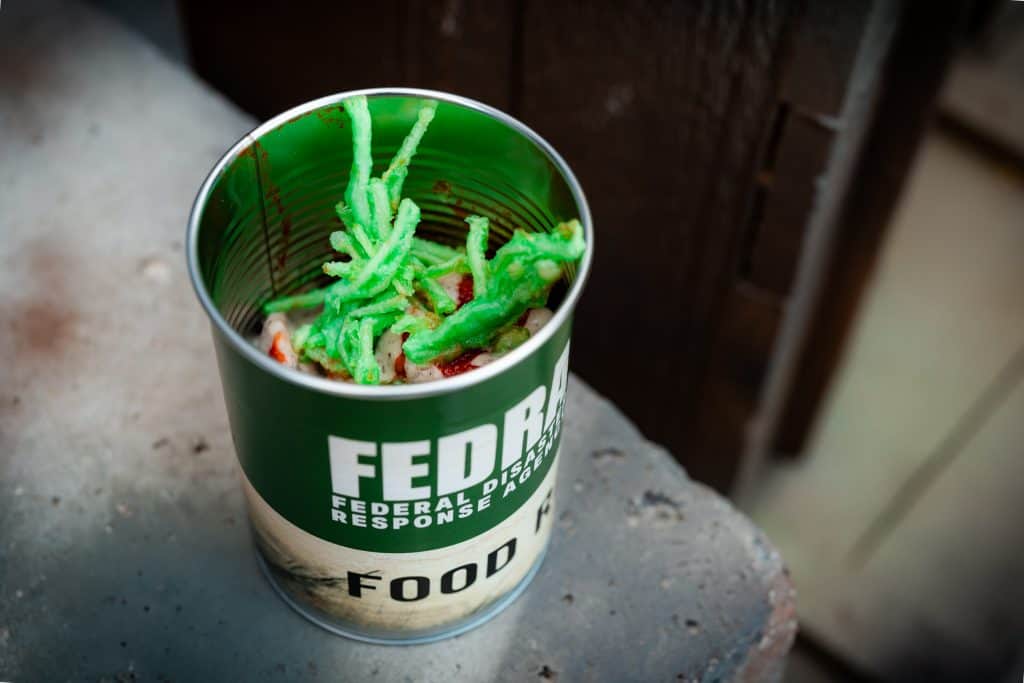 Left Behind Ravioli – $9.99
New York, Ration Station
A stones throw away from the chaos in The Last of Us maze, the Federal Disaster Response Agency (FEDRA) has established its distribution center in the heart of New York. The ration menu includes this mini cheese ravioli dish with marinara, truffle cream, garlic bread, and tempura fried enoki mushrooms served in a FEDRA-labeled can.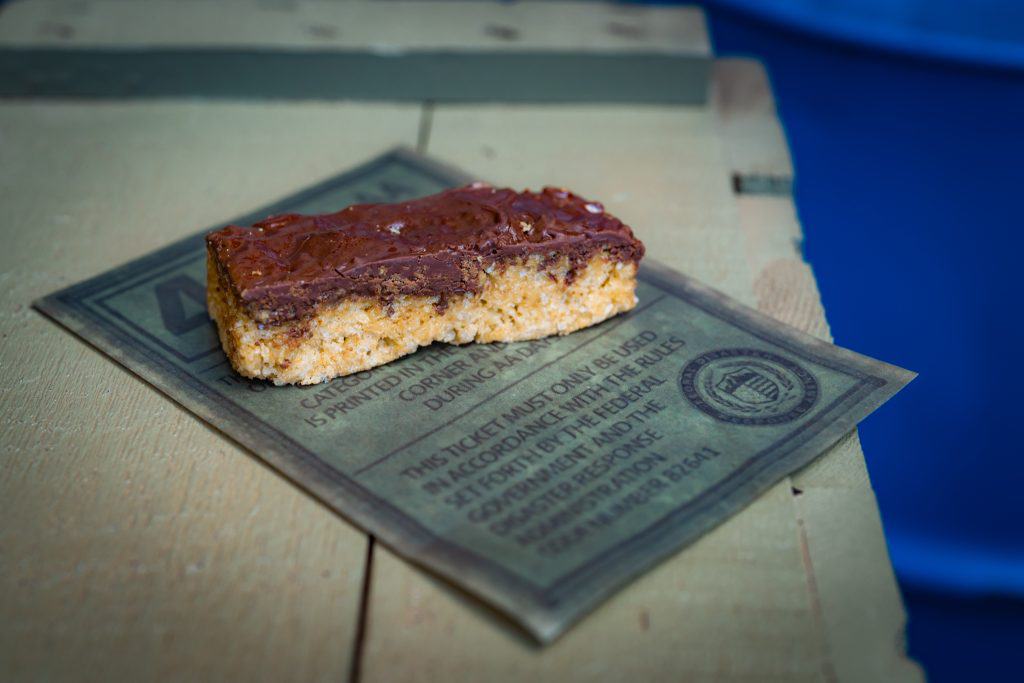 FEDRA Ration Bar – $5.49
New York, Ration Station
This FEDRA Ration Bar, a Scotcheroo Bar with coffee-flavored chocolate, peanut butter, and Rice Krispies, is the perfect fare to grab while you attempt to outrun flesh-hungry creatures and the other monsters that go bump in the night at HHN.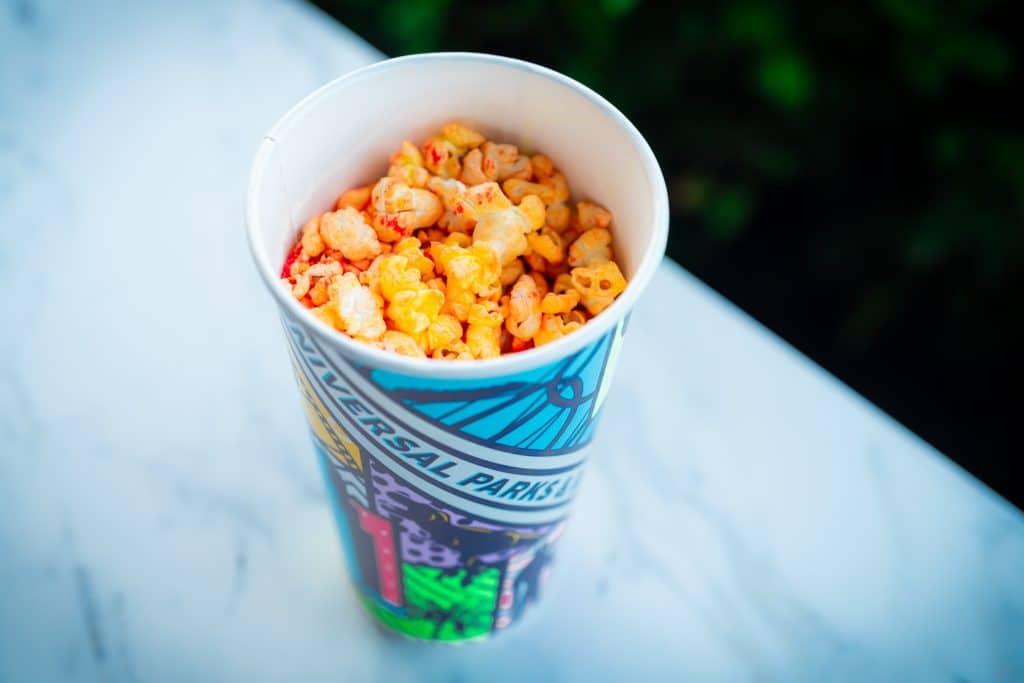 Chucky's Pop-Dead Corn – $6.69
San Francisco, Chucky
In homage to the notorious serial killer doll, brace yourself for the fiery intensity of Flamin' Hot Cheetos dust that packs a punch of flavor as daring as Chucky himself!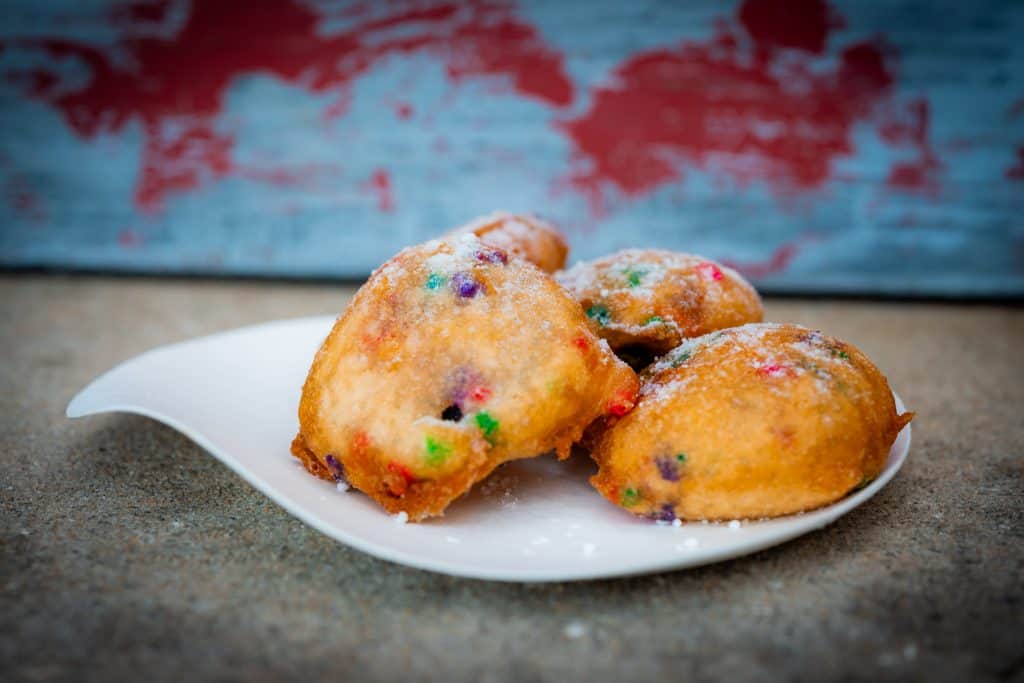 Confetti Battered Cookies – $7.49
Battery Park, Mel's Die-In
Another Halloween Horror Nights classic, the Confetti Battered Cookies, marks its return as the final item included within this year's vegetarian offerings. Nearly each year, it reemerges with a fresh interpretation. This time around, bite into confetti-battered and fried Oreos topped with a sprinkle of powdered sugar!
Vegan
Twisted Tater – $9.49
Gramercy Park, Last of Us Twisted Tater & KidZone, Twisted Tater
As mentioned previously, Twisted Taters are a staple Halloween Horror Nights dish. Vegan options are available this year with three topping choices. My plant-based friends, you are welcome to choose between salt, porcini powder, or ghost pepper if you want to walk a bit more on the spicier side. Exclusive to The Last of Us Twisted Tater stand is the Infected Tater – a fried, spiralized potato dusted with mushroom emulsion and porcini powder for $10.49.
African Lentil & Potato Sambusa Coffin – $8.99
Gramercy Park, 57 Scare
Returning from HHN 31 is a coffin-shaped pastry filled with African spiced lentils and potatoes entombed in a vegan pie dough.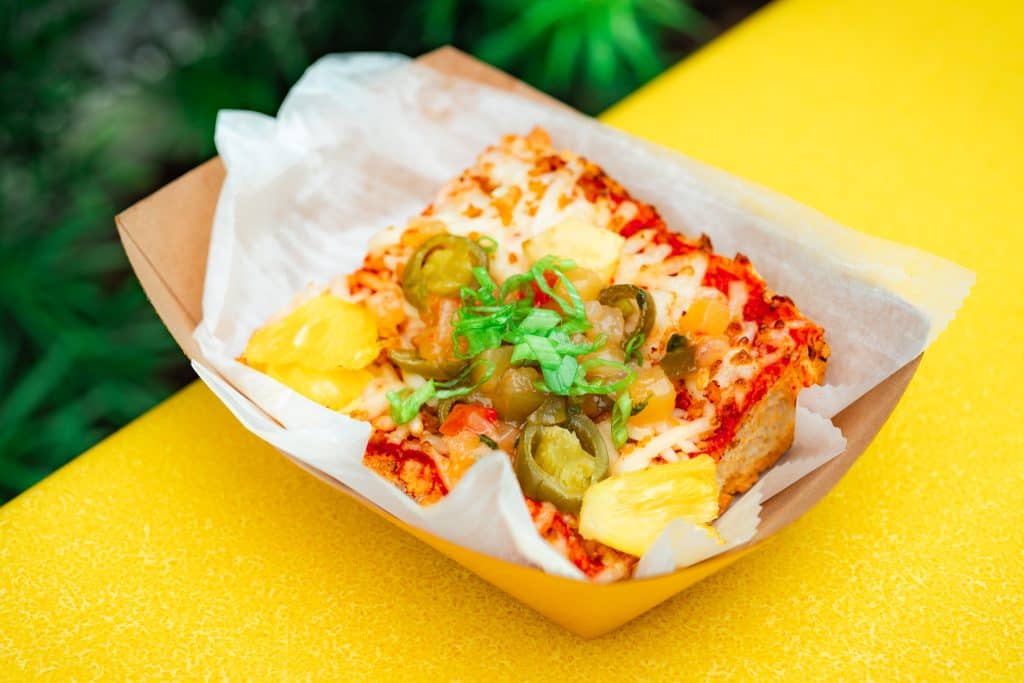 Surfer Boy Vegan Pizza – $9.99
Gramercy Park, Surfer Boy Pizza
Sink your teeth into this French bread-style pizza topped with Gardein sausage crumbles, pineapple, jalapeño, and vegan mozzarella. Fruit on your pizza is gnarly, you say? As Argyle says, "try before you deny!"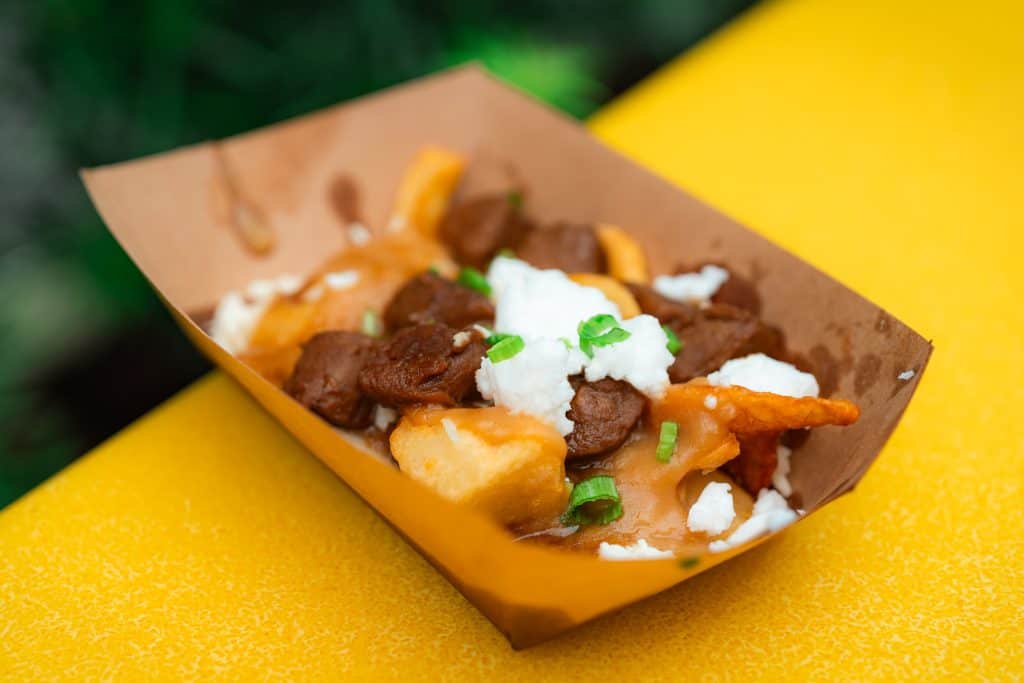 Burnt Ends Poutine – $9.99
Gramercy Park, Yeti
Inspired by the vibes of a cozy campfire, dig into these irresistible crispy fries, smothered with hearty beefless burnt ends gravy, velvety vegan cheeses, and sprinkled with scallions – all capturing the essence of the great outdoors! 
Vegan Pizza Fries – $11.49
KidZone, Kidzone Pizza Company
What is Halloween Horror Nights without pizza fries? We are thankful that the chefs at Universal Studios Florida have created a plant-based option for vegan guests to enjoy in this HHN tradition, as marinara sauce, vegan cheese, pepperoni, and sausage crumbles adorn these french fries.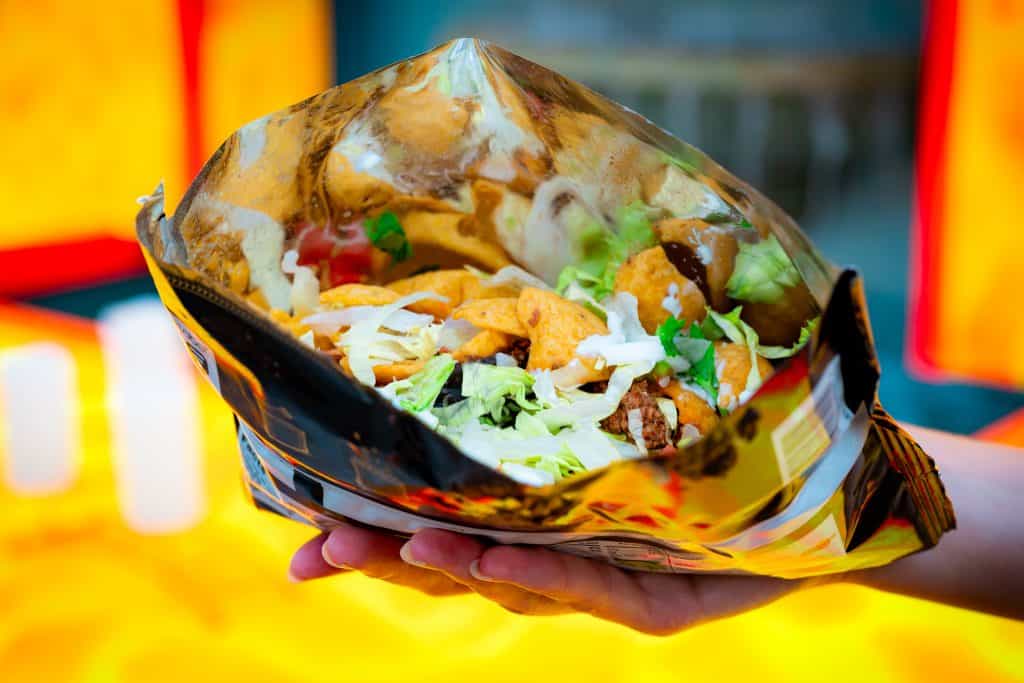 Vegan Walking Taco – $12.49
Hollywood, Day of the Dead
Indulge your taste buds with this Vegan Walking Taco, a flavorful medley of Fritos chips, vegan chorizo, vegan shredded mozzarella, black beans, roasted corn salsa, pico de gallo, vegan sour cream, shredded lettuce, and cilantro. It's a plant-based party in every bite!
Vegan Churritos with Ice Cream – $7.99
Hollywood, Day of the Dead
These vegan churritos with ice cream offer a combination of warm vegan churros, cold vegan gelato, crunchy Oreos, and a drizzle of coconut nectar. 
Chicharrones De Harina – $4.99
Hollywood, Day of the Dead
Deep fried and tossed in sugar and cinnamon, these pinwheels are a delicious, sweet snack option to munch on while enjoying a stroll through a scare zone.
We hope you enjoy the expanded list of vegetarian and vegan options for Halloween Horror Nights 2023! For a full summary of food and beverage offerings, you can visit our Halloween Horror Nights Food Guide.
---
Discover everything you ever wanted to know about HHN – plus more! – in our insider's guide. And then discuss it all with 160,000+ other Universal die-hard fans in our Orlando Informer Community on Facebook. And be sure to follow Orlando Informer on TikTok, Threads,  Facebook, Twitter, and Instagram for the latest news, tips, and more at Universal Orlando, Walt Disney World, and other Orlando attractions.