Preview this Page
Overview
With an expansive menu, we are here to help our vegan and vegetarian friends navigate through the world of cuisine that Universal's Mardi Gras has available from February 4 through April 16.
Jump to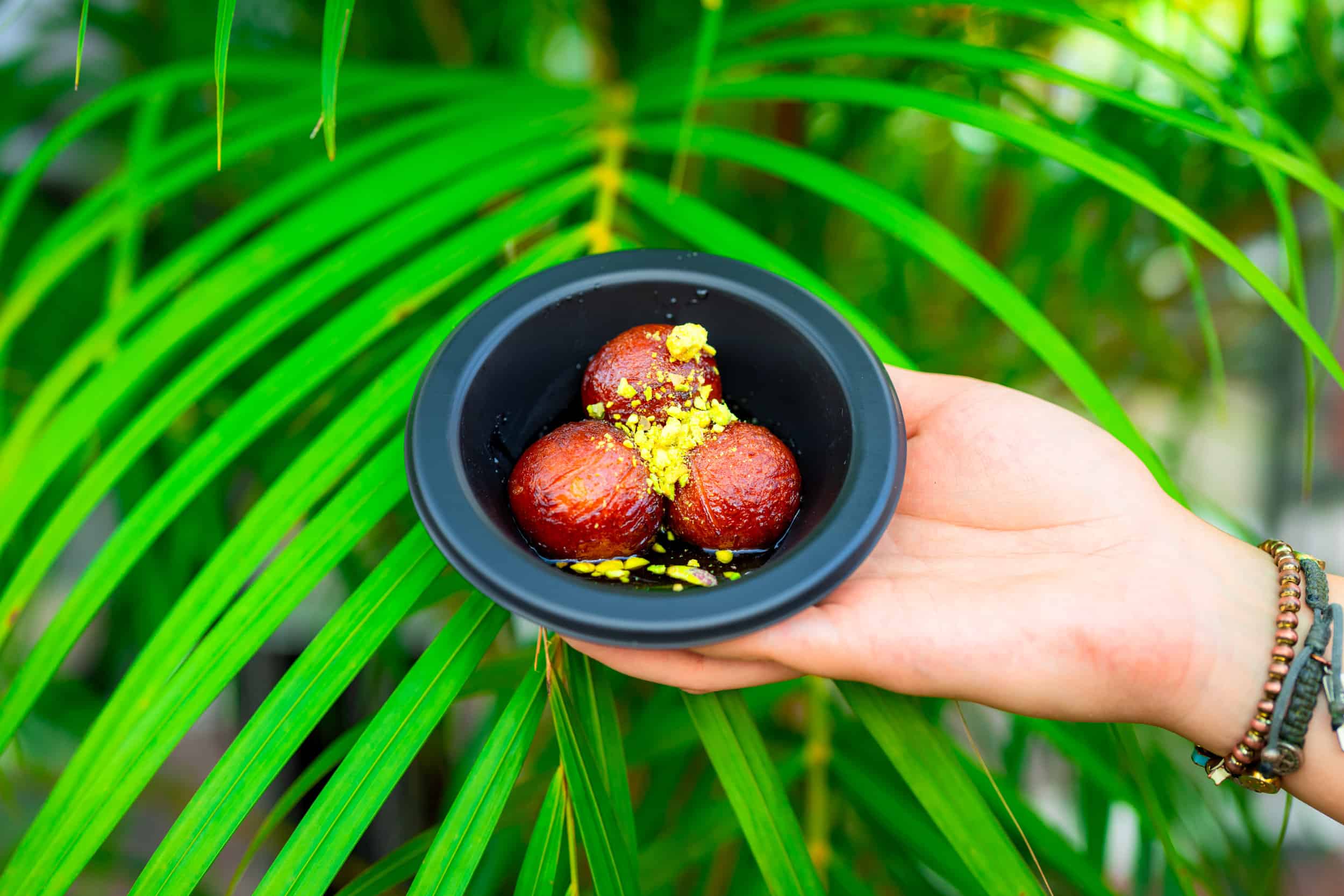 For a festival known for its delicious cuisine, the creatives at Universal Orlando Resort have ensured their vegetarian and vegan guests can also let the good times roll! From Twisted Taters to Pav Bhaji, your tastebuds will travel to Bourbon Street and beyond. We hope you utilize this guide as a helpful, efficient resource to satisfy your hunger and continue enjoying your day with all that Universal Mardi Gras has to offer!
Vegetarian Mardi Gras Dishes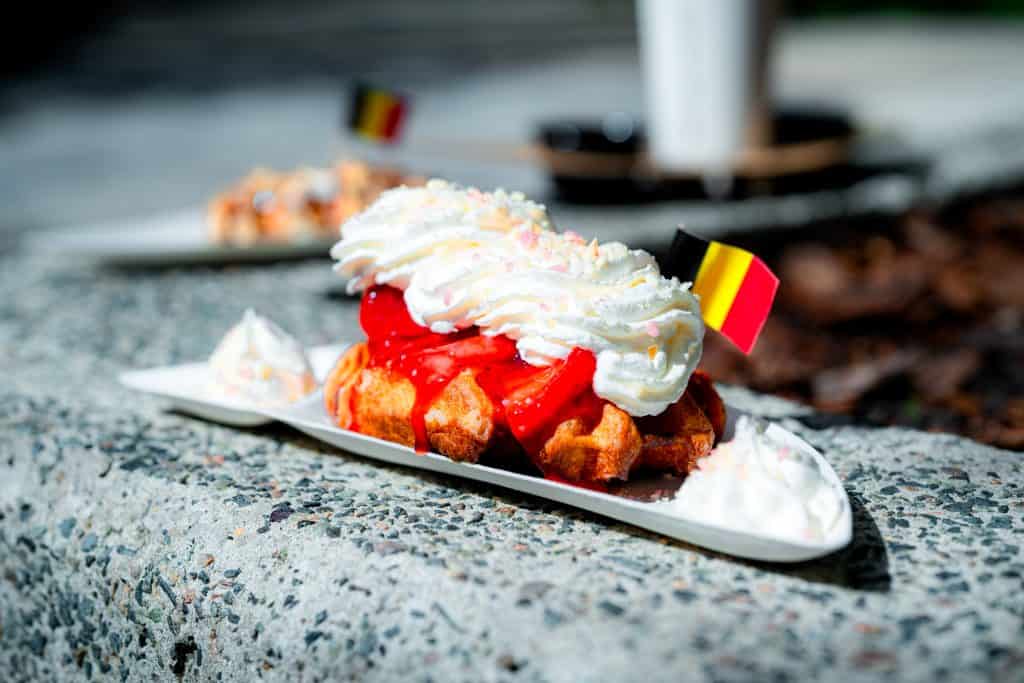 Liège Waffle Berries and Cream – $7.99
Belgium, Near Springfield, U.S.A
As you'll see below, there is no shortage of sweet options for our vegetarian pals. We start our list with a sugary waffle coated with strawberries, whipped topping, and strawberry and cream crumbs.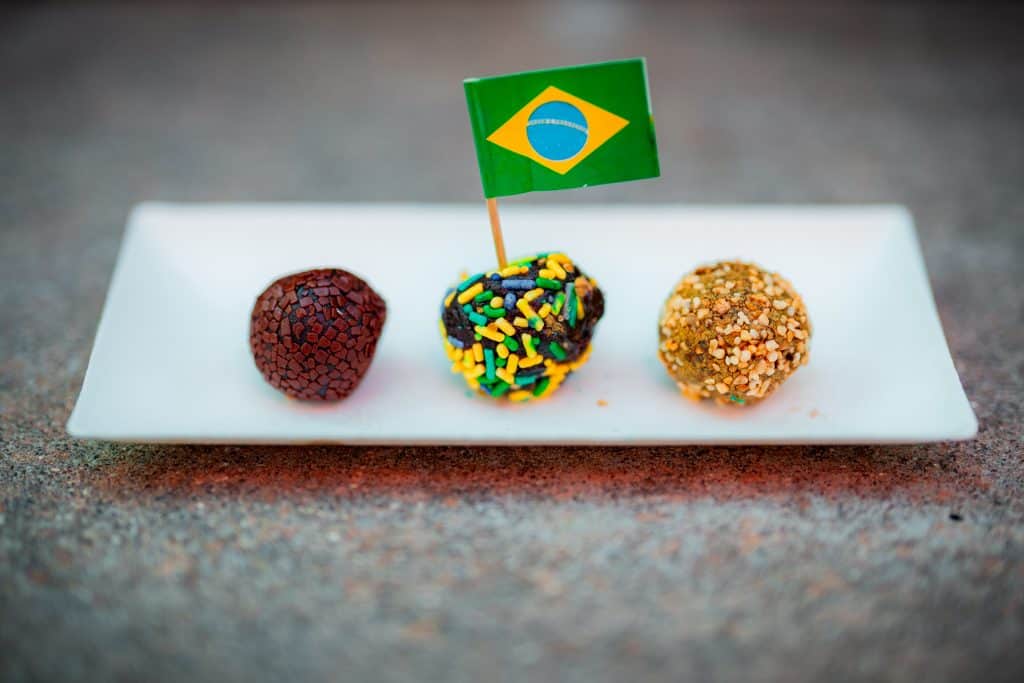 Brigadeiros Trio – $5.99
Brazil, Near Animal Actors on Location!
This traditional Brazilian treat has made its way from Carnival to Universal's Mardi Gras! These chocolate sweets are crafted with condensed milk, cocoa powder, chocolate sprinkles, and hazelnuts.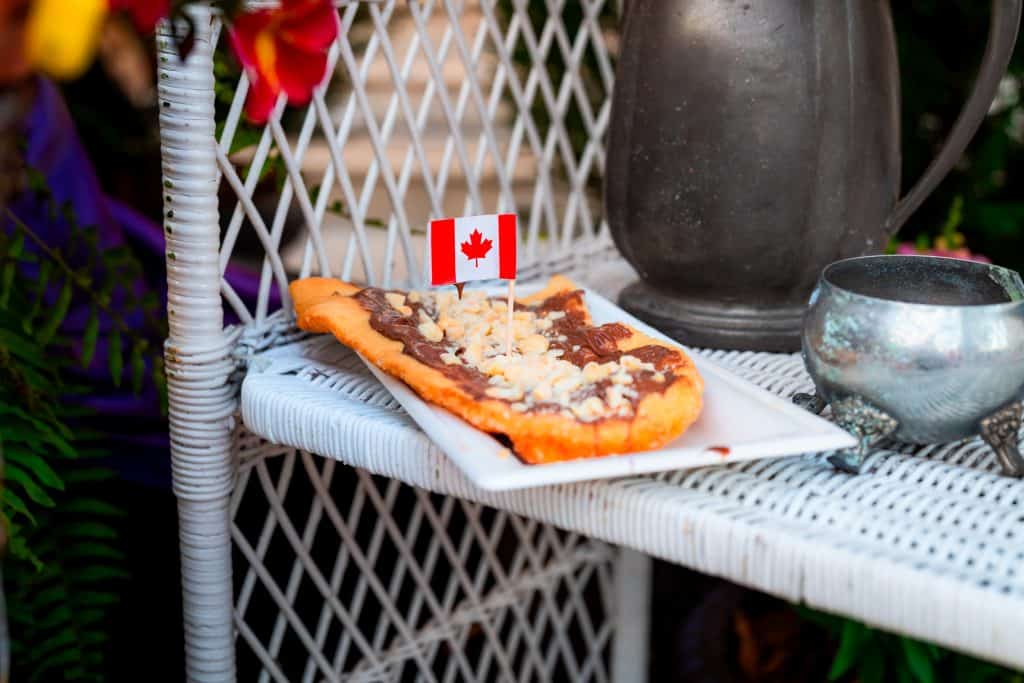 Canadian Snowshoe Nutella – $7.99
Canada, New York
Go nuts for this Canadian goodie that's made with fried dough, Nutella, sugar, and chopped hazelnuts!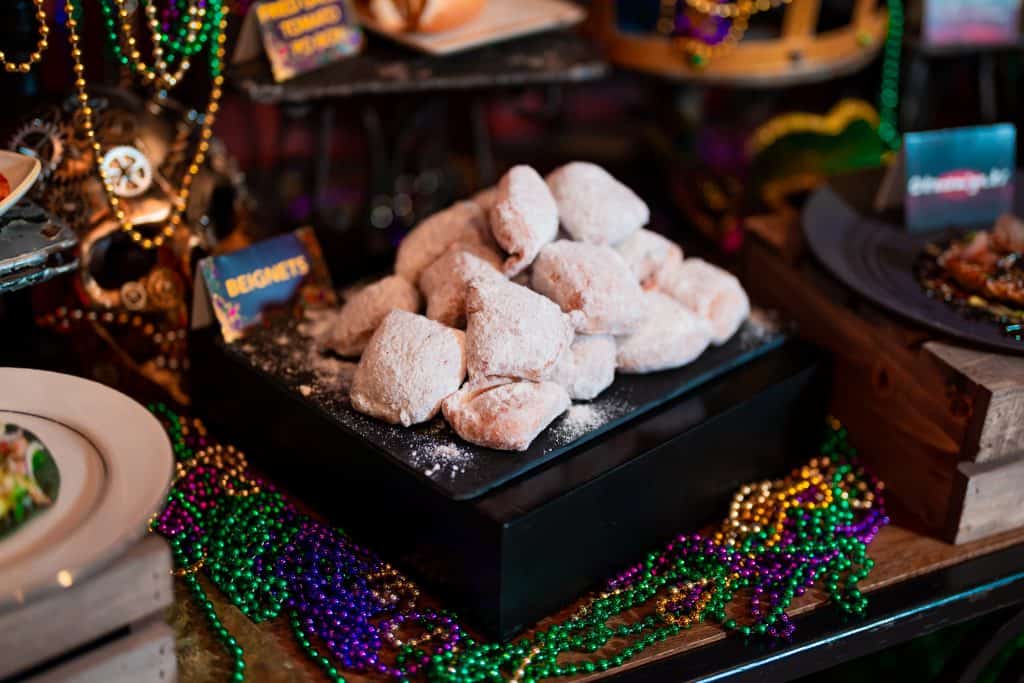 Beignets – $6.99
Central City & French Quarter
One of the first foods that come to mind when thinking of Mardi Gras is typically this fried pastry with powdered sugar. This New Orleans Creole dessert is a must for a Mardi Gras event.
King Cake – $13.99
French Quarter, New York
Serving guests King Cake is another way that Universal Orlando Resort pays homage to the city of New Orleans. This cake is topped with cinnamon swirl icing and sanding sugar to match the traditional green, purple, and yellow colors of Mardi Gras.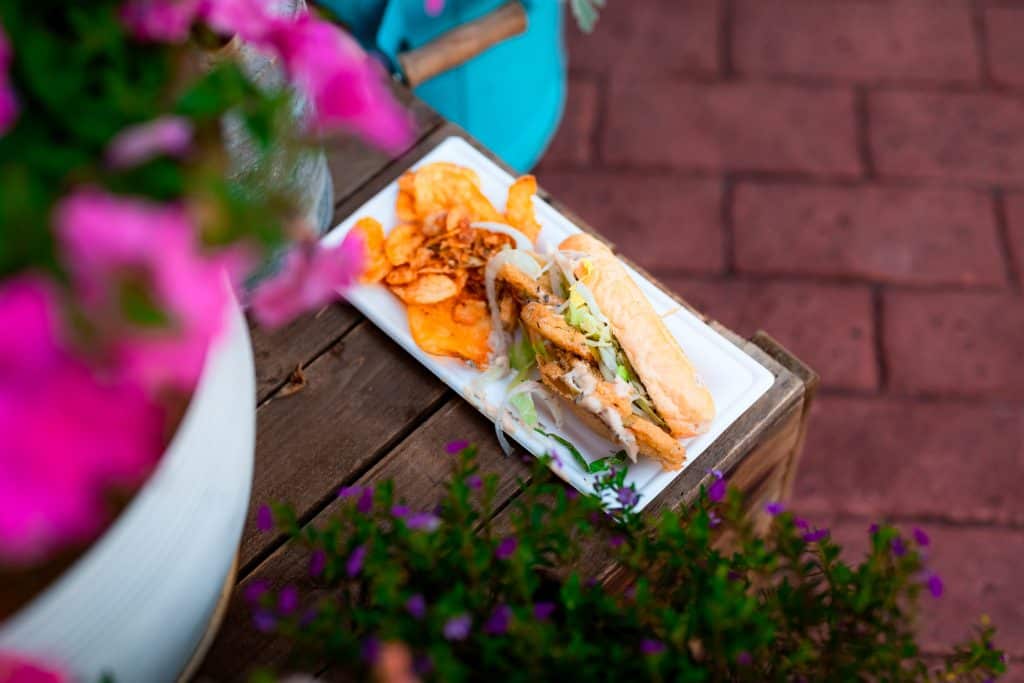 Fried Green Tomato Po Boy – $11.99
French Quarter, New York
This is my personal favorite menu item from the 2023 Mardi Gras lineup. Po Boys are another staple of Cajun cuisine. While they are typically topped with meat, Universal's take includes vegetarian guests while still rooted in southern tradition with flash-fried green tomatoes, lettuce, onions, pickles, Cajun remoulade, and Cajun kettle chips on the side.
Crown Cookie – $3.99
French Quarter, New York
The way this cookie crumbles is with a vanilla short crust, dipped in dark chocolate and sprinkles.
Twisted Taters – $8.99
French Quarter, New York
This traditional Halloween Horror Nights menu item has emerged from the fog to join the Mardi Gras 2023 lineup. The vegetarian topping options for this handheld fave are garlic parmesan or sour cream and chives.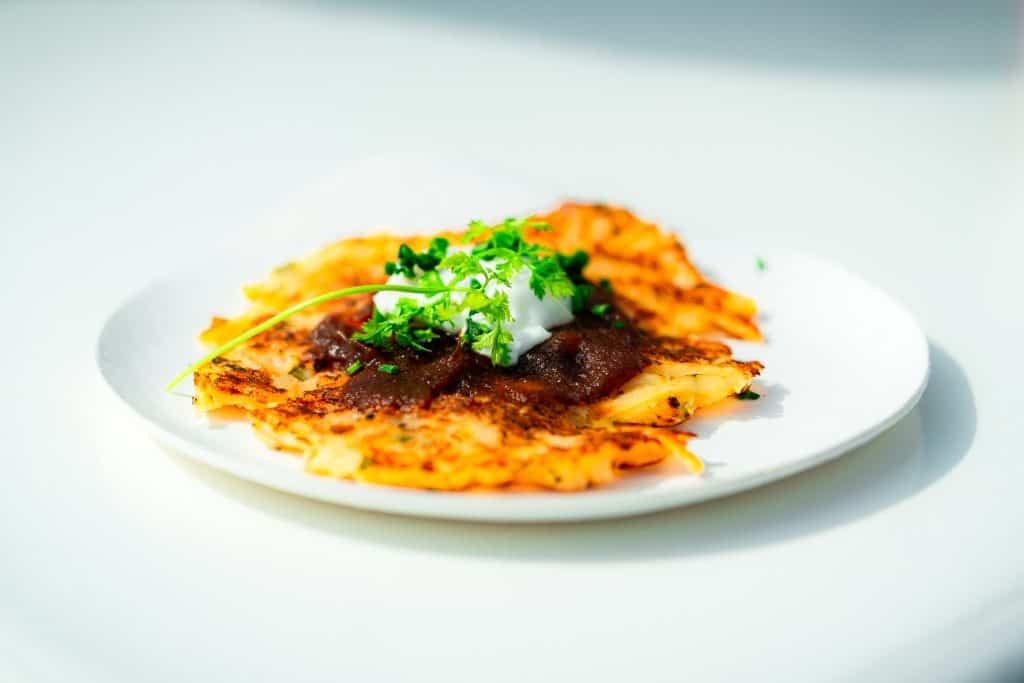 Potato Pancakes – $6.49
Germany, Near Springfield, U.S.A.
This crispy potato and parsnip pancake gets its savory and sweet taste from its topping of apple butter and sour cream.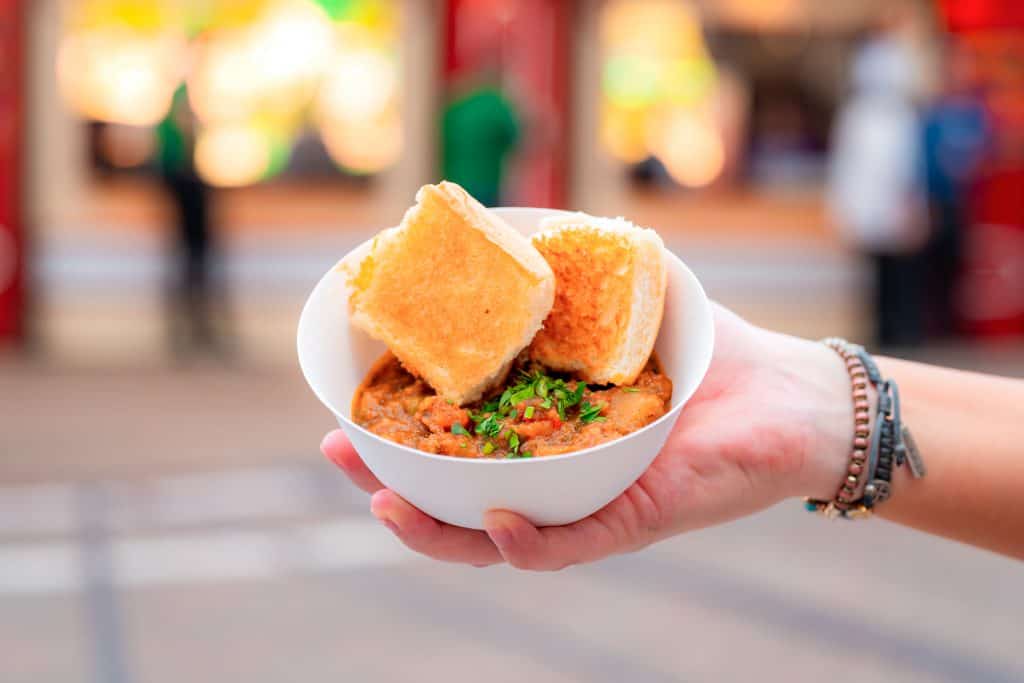 Pav Bhaji – $9.99
India, San Francisco
On those chilly springtime evenings in Orlando, this vegetable stew is a go-to to keep your hands and heart warm as you continue to let the good times roll!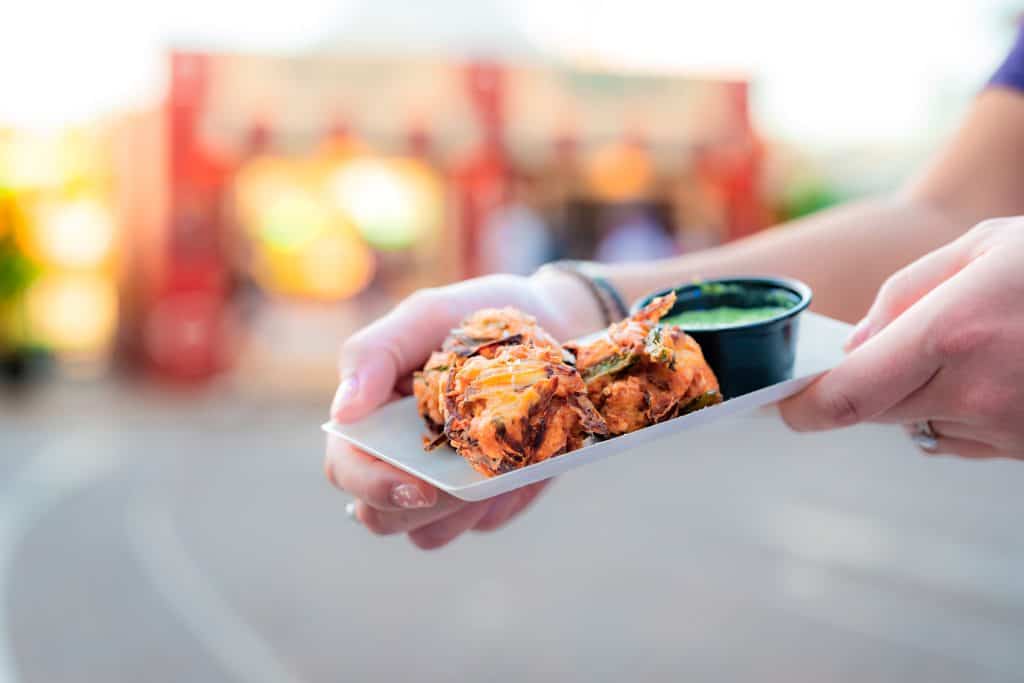 Onion Bhaji – $8.49
India, San Francisco
Dunk your tastebuds into this crispy onion fritter served with green chutney dipping sauce!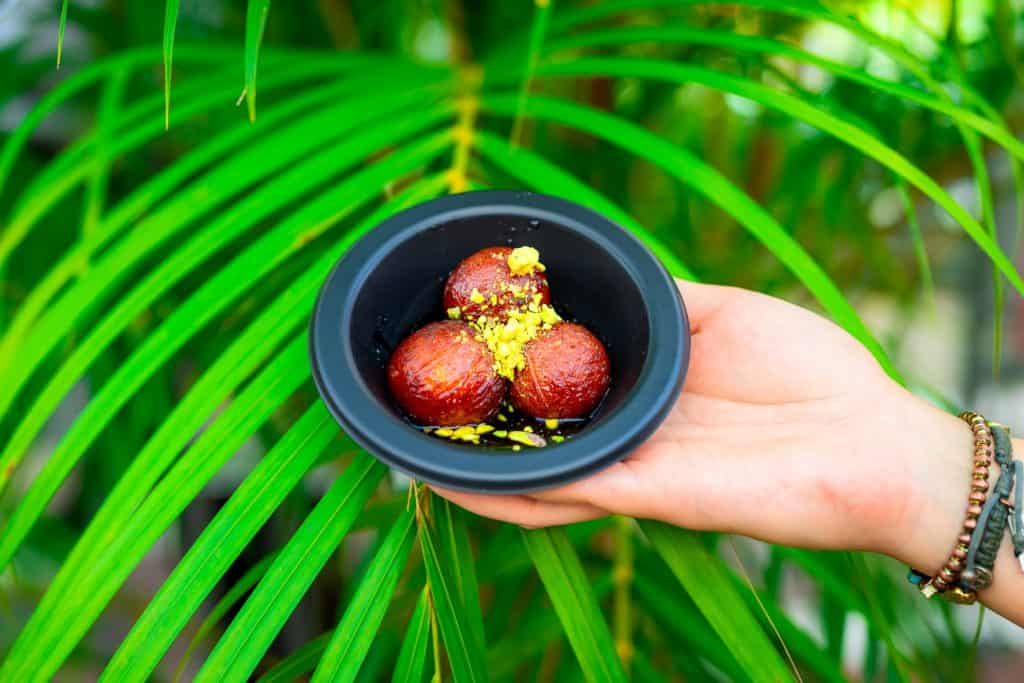 Gulab Jamun with Rose Water Syrup – $6.99
India, San Francisco
Sink your teeth into these pistachio-topped dough balls soaked in saffron and rose water. The portion size is perfect for sharing, but we wouldn't blame you if you wanted to keep this dish all to yourself!
Ube Ice Cream Sesame Bubble Waffle Cone – $9.99
Japan, New York
Returning for another year of Mardi Gras, this handheld delicacy is perfect to snack on while waiting to catch beads during the parade or on your way to enjoy a concert! Whatever's on your to-do list, this ube-flavored soft serve ice cream served in a bubble waffle and topped with cookie crumbs, pocky, and a Meiji panda cookie is the perfect companion for any of your Mardi Gras plans.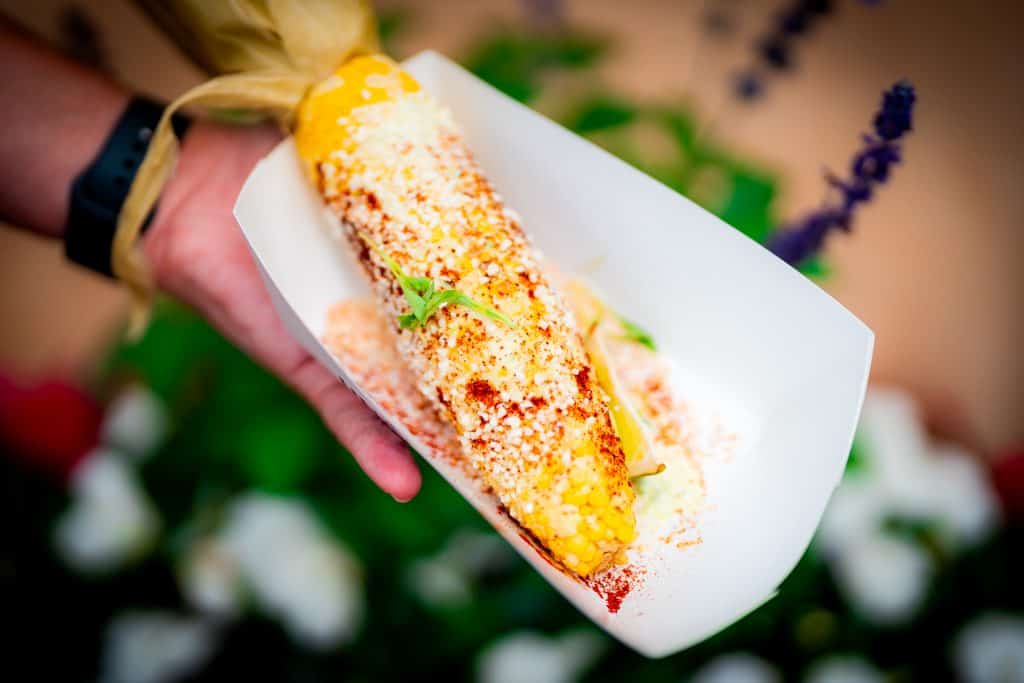 Elotes – $7.99
Mexico, Hollywood
Elotes are another personal favorite of mine and we highly recommend you try out this item if you haven't before! Munch on an ear of char-grilled corn with jalapeño mayo, ancho chili powder, cotija cheese, and cilantro sprinkled on top.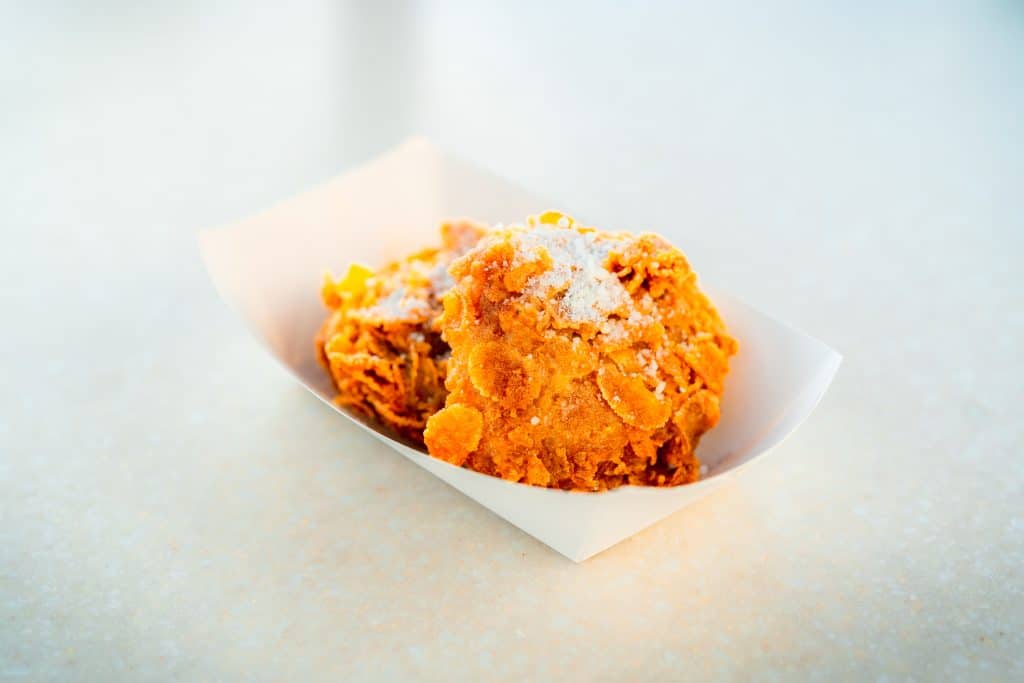 Leche Frita – $5.99
Spain, San Francisco
This fried, crispy condensed milk with notes of vanilla and cinnamon is another vegetarian dessert offering that you can bite into while racing to your next destination at Universal Studios Florida.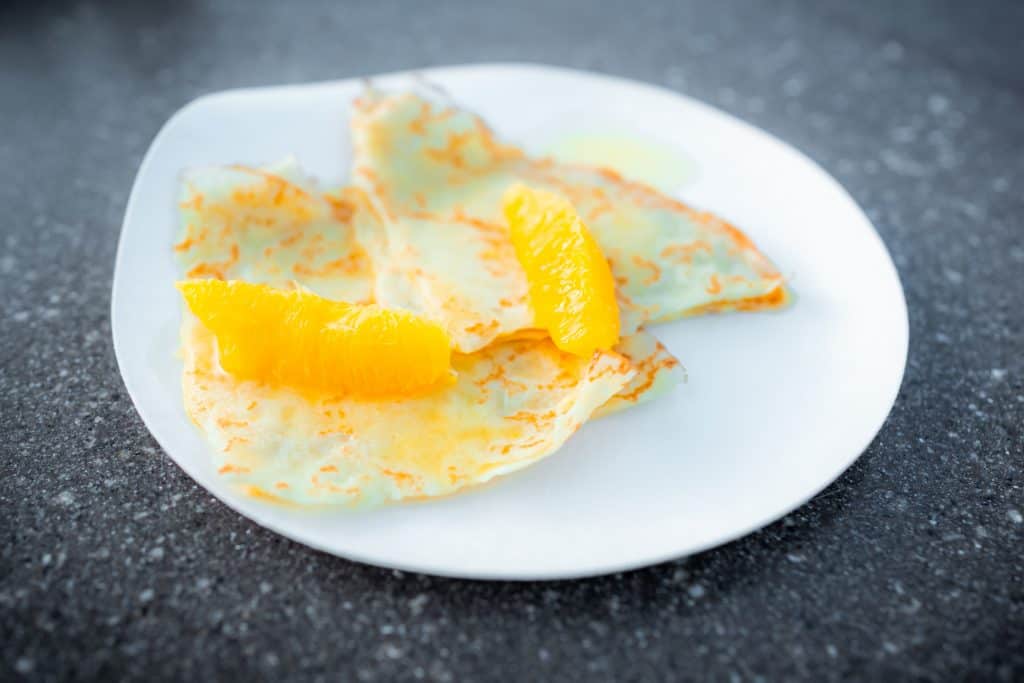 Crepe Suzette – $6.99
Taste of Mediterranean, Universal CityWalk
Here's another tasty treat that has an added citrus zest. Enjoy a crepe topped with Grand Marnier orange sauce as you stroll around Universal's CityWalk!
Vegan Mardi Gras Dishes
Brussels Frites – $5.99
Belgium, Near Springfield, U.S.A.
Delight in some loaded fries with a spicy twist! Topped with Andalouse and Joppiesaus sauces, your taste buds will take some heat with this delicious dish.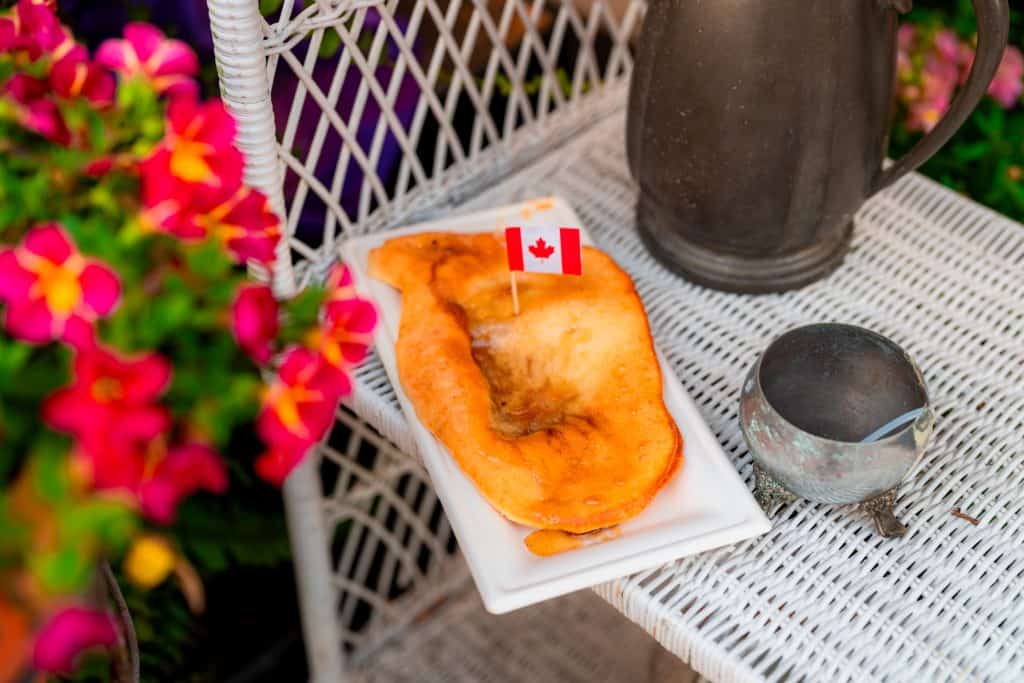 Canadian Snowshoe Maple – $9.99
Canada, New York
If you are on the hunt for a sweet, vegan treat, look no further than the Canadian Snowshoe Maple. The simple ingredients of fried dough, cinnamon, and maple syrup create a sweet symphony that will have your taste buds singing.
Twisted Taters – $8.99
French Quarter, New York
With its vegetarian counterpart previously mentioned, your vegan options for Twisted Taters include the choice between a tame seasoned salt or a walk on the wild side with ghost pepper.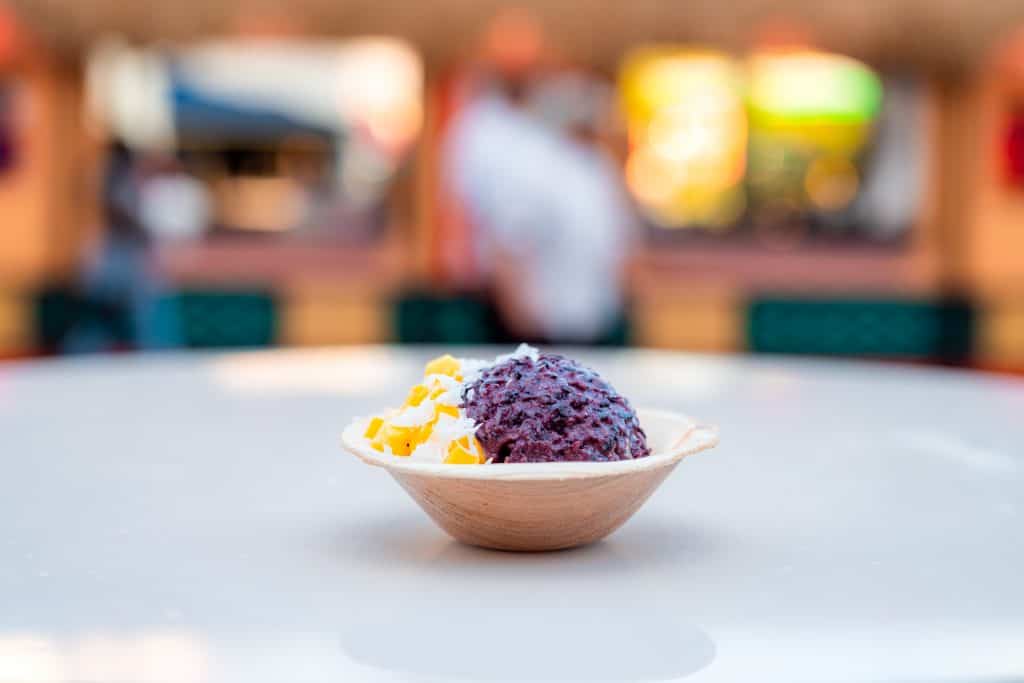 Bubur Ketan Hitam – $5.49
Indonesia, San Francisco
This confection is another dessert option for our vegan friends. With purple sticky rice pudding topped with coconut condensed milk, mango, and shaved coconut, it is perfect for those craving a tropical taste.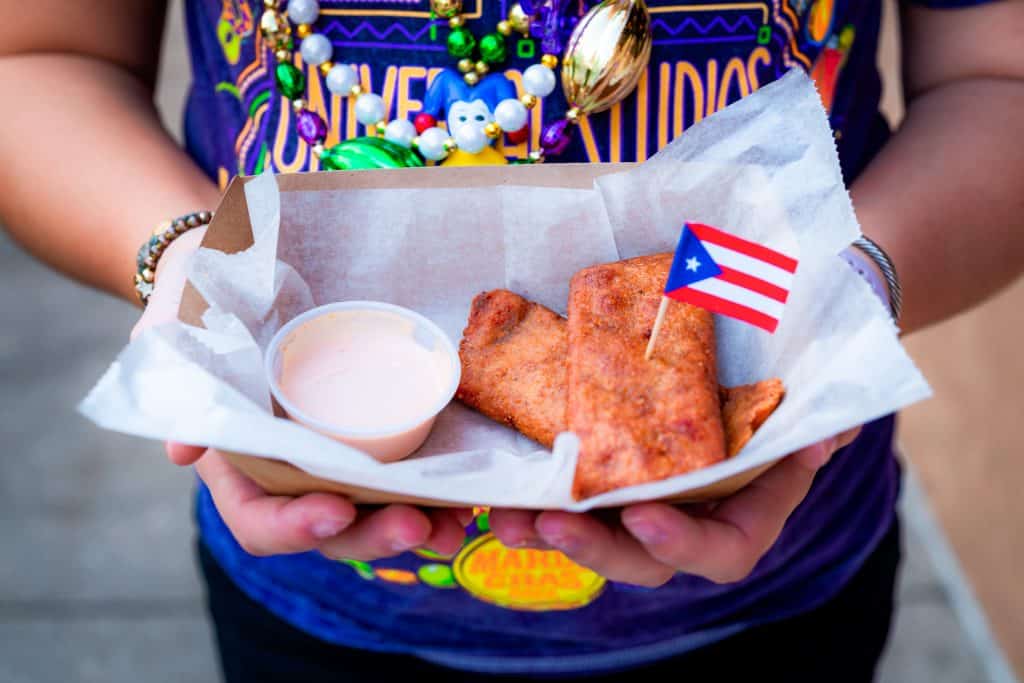 Vegan Alcapurrias – $9.99
Puerto Rico, New York
Savour on crispy green banana and yautia masa served with vegan mayo ketchup as a dipping sauce.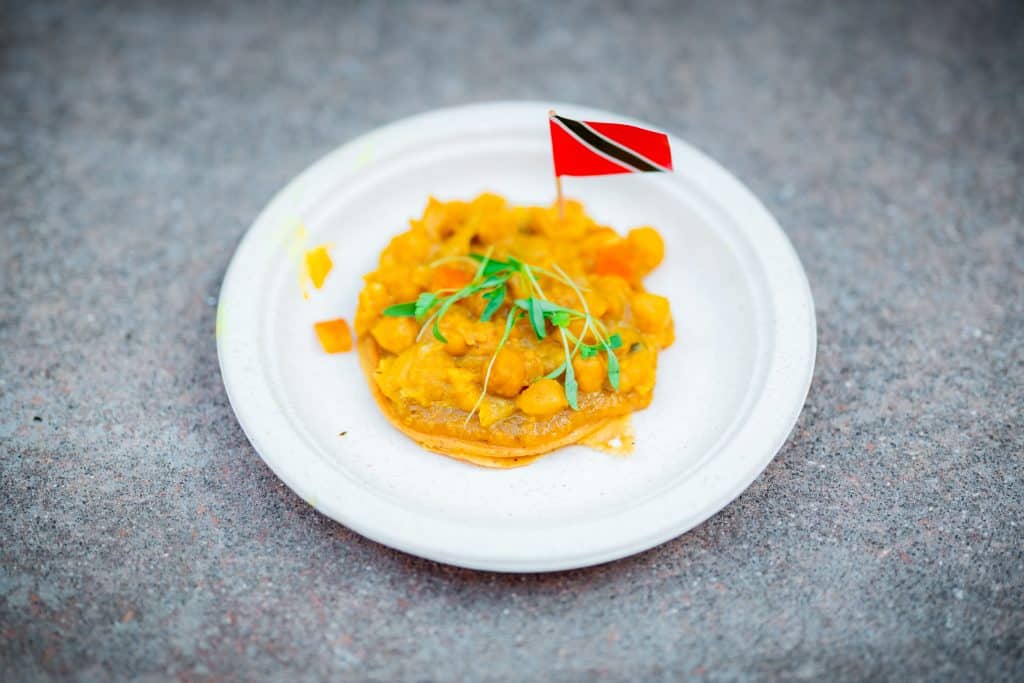 Chickpea Doubles – $5.99
Trinidad & Tobago, Near Animal Actors on Location!
Like most dishes with chickpeas in its name, this dish is certainly a vegan-friendly option. Curried chickpeas, micro cilantro, and mango chutney top this spicy bara flatbread making for delectable fare.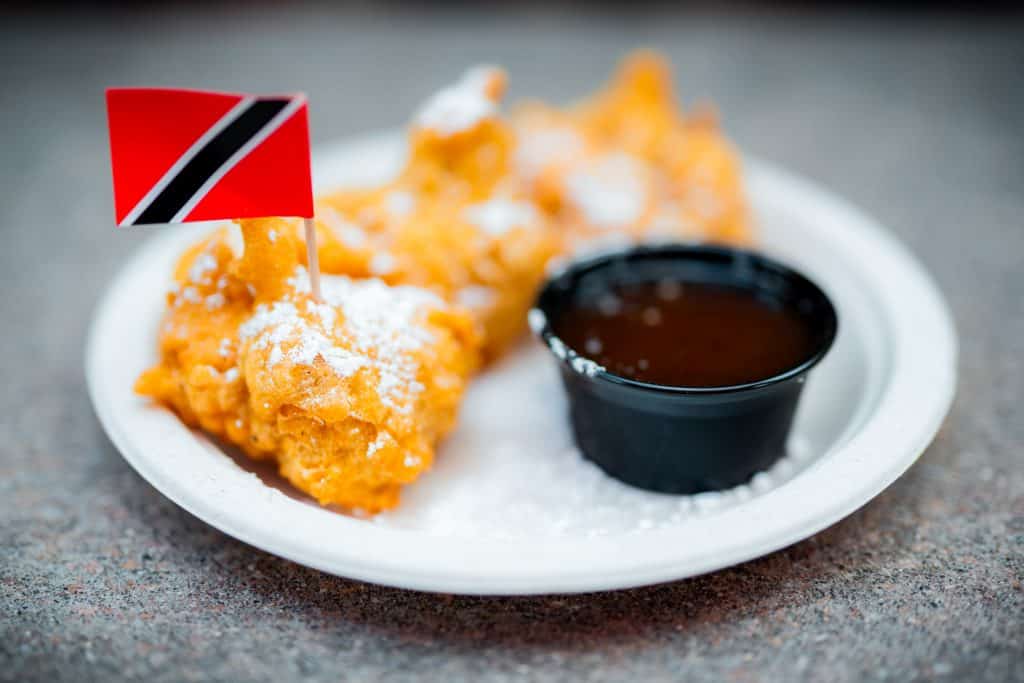 Pholourie – $7.49
Trinidad & Tobago, Near Animal Actors on Location!
These deep-fried spicy split pea dough balls are a great Mardi Gras snack to reach for when you need to satisfy your hunger. They have a bit of a kick with turmeric and curry powder and a side of tamarind chutney.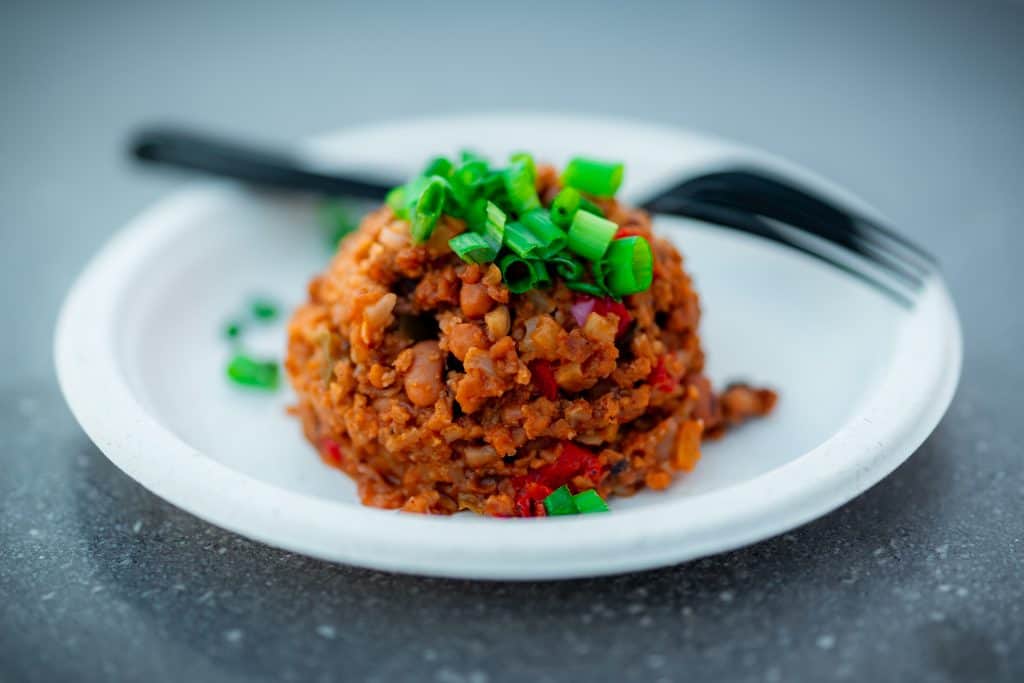 Cauliflower Dirty Rice – $6.49
New Orleans, Universal CityWalk
While visiting Universal Citywalk, enjoy this plant-based interpretation of a traditional cajun dish – made with riced cauliflower, Gardin crumbles, black-eyed peas, and Cajun spices.
We hope you enjoy the expanded list of vegetarian and vegan options for Mardi Gras 2023! For a full summary of food and beverage offerings, you can visit our Mardi Gras Food Guide.