We all know that Halloween Horror Nights is full of frights and fun, but it's also full of food! Whatever your taste, this annual event has something for you, including some new amazing vegan and vegetarian options. But what are they, and where can you find them? The answers are all here for you. We don't want you spending valuable time wandering around Universal Studios Florida hunting for veggie-friendly food items when you should be going in and out of haunted houses! That's why we've compiled a list of vegetarian and vegan dishes at Halloween Horror Nights 2021. Let's dig in.
Vegetarian Dishes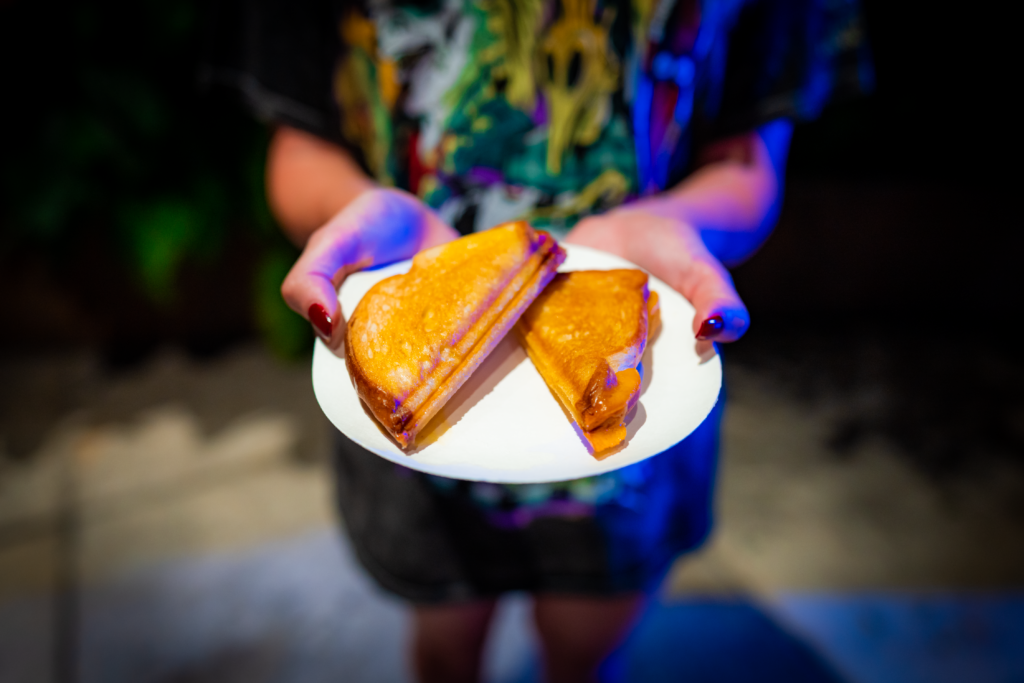 Pumpkin Dulce de Leche Churro – $6.69
Wicked Growth, World Expo
Definitely try the vegetarian-friendly Pumpkin Dulce de Leche Churro. It's a classic Universal Studios churro dusted with pumpkin spice. After this summer's VelociCoaster churro craze, this is a new twist you're bound to love.
Luke's Grilled Cheese – $9.99
Nell's Tea Party Sandwiches, Woody Woodpecker's KidZone
What's better than a traditional grilled cheese sandwich as comfort food on a night of frights? It's warm, filling, and easy to eat on the go.
Twisted Taters – $8.49
Twisted Taters, Beetlejuice, Woody Woodpecker's KidZone
Many of the menu items are marked vegan or vegetarian, but of course, fan favorites like the regular Twisted Taters are vegetarian as well, even if they're not marked as such on the menus. You have the option to select seasoned salt, garlic parmesan, sour cream & chives, or ghost pepper seasoning.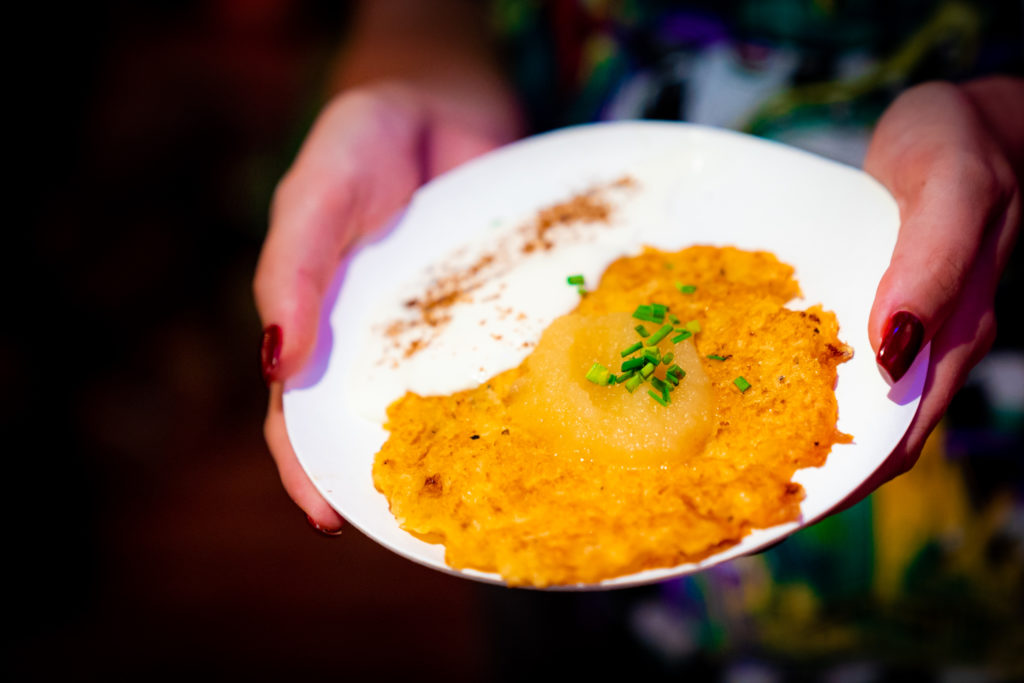 Reibekuchen
Universal Studios' Classic Monsters Cafe, Production Central
Another popular vegetarian option is the traditional German food Reibekuchen, a potato pancake with apple sauce. While not the most conventional food item available at Horror Nights, it is a fun snack for anyone on the more adventurous side.
Queso Blanco Arepa– $8.29
Food Truck by Fast & Furious, San Francisco
Another great item (and probably my favorite of the night) was the cheese arepa. Based on the long line, I wasn't the only one. The truck offers treats for your omnivore friends as well, but everybody will love the Queso Blanco arepa. For those not familiar, an arepa is a cornmeal cake filled with (in this case) shredded mozzarella cheese and topped with mayo, ketchup, and cilantro. This was a crowd-pleaser with my HHN crew, and no doubt will be one with yours too.
Vegan Options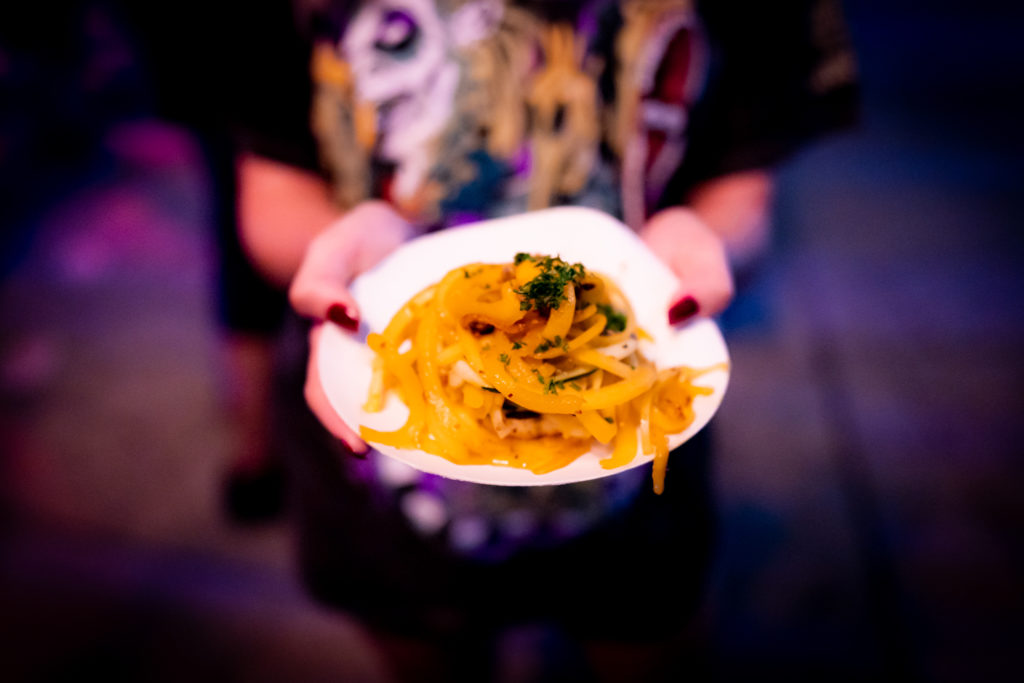 Pumpkin Guts – $9.49
Wicked Growth, World Expo
How could you NOT want to try something called Pumpkin Guts? This dish pays homage to one of my favorite houses this year, Wicked Growth: Realm of the Pumpkin. The dish is spiralized zucchini and butternut squash noodles sauteed in brown butter, sage, and parsley on top of two slices of baked delicata squash. All that is finished off with toasted hazelnuts and pumpkin seeds to give it great fall flavor. Don't let the pictures fool you, this is a pretty ample serving and absolutely to die for!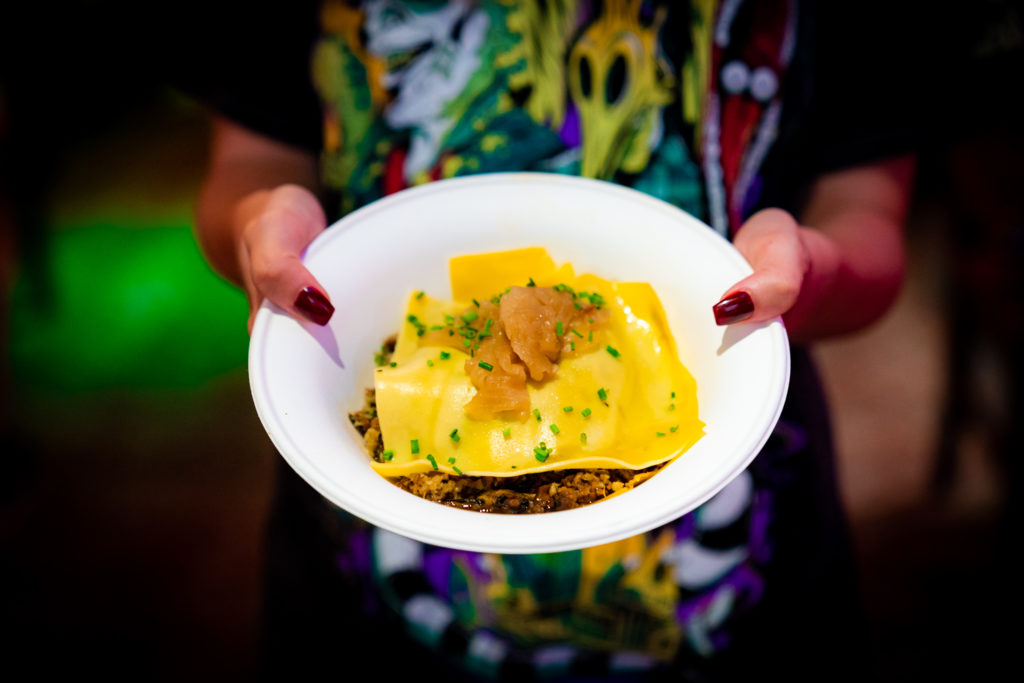 Maultaschen
Universal Studios' Classic Monsters Cafe, Production Central
Another classic German dish at Universal Studios' Classic Monster's Cafe is the Maultaschen, a dumpling filled with vegan protein. Guten appetit!
Tempeh Rueben – $10.99
Nell's Tea Party Sandwiches, Woody Woodpecker's KidZone
A great vegan option is the Tempeh Rueben sandwich, which includes sauerkraut, vegan Swiss cheese, and plant-based Thousand Island dressing on rye bread.
Don't forget the desserts!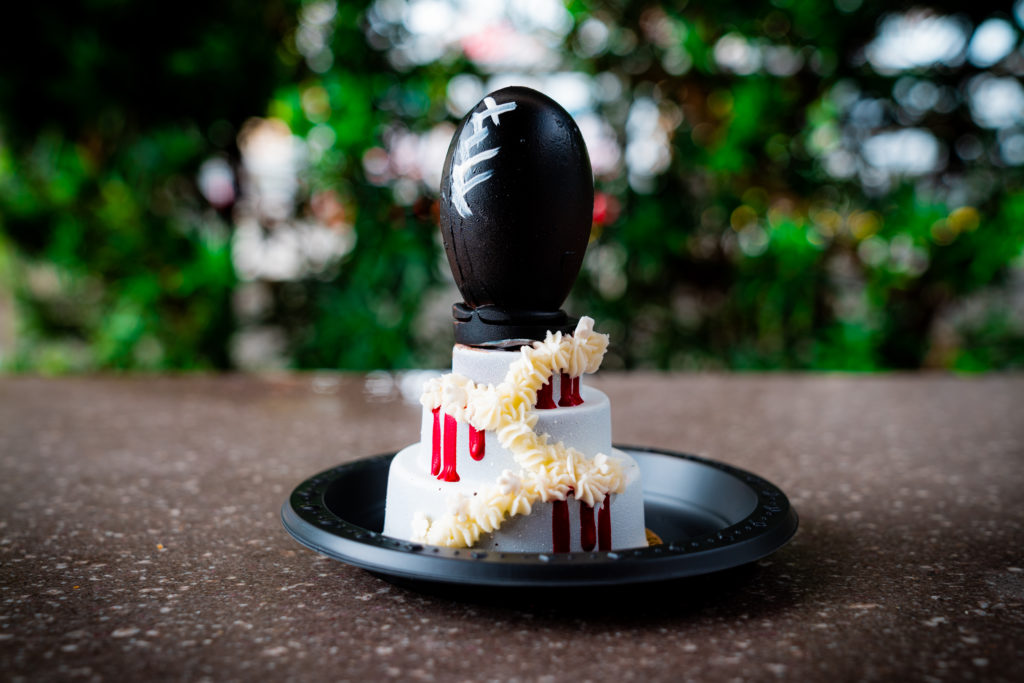 Of course, the delicious desserts available at Halloween Horror Nights (like the Bag O' Donuts, Dr. Pinetti's Confetti Battered Oreos, or the Bride Wedding Cake) are vegetarian friendly. The only vegan dessert we could track down was the Vegan Brownie in the Tribute Store.
All in all this is a fantastic year for food, particularly for expanded vegetarian and vegan options at Halloween Horror Nights. Check out our guide page to see everything available to you this year. Let us know what you think!
---
Find out everything you ever wanted to know about HHN – plus more! – in our insider's guide. And then discuss it all with 150,000+ other Universal die-hard fans in our Orlando Informer Community on Facebook.
And be sure to follow Orlando Informer on Facebook, Twitter, and Instagram for the latest news, tips, and more at Universal Orlando, Walt Disney World, and other Orlando attractions.