New details regarding the adventures of our beloved Despicable Me characters have been revealed! Starting this summer, our Minion friends will take over a portion of Production Central to create mischief and mayhem for guests visiting Universal Studios Florida. Embark on a fully interactive gaming experience at Illumination's Villain-Con Minion Blast, fuel up at Illumination's Minion Cafe, encounter favorite characters, and so much more!
Illuminations Minion Cafe
Illuminations Minion Cafe Decor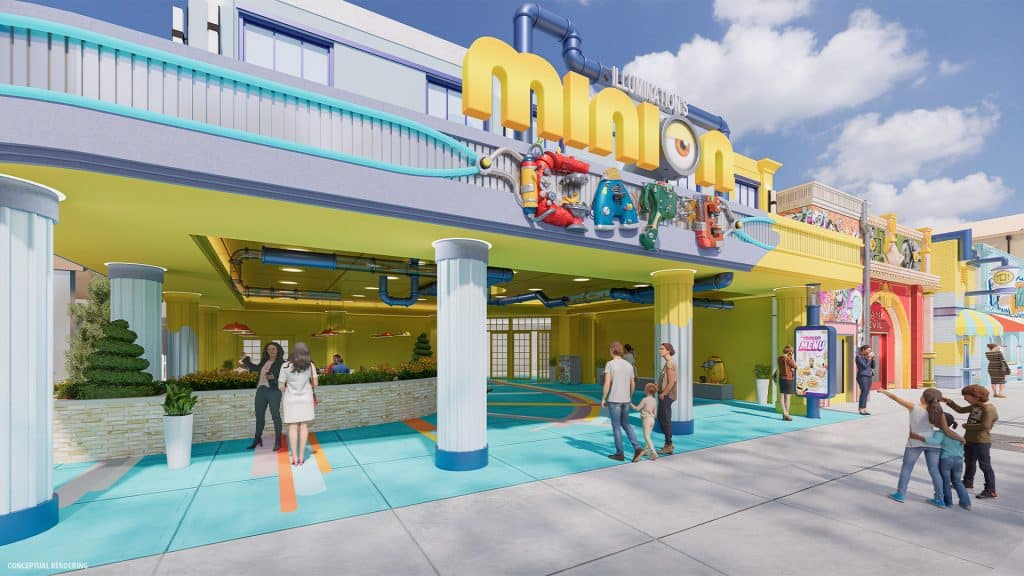 Welcome to the marquee dining location of the all-new Minion Land – Illumination's Minion Cafe! In this highly immersive, quick-service dining location, step into the world of beloved Minions, Kevin, Stuart, Bob, and Otto through three themed dining areas.
Guests can watch the Minions create this delicious menu while in the kitchen. Head over to the breakroom to see where our hardworking henchmen kick their feet up during a long day. This area promises to have a minions-only vending machine, stocked with mischievous items and tips to stay safe on the job! Perhaps you would like to eat your meal in the Dining Room where the resident interior designers, the Minions, have delightfully decorated it to welcome their guests.
Alternatively, should you wish to get some fresh air and enjoy the ambiance of Minion Land, an outdoor patio is also available.
Illuminations Minion Cafe Food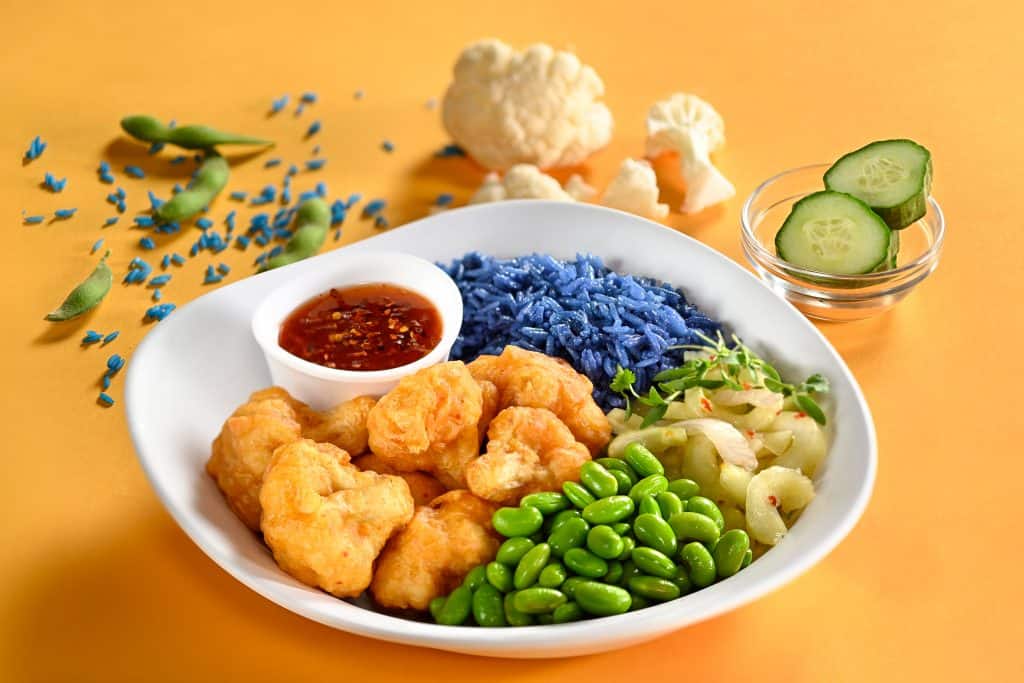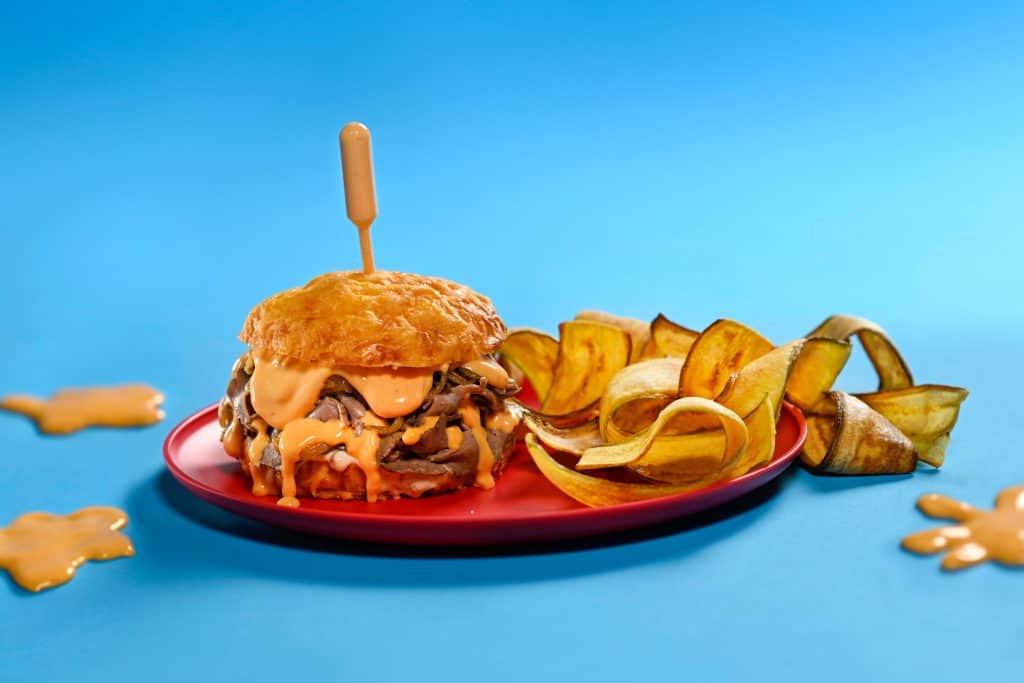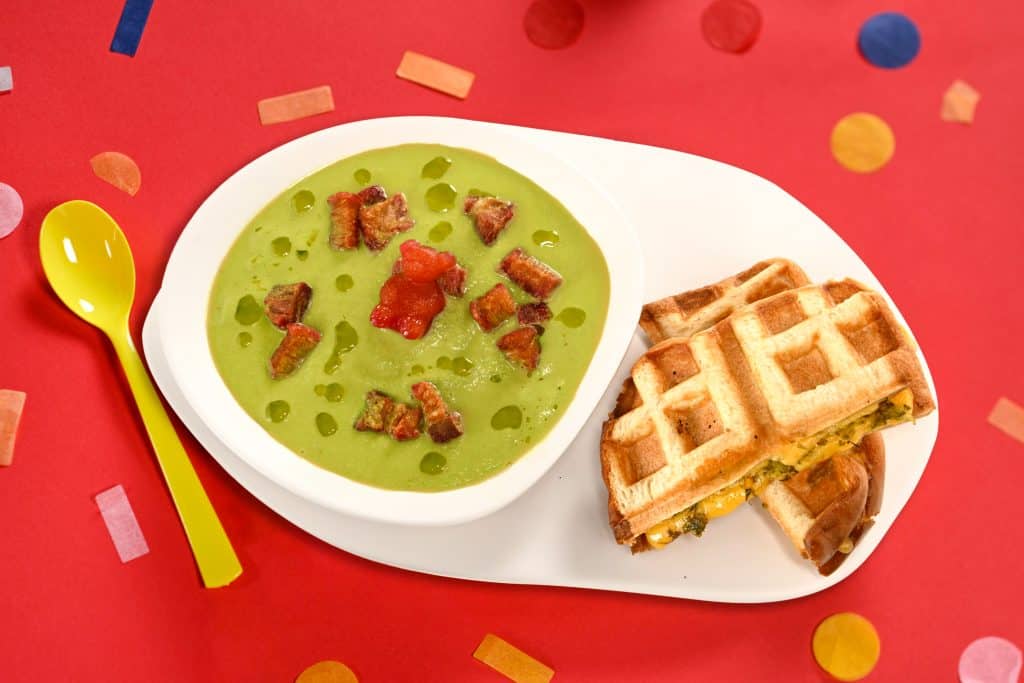 A whimsical restaurant setting also requires an equally fun menu! Illumination's Minion Cafe plans to offer almost 20 items inspired by this franchise, such as eclectic "despica-bowls" like Otto's Noodle Bowl, Agnes's Honeymoon Soup, and Carl's Crispy Cauliflower. Handhelds, like Steak & "Cheese Ray" Sandwich, will be included on the menu, and desserts, such as Bob's Teddy Bear Chocolate Cream Puff serve as the grand finale to your meal. Your party's "mini Minions" can pick from delicious dishes like the Mini Boss' Mega Melt.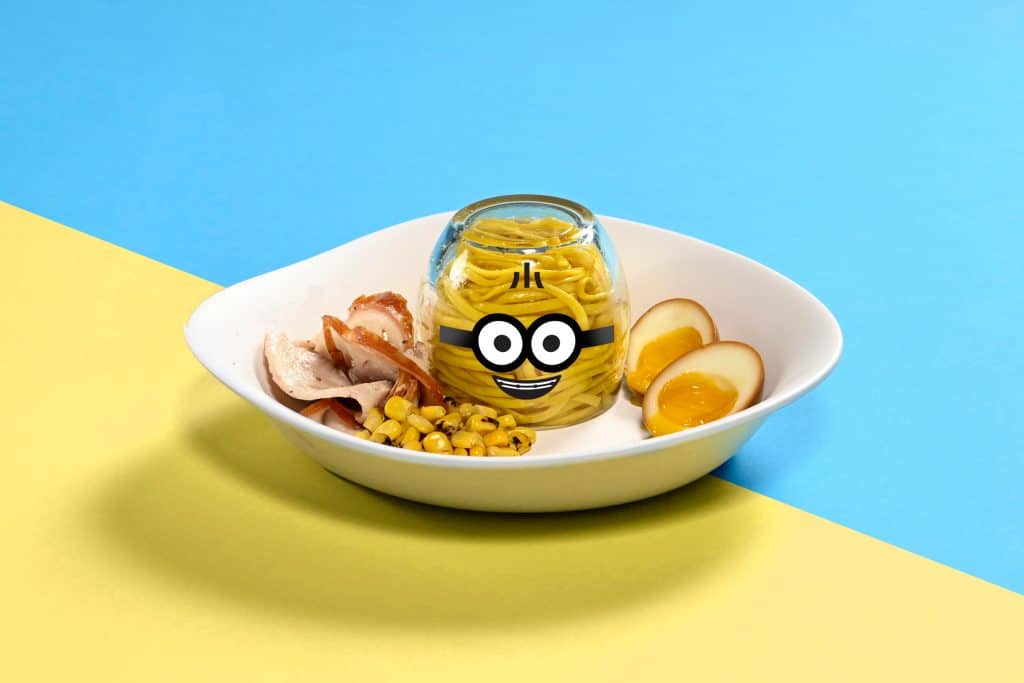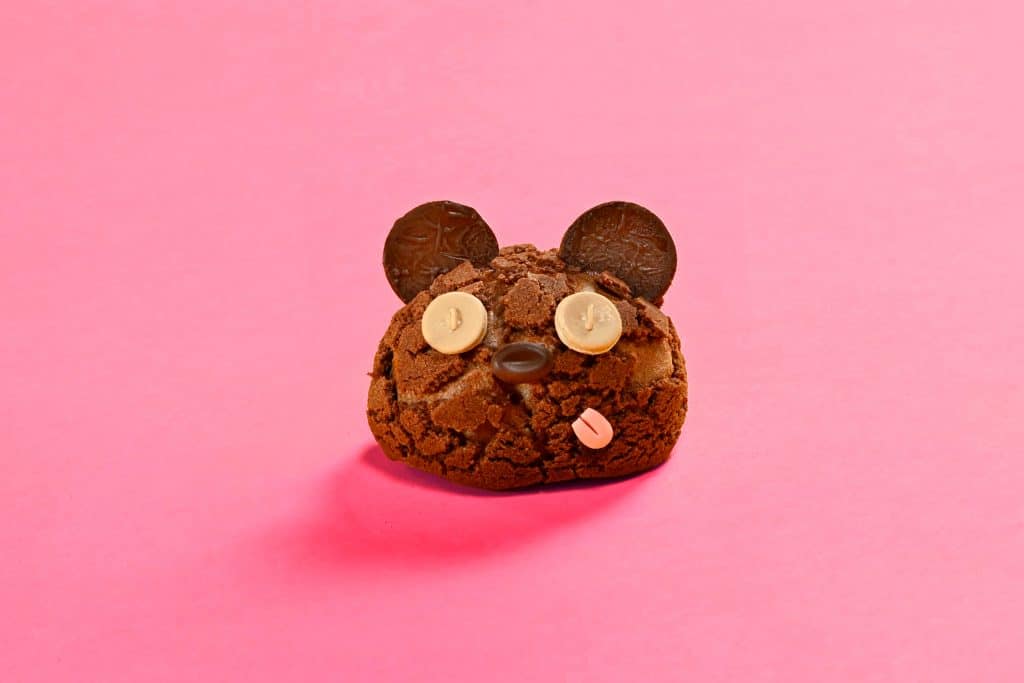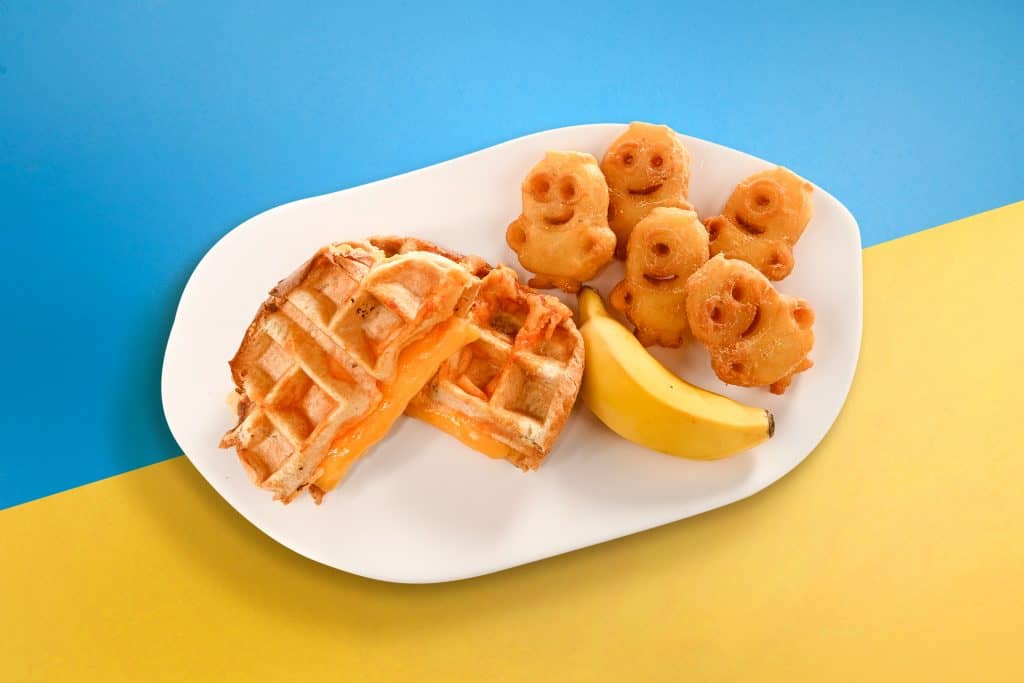 In a hurry to your next destination but craving some playful fare? An express window will be available with a limited menu will allow you to quickly satisfy your cravings and continue with the mayhem!
Additional Dining Locations
Bake My Day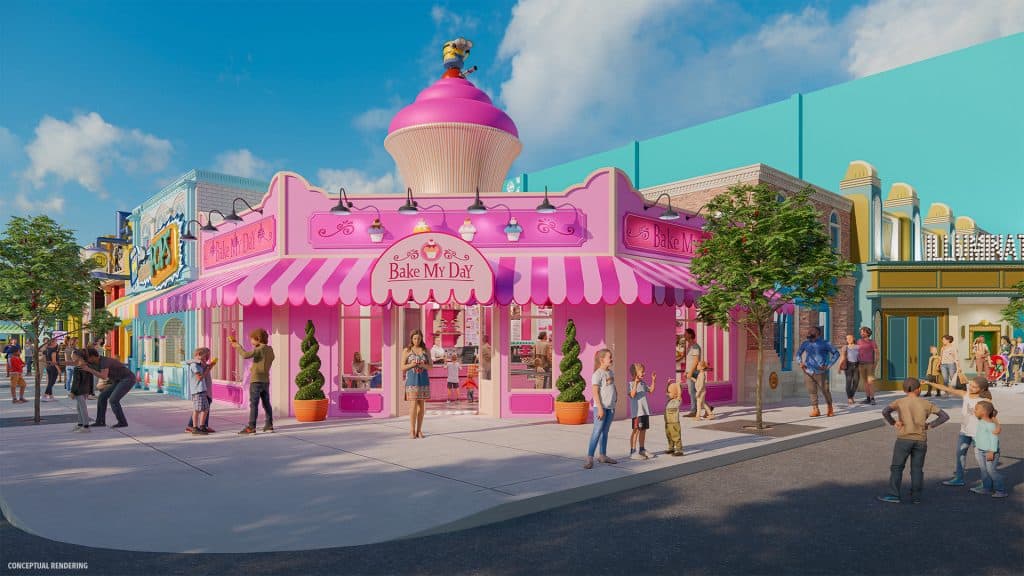 A large pink cupcake was recently spotted over the construction walls of the former Monsters Cafe location, leaving us to wonder what the minions were up to. Universal has announced that this will be the home to Bake My Day, a retail location and bakery. While you munch on Minion-inspired sweets, such as cupcakes, macarons, s'mores, and more, shop the store for various henchmen merchandise like apparel, plushes, drinkware, accessories, keychains, and more.
Pop-A-Nana
What's a Minion without a banana? Stop by this walk-up location to try an interesting twist on a theme park favorite – banana-flavored popcorn. Sweet and savory popcorn flavors will also be available for purchase. Pop-A-Nana plans to carry specialty popcorn buckets that serve as a fun food container and take-home souvenir!
Freeze Ray Pops
Cool off with various popsicles served at Freeze Ray Pops, inspired by Gru, Vector, and the Minions. This will be a must-stop spot on those warm summer days!
Illumination Theater
Come face to face with some of your favorite Minions franchise characters– the Minions, Gru, Margo, Edith, and Agnes, along with friends from "Sing", Rosita, Gunter, and Johnny! This outdoor theater facade will be an excellent spot for photo ops, with popular Illumination film imagery serving as a backdrop.
Illuminations Villain-Con Minion Blast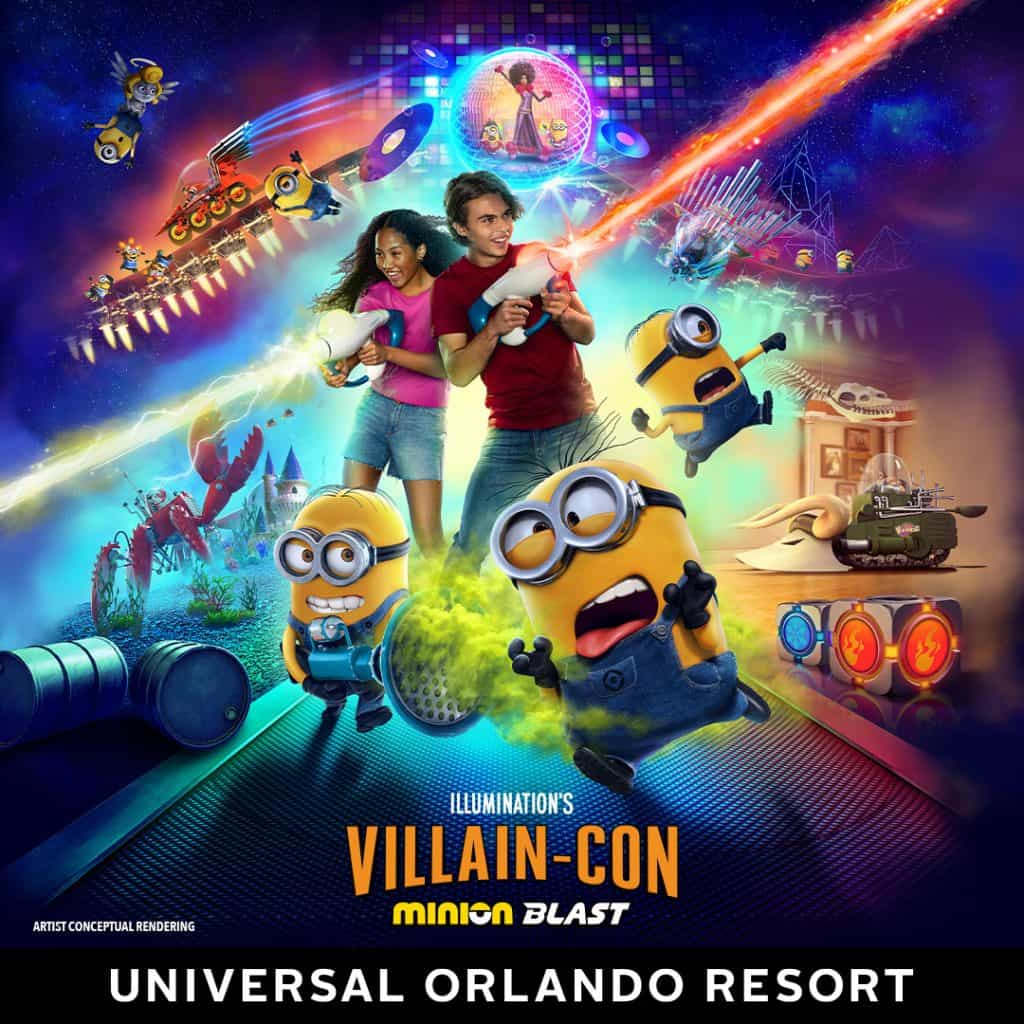 While the newest attraction coming to Universal Studios Florida wasn't the main focus of this latest announcement, it was stated that guests will exit this mischievous ride through an all-new retail store – Evil Stuff. This will be the perfect spot to grab your Villain-Con souvenirs and other Minion merchandise!
For the latest and greatest on Minion Land and other exciting happenings at Universal Orlando Resort, follow Orlando Informer on Facebook, Twitter, and Instagram.