When Wet 'n Wild Orlando, the 1977 water park that Universal eventually purchased to be Universal Orlando Resort's original aquatic destination, was shut down on December 31, 2016, word had already spread that the 64-acre chunk of land it sat on would be the future home for even more on-site hotels. It wasn't much later that the first details popped up – including the fact that Universal was building two venues instead of one massive one.
Why another hotel (or two)?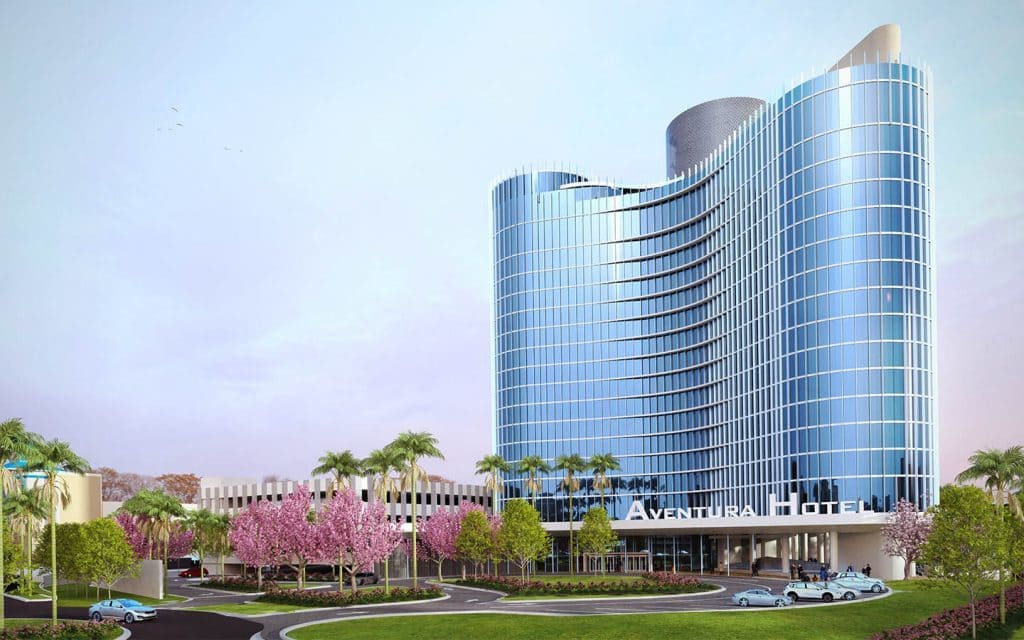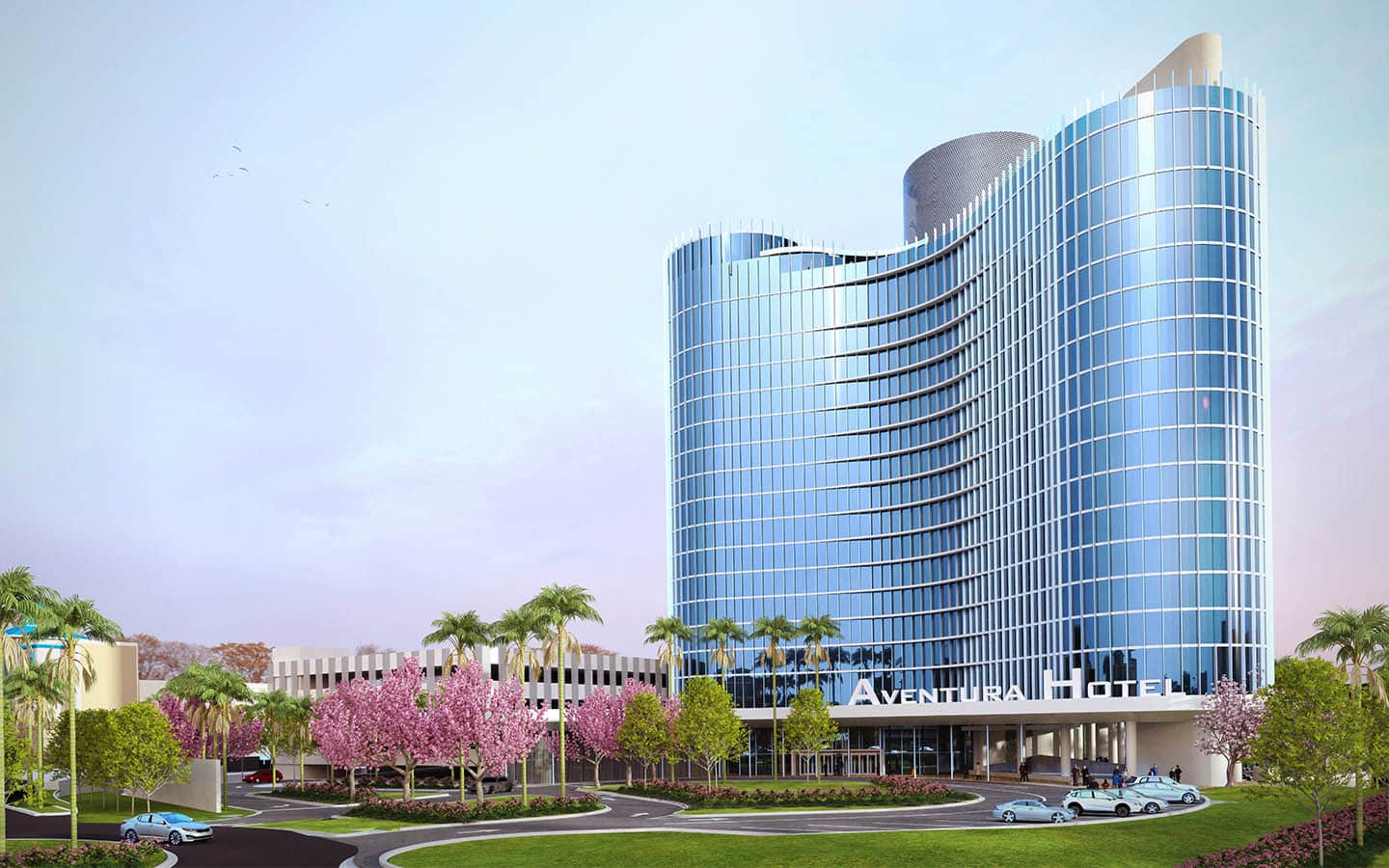 When Comcast purchased NBCUniversal back in 2011, Universal Orlando had 2,400 hotel rooms spread across its three original on-site resorts (that's Portofino Bay Hotel, Hard Rock Hotel, and Royal Pacific Resort). That was a situation the new corporate overlords were intent on changing; the more rooms a destination has, the more people are able to stay there, of course, and the more theme-park tickets and Butterbeers and merchandise can be sold. As such, at a September 2013 investment conference, NBCU President and CEO Steve Burke made a rather bold declaration: he wanted to see somewhere between 10,000 and 15,000 hotel rooms on-site. (While, indeed, a lot, that's still nothing compared to the approximately 26,000 hotel rooms that Walt Disney World Resort has on its property.)
Universal Orlando has already gone a long way to closing that gap: there are currently 5,600 rooms sitting on-property, thanks to the presence of 2014's Cabana Bay Beach Resort and 2016's Sapphire Falls Resort (and this year's Cabana Bay expansion, we should probably add). And this August will see the grand opening of Aventura Hotel and its additional 600 rooms, bringing the grand total up to a respectable 6,200.
The two announced venues will almost seal the deal, making Universal Orlando get up to 9,000, and priming the way for the remaining 6,000 rooms on Burke's wish list.
Tell me all about the new hotels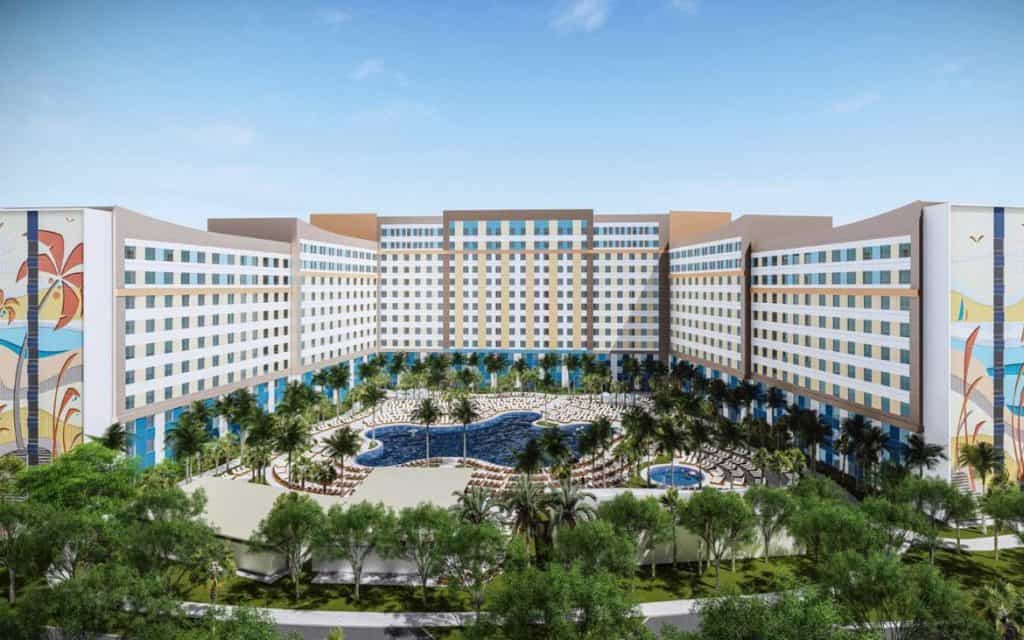 Beyond just having more bulk inventory on-hand, one of the major driving reasons behind Universal's big hotelier push is to provide different types of rooms to different types of customers; the original three resorts' contents were all bigger, pricier deluxe rooms whose appeal was limited to the more affluent parts of Universal's audience. This is where Cabana Bay's family suites, Sapphire Falls's conventioneer focus, and Aventura's discount rooms come into play.
And this is also where we see the new venues enter the equation: they'll have price points below $100 per night, making them, by far, the most inexpensive destinations across the entire (now-geographically-displaced) resort. This will be the trade-off for having to take a bus ride to CityWalk and the two theme parks that will be even longer than Cabana's (though, on some days, that shouldn't be by much).
There will still be the standard benefits for staying on-site, however: Universal is promising both Early Park Admission (to The Wizarding World of Harry Potter and Volcano Bay, of course) and resort-wide charging privileges with your room key. And there should be at least a little in the way of theming – "guests will enjoy the sun, surf, and sand with a laid-back coastal feel," Universal says in its announcement, which will partially be delivered through the use of "towering" exterior murals – and a whole smorgasbord of amenities that look to be shared between the two properties, including three pools, two food courts, and a number of coffee bars and fitness centers.
Where the two individual hotels look to be different, interestingly enough, is in their size. The first will be 2,050 rooms, while the second is a "mere" 750. Their combined room count of 2,800 is staggeringly big for the resort – that's like adding Aventura onto Cabana Bay! – and will contain 1,450 two-bedroom suites "designed to accommodate families of all sizes."
Unfortunately, as of right now, that's all the company has to say on the new "hotel complex" – oh, save for the little detail that reservations will start to be taken sometime in early this year. Perhaps we'll get more information, including a name (or names) and official opening date, at that time.
Universal Orlando's seventh and eighth on-site hotels will open summer 2019.
–
Be sure to follow Orlando Informer on Facebook, Twitter, and Instagram for the latest news, tips, and rumors at Universal Orlando, Walt Disney World, and other Orlando attractions.