The why of the new resort
"We've done a study that says we could have 10,000 or 15,000 hotel rooms and still have occupancy that makes those rooms profitable," Steve Burke informed investment analysts a little over two years ago.
Burke, who is the chief executive officer of NBCUniversal, has proven he's serious about the idea; since making that bold claim, Universal has taken their 2,400 hotel rooms and rapidly expanded them to 4,200, thanks to the speedy development of Cabana Bay Beach Resort, Universal Orlando's value- and moderate-priced property. Cabana Bay satisfied an important missing piece of Universal's market share: families looking to stay at a more affordable venue (that is still highly themed).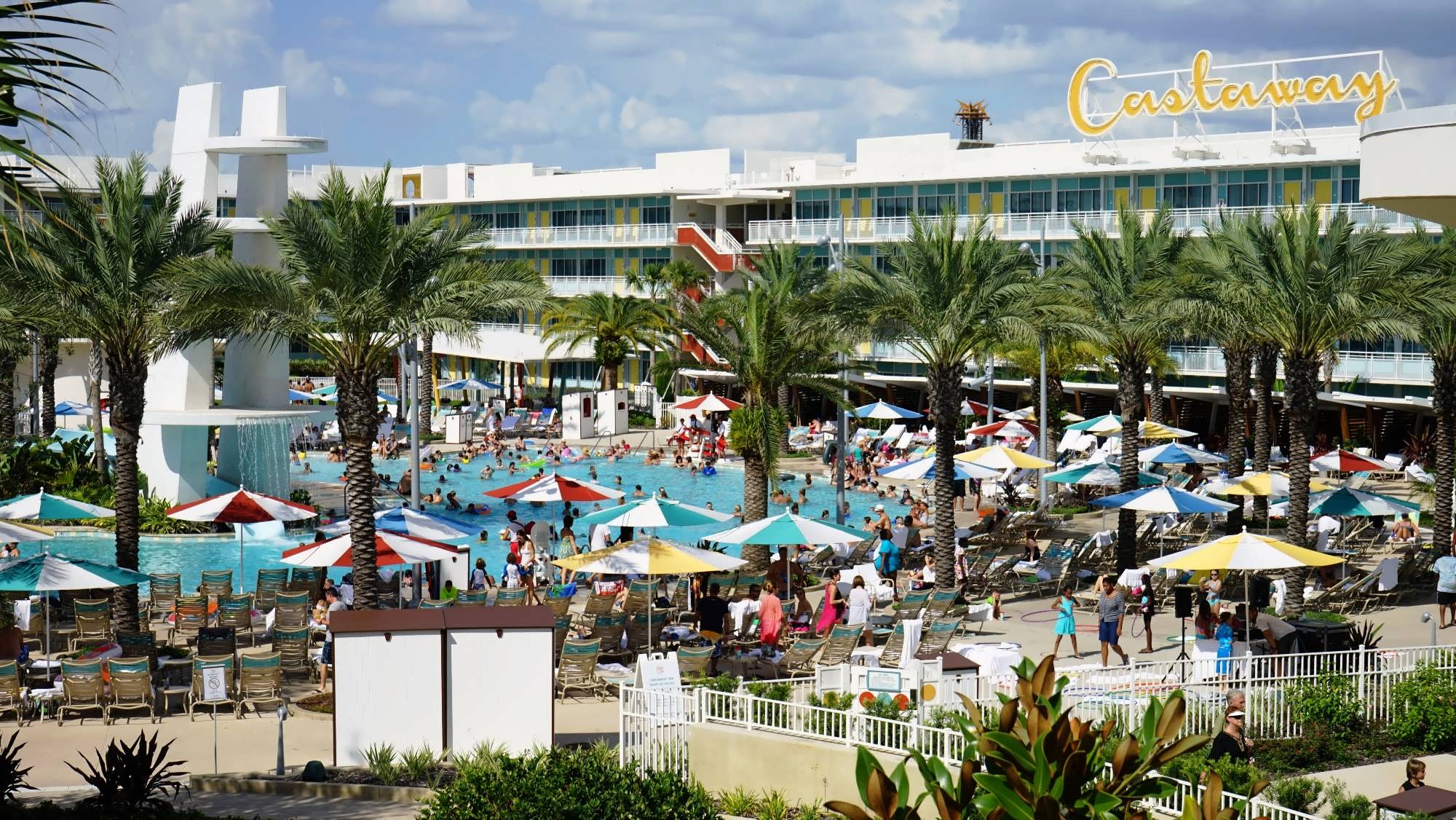 And just months following the opening of Cabana, Universal wasted no time in announcing their fifth hotel: Sapphire Falls Resort, which will debut in the summer of 2016 (alongside Skull Island: Reign of Kong at Islands of Adventure).
While taking a quick glance at Sapphire Falls' theme may lead you to think of it as just an expansion to the next-door Royal Pacific Resort, there's a bit more at play in this 1,000-room property. Specifically, the Falls will bring with it 131,000 square feet of extra meeting space, representing another grab at untapped market share – the already-ever-present Orlando convention market. The new hotel will also brandish what promises to be an impressive pool (with features for families), a full-service restaurant, water taxi transportation, and more.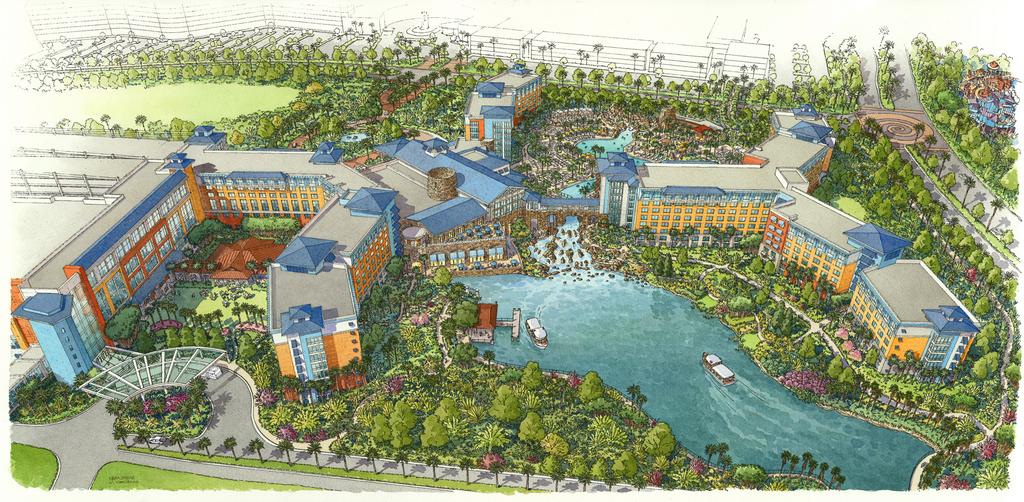 Sapphire will bring the room count of the on-site hotels to 5,200, a little over halfway to Steve Burke's stated goal. The question, then, quickly becomes: what will Universal do next to help close that gap?
The shape of the new resort
That there is a sixth resort currently in the pipeline can be taken as a given. Just what shape it'll end up being, though, is an open question.
Common speculation points us towards two ideas. The first – and far less exciting – is the prospect of a Cabana Bay Beach Resort expansion, which would allow for supplementary moderate and value rooms to be added to Universal's current total of 1,800. The addition would enhance Universal's capacity to entice families to stay at their affordable resort rather than have them scamper off-site. And with Cabana reaching almost 100% occupancy in most weekends this past October, there is no denying that such an add-on may be a worthwhile venture.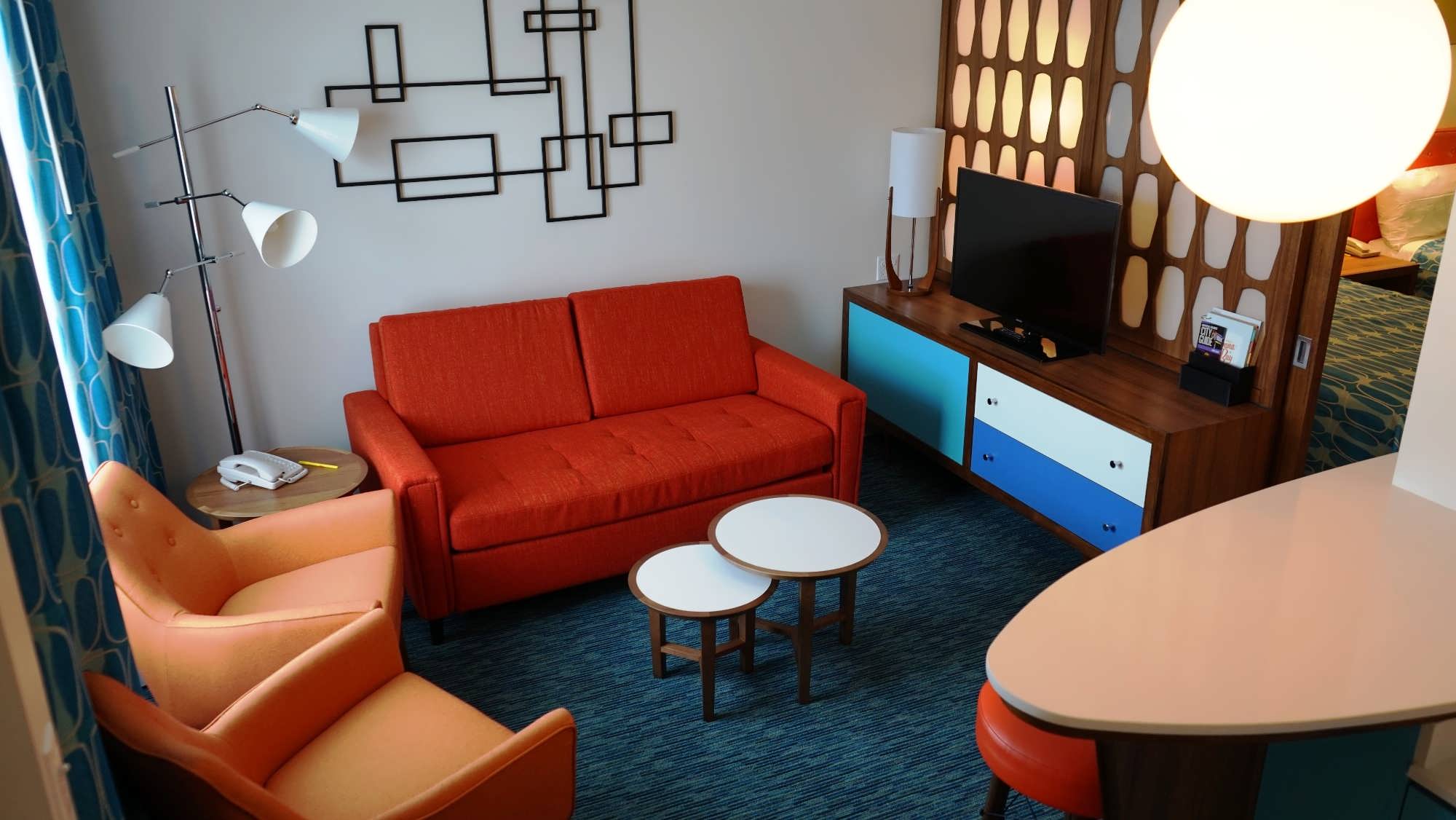 The second idea would have Universal go after one of the last segments of the market they currently aren't leveraging very well: a high-end luxury property.
All of Universal's current resorts, along with the upcoming Sapphire Falls, are managed by Loews Hotels, which quietly made an interesting announcement this past month: a new hotel brand, targeted for the "upper-upscale and luxury lifestyle categories," titled the OE Collection. (OE stands for "original experiences," in case you're curious.)
Could one of the first "original experiences" Loews is set to offer be a luxury property at Universal Orlando? It's hard to think of a more profitable location, and we know the hotel chain has done great business with Universal thus far. So let's say they are.
This is where things start to get really interesting.
The theme of the new resort
After already doing Mediterranean, Californian, South Pacific/Caribbean, and, now, '60s retro themes, what would Loews be likely to tackle for a top-end resort?
One option is to return to the unused concepts for previous on-site hotels that Universal discarded for one reason or another. Luckily for us, there are two proposals that have not only become very well-known over the years, but which would be perfect for a luxury property.
Universal's Royal Egyptian Resort was initially conceived back in the late '90s to occupy the plot of land that Royal Pacific currently sits on (I guess they really liked having "royal" be in the name). It was conceptualized by Steve Iandolo, who went on to supply "creative content and facility design direction" for the first three hotels that Universal did end up making.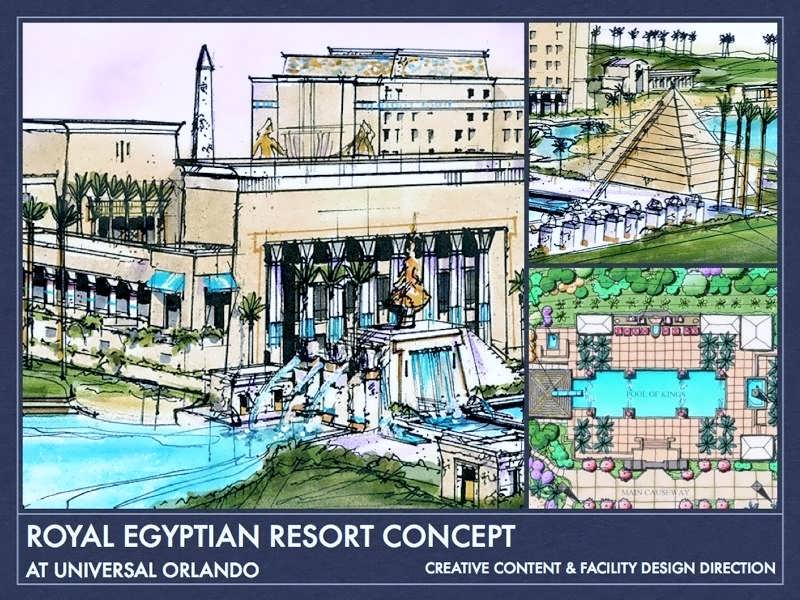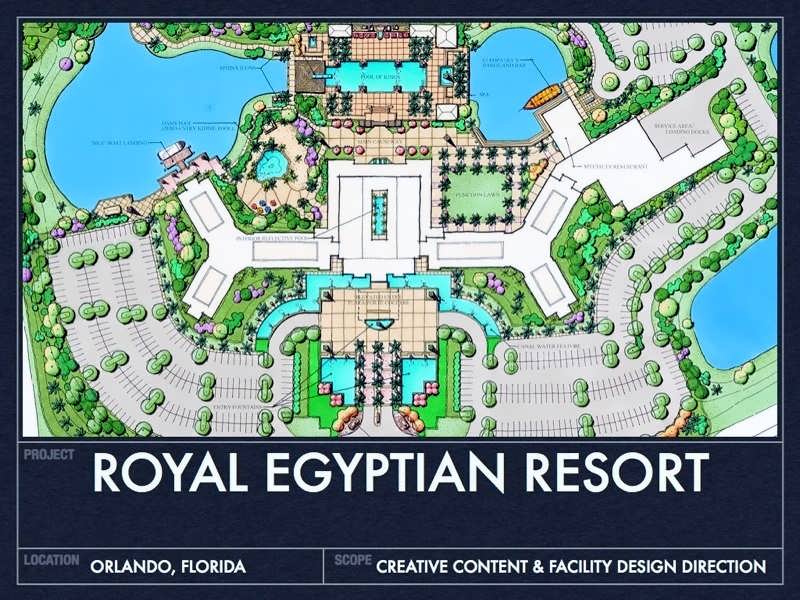 The idea behind Royal Egyptian was to celebrate the blockbuster success of movies like Stephen Sommers' The Mummy with an "adventure destination" – an entirely appropriate vibe for a high-end venue, and one that benefits from being completely different from all the other on-site hotels. And while it's true that the original plans for this large-scale resort could no longer work, they could easily be modified to fit another parcel of land.
The second abandoned proposal is Universal's Silverscreen Resort. Though this was worked on a bit later than its Egyptian counterpart, it was similarly devoted to movies – the "golden era of cinema," to be exact.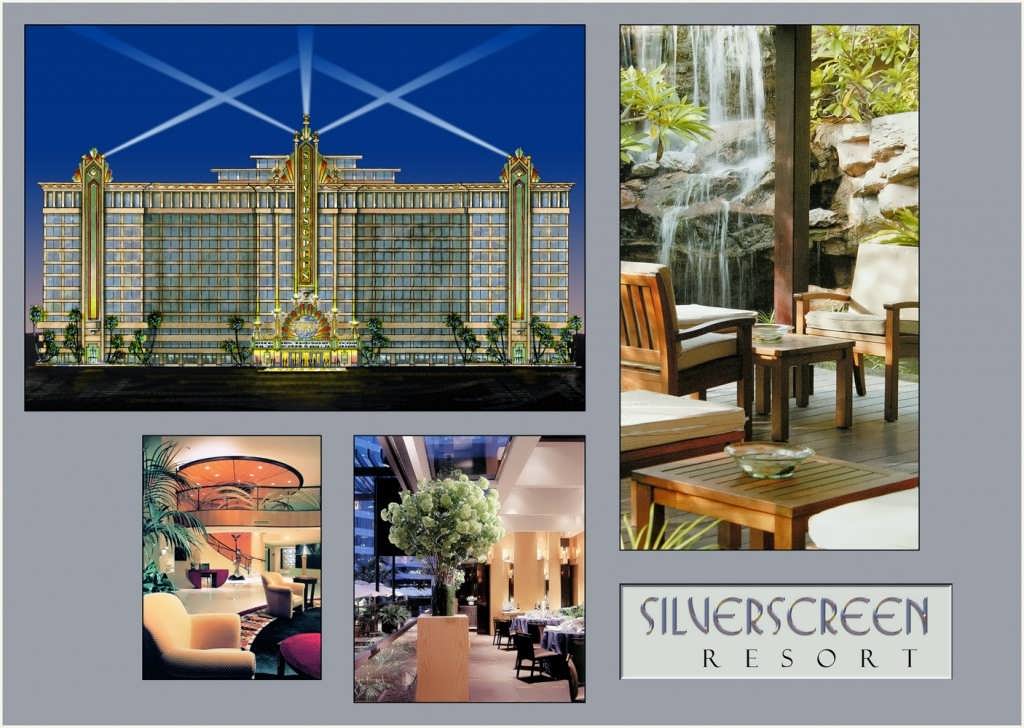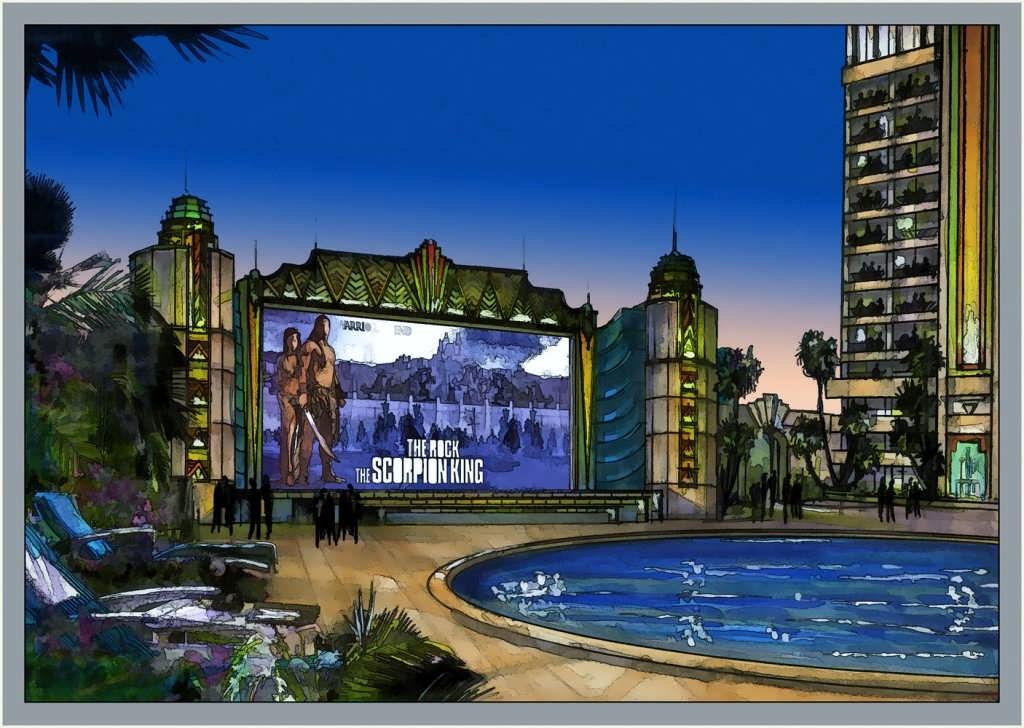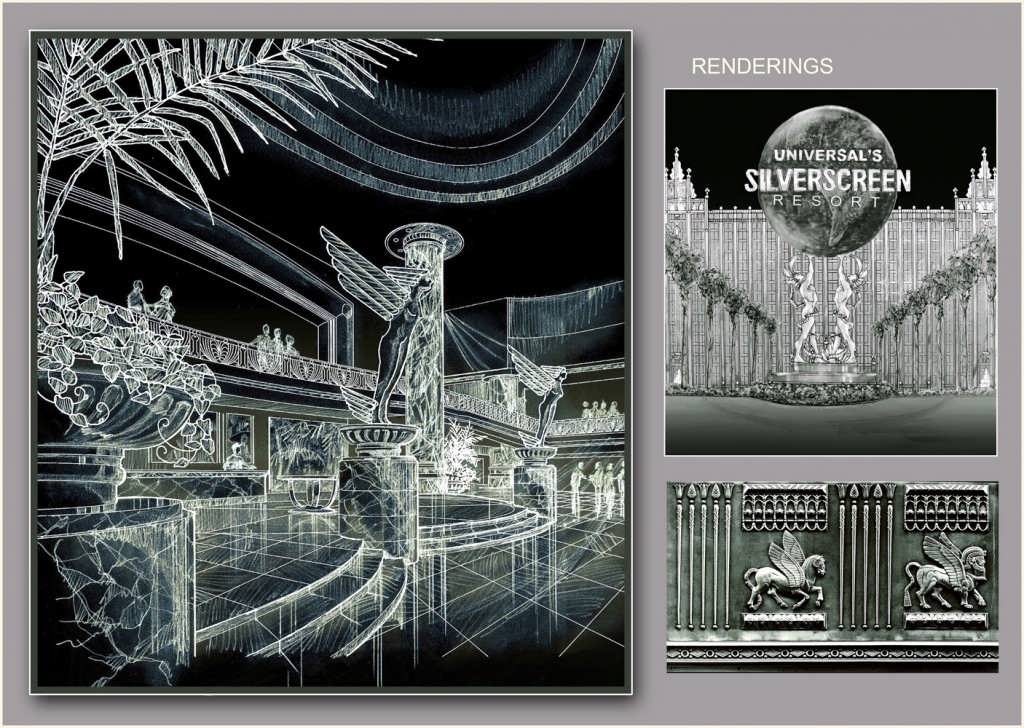 Developed by Raleigh Design, Silverscreen featured tropic undertones (recognize them from any other Universal properties?) and a sweeping, majestic aesthetic. It was originally designed to be the same size that Cabana Bay Beach Resort currently is, which makes it all the more tantalizing. And what's great about this concept is that it could work equally as well as a downsized hotel that still oozes upper-class luxury.
(I suppose there is also always the option of doing a Harry Potter-themed resort, which is clearly something that most fans continue to ask for, but the likelihood of it ever happening is near zero, for better or worse.)
The perks of the new resort
The last remaining question that surrounds the possible addition of a luxury venue is what exclusive benefits could be made available to reward those guests for staying there (just as Universal rewards their customers for staying at the three deluxe hotels by giving them unlimited Express Passes).
Realistic perks could include: a special "VIP" viewing area for nighttime show(s) and the daytime parade; immediate seating for the majority of restaurants across Universal Orlando; a VIP lounge at both parks (akin to the American Express Lounge at Universal Studios Florida); enhanced concierge; and discounted rates for tours of the parks.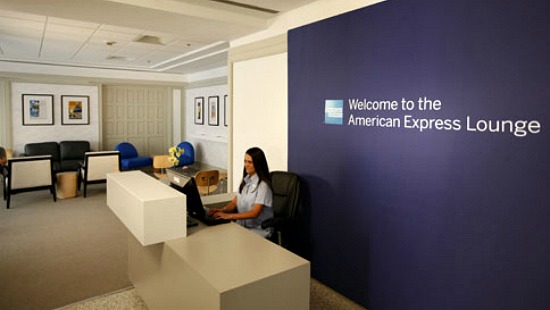 The real kicker here – though maybe a bit more unlikely – would be exclusive benefits at Universal's annual events, such as special seating at Mardi Gras concerts or, perhaps, the ability to immediately go through a haunted house at Halloween Horror Nights a second time upon exiting. This alone might be enough to convince on-the-fence guests to pay the extra money.
In the end, one thing is for certain: Universal is just getting started when it comes to additional resorts. Clearly, the feeling across the board is that a far higher capacity is required in order to capitalize on Universal Orlando's plans for the next five to 10 years, which just may include additional theme and/or water parks – and NBCUniversal owner Comcast is clearly just as dedicated to fast-tracking hotel construction as they are to fast-tracking enhancements to the parks or CityWalk.
A wider variety in the selection of hotel rooms on-site can only be a good thing for guests, allowing families to make the most of their vacations. Growth, after all, is Universal.
What do you think Universal will end up doing with its next on-site hotels? Let us know in the comments below.