Great Scott! Universal's Great Movie Escape is opening its doors at CityWalk on December 9, inviting guests to find their way out of the universes of Back to the Future or Jurassic World.
The two adventures, titled Jurassic World: Escape and Back to the Future: OUTATIME (named after their respective franchises), have promised to be first-of-their-kind with randomized activities and differing solutions, while being customizable based on party size and skill level. As Universal Orlando Resort is a world-class destination for guests of all ages, this innovative, new offering will appeal to almost everyone in your traveling party.
Your ticket to escape at Universal's Great Movie Escape starts at $49.99 per person (plus tax). Each room holds up to six guests per group and may include multiple parties.
The team at Orlando Informer has been patiently anticipating the unveiling of Universal's Great Movie Escape, as we are big fans of both franchises. We were invited to attempt our escape on December 8. While we will divulge the overarching storyline of these experiences, no spoilers are included. Even then, with the first-of-its-kind quality in an escape room, your experience could be completely different from ours.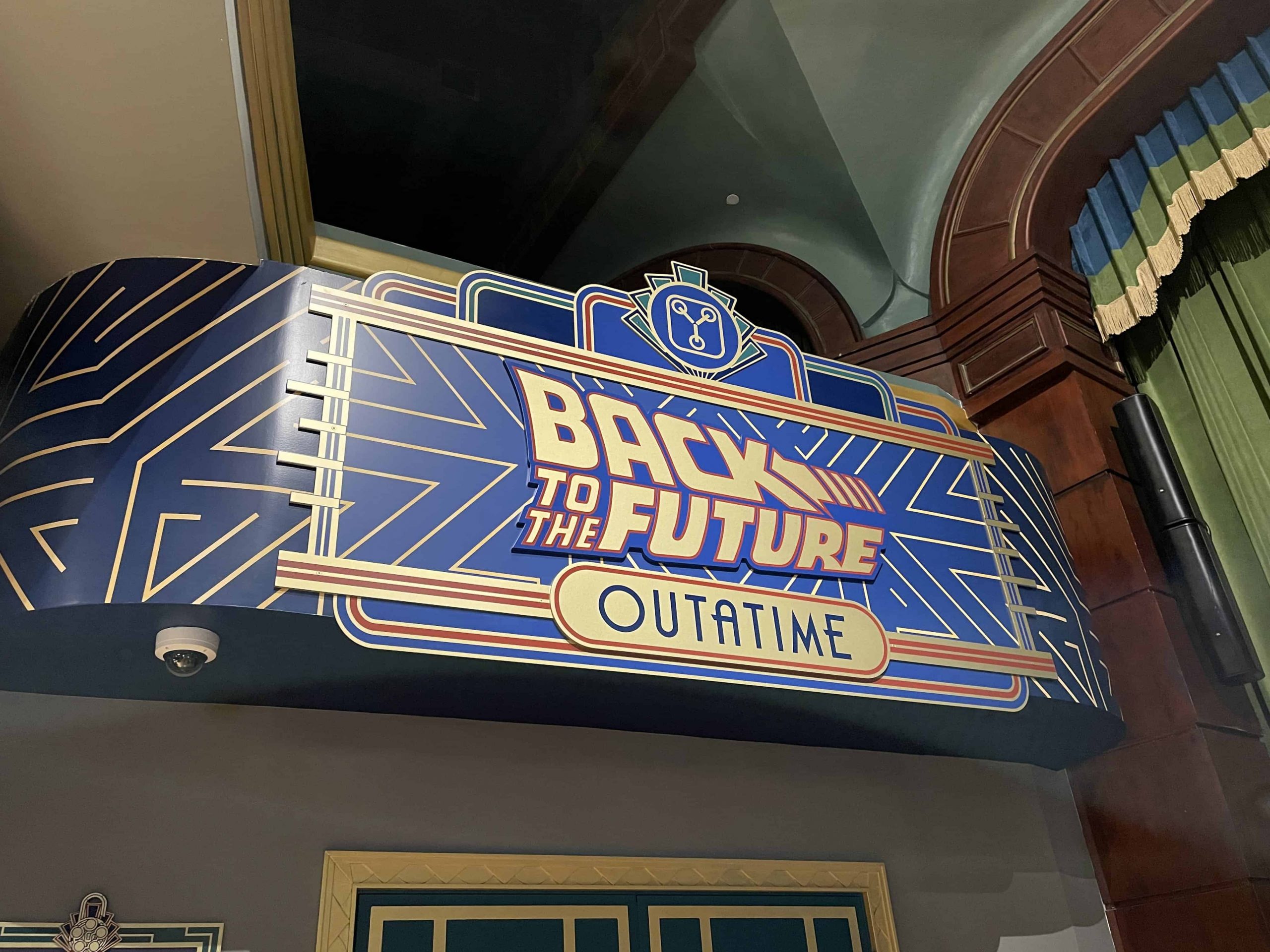 Prior to its opening, we had a proper fan moment when it was announced that Christopher Lloyd would be reprising his role as Dr. Emmett "Doc" Brown in Back to the Future: OUTATIME, an eccentric inventor that created a time travel experiment and caused the events in the Back to the Future series. With the franchise's roots of time travel, we venture back in time to a museum in the year 1993 where Biff, the nemesis of all three films, has stolen Doc's time travel device and jeopardizes the space-time continuum. Much like Marty, the franchise's protagonist, has had to accomplish countless times, it is up to your group to save the past and future.
As a long-time fan of the Back to the Future franchise myself, I had a blast revisiting some of my favorite (and those you love to hate) characters and scenes within the three movies and becoming part of the story. If you are on the fence about time travel and not sure what a flux capacitor is, no need to panic – anyone who is unfamiliar with the franchise can still have an enjoyable time and help save the day! We recommend making like a tree and getting out to Back to the Future: OUTATIME as soon as you can – it is your density.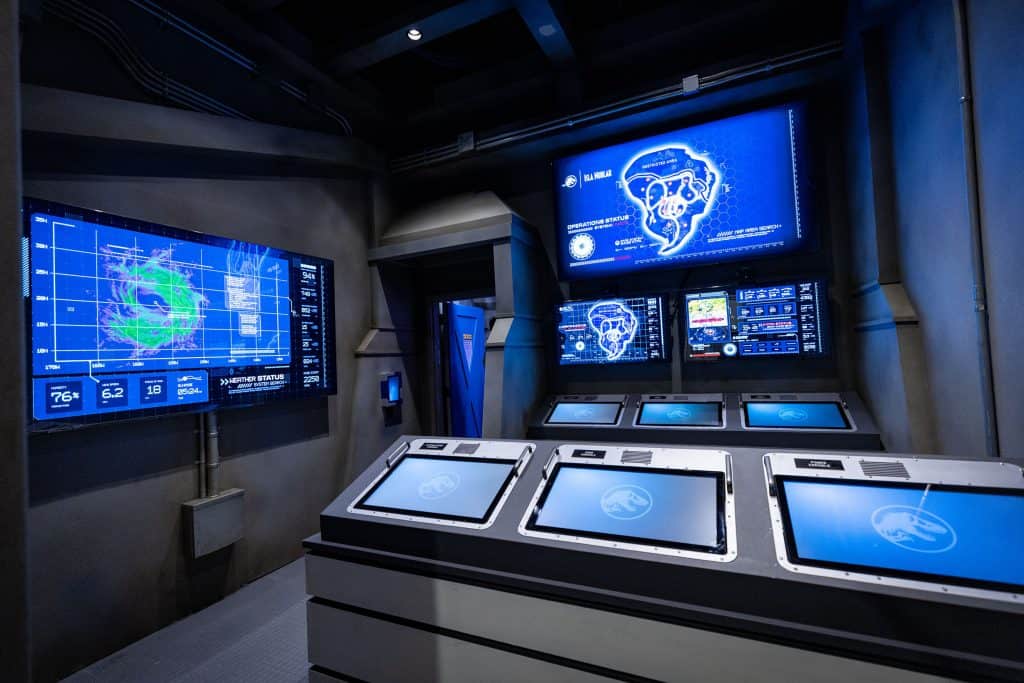 After an hour or two of rest from time travel jet lag, it was time to step into the Isla Nublar lab within Jurassic World: Escape. The workday in the lab began as it always does – feeding dinosaurs and splicing DNA. However, a Jurassic apex predator has broken free, and it was up to us to save the park.
Similar to our time travel escapade, the concept was easy to grasp so that guests with varying levels of Jurrasic World could fully enjoy and participate. However, our second breakout differed from the first in being focused on more technology-based challenges. With the roars of the escaped dino in the distance, the pressure to get out was intensified with every screech.
Wanting some liquid courage before your quest or to celebrate your team's accomplishments with a "cheers"? The venue not only holds two wild adventures, but has two bars – one upstairs next to Jurassic World: Escape and another in the lobby, closer to Back to the Future: OUTATIME. Here's what is on the menu:
Specialty Cocktails
Smoke & Mirrors – $15.50
Noble Oak, China China, agave nectar, Bourbon Barrel, and Chocolate Bitters
Wake Up Juice – $14.50
Old Overholt Rye, Kahlua, Angostura Bitters
Grand Banks Swizzle – $14.50
Appleton Reserve Rum, Falernum, toffee nut, lime juice, Angostura Bitters
Gigawatt Glow – $14.00
New Amsterdam Vodka, blue curacao, lime juice, Sprite
Raptor Bite – $14.50
El Jimador Blanco Tequila, mango juice, triple sec, lime juice, Hella Smoked Chili Bitters, Jalapeno
Silent Era – $14.50
New Amsterdam Vodka, Kahlua, espresso, pistachio syrup
Hill Valley Gin & Tonic – $14.50
New Amsterdam Gin, Dry Curacao, tonic, Angostura Bitters
Mocktails
Hoverboard Highball – $9.00
Pineapple juice, agave nectar, lime juice, tonic
Nublar Cooler – $9.00
Fresh lime juice, agave nectar, pineapple juice, jalapeno slices, tonic
Beer
Draft
Isla Nublar IPA – $12.00
Bud Light – $10.50
Heineken – $11.50
Blue Moon – $11.50
Negra Modelo – $11.50
Rotating Seasonal – $11.50
Bottled
Corona – $10.50
Angry Orchard – $10.50
White Claw – $10.50
Wine
(Glass/Bottle)
White
Mark West Pinot Noir – $11.00/$41.00
Kaiken Reserve Malbec – $12.00/$45.00
Red
Yealands Sauvignon Blanc – $12.00/glass
Kendall Jackson Vinter's Reserve Chardonnay – $41.00/bottle
A to Z Vinter's Reserve Chardonnay – $49.00/bottle
Merchandise to commemorate your escape is also available for purchase.
Whether you are traveling through the space-time continuum or protecting yourself from becoming a dinosaur's next meal, Universal Orlando Resort's newest offering will allow visitors to bond with their team and create memories during their vacation in a whole new way.