I love dining in and around theme parks. Part of it is a love of great food; part of it is the trauma of losing three hours of every childhood trip to Magic Kingdom as my family rode the ferry to the parking lot and ate sandwiches out of the back of the car.
Over the years, I've come to love really good dining – the kind of food I always sighed over on Iron Chef – and there's a good bit of it in Orlando. I've eaten at a lot of wonderful restaurants around Walt Disney World (Todd English's BlueZoo at the Dolphin remains the best food I've ever eaten), but there was one special restaurant at Universal Orlando I'd never gotten to try: Bice Ristorante at Portofino Bay Hotel.
To me, Portofino Bay is one of the most romantic places in Orlando, perhaps because my husband proposed to me by the bay there. When I had visited in the past, however, I had been young and financially challenged, and Bice's fine dining prices were out of reach. Not anymore! Emboldened by a long, hot day in the theme parks, the promise of amazing food, and the assurance that a first floor room at Portofino guaranteed we would not have to stagger too far after dinner, my husband and I decided to make a visit to one of the few truly premiere dining experiences at Universal Orlando.
Bice Ristorante is tucked away at the top of a flight of stairs on the West Wing of Portofino Bay, just a few steps from the boat ramp. The warm, Mediterranean tones of the hotel – combined with the elaborate railing and the sleek restaurant logo – offer a promise of elegance and warmth.
That promise was reinforced as we found ourselves at the top of the stairs on a small balcony area decorated with cushioned furniture and hibiscus – a lovely place to wait for seating.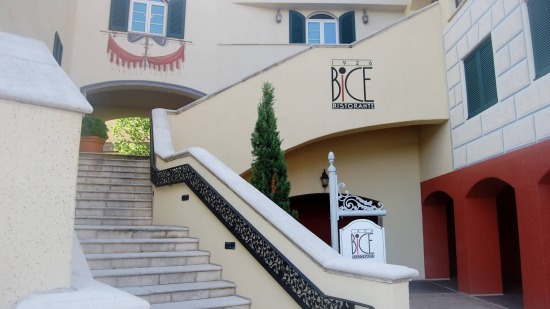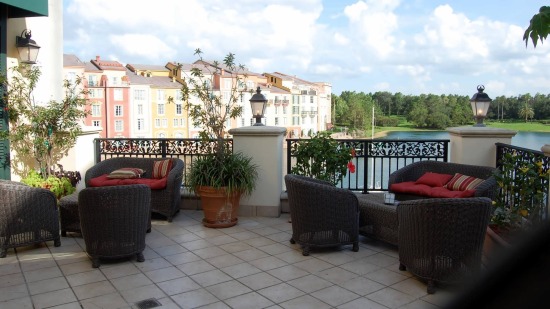 Pushing through the doors, we headed into the main entrance of the restaurant. Bice is an interesting fusion of rustic touches, like dark woods and exposed brick, with a sleek modern style, sporting clean lines and light colors. The hostess seated us immediately, leading us through a dim hallway flanked by a beautifully lit wine display into the main area of the restaurant.
Although there are several small dining rooms off the main one, likely for parties or receptions, the main seating area of Bice is light and open. The restaurant is comfortable, with tables spaced far enough apart for a sense of privacy.
For me, personally, the decor is a little cold – too many clean lines and empty walls – but that's a personal preference coming from a woman who loves the experiences of Mythos (at Islands of Adventure) and Be Our Guest (at Magic Kingdom). Overall, the space was welcoming, and we were seated at a cozy table for two beside a tall window overlooking the bay.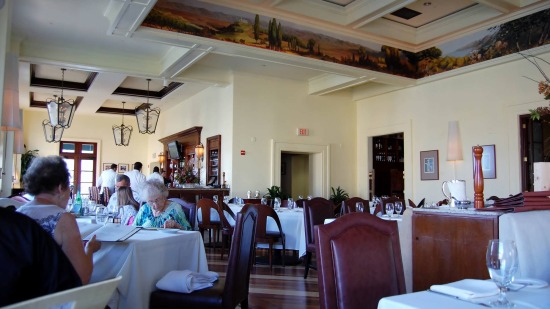 I was a little nervous – several of the reviews I had read mentioned the service being "snooty," and, although I love fine dining, I hate overly formal treatment.
Our waiter, however, put all of those concerns to rest. Warm, personable, and eager to connect with us, he quickly assessed the kind of customers we were and set the tone for the evening. Without ever pushing us, he ascertained that we were there for a slow, indulgent dinner, and that we were not going to hold back on enjoying everything to the fullest. He proceeded to create a courteous, friendly camaraderie with us that set the feeling for the evening and was one of the most important elements in making our meal a wonderful, memorable one.
We started with cocktails. My husband had a Strawberry Mint Infusion, and I ordered a glass of the house-made sangria. Both were good, with fresh ingredients, but neither was truly outstanding. Although we enjoyed the drinks, I've had cocktails just as good at other restaurants.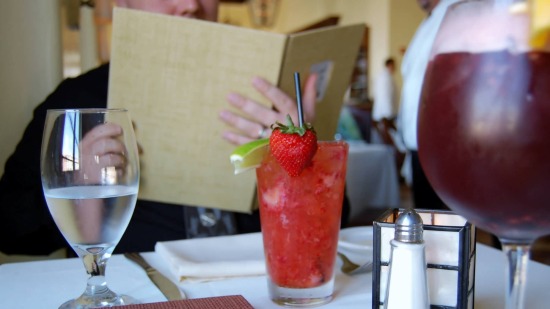 With the cocktails, the bread service arrived. Now, don't get me wrong – I know every restaurant has a bread service, but some are better than others. This was a "better than others." The bread itself was dense, moist, and freshly baked, but the stars of the show were the dips that accompanied it.
A red pepper hummus was sweet and moist; pure imported Italian olive oil was delicious; and the tuna tapenade (yes, tuna) was amazing. In fact, the tuna dip was so good that my husband, after having a transcendent food moment, asked if he could have more, and the wait staff was happy to oblige.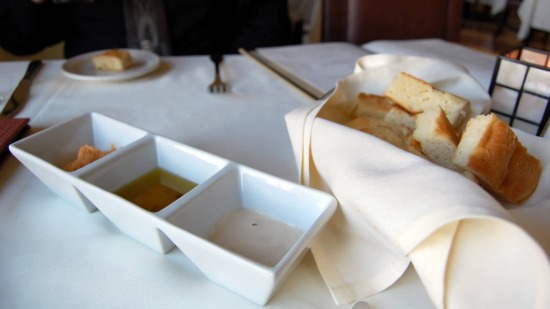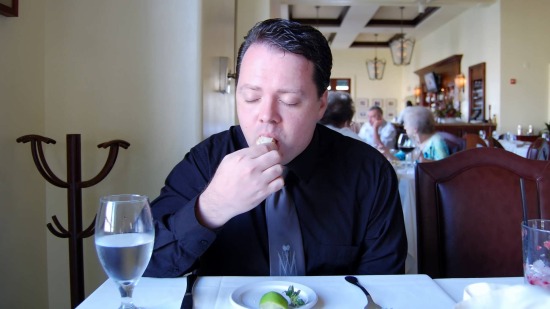 For appetizers, we ordered the antipasti platter and the beef tenderloin carpaccio. The antipasti platter was excellent. As with any antipasti, the focus was on fresh, pure ingredients, and the meats and cheeses met that requirement. Each was fresh, of high quality, and delicious.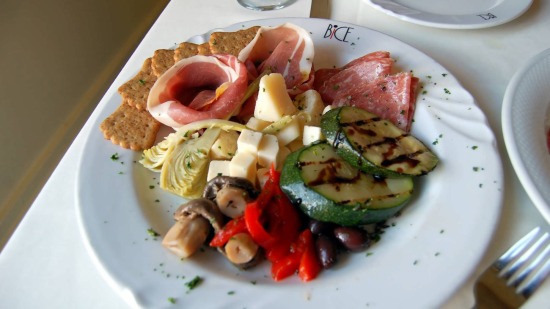 But the tenderloin carpaccio stole the show. Perfectly prepared, the paper-thin slices of tenderloin were sweet and had an amazing, tender-mouth feel. The truffle ajoli and marinated artichokes added an amazing richness and balanced acidity that made my mouth very, very happy.
In all honesty, I could have just had a plate of that for my main course.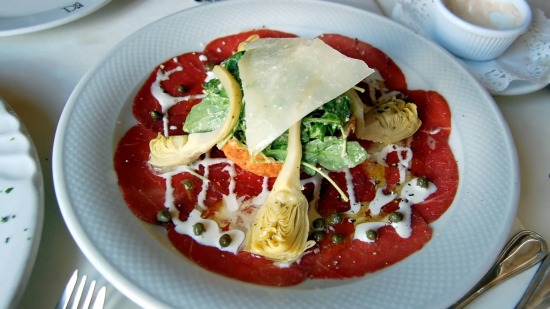 <script async src="//pagead2.googlesyndication.com/pagead/js/adsbygoogle.js"></script>
We ordered a bottle of wine to accompany dinner, and our server was both knowledgeable and helpful in making sure we got something to our taste. In fact, when we were undecided between two bottles, he provided a glass of each and let us do a "blind" tasting to see which we liked better (and to see if we could tell the difference).
After we chose, he brought the bottle over, accompanied by the special aerator that Bice uses. Although the device is available for sale in the menu, there was no mention of purchase or pressure; instead the aerator made pouring the wine entertainment in itself, and it did enhance the flavor.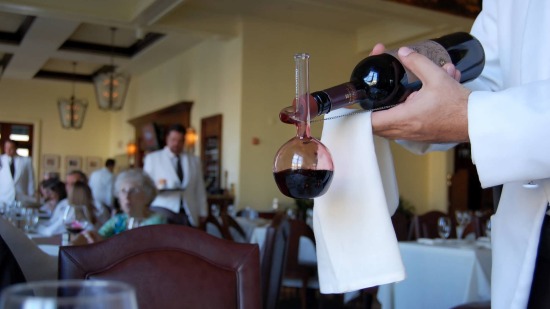 When it came to the main courses, we had trouble deciding – everything looked amazing! After a fairly lengthy conversation with our waiter, we decided to trust his recommendations.
I opted for the Sacchetti con Pera e Gorgonzola in Salsa ai quattro Formaggi con Pomodori secchi. For those of us who don't read Italian, that's handmade "purses" of fresh pasta stuffed with pear and gorgonzola in a four-cheese fondue. They were amazing. Of course, nothing compares to fresh-made pasta, and the sachetti were perfectly prepared. The filling was a complex mixture of savory and sweet, whose light flavors were set off by the rich, creamy cheese sauce. I ate every bite.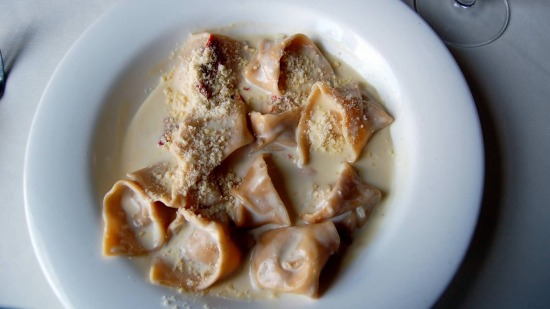 As good as my dish was, however, it was nothing compared to my husband's choice. He ordered the ravioli stuffed with beef short rib and spinach in mushroom and marsala wine sauce. The dish was absolutely succulent. Melt-in-your-mouth pasta with a rich filling and a perfectly balanced sauce is hard to beat. I shared my sachetti with my husband, partially so that I could steal more of his ravioli.
When we go back to Bice, I'm getting the ravioli. Period.
At about this point in the meal, the Musica della Notte had started. That's the nightly live performance of remarkable vocalists on the balcony of the Portofino lobby overlooking the piazza and bay. The vocalists are always wonderful, and there is something inherently romantic about the classical music drifting over the water. It's one of my favorite things about Portofino because it compounds the sense that you have been transported to another place, far away from theme parks or Central Florida.
Our server told us when it started and encouraged us to step out on the restaurant balcony and enjoy the performance. He assured us that taking a break would get us ready for dessert – there was no hurry. The relaxed respite in the middle of the meal was delightful. The magic I always feel at hearing the performance was enhanced by the luxury of standing on the balcony of Bice, leaning against my husband, listening to the music carry across the water (and I'm sure the bottle of wine we'd worked through didn't detract from the atmosphere, either!).
Returning to our table after the music, we were ready for dessert. I chose a light offering – puff pastry with cream and berries. My husband went for the classic cannoli. Both desserts were wonderful. I'm an unrelenting pastry snob, and the texture of the puff pastry was wonderful. It melted in my mouth, and the rich cream and tart berries made a tasty, light combination.
My husband's cannoli was delicious, as well, with the cream a bit on the heavy, sweet side. That sweetness was somewhat modified by the pistachio ice cream, which set off the flavors.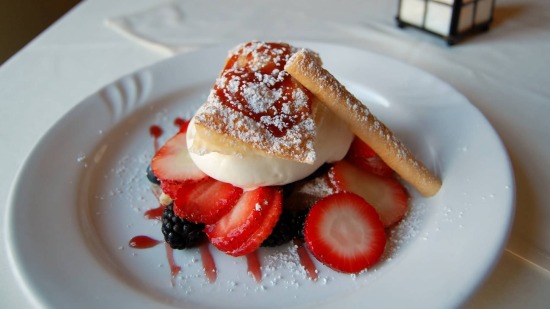 Along with our dessert, our wonderful waiter convinced my husband to try the cappuccino with Bailey's, swearing that it was the best in Orlando. Fairly easily convinced at this point in the meal, my husband agreed to try it, and it turned out that our server was correct. Perfectly balanced between bitter espresso and sweet cream, the cappuccino was a wonderful accompaniment to dessert.
To finish off the evening, our server brought us limoncello as an after-dinner digestif – his treat. The sharp flavor was a wonderful close to the meal, and we left with happy smiles, ready to waddle downstairs to our room and fall over.
Overall, Bice was a lovely experience. It has all of the hallmarks of fine dining with few of its potential drawbacks. The restaurant staff could not have been lovelier or more accommodating. There was no rush, no unnecessary formality – just warmth and courtesy. The food was very good, particularly the pasta and its accompanying sauces.
Certainly, the restaurant is pricey – significantly more than most theme park or CityWalk venues – but its prices are in line with other fine-dining establishments at theme park resorts, and the experience it offers is truly a wonderful one. (You can view the menu and prices on this PDF file.)
For me, Bice offers a pampered retreat for lovers of good food, set against the beautiful backdrop of Portofino Bay Hotel. It's an indulgence, but a romantic, relaxing one that's worth considering for a special night out!
Now that you've eaten, visit the OI Blog to see where to drink at Universal Orlando.
And be sure to leave your thoughts on Bice below. Is it too expensive? Do you think there are better places to chow down? Let us know.