Going to the theme parks is some of the best fun there is in Central Florida, and some of the best fun at the parks is – in my humble opinion – going on the rides. Whether you're more of a thrill-seeker, or trying to get the best view, or just along for the ride (no pun intended), we're here to help you get the best out of your experience at Universal Studios Florida.
Below is our quick-but-handy-and-dandy seating guide for every ride at the park, so you can get the most out of your day braving massive roller coasters, becoming a Minion, or facing off against the Mummy. (Be sure to click on the names to check out our attraction guides, as well, for more useful info.)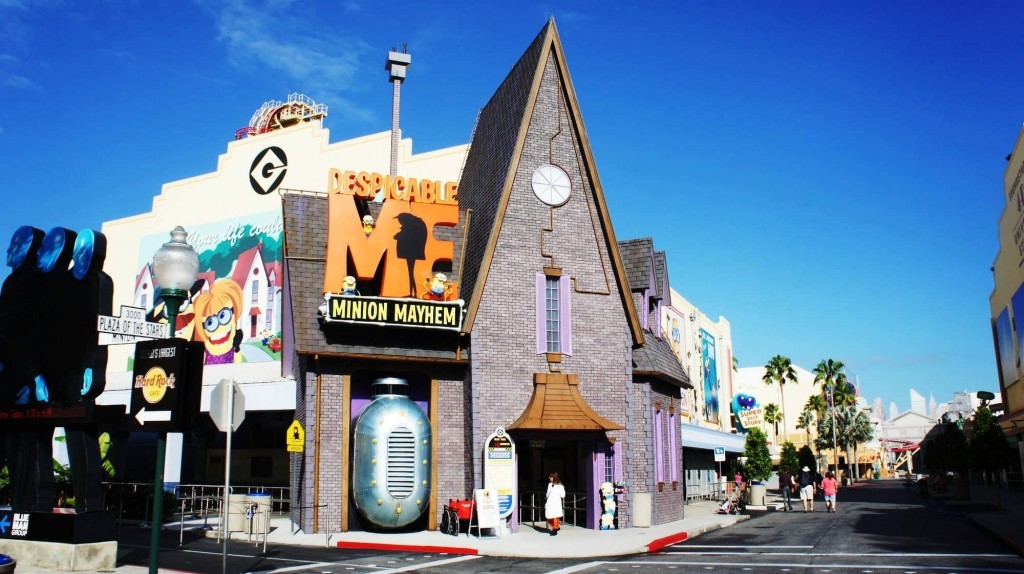 Description: based on one of the most popular film franchises out there, Despicable Me Minion Mayhem is a motion-simulator ride that's fun for the entire family. You'll enter Gru's home and eventually be turned into a Minion as you race through his laboratory. Gru's daughters – Margo, Edith, and Agnes – also come along for the ride.
Where to sit: the ride vehicles for Minion Mayhem are theater-style tiered seating, so really there's not a bad seat – but smaller guests might still enjoy being in the front. Since the attraction is a motion simulator, there are a few jerky movements, so if you'd just like to sit and enjoy the show, go for the stationary seating option.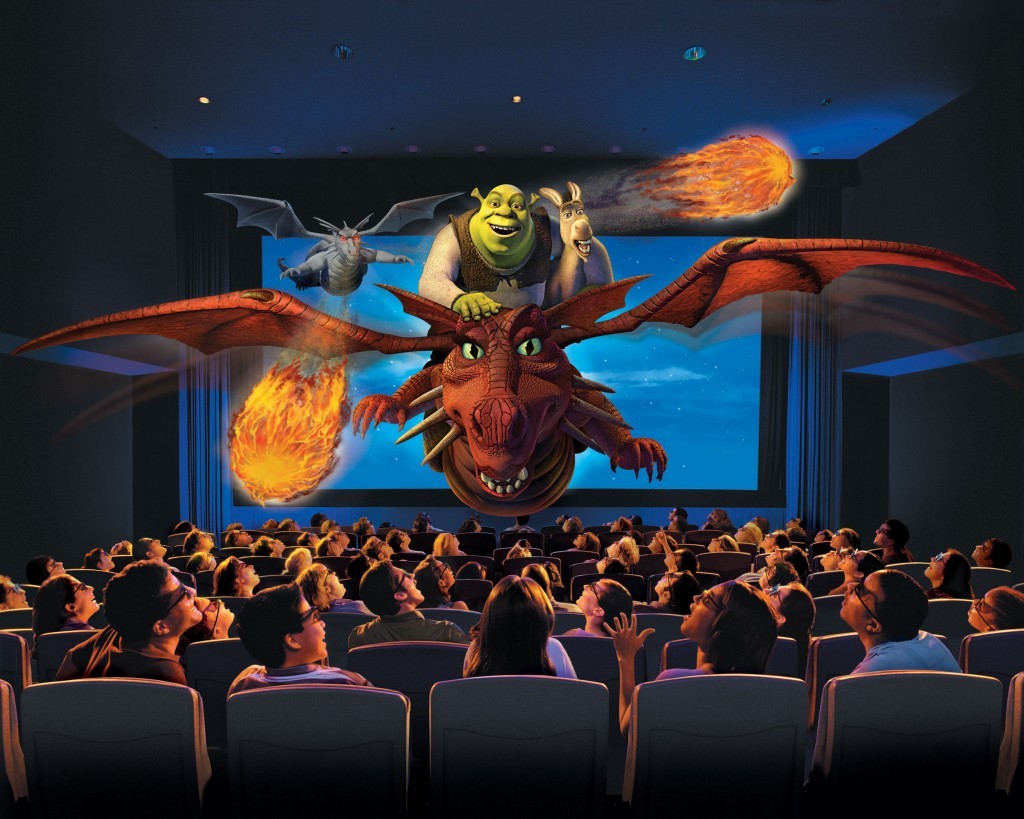 Description: join Shrek, Donkey, and all their friends in this 4D movie experience. Lord Farquaad has kidnapped Princess Fiona, and with your help – and with your trusty OgreVision glasses, of course – Shrek will be reunited with his true love in no time.
Where to sit: the seats do not move as they do in Despicable Me Minion Mayhem, but they do provide some of the special effects used during the show. Younger audience members might want to sit up front for a better view of the screen. This is a fun experience for visitors of all ages!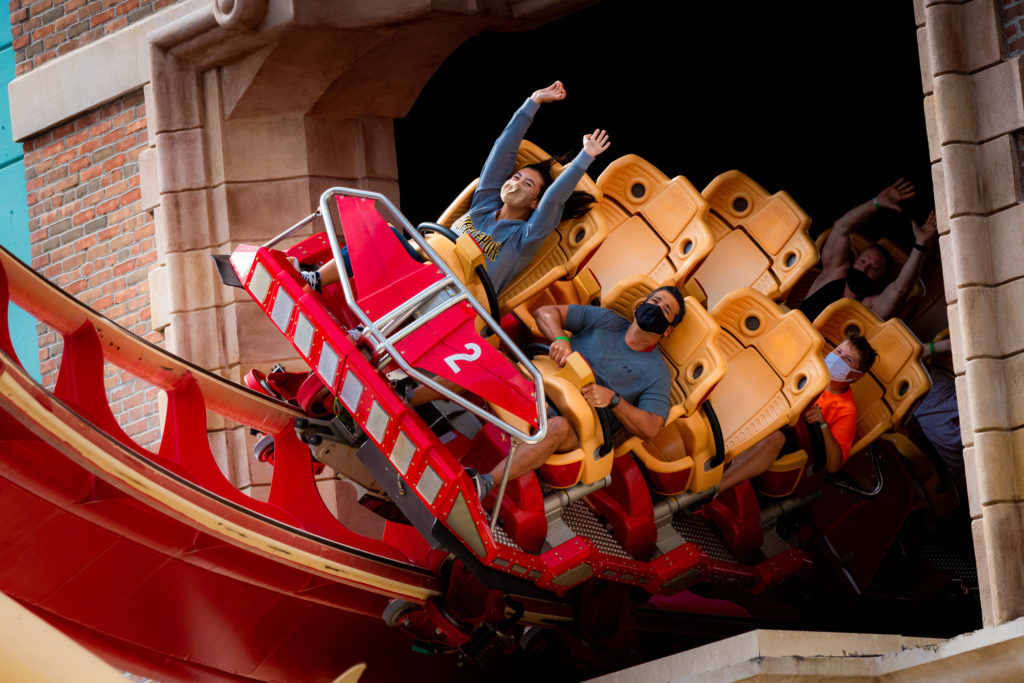 Description: if you're into thrill rides, Hollywood Rip Ride Rockit will be right up your alley. Pick your favorite song from a wide-ranging list of genres and artists, and, before you know it, you'll be going skyward at a 90-degree angle – and then flying across the track at a heart-pounding 65 mph. Note that while this ride has twists and turns, it never fully goes upside down.
Where to sit: as with most roller coasters, the front row is awesome! You get a view of the track as well as Universal Studios Florida as you whirl around while rocking out to your favorite song. (There isn't a separate queue for the front row, so when it's your turn, just let the team member know your preference, and they will accommodate, if possible.) The back row, I feel, offers a more intense ride and more airtime on the hills and drops.
There are test seats outside of the metal detectors, so you can try out the seating before getting in line.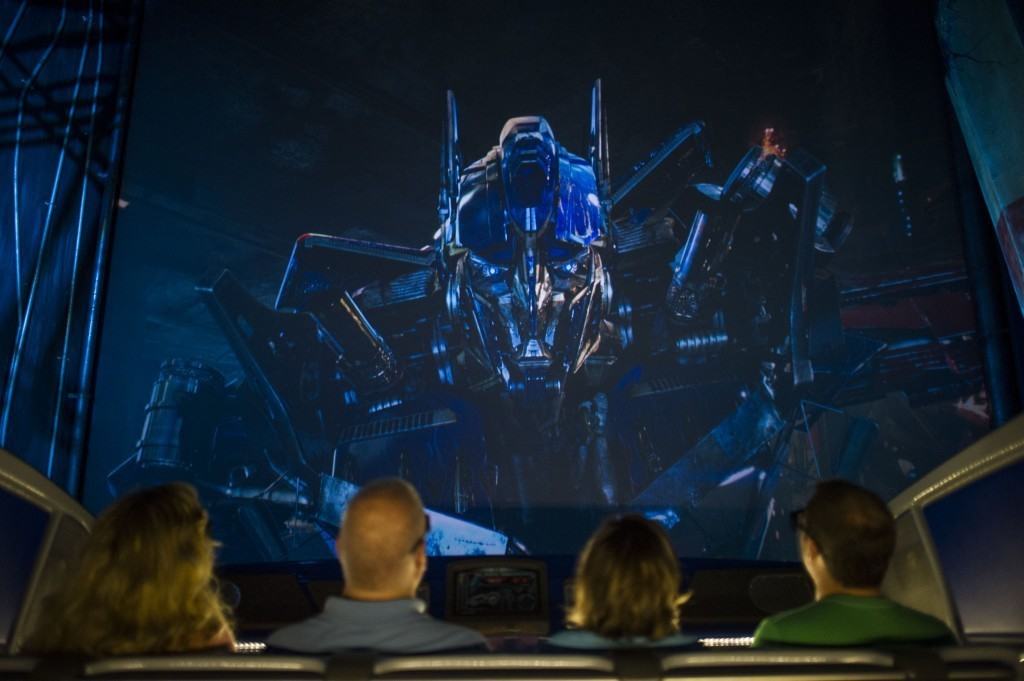 Description: Optimus Prime needs your help! Megatron is close to stealing the AllSpark, and with it, he can wipe out humanity and rule the Earth. As the name implies, Transformers is a 3D dark ride, so put on your goggles and roll out!
Where to sit: there are four (somewhat layered) rows, with four seats across. There are also walls on either side of the ride vehicle, but the action all takes place to the front, so you're not missing anything by sitting on the sides. The experience is pretty smooth and, therefore, should be fine for most guests, but you should definitely use your best judgment – there's lots of additional, simulated movements going on here.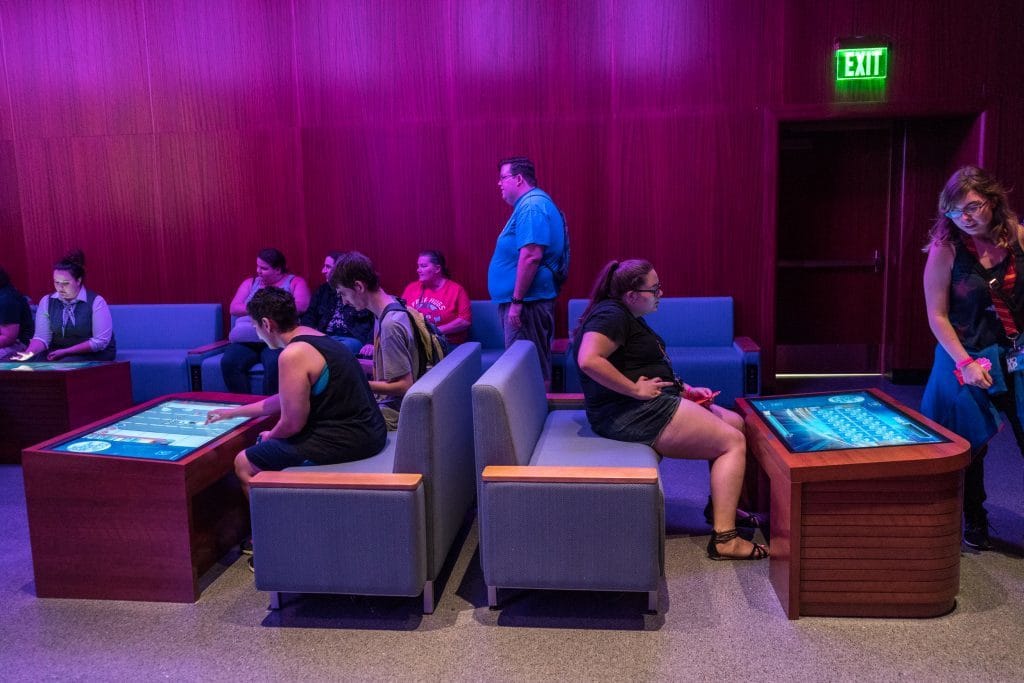 Description: get the full New York experience and be a guest on The Tonight Show. Use the Virtual Line to snag a return time, and then make your way through 30 Rock, meet Hashtag the Panda, enjoy a song or two by the Ragtime Gals, and see memorabilia from every incarnation of the TV show – and all that's before you even get on the ride! Race Through New York Starring Jimmy Fallon is a 3D motion-simulator ride where you'll join Jimmy and all of his best characters (not to mention The Roots, naturally) as you take a crazy ride through the Big Apple.
Where to sit: similar to Despicable Me Minion Mayhem, this ride has layered theater-style seating, so everybody gets a good view. Unlike with Despicable Me, there is no stationary seating; however, if you'd like to experience less motion, sit toward the middle of any given row. Lastly, there are test seats outside of the building if you'd like to try them out before getting your virtual-queue ticket.
Description: easily the most quotable ride in all of Universal Orlando Resort ("I would've enjoyed this interview a lot more if I had gotten my cup of coffee!"), Revenge of the Mummy is just so much fun. This indoor roller coaster takes you on a thrilling adventure as you try to escape the titular mummy, Imhotep. Dodge swarms of scarab beetles and real blasts of fire as you fly through an ancient Egyptian tomb. Not even the Medjai can save you now!
Where to sit: each ride vehicle is four rows of four seats. They are not tiered, though, so smaller passengers might get a partially obstructed view of the track in the back rows. Most of the animatronics and effects are higher up on the walls, however, which means almost everybody in the mine car will be able to see everything clearly. I'd recommend sitting on the edges as opposed to the interior seats if you want the best views (particularly for the pharaoh room). The front row is best overall, though.
If you'd think Revenge of the Mummy wouldn't be that intense, given its indoor nature, you'd be wrong – while it doesn't go upside down, it does have sudden stops, and it even goes backwards at a certain point. Also, be sure to ask about getting a walking tour from one of the team members! It reveals the inner workings of Revenge of the Mummy and delivers some fun facts about the movies it's based on.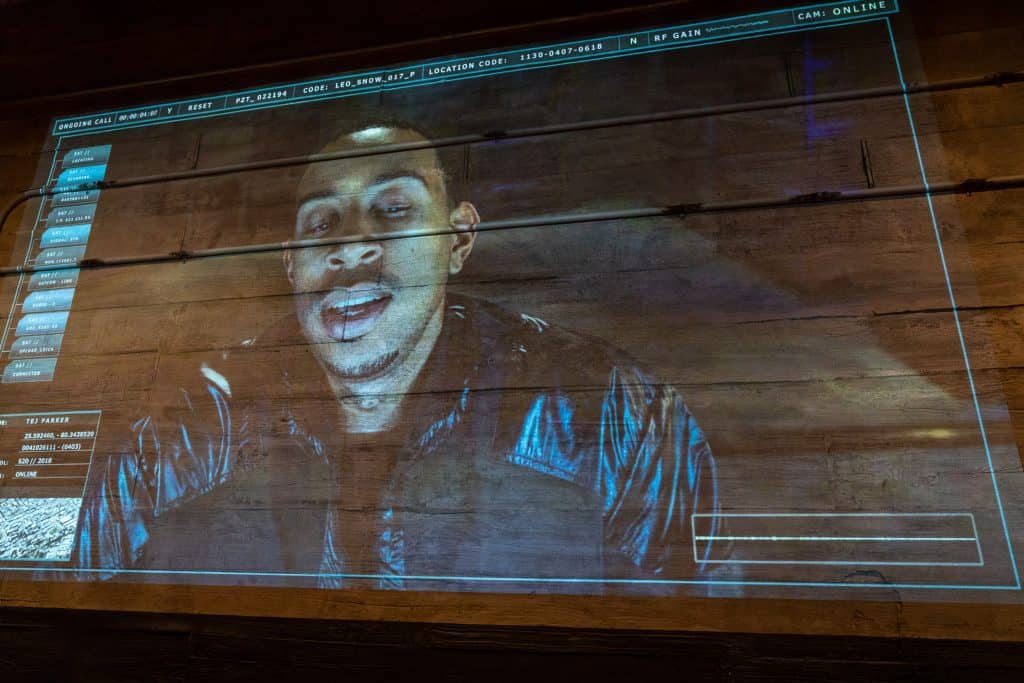 Description: grab your Virtual Line time, enter the Fast Family's secret headquarters, and then take off on a "supercharged" ride with Dom, Letty, Hobbs, and Roman.
Where to sit: Fast & Furious is a motion simulator that's pretty similar in style to Skull Island: Reign of Kong (minus that attraction's giant and impressive audio-animatronic, of course). The ride vehicles are (party) buses that have eight rows and seat five people across. For the best view, rows past the first don't really matter, but I'd definitely recommend getting a side seat as opposed to an interior one, to help you see the action that takes place on either side. Despite the name of this experience, Supercharged isn't particularly fast or furious – it's actually a rather mild simulator, which may or may not be more your speed (no pun intended).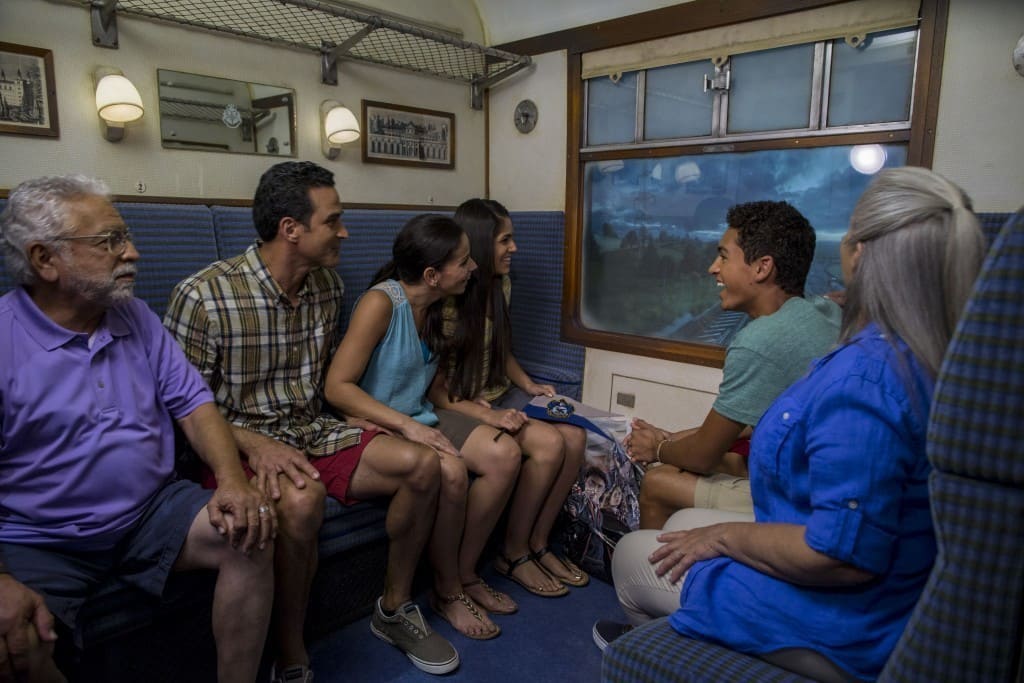 Description: travel from London to Hogsmeade on the Hogwarts Express! As you enter King's Cross Station in London, you'll disappear through the barrier and come through on Platform 9¾. Get on board and enjoy your trip to Hogwarts School of Witchcraft and Wizardry, which is filled with tons of Harry Potter surprises and cameos.
Where to sit: Hogwarts Express is a family-friendly train ride, one of the few theme-park attractions to actually be designed for literally every single member of your clan, no matter how old or young. Each car seats eight people total – four on each side facing each other. I'd recommend not sitting right next to the window or next to the door, since it makes it harder to see the screen that is the former and the projections that play out on the latter. Because this ride will actually transport you from Universal Studios Florida to Islands of Adventure, you'll need to stow away your wheelchair, scooter, or stroller, which an attendant will help with.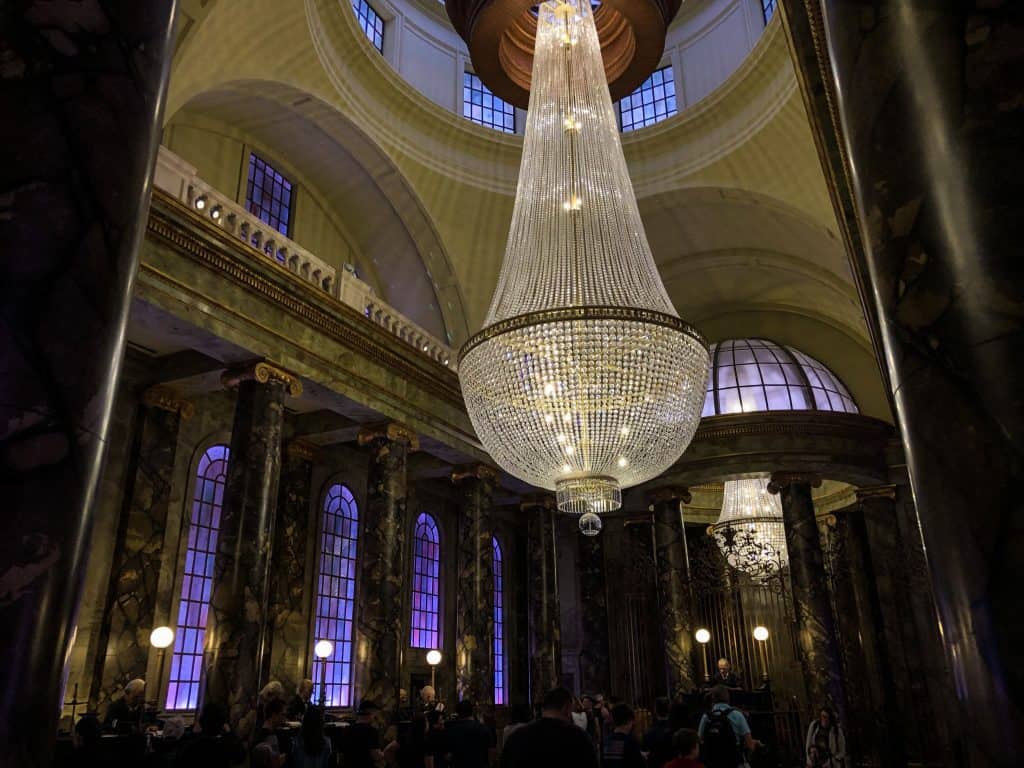 Description: join Harry, Ron, and Hermione as you plunge into the depths of Gringotts Wizarding Bank, where you'll help the golden trio to face off against Voldemort, Bellatrix Lestrange, and Nagini. (Half of the fun is walking through the queue, which takes you through the grand – and impressive – entrance hall, past some demo vaults, and down an elevator into the depths of the Earth.)
Where to sit: the ride vehicles work in pairs of two, with layered rows of four seats. They actually operate in an interesting way; whenever a ride scene unfolds, they split up, allowing both cars to get a great view of the action. With that said, the front row of each will still get you closer to all the wizarding commotion, but the very last row of the last car is still the OI team's personal favorite, as it makes Escape from Gringotts's opening hill feel more like a true roller coaster.
What about the intensity of the ride? I told my sister that it's not that bad. She disagreed. Oops. This is technically still a thrill ride, even though it's not a real coaster, so be warned. (There is one drop and one launch, with a few sudden stops, but there is no going upside down.)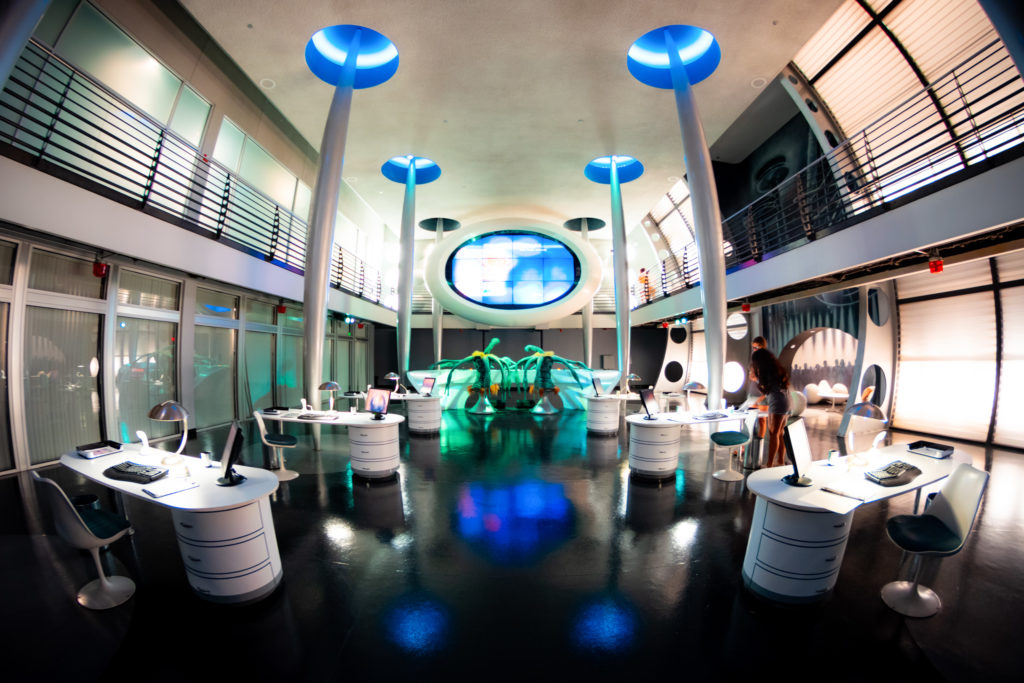 Description: get ready, galaxy defenders – the aliens are invading, so you'll need to grab your laser gun and start zapping away! You'll encounter over 120 different kinds of the pesky attackers as you train your way to becoming a true Men in Black agent.
Where to sit: Men in Black Alien Attack is a lot like The Cat in the Hat (whose ride vehicle it shares): it's a dark ride, but one that incorporates some spinning and other added movements – which is to say, the shenanigans are all low-intensity but still zany and fun. The back row's three seats are staggered higher, so everyone has a good view of the action and an equal opportunity to max out her score. Also, be sure to ask one of the team members about the Immigration Tour, where you can get an up-close view of the queue's immigration room – and, maybe, even meet an alien or two!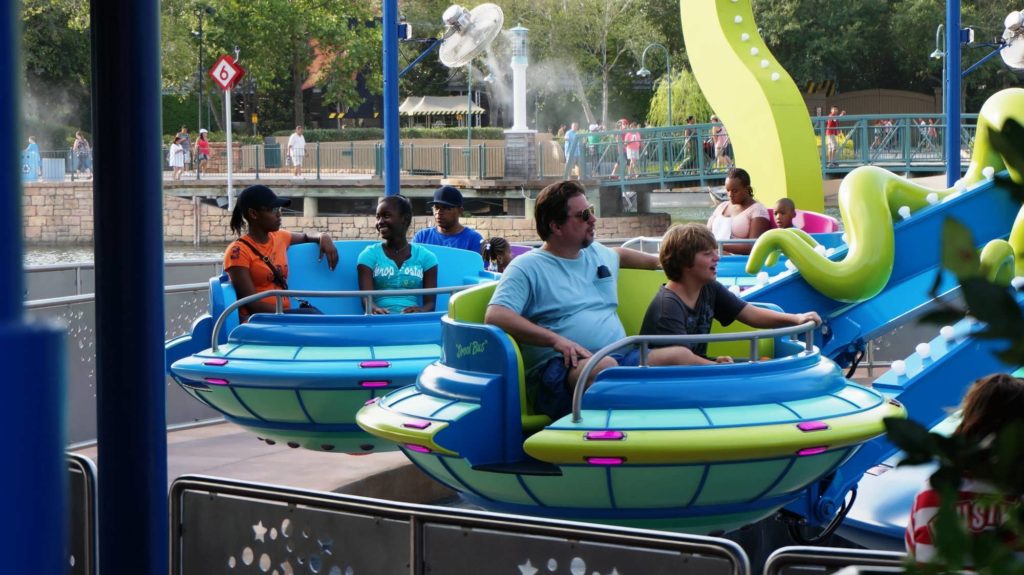 Description: ready to go for a spin? Kang and Kodos, the aliens from Rigel 7, are taking you on a journey in your very own flying saucer. If you're a fan of The Simpsons, you'll appreciate the jokes that they tell along the way.
Where to sit: all humor aside, this is a fairly standard carousel-type attraction, similar to One Fish, Two Fish, Red Fish, Blue Fish at Islands of Adventure. Each flying saucer, which seats two, is on a separate "arm" and is controlled by the riders, so this is especially fun for kids as they get to "pilot" the ship themselves.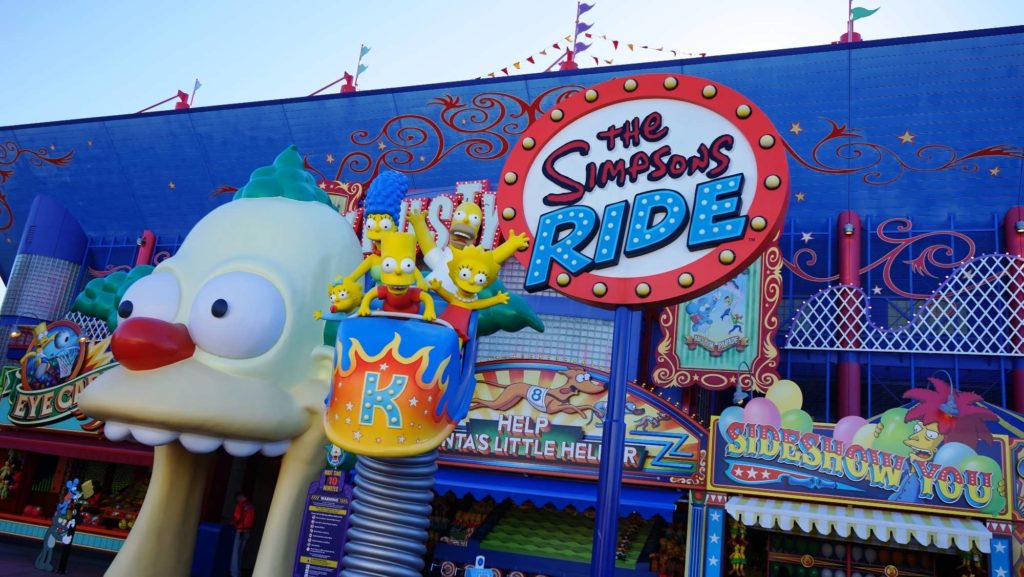 Description: speaking of the Simpsons, they have their very own motion-simulator ride! Embark on an over-the-top escapade with Homer, Marge, Bart, Lisa, and, of course, Maggie through Krustyland, Krusty the Clown's amusement park. Along the way, you'll see some of your other favorite Simpsons characters and get jostled around like crazy.
Where to sit: while many, many riders get motion sick from The Simpsons Ride, it'll still be less intense than, say, Transformers for many, so make sure to factor this into your should-I-ride? calculations. The seating here comes in the form of two rows of four passengers, and since the main screen is a huge IMAX-esque wrap-around deal, we'd say that which ride vehicle you wind up in plays a much bigger factor in your perspective – and your enjoyment – than the individual rows.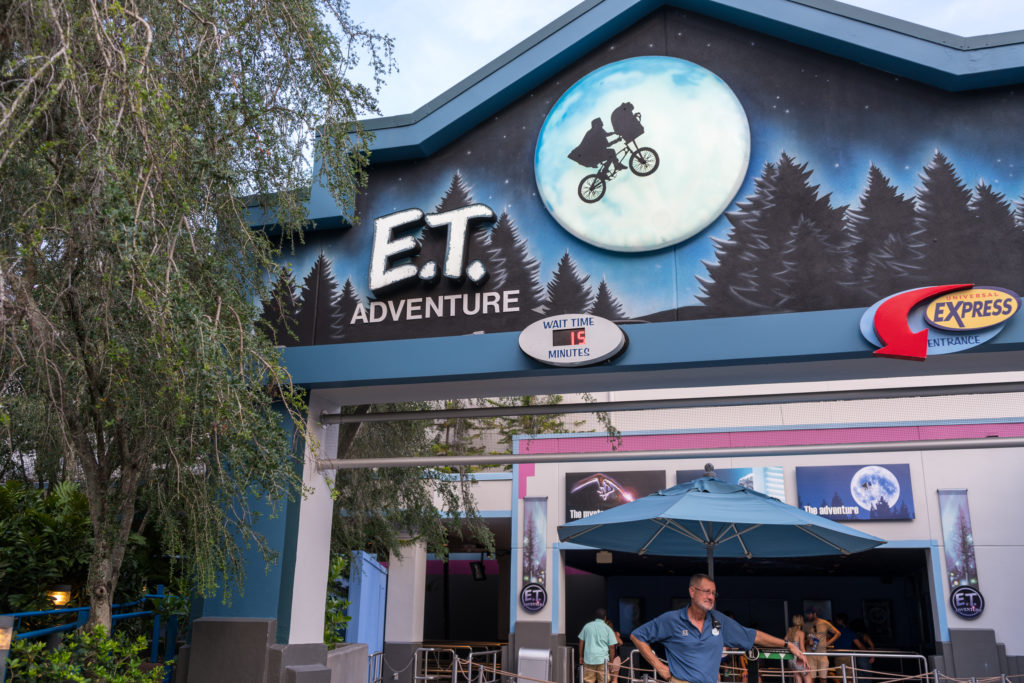 Description: E.T.'s home planet is dying, and he needs your help to save it. This attraction is the only original ride left in Universal Studios Florida, which also makes it one of the most beloved and nostalgic experiences. E.T. is an old-school track-based dark ride – you join the cute little alien as you fly through the skies and through space (yes, I know) to arrive at his home world, where you'll meet all kinds of interesting characters. It's truly a fun time for the entire family.
Where to sit: each ride vehicle is three rows and four seats across, with each seat being a bicycle (what else?). I'd recommend the front row if you can get it, just because it adds to the sensation of flying with E.T. as your pilot and offers the best view of everything. If you can't nab that, though, try to snag a seat on the outside edge so you can get a clearer view of the various (and sometimes wacky) scenes.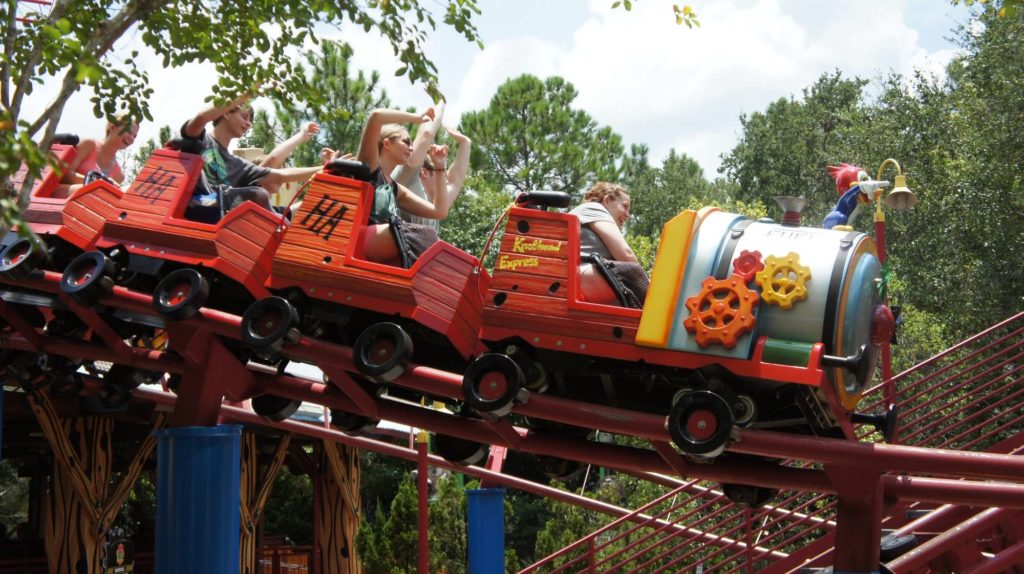 Description: take a trip through Woody Woodpecker's nut factory on this family-friendly roller coaster. Located in the park's sole children's area – and just behind Fievel's Playland – this attraction is actually pretty fun for adults as well as the little ones.
Where to sit: the coaster train fits two people in each car, with eight cars total. The now-standard recommendation of sitting in the very first row, for the best views, still stands here, but since it's only two to a car, you'll get a good side view no matter where you end up. And while Nuthouse Coaster is, indeed, a roller coaster, it's very smooth and doesn't feature any crazy drops or jerky movements, so it truly is family-friendly.
---
What are some of your favorite seats on some of your favorite Universal Studios Florida rides? Compare notes with 125,000+ Universal lovers in our Orlando Informer Community on Facebook.
And be sure to follow Orlando Informer on Facebook, Twitter, and Instagram for the latest news and tips at Universal Orlando, Walt Disney World, and other Orlando destinations.