Across its 30-year lifespan, from June 7, 1990 to today, Universal Studios Florida has seen many changes that have transformed the would-be filmmaking hub into an expanded entertainment complex that has helped push the envelope in theming, design, and immersion. Interestingly enough, there has been one element through all this that has not only remained a constant but which also touches upon a lot of what makes Universal Orlando Resort what it is today.
The original Hard Rock Café Orlando actually predates the theme park it was attached to by some two months, opening in April 1990 (the timeframe that Universal originally envisioned for Universal Studios Florida's debut, which ended up getting pushed back by near-constant technical delays). Although today replaced by a newer incarnation located not too far away, over in CityWalk, Hard Rock's first restaurant in Orlando (and, indeed, in all of Florida) was already the biggest the company had yet devised, and it featured an audacious, eye-catching design – and while the newer Café has certainly inherited the biggest-in-the-world mantle, and while it has also added a few of its own unique touches and capacities, it still features a tamer approach.
What makes the initial Hard Rock Café so striking, and why does it actually hold a pretty notable place in Universal history? In order to celebrate Universal Studios Florida's 30th anniversary, we'll walk you through what is perhaps – and unfortunately – the little-known story.
The original Hard Rock Café – design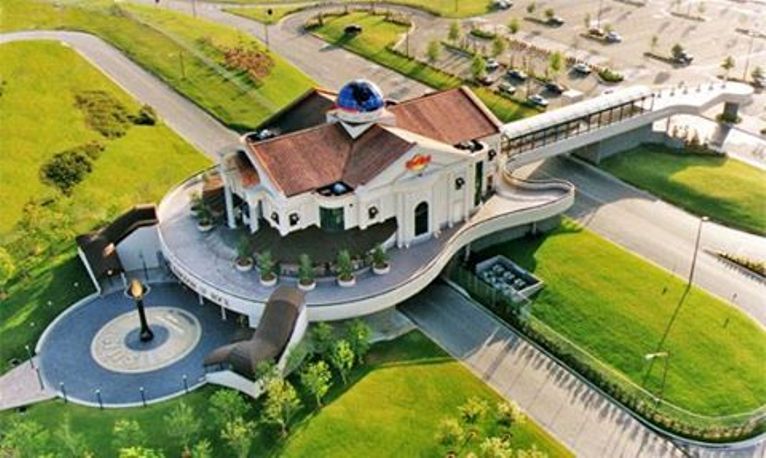 When it first opened its doors in early 1990, the Hard Rock Café in Orlando was the 13th entry in the chain's collection (there are today 185), but it was the first to be built from the ground up; all of its predecessors, starting with the very first one in London back in 1971, were retrofitted into existing buildings. This allowed the company a great deal of latitude for its design and aesthetics, and it was an opportunity that it certainly didn't let go to waste.
The first detail that one would notice when approaching the venue was its elevated nature – it was situated on a giant platform that stretched over two roads that ran alongside Universal Studios Florida. When seen from above, this platform resembled a giant guitar (a visual motif that Hard Rock has played with countless times since at a number of its other cafes, casinos, and hotels), with a 300-foot-long neck that doubled as an elongated entrance to the restaurant. This section was covered with a roof that was outfitted with neon and fiber-optic strands, to double as massive guitar strings, and it was topped off at the end with a guitar head that sprouted giant silver turning keys, just to complete the illusion.
The restaurant itself was contained in a Renaissance Revival-style building that some have compared to Graceland, Elvis Presley's Memphis mansion, and which seated four times as many customers as the original Hard Rock did. It sprawled across three stories, with the ground floor housing the obligatory gift shop – which was outfitted with bricks that were taken from the Liverpool club where the Beatles first performed – and employee-only areas, such as the kitchen; the next two levels were where patrons dined.
It is here that many splendid flourishes were contained, and guests who have made their way to the current CityWalk digs will recognize their influence, if not their actual presence, at the new premises. The venue's bar was constructed out of red cherry wood, as an homage to an iconic guitar once given to the chain by Charlie Daniels, and the space was dominated by three two-story stained-glass windows that were devoted to three different legends of rock 'n roll: Jerry Lee Lewis, Chuck Berry, and, of course, Elvis Presley. A private-function room brandished some serious historical firepower, including a mantelpiece carved in Scotland in 1820 and other woodwork that hailed from a New England mansion that was built in 1895. And running throughout it all, of course, was a plethora of music and movie memorabilia, highlighted by a KGB uniform from the Moscow Music Peace Festival, John Lennon's handwritten lyrics to his legendary song "Imagine," and the I Dream of Jeannie costume worn by Barbara Eden.
The finishing touch, however, was a large dome, themed to look like a globe, that was affixed on the roof and which stood some 65 feet above the ground. (At night, it was lit up so that it could be seen for miles around.) Its underside, seen back inside the café, brandished a giant rounded mural, containing such legendary figures as Jimi Hendrix and Janis Joplin, positioned above all of the patrons as they ate and drank and rocked out.
(Oh, we can't forget the giant 1959 Cadillac positioned over the building's doorway, which, yes, was already a Hard Rock trademark even back then.)
The original Hard Rock Café – location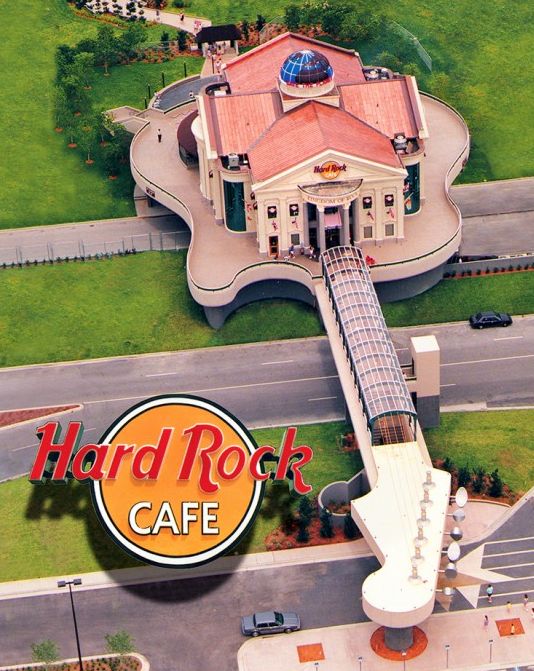 As impressive as all of that was, it was the original Hard Rock Café Orlando's location that truly made it something special.
When the partnership between Universal and Hard Rock first came about, the company's president at the time, Robert Earl, was given a choice of locations for the café – inside of Universal Studios Florida, where park-goers could get the chance to chow down, or just outside of the theme park, where all the rest of the City Beautiful's residents and tourists could get easy access. Earl opted for an unforeseen third option: he chose them both. The result was a building that would literally straddle Universal Studios's boundary, featuring one entrance for park guests and another for everyone else, at a price tag of $5 million – a massive sum of money for just one building at the time.
On the Universal side of Hard Rock, a simple gated entranceway was erected to stamp the hands of everyone who wanted to leave the park and eat at the Kingdom of Rock. They would first enter a simple plaza that was designed to look like a record from the air, replete with a central torch that served as the record player's central spindle; a flight of steps on either side of the area lead to Hard Rock Café's elevated guitar-shaped platform, which would deposit guests at the "bottom" of the giant musical instrument so they could make their way to the restaurant.
All the way on the other side was, of course, where the guitar's neck came into play, doing double duty as the bridge that linked the restaurant to Universal Studios Florida's mammoth original parking lot (a stair case here would have patrons entering just "below" the guitar's head). It is actually this section of the structure that served as the inspiration for the overarching guitar shape – Hard Rock President Earl rejected the initial proposals of a normal, pedestrian (excuse the pun) bridge and asked his team to come up with something that was far more intriguing.
The presence of Hard Rock, generally, and its in-the-air location, specifically, added a desperately-needed flair to Universal's fledgling theme park, helping it to stand out from Walt Disney World Resort and its at-the-time three theme parks (not to mention its Buena Vista Marketplace district). And not only that, it also started a blending-of-the-boundaries approach that Universal has continued to play with to this day: Hollywood Rip Ride Rockit was originally designed to have an entranceway unto CityWalk (thereby allowing those guests without a theme-park ticket to pay a small fee for just a quick ride); the now-famous Hogwarts Express links two different parks together into one seamless themed experience; and, perhaps ironically, when the new CityWalk location of the new Hard Rock Café first opened in December 1998, it also boasted a temporary entrance directly from Universal Studios Florida (which was possible because the section of the park that used to butt up against the restaurant has since itself been sliced off and rendered part of CityWalk, becoming home to the Blue Man Group).
The original Hard Rock Café – final fate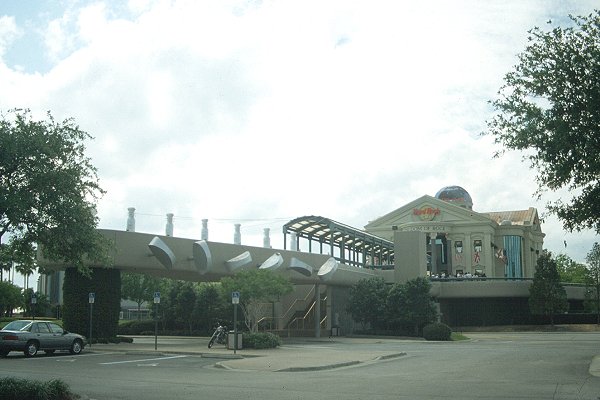 Just as Universal Studios Florida kept becoming more successful as the 1990s wore on, so, too, did Hard Rock Café Orlando, bringing in more than $45 million a year by the time '97 rolled around – making it literally one of the most successful restaurants in the entire world. As such, when Universal started planning its CityWalk expansion, it seems that it was a no-brainer for Hard Rock to sign on, brainstorming a brand-new venue that was even bigger and which included the attached Hard Rock Live, the company's only live performance venue (which seats some 3,000 people).
The original, guitar-shaped location was closed for good in December 1998, exactly when its replacement was ready to welcome its first customers – the company, apparently, didn't want to miss a beat. Universal didn't, either, demolishing the hand-stamp gate and its record plaza almost right away; it was in the process of expanding its little kiddie corner of the park, officially christening it Woody Woodpecker's KidZone the following year. Despite all this, however, the main building itself would continue to stand, even after it similarly lost its guitar-neck bridge (thanks to ongoing construction, this time for Hard Rock Hotel, which opened in 2000). It wouldn't be until 13 long years after closing that the cafe would finally get torn down, with some believing that Universal used the structure for storage during the intervening time (and with it becoming something of an unofficial photo-op for those guests using Hard Rock Hotel's parking lot, since the restaurant was essentially sitting right on top of it). To be more exact, the death knell for the original structure came in September 2011, when the floats for the soon-to-debut Superstar Parade needed to use the back-of-house road that it still squatted over – they wouldn't have been able to clear the platform.
Those who wish to pay their respects to the first Hard Rock Café Orlando's site can still do so – just a small, curved portion of the old record plaza remains, tucked away behind Woody Woodpecker's Nuthouse Coaster (guests are regularly routed this way during Halloween Horror Nights, to access one of the more out-of-the-way haunted houses). And, of course, the property lives on in the form of its current CityWalk incarnation, which it will continue to do for quite some time to come: Universal and Hard Rock signed a contract extension back on April 19, 2019 which will guarantee the Café's presence until, at least, the year 2039.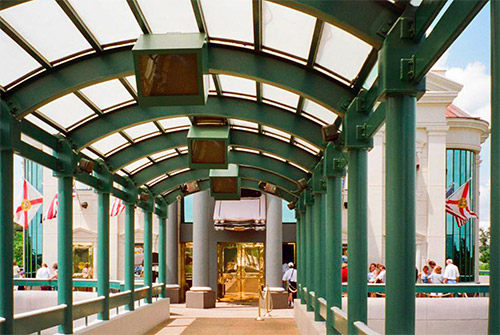 –
Come celebrate Universal Studios Florida's 30th anniversary with 100,000+ other Universal die-hards in our Orlando Informer Community on Facebook.
And be sure to follow Orlando Informer on Facebook, Twitter, and Instagram for the latest news and tips at Universal Orlando, Walt Disney World, and other Orlando destinations.