After years of speculation, planning, and unforeseen delays, Universal Beijing Resort is officially open to the public! So what's Universal Beijing Resort like? On the one hand, the contents are what you'd expect, featuring such greatest hits as The Wizarding World of Harry Potter and Minion Land (the themed area that was designed for Universal Studios Japan and will soon be exported to Universal Studios Singapore); on the other hand, however, there are a few surprises in there, including both original locations and souped-up versions of tried-and-true concepts.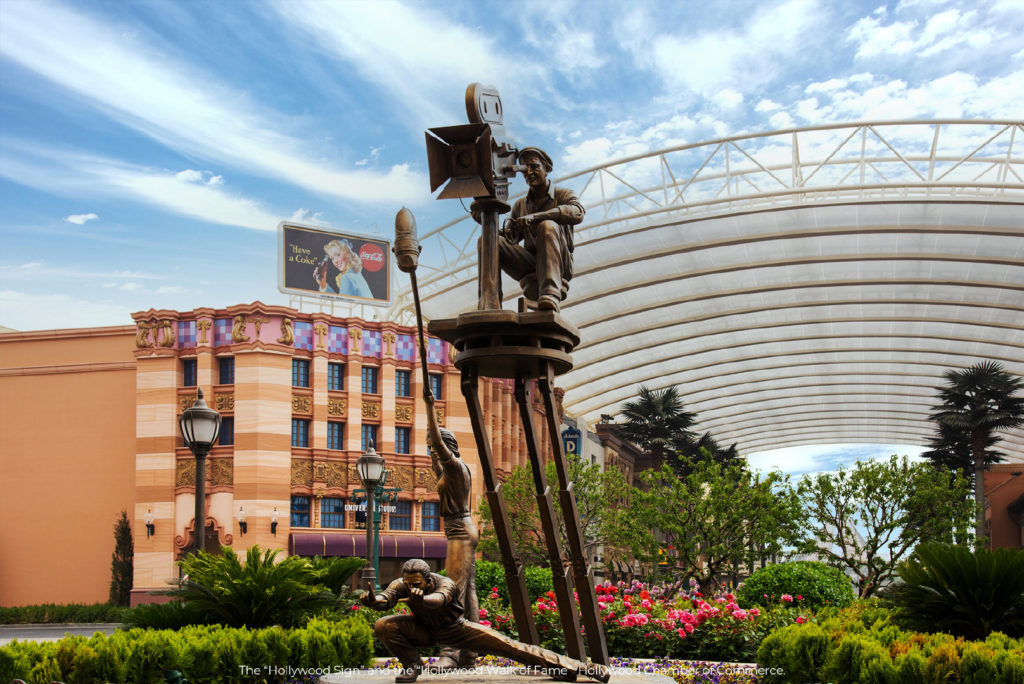 It's worth taking just a moment to go over all these developments – not only may this foretell the possible future of the company's very first theme-park resort, here in Orlando (as we've been saying for the past year-and-a-half now), but it's also enough to get any theme-loving fan's heart rate up. What could possibly be better than that?
Oh, yeah – there's one final reason to pay attention to Universal Beijing Resort: there are a few fun Universal Orlando Resort cameos that pop up, including The Toothsome Chocolate Emporium & Savory Feast Kitchen, the Red Oven Pizza Bakery, and oh, the Volcano Bay water theme park. In Hollywood, the introductory land will feature a Mel's Drive-In and Universal Music Plaza stage (imported from Florida) and a "Lights, Camera, Action!" show co-hosted by directors Steven Spielberg and Zhang Yimou (adapted from Japan). It just may be that the future of these two Universal destinations really will be intertwined.
Universal Studios Beijing's Lands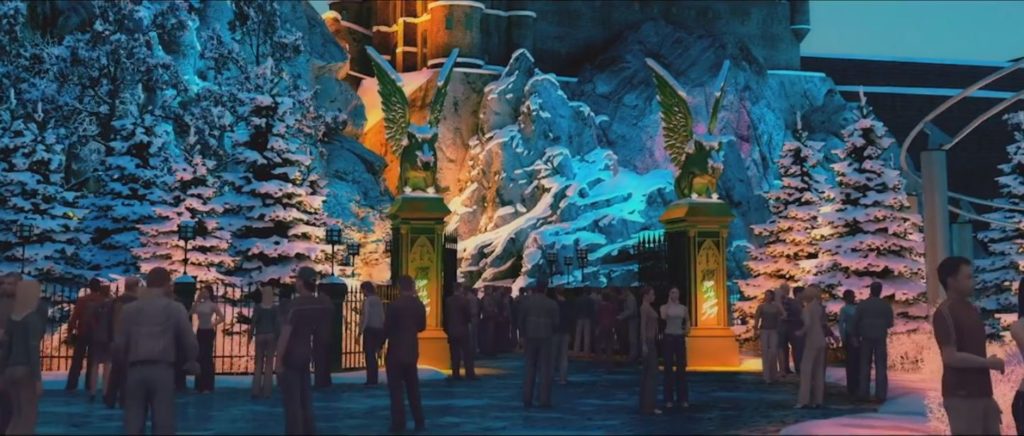 Universal Studios Beijing will consist of seven different themed lands. While this may be one less than what either Universal Studios Florida or Islands of Adventure currently has on hand, they look to be bigger than their American counterparts, and will likely feature more "immersive" isolation from one another, as well (although not quite as much as what is hinted at in the early concept art of Epic Universe, the currently-under-construction theme park in Orlando).
Here are the seven lands and their attractions: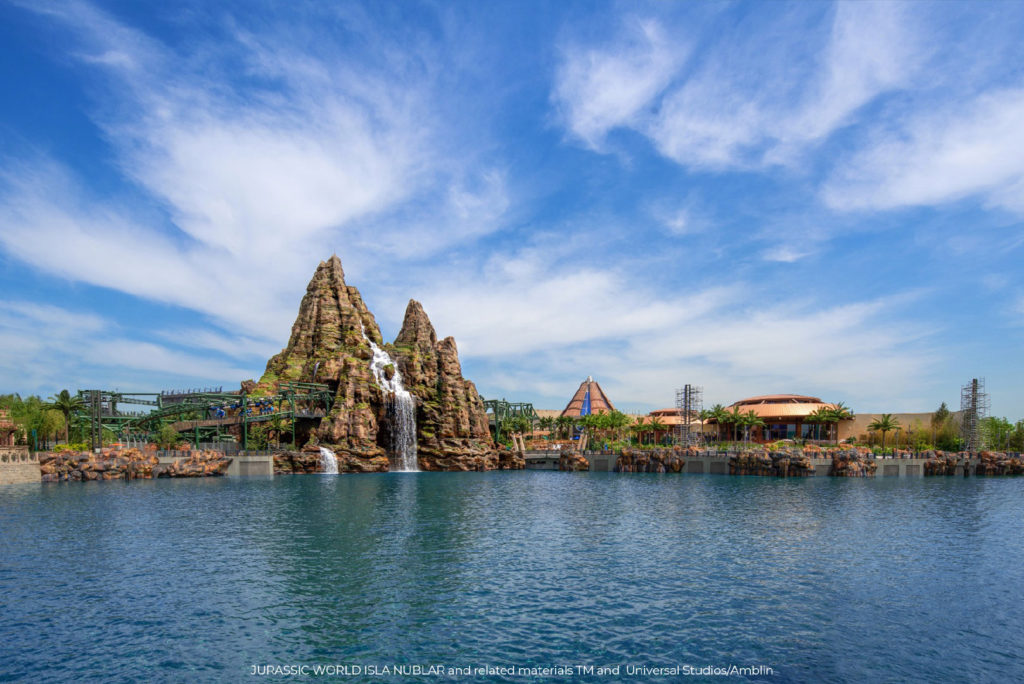 Jurassic World: Isla Nublar – this "larger than life" area seemingly boasts all-new experiences that are nonetheless inspired by (at least the layout of) Islands of Adventure's Jurassic Park. Expect to encounter velociraptors, ankylosaurs, tyrannosaurs rex, and, of course, the Indominus Rex.
Jurassic World Adventure – A river adventure taken to a whole new level. Guests will see many of the dinosaurs they have come to respect and fear in the many years of the Jurassic Park franchise.
Raptor Encounter – Come face to face with life-sized Velociraptors. Don't worry – they won't bite! (At least, we hope.)
Jurassic Flyers – Much like Pteranodon Flyers at Jurassic Park, Jurassic Flyers will take guests on a birds-eye view of Jurassic World.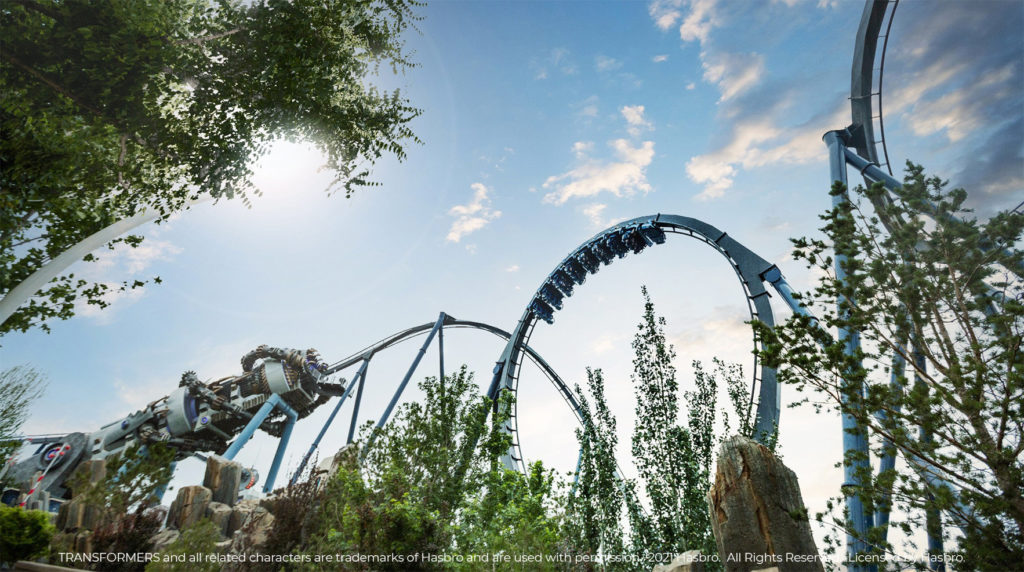 Transformers: Metrobase – the first-ever Transformer-themed land in the world sees Metrobase, a city-sized robot, set up shop in an Energon-rich location in China. The two rides hinted at in the announcement materials include Transformers: The Ride – 3D (which was originally created for Universal Studios Singapore and Hollywood) and, apparently, a re-skinned clone of The Incredible Hulk Coaster (which should prove to be interesting!).
Transformers: Battle for the AllSpark – See if you have what it takes to defeat Megatron. Your job is to help Optimus Prime keep the AllSpark safe, if you can.
Decepticoaster – A high-speed coaster on an impressive track, Decepticoaster takes you through the Decepticon Driller to show you how it harnesses the power of Energon. Hang tight!
Kung Fu Panda Land of Awesomeness – this entirely indoor theme-park land(!) recreates Legendary China from the film series. Although there is clearly an emphasis on rides and shows, there also seems to be an equal one on food and drinks – perhaps Universal is hoping this will strike a chord with Asian audiences the same way that Harry Potter has with American park-going ones.
Kung Fu Games – Take a gander at some fun carnival-style games in this section of the park. Show off your prowess in whatever way you can – through speed, accuracy, or sheer power!
Kung Fu Panda Journey of the Dragon Warrior – Join forces with Po and the Furious Five to help defend the Valley of Peace from Kai, who has escaped from the Urn of Eternal Imprisonment.
Carousel of Kung Fu Heroes – Choose a hero and hop on for the ride! This charming little carousel will take guests for a sweet spin.
WaterWorld – the famed stunt show from Hollywood (and Japan) is making its way to Beijing, becoming the anchor of its very own land. Although we don't yet know what, exactly, this expansion will entail beyond a show, we do at least know that it'll include "dining and other entertainment offerings."
The Wizarding World of Harry Potter – the fourth iteration of Hogsmeade looks to most closely mirror the Japanese version, which doesn't include Hagrid's Magical Creatures Motorbike Adventure but which does boast an actual Black Lake, situated right next to Hogwarts Castle. This could also be the most beautiful Wizarding World take yet, if the video is anything to go by – the trees lining the way to Harry Potter and the Forbidden Journey are snow-covered, although this could simply be the byproduct of the park's geographical location (it's approximately the same latitude as Washington, DC) and not new, enhanced theming.
Harry Potter and the Forbidden Journey – This seems to be a remake of the one we are all familiar with. Guests will be taken on an unusual tour of Hogwarts Castle and the grounds.
Flight of the Hippogriff – Another remake of the one at Universal's Islands of Adventure. Take your family on this short but sweet coaster after learning how to properly approach and respect one of the most beautiful of magical creatures – the Hippogriff!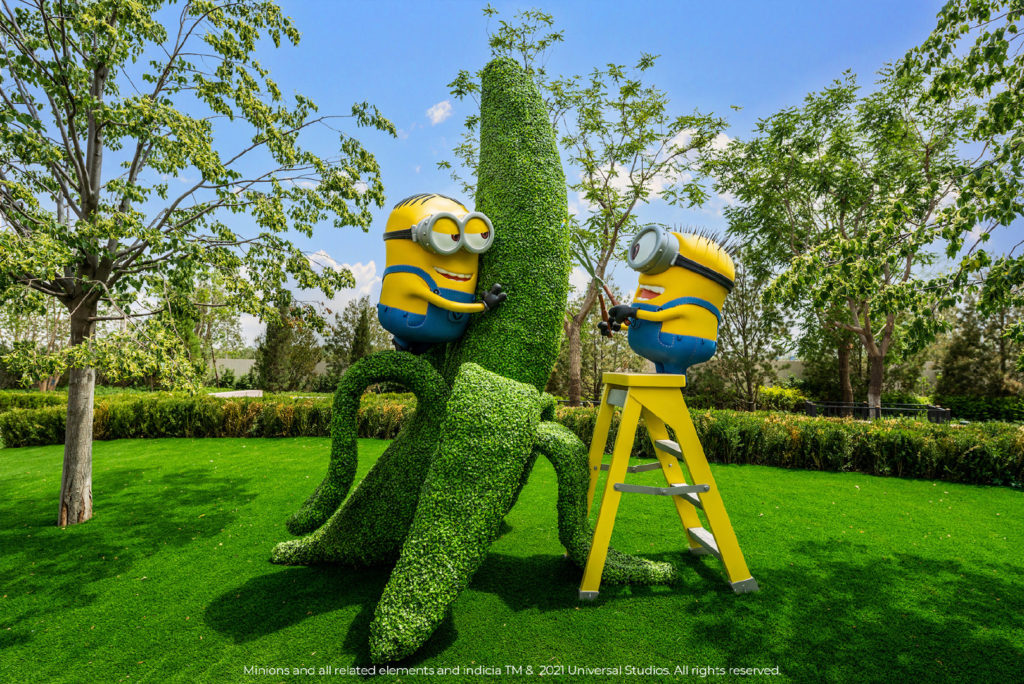 Minion Land – the second Minion Land looks to be inspired by the Universal Studios Japan original but, possibly, featuring all-new rides (plus a copy of Despicable Me Minion Mayhem, of course). If we had to place a bet, our money would be on this part of the park being the traditional kids' corner, thanks in no small part to the official description stating that it'll feature "fun for the whole family."
Loop-Dee Doop-Dee – Described as a "family friendly coaster," this cute attraction will take families for a loop-dee-doop before catapulting them through the Super Silly Creature's mouth!
Super Swirly – Think of the "One Fish, Two Fish, Red Fish, Blue Fish" ride at USF. Get in a ride vehicle at Super Silly Fun Land pier and enjoy a 360 view of this section of the park. This attraction is friendly for guests of all ages.
Despicable Me Minion Mayhem – A remake of the popular attraction we all know and love, this experience will take guests through Gru's house and train them to become part of the minion army!
Universal Studios Beijing features – for Universal – a peculiar design, with nearly half of its themed areas hugging a traditional central lagoon and then roughly the other half being placed behind them; in this way, Jurassic World sits on the opposite side of the water from the entry Hollywood (just as in Islands of Adventure), even though it's the second land you can journey to in the park. When combined with Epic Universe's layout, it would seem that the company is really interested in experimenting with and tweaking its overall approach to design.
(For the latest info on Universal Studios Beijing's amazing attractions, click here.)
Universal CityWalk Beijing
The general layout of Universal Orlando, which features a central CityWalk that branches out to the two theme parks, looks to be perfectly mimicked here in Universal Beijing, right down to the parking lot leading to Universal CityWalk Beijing via covered walkway. Although it's hard to get a good, hard sense of scale, it would seem that this newest dining/shopping/entertainment district fairs a bit bigger than Orlando's 30 acres – it'll even include a forested park area that runs parallel to the complex's main dining and retail drag.
Notably, CityWalk at Universal Beijing Resort is the first Universal resort to have a metro or subway station onsite. Two subway station lines connected to expressways, airports, bus lines, and the greater downtown Beijing area as a whole make Universal Studios Beijing the most conveniently publicly-accessed Universal Studios park in the world. The park also has parking facilities to accommodate more than 10,000 vehicles.
CityWalk previews revealed a few installations we are familiar with: Toothsome Chocolate Emporium & Savory Feast Kitchen, an original Universal creation that has easily become the flagship eatery here in Florida, CityWalk Red Oven Pizza Bakery, and Bubba Gump Shrimp Co., the longtime mainstay on both American coasts.
The missing item in this CityWalk comparison, of course, is the presence of a second park. When this first phase of Universal Beijing opens within the next two years, it'll sit on just 420 acres of the 1,000 or so that have been earmarked for the resort – meaning that at least one additional park, whether theme or water, is already on the way. (Let's put this size in context: until just recently, when Universal purchased the real estate that it now calls the south campus of its Floridian empire, 1,000 acres was some 20% bigger than Universal Orlando Resort.) The only question is what, exactly, that second park would be – and the video coyly shows Volcano Bay lurking in the background, sitting more-or-less next to Universal Studios Beijing. While there is, again, no way to tell whether this is a placeholder background element or a tease of future development, it's nonetheless exciting to see that the water park may make an international sojourn in the very near future.
Food and beverage:
BMW JOYCUBE
Bubba Gump Shrimp Co. Beijing, China
CityWalk Red Oven Pizza Bakery
CityWalk WUBEI CRAFT FOOD AND BEER
Cutie Cones
DONG LAI SHUN (Universal CityWalk Beijing Store)
JUMBO Seafood Restaurant
KPRO (Universal CityWalk Beijing)
Neon Street Hawkers – Southeast Asian Food
Peet's Coffee
Phoenix House Superior Shop
QUANJUDE (Universal CityWalk Beijing Store)
The Cowfish Sushi Burger Bar
Time Travel Grandma's Home flagship store
Universal CityWalk – The Toothsome Chocolate Emporium & Savory Feast Kitchen
Retail:
Adidas MBC Store
Harmay flagship store
KAKAO FRIENDS Beijing flagship store
POP Mart Global Toy Factory Store
Swarovski Crystal Studio
Universal CityWalk – The Toothsome Chocolate Emporium Candy Store
Universal Studios Store
Entertainment:
Universal CityWalk Cinema
Service:
Universal Beijing Resort's hotels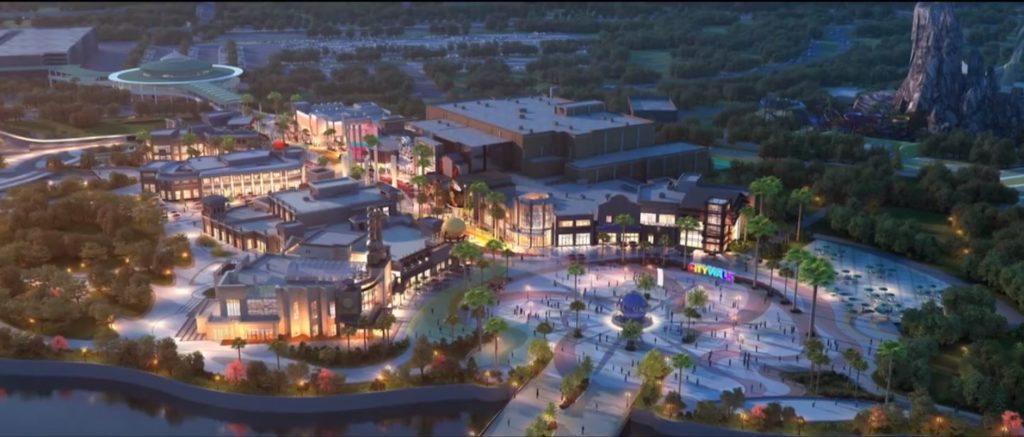 The final item in Beijing's long-awaited rollout is also the least talked-about, but it nonetheless provides some interesting fodder for our fevered fanboy imaginations.
We have known that there were going to be two on-site hotels for quite some time – one themed to Universal itself (for the very first time) and the other a new Nuo Resort, a chain of lavish properties themed to Chinese history. Now we have a much better idea of what to expect from each, starting with the fact that, Universal says, they'll both offer "incredibly immersive experiences through the perfect blending of unique stylish designs and historic and cultural features."
The Universal Studios Grand Hotel will have as its theme a contemporary interpretation of Hollywood's Golden Age, offering classic Spanish architecture and a celebration of Universal Pictures's "century-long contribution to the film industry" (read: expect to see a lot of movie memorabilia, perhaps in a Hard Rock Hotel fashion). It'll consist of 800 rooms, making it just slightly larger than Portofino Bay Hotel, and will, most notably, take a page right out of Disneyland Paris's book, perching itself right at the front gate of the theme park (which is a bit different than Epic Universe's apparent hotel, which will be situated inside of the park, towards its very back).
Nuo Resort Hotel – Universal Beijing Resort is only 400 rooms (making it noticeably smaller than any of the Universal Orlando hotels) and sounds as if it'll be an ultra-luxurious affair: recreating China's ancient royal garden, it'll have "the feel of a private retreat," creating an island of tranquility "amidst the fast-paced energy" of Universal Beijing. It can be spotted in the artwork just off to the side of both Universal Studios Grand Hotel and Universal Studios Beijing, with a waterway that'll connect it to the others (perhaps offering a private entranceway of some kind in the process?). And just in case you missed the point of Nuo, Universal throws in one last description of it feeling like a "palatial resort" before ending its press release – if it were situated in Florida, it might represent an ultra-deluxe category, sitting above the premier designation of Portofino, Hard Rock, and Royal Pacific Resort.
(For the latest info on Universal Beijing's amazing hotels, click here.)
–
Want even more about Universal Studios Beijing? Read about its start of construction in our previous article, and then discuss it with 80,000+ other Universal die-hards in our OI Community Facebook group.
And be sure to follow Orlando Informer on Facebook, Twitter, and Instagram for the latest news and tips at Universal Orlando, Walt Disney World, and other Orlando experiences.