It's been one full year since our last big update on Universal Studios Beijing, which is shaping up to be the most expensive theme park in the world – which means it's time for another check-in on the expansive project. Luckily, that's exactly what Universal itself had in mind for this week.
The president and general manager of Universal Beijing Resort, Tom Mehrmann, recently spoke exclusively to Blooloop for that organization's first-ever V-Expo, which is billed as an exhibition for the "global visitor attractions industry." While he didn't provide much in the way of concrete specifics about what will ultimately become Universal's biggest theme-park footprint, he did touch upon nearly every facet of the still-under-construction resort – and the morsels he shared are extremely exciting, if still a bit on the nebulous side.
Let's go through the various aspects rapid-fire-style, starting with when we can expect to experience everything for ourselves.
When does Universal Beijing Resort open?
Universal Studios Beijing, the first Universal theme park in China and the very first installment of its greater Asian resort, is still on track to open in 2021, which has been the target date for quite some time now. (Mehrmann has stated that everything remains on schedule despite the rampaging effects of the COVID-19 pandemic thanks to their "unbelievable partner," the Beijing Tourism Group.)
The real news here comes in two follow-up comments. Firstly, audiences can expect the park to go into a soft opening – or trial operations – next spring, with the formal grand opening landing sometime in May. And, secondly, the two previously detailed hotels (again, these are the Universal Studios Grand Hotel, which is themed to Hollywood's Golden Age, and the NUO Resort Hotel – Universal Beijing Resort, which is a deluxe boutique property) have also been confirmed to bow sometime next year, as well.
Universal Studios Beijing's ambitious lands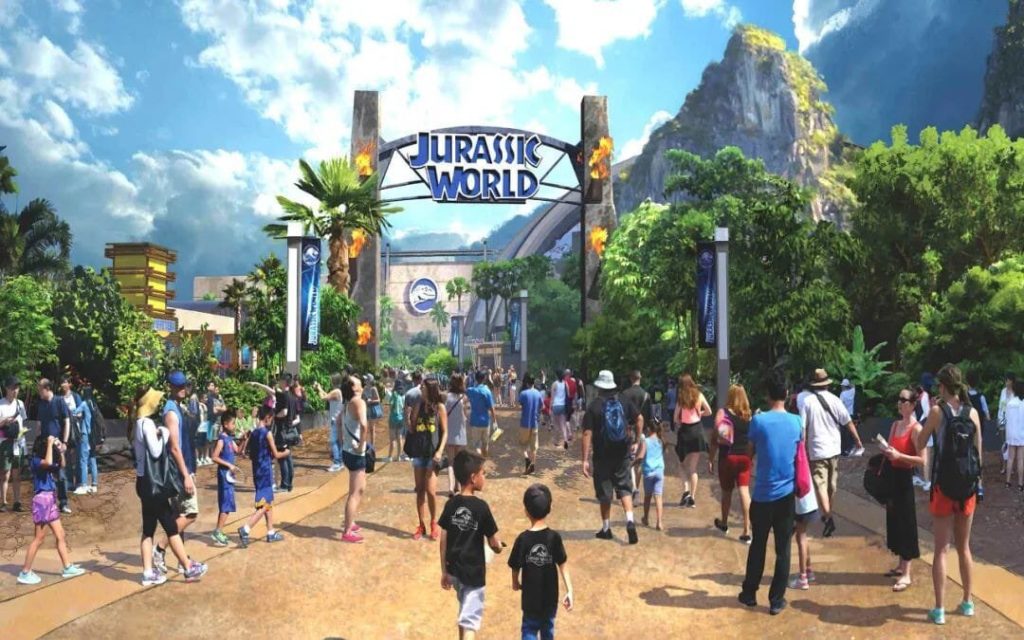 All seven of Universal Studios Beijing's lands – Hollywood, Jurassic World, Transformers: Metrobase, Kung Fu Panda Land of Awesomeness, WaterWorld, The Wizarding World of Harry Potter, and Minion Land – were officially unveiled last year, with some beautiful concept art and a little in the way of basic information. What Tom Mehrmann shared now is a few more tidbits that help shed light on what, exactly, Universal is hoping to achieve with its biggest-yet theme park – and what a hugely ambitious scope at least one corner of it has.
Let's look at WaterWorld first, which is an entire (albeit small) land based off the extremely popular stunt show over at Universal Studios Hollywood; we now know that, in addition to the legendarily popular production, it'll also consist of a restaurant and a "gathering space." And then there's Kung Fu Panda Land of Awesomeness, which will brandish a number of rides, shows, and "a lot of great food." (If Kung Fu Panda could be given the full gastronomical touch, making it into the next Wizarding World of Harry Potter or, even, Super Nintendo World, that would truly help to make the new park as immersive as it can possibly be.)
But the real gem here has to do with Isla Nublar, the first themed land to be devoted to the Jurassic World (sub)franchise. "I think we've outdone ourselves this time with this particular execution," President Mehrmann said, before going on to use the phrase "brand-new things you've never seen before in a Universal park" to describe some of the elements. Now, again, what those items are remains shrouded in mystery, but we do know that they'll play out in front of a giant volcano that sits right on the edge of Universal Studios Beijing's central lagoon. "I think it's going to again set the standard for what we do next" – with the previous standard having been established, of course, by the Boy Wizard and his two Universal Orlando Resort lands.
Universal Studios Beijing's advanced "digital visitor journey"
There's another realm where Universal is looking to have its Chinese location up the theme-park ante: the digital components of a guest's visit, and how they can work in lockstep to make for an easier – and, hopefully, less wait-time-infused – day.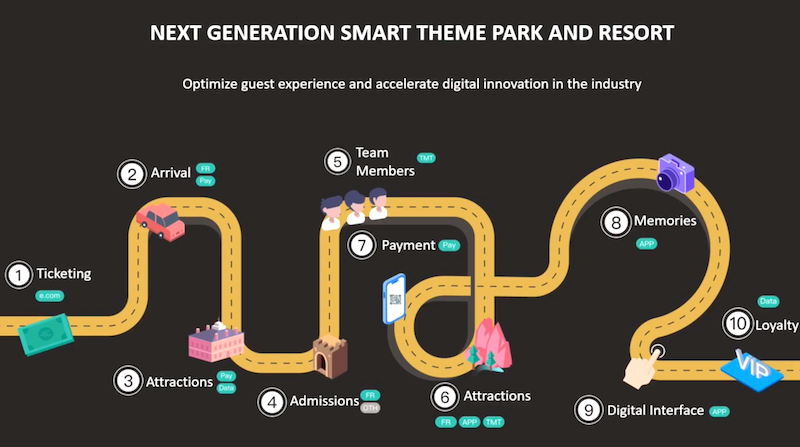 The gauntlet has already been laid down here – in terms of Universal's own operations, that is – over at the Volcano Bay water theme park in Orlando, where visitors grab a TapuTapu wearable device to help secure ride times, access lockers, and pay for beverages and merchandise. Starting next year at Beijing, guests will be able to purchase tickets and complete registration (including linking photo ID to their accounts) before they even set foot in the park, and, once there, they'll be able to navigate their way around using "the best you've [ever] seen" smartphone apps. It's easy to see how such a carefully constructed "journey," from pre- to post-visit, could be exported to other Universal spots around the globe – particularly when the Orlando resort has had to rely more heavily on Virtual Lines and mobile ordering than ever before, thanks to the coronavirus pandemic.
---
What would you most like to see come to Universal's theme parks – whether in Orlando or Beijing? Discuss your wildest fan desires with 150,000+ other die-hard fanatics in our Orlando Informer Community on Facebook.
And be sure to follow Orlando Informer on Facebook, Twitter, and Instagram for the latest news, tips, and more at Universal Orlando, Walt Disney World, and other Orlando attractions.