When Comcast took control of NBCUniversal some six years ago, it was unsatisfied with how few hotel rooms were on-property at Universal Orlando – only some 2,400, spread across the first three venues of Portofino Bay Hotel, Hard Rock Hotel, and Royal Pacific Resort. With the sheer amount of money and people that are now pouring into the resort – all thanks to Harry Potter's arrival at the two theme parks – the company has since vowed to expand that number by at least a factor of five.
https://www.youtube.com/watch?v=N9byftSFsEU
Good progress has been made in the four years since that grand pronouncement, with both Cabana Bay Beach Resort and Sapphire Falls Resort already open and Aventura Hotel scheduled to arrive next year. When combined with Cabana's 400-room expansion that is due to open within the next several weeks, Universal Orlando will soon boast a staggering 6,200 hotel rooms – good, but not quite there.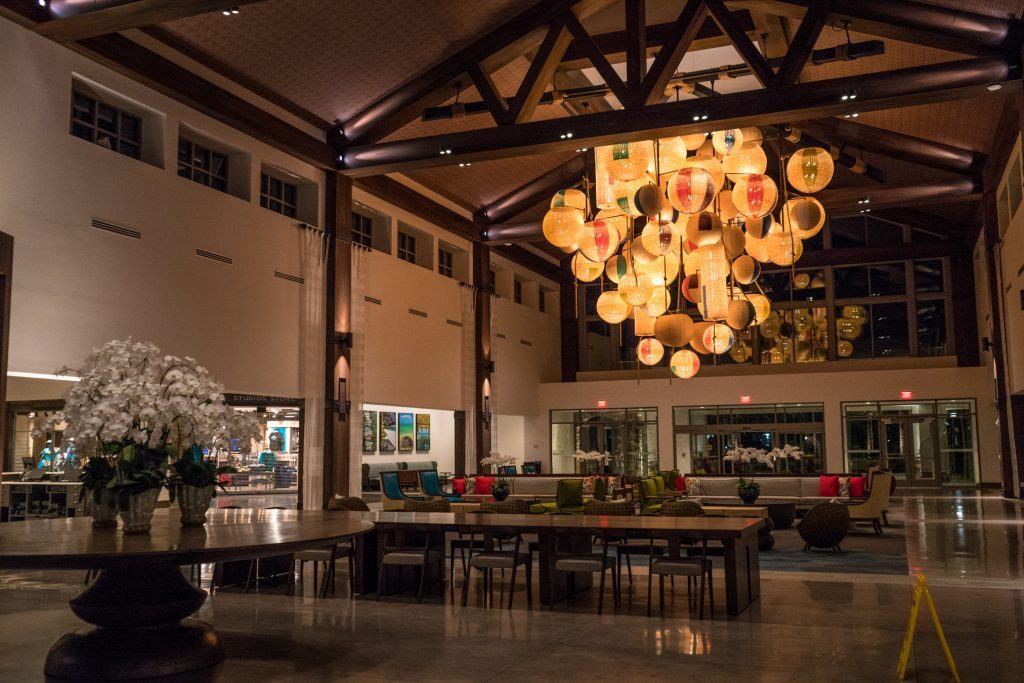 That's where Wet 'n Wild Orlando comes into play. The 40-year-old water park, dubbed the first modern one in the country's history, was closed down three months ago in order to make room for this summer's Volcano Bay, and the departure has left 50 acres for Universal to do with whatever it wants. Naturally, rumors have routinely pointed to a new on-site hotel being installed here – and now we have our very first confirmation that this is precisely what's going to happen.
The Orlando Sentinel is reporting that Universal has filed documents with the city of Orlando to seek a master plan framework for the seventh on-site hotel. The paperwork makes no mention of this new venue's name or theme, but it does include a rough idea of what to expect in terms of basic construction: three parking structures are indicated on an attached illustration, along with the little fact that part of Precision Drive, a nearby road, is expected to be vacated and built upon.
To put this in better perspective, here's a little map that we've come up with here at OI HQ. The orange rectangles are the parking garages, the green section is the former home of Wet 'n Wild, and the blue area is the water park's parking, storage, and office spaces.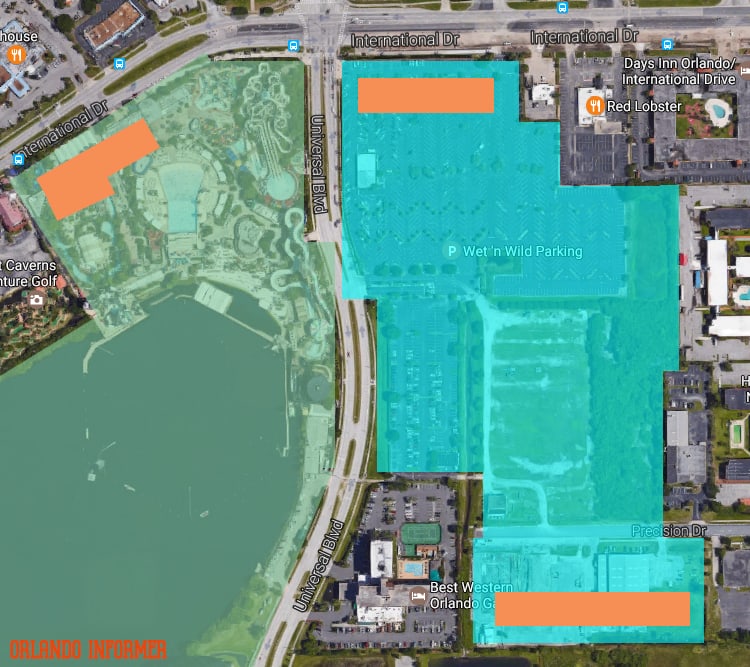 What's interesting to note here is the possibility that we're not looking at one brand-new resort, but two – Universal Blvd is a major road, and though it's possible that Universal could build a pedestrian bridge over it to link both halves of one huge hotel, it might just be easier (and more profitable) if the company left it as a natural barrier for two new properties. Another scenario could use Royal Pacific and Sapphire Falls as inspiration, as the two venues have their conference areas linked via a covered walkway; Universal has been keen on capturing more of the conventioneer market, which remains a vast, untapped source of revenue for the company and its ever-expanding theme park empire.
As for what to expect from the seventh (and, possibly, eighth) hotel, this is all we know at the moment: it will more than likely be a prime value property, just like Cabana and the upcoming Aventura, thanks to its distance from Universal Orlando's three parks, and it is reported to boast an astounding 4,000 rooms – twice the size of Cabana Bay, and just enough to reach that magic 10,000 mark that Comcast so eagerly announced back in 2013. There is also the possibility for the inclusion of several new restaurants, stores, and entertainment options, essentially making this a second CityWalk.
We'll have more analysis here on the OI Blog soon. Until then, be sure to share your excitement and predictions with fellow Universal fans over on the OI Facebook group.
–
In the meantime, be sure to follow Orlando Informer on Facebook, Twitter, and Instagram for the latest news, tips, and more at Universal Orlando, Walt Disney World, and other Orlando attractions.