You may have already come across our article covering Universal Orlando's best snacks. If you haven't read it, you absolutely should, as it's a fine article and incredibly helpful. However, best "overall" doesn't necessarily fit the bill when you're conflicted between an undeniable moment of hunger and a well-planned, strictly-budgeted vacation. Not long ago, I found myself in one of these tumultuous times and can confirm that they demand resolution by nature. This impassioned me to write this article in hopes I could assist others who may find themselves at a similar crossroad.
You won't find the basic churro, turkey leg, or colored dessert dots on this list — nay! You deserve the best from what Universal can offer, even on a budget. With that in mind, we need to keep the cost as inexpensive as possible, so I set a $10 limit on my selections. This way, things not only stay affordable, but the budget also ensures that none of the following selections are "entrees," which allows for ease and flexibility while you are on the go at the parks. Given my experience with Universal Orlando, I know how passionate they are about keeping their food menus interesting for their visitors. I'm providing some direction in flavor, but there's enough flexibility within each of my suggestions to allow freedom to carve your own path. Now then, let's find quiet focus and determination amidst our stomach's thunderous bellows and trek onward!
1) Crepes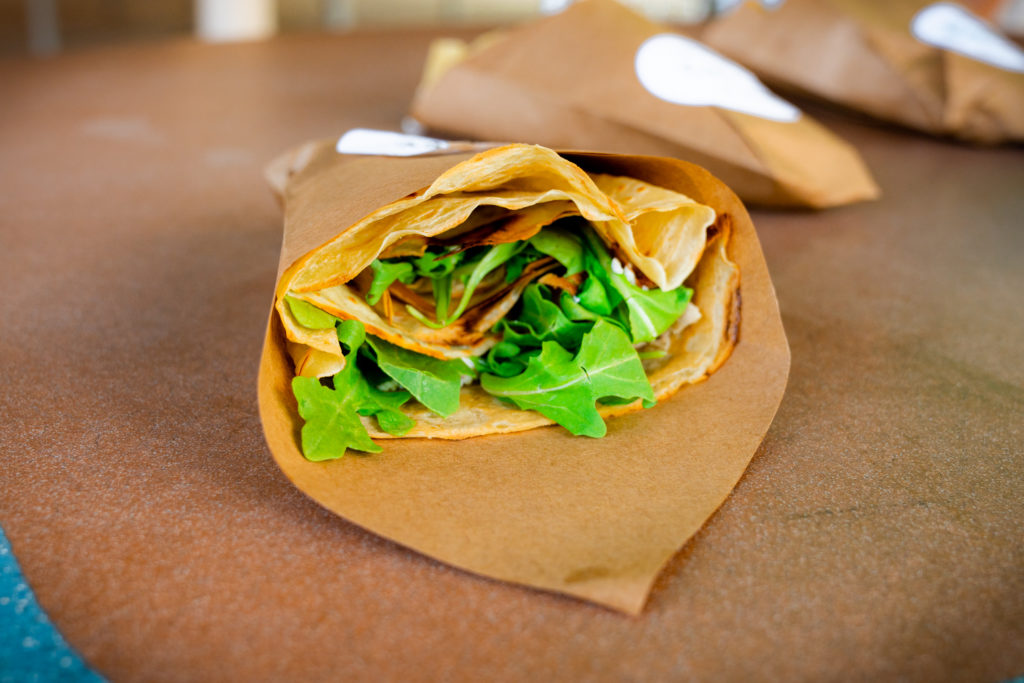 Vendor: Central Park Crepes
Location: Central Park, Universal Studios Florida
Price: $8.99 + tax, or $9.99 + tax
We've professed our love for these before and I'll say it again- these are my favorite unsung hunger heroes on property. While they do hit the higher end of our spending limit, these crepes are among the best value for your dollar you can find. Not only do they offer seasonal flavors, but their regular menu has something for just about everyone. Their current limited-time offering is raspberry and passion fruit cream. This delectable has the right amount of decadence and is highly satisfying. If something savory is more your speed, they also offer smoked brisket or vegan chik'n crepes, both of which will hit the spot and hold you over until that next meal.
2) Jacket Potato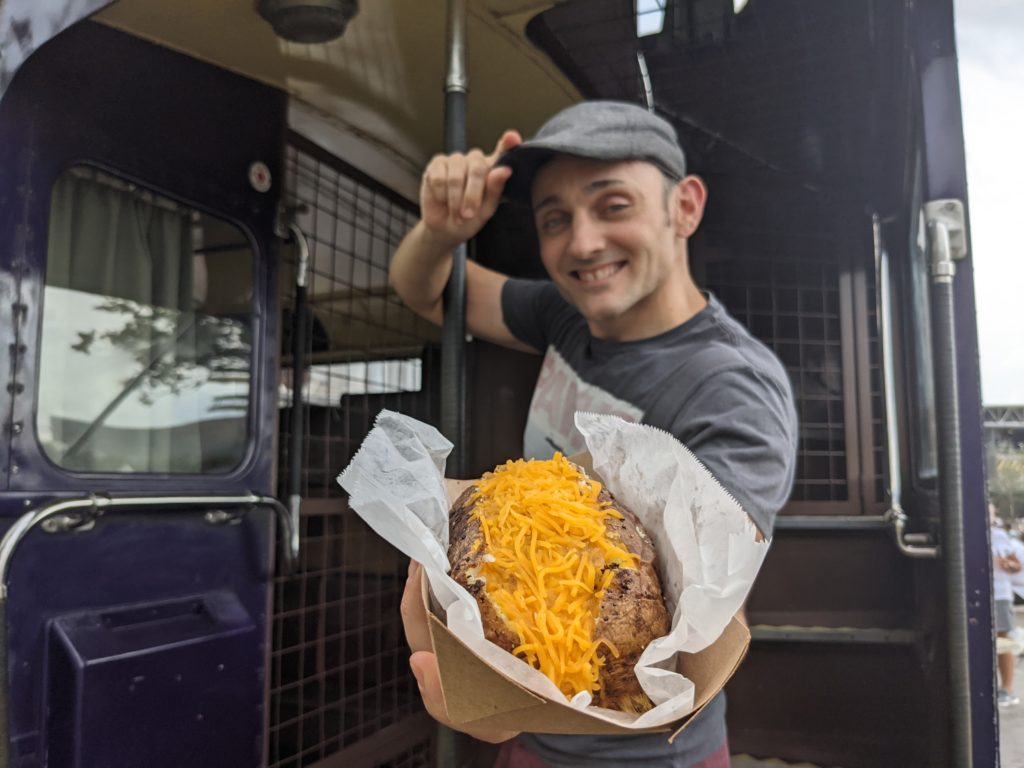 Vendor: London Taxi Hut
Location: London, Universal Studios Florida
Price: $9.79 + tax
Normally, one doesn't go to the theme parks and consider eating potatoes unless they're twisted on a skewering stick and showered in seasoning. However, let me tell you that the Jacket Potatoes at the London Taxi Hut are (along with the crepes) among the biggest bang for your buck at the parks. They come with four different fillings: broccoli and cheese, bean and cheese, shepherd's pie, or loaded. My guidance would be opting for the shepherd's pie since you'll get more for your money, but all of their offerings are excellent choices. These potatoes are big and naturally have some weight to them. I found myself slowing down about halfway through eating one, so if something a little lighter is your speed, the broccoli and cheese would likely be the better bet, or split your potato with a friend!
3) The Big Pink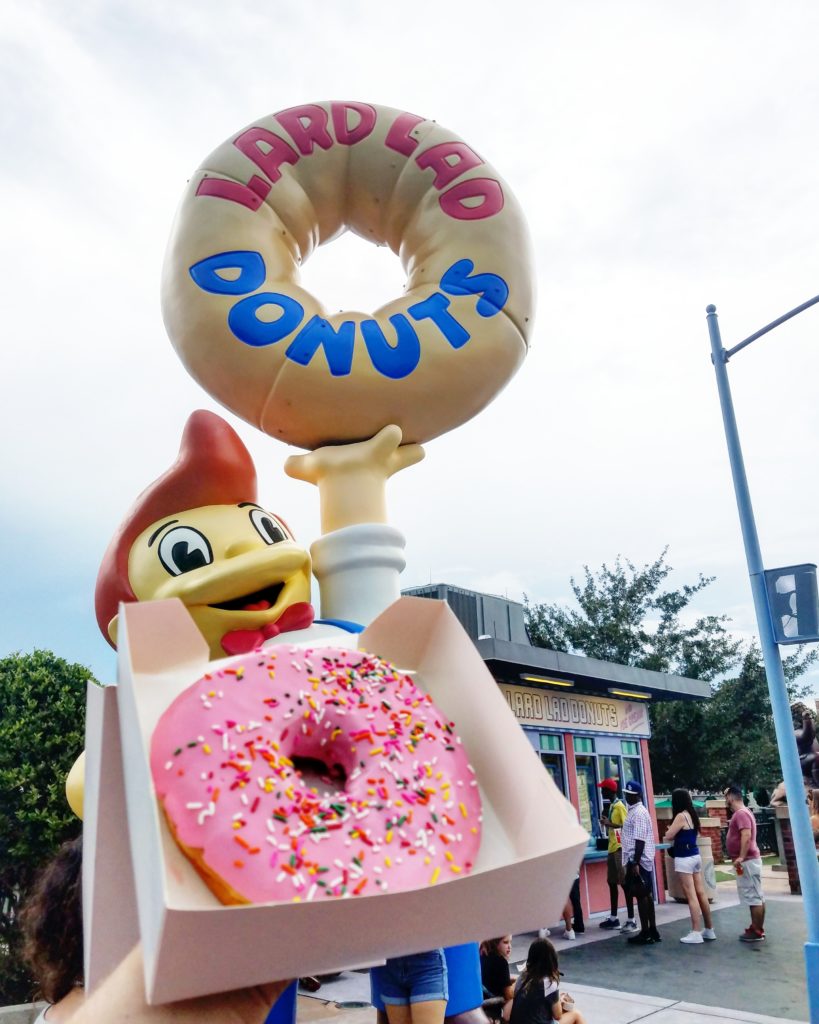 Vendor: Lard Lad Donuts
Location: Springfield, Universal Studios Florida
Price: $7.99 + tax
This cream-covered monster is big, it's pink, and it's great value for the asking price. If you're a fan of The Simpsons, this is likely already a favorite, as donuts are a fundamental element to the series. This is evidenced when Homer infamously sold his soul to the Devil (presented in the form of Ned Flanders) in one of the most iconic episodes of their "Treehouse of Horror" Halloween specials. On that note — The Big Pink may be a bit sinful to your health, but it is certainly good for the soul. In any case, this snack will succeed in tiding your appetite over with a pretty tasty treat. I personally could easily put away two of these bad boys, but don't be afraid to tackle it with a partner, or save some for later.
4) Caramel Apple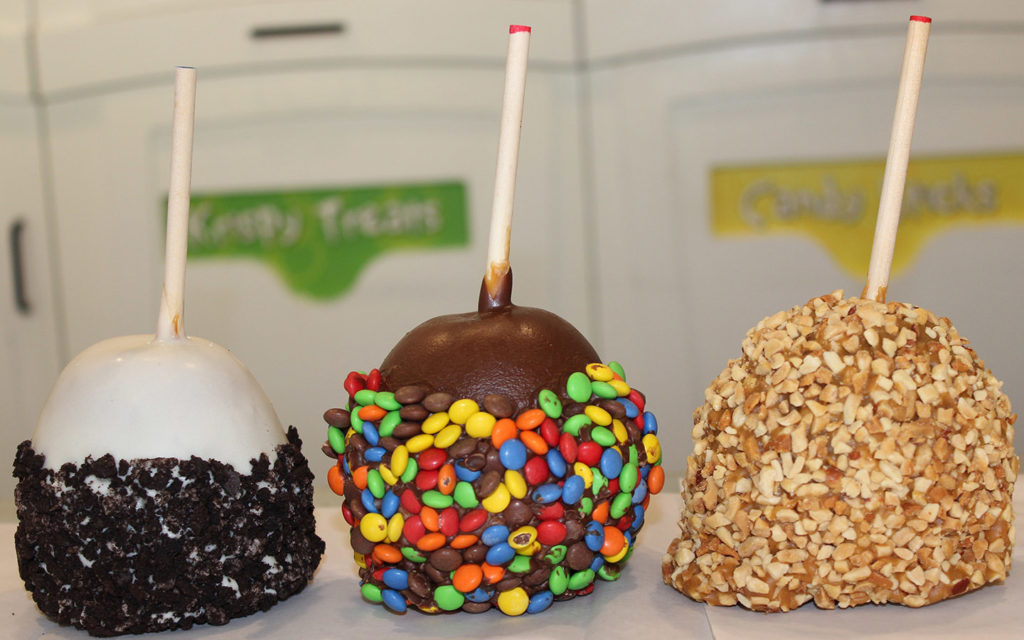 Vendor: San Francisco Pastry Company and Island Market and Export Candy Shoppe
Location: Universal Studios Florida and Islands of Adventure
Price: Starting at $7.00 + tax
During Halloween Horror Nights' early years, these were the go-to treat between mazes. These days, the event is ruled by the likes of Twisted Taters and Pizza Fries, but that doesn't mean we should exile caramel apples from the snack kingdom. Their lollipop-like structure makes them easy to consume on the go and their size makes them worthy for your consideration in any season. The more elaborate ones can be costly and surpass the $10 mark; thankfully, you can purchase a caramel apple with or without nuts for $7.00 plus tax, which makes them easily affordable. I'd advise sticking to a "caramel" apple instead of its "candy" sibling, as there is a difference, but that's a matter of personal preference.
5) Today Cream Puffs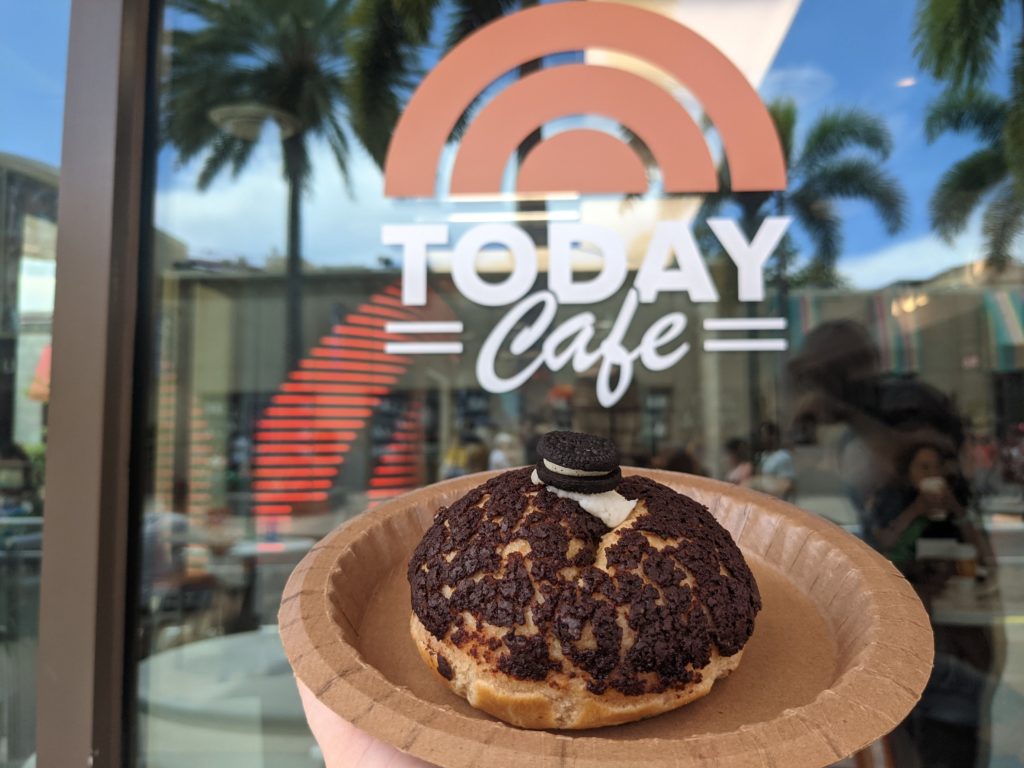 Vendor: TODAY Cafe
Location: Production Central, Universal Studios Florida
Price: $5.49 + tax
TODAY Cafe is my top overall recommendation for Universal Orlando's quick service restaurants. They have great alternatives to the theme park standard of smokehouse platters, burgers, hot dogs, and churros, and offer a wonderful array of pastries. The one that has my stomach's heart? Why, the Today Cream Puff. This generously-sized indulgence comes in a variety of flavors, my favorite being cookies and cream. It's not too rich and its availability is more consistent than other flavors. What I love about this confection is how the puff's light crust complements the delicious cream filling. As a forewarning, I'd suggest having a napkin nearby as these can be a little messy. On the other hand, if you're a child at heart like myself, that's also part of what makes it so enjoyable.
Honorable Mention: Butterbeer
Vendor: The Leaky Cauldron, The Three Broomsticks & Hog's Head, various kiosks, or Florean Fortescue's Ice-Cream Parlour
Location: The Wizarding World of Harry Potter, Universal Studios Florida and Islands of Adventure
Price: Between $4.99 – $7.99 + tax
For the sake of clarity, "Butterbeer" is a flavor first, and a consumable second. Of the six ways you can enjoy them, four can be considered a "snack" of sorts (in case you're wondering, that includes its frozen beverage form). Since they're all equally good, it's hard to specify the best one, especially given their portion sizes. In order to try and assist you, we've dedicated an entire page covering the matter extensively. In my opinion, the Butterbeer ice cream at Florean Fortescue's Ice-Cream Parlour is the best way to enjoy this magical flavor. This provides it in its truest form while softening all of the otherwise overly rich characteristics. As a pro-tip: the ice cream is also an excellent option to combat the heat of those sun-baked, summer visits.
---
That's it for the best bang for your buck at Universal Orlando Resort. If you want a rundown of more snacks, check out our A-Z guide on sweet and savory food options. Once you're home, connect with 130,000+ other Universal die-hards in our Orlando Informer Community on Facebook. And then follow Orlando Informer on Facebook, Twitter, and Instagram for the latest news and tips at Universal Orlando, Walt Disney World, and other Orlando destinations.