Universal let the undead cat out of the bag today and announced The Walking Dead as the third house for this year's Halloween Horror Nights (the first two haunts, for all those not playing along at home, are two blasts from the horror past: Texas Chainsaw Massacre and The Exorcist). This marks the fifth consecutive year that Walking Dead will have a presence at the annual event – a first for HHN on either coast.
Yes, yes, we know – Walking Dead comes as no shock to anyone even passingly familiar with the nation's premier Halloween event, as it's played a large role in Universal's increasing success every fall (hence the reason it keeps getting invited back by the Marketing Department, and hence the reason that Art and Design, the unit responsible for actually planning and executing Horror Nights, keeps pulling its hair out year after year).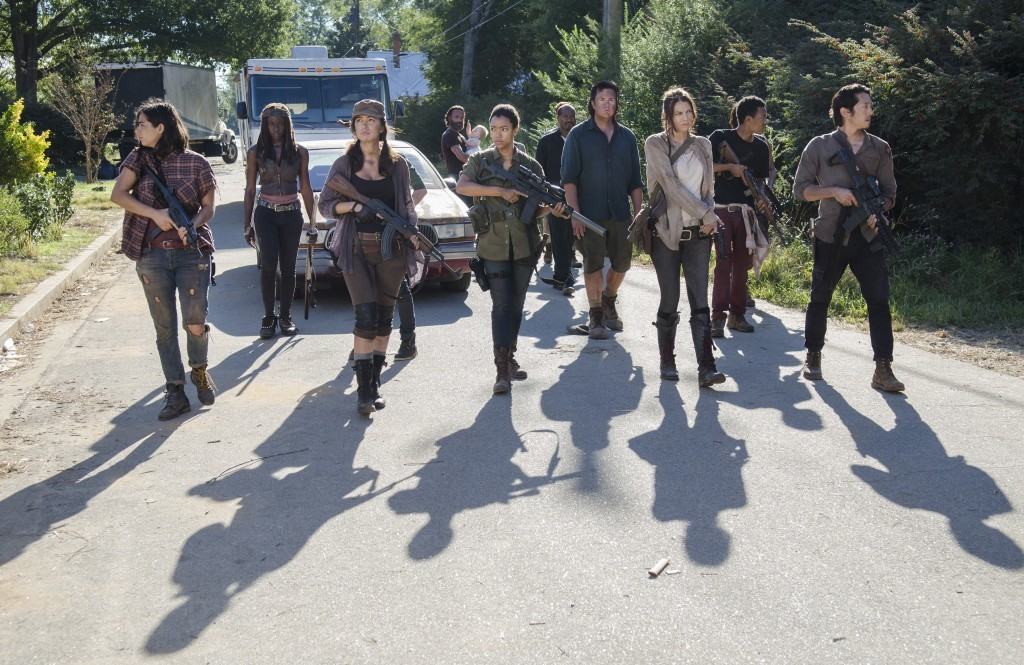 In previous years, Universal attempted to keep things fresh and engaging by attempting different tricks or gimmicks. In 2012, the inaugural maze, entitled "Dead Inside," simply attempted to replicate key iconic scenes from the show's first two seasons (and produced, according to Universal PR, the "highest-rated maze" in the history of the event at that point); by the following year, however, upping the ante became a prime motivator, resulting in literally every single scare zone being devoted to the property along with the "No Safe Haven" haunt.
2014 might have once again confined the television series to just one soundstage, but what a soundstage it was – "End of Line" actually was treated as two different houses by Art and Design, resulting in an experience that was doubled in length and doubled in both the numbers of sets and scareactors that it employed. And, finally, 2015's "The Living and the Dead" shrunk down The Walking Dead back to just one normal-sized haunt, but it attempted to make up for the loss in scope by going all in on the set pieces, including a helicopter that came crashing in through the ceiling and a walkers that were surrounded by "hundreds of gallons" of water (needless to say, a number of guests – including OI owner and editor, Taylor Strickland – were underwhelmed by this latter marketing point, as the finished product essentially saw the scareactors be placed in a kiddie pool).
Now, for this year, Universal is doing a greatest-hits mashup, taking "fan favorite" moments from previous seasons and haunts and combining them all together in "one terrifying maze," as Charles Gray has written today on Universal Orlando's official blog. Expect to experience such locations as Hershel's farm (season two), Woodbury (season three), Terminus (seasons four and five), and Alexandria (seasons five and six).
This next outing may look to essentially be more of the same (in more ways than one) – but that doesn't mean that it has to be.
In fact, there's actually still quite a bit that Universal can do to make TWD not only (somewhat) new and fresh and engaging, but also – gasp! – good. Barely any diehard HHN aficionado has had anything particularly good to say about the Dead mazes since their inaugural showing in 2012 (well, okay – 2014's "End of Line" is generally regarded as the best rendition, even if grudgingly so), but we here at OI HQ want to make sure that this year marks the occasion when everyone jubilantly declares The Walking Dead the best haunted house in Halloween Horror Night's 26 years.
Unlikely? Yes. But here's still how it could happen.
3. Stage show
First up: let's forget a haunted house altogether and go for something completely different: a stage show.
Yes, this idea, on first blush, sounds patently ludicrous, but it does have a few items working in its favor – not the least of which is novelty, as this is the only part of Halloween Horror Nights that the property has yet to infect (see what I did there?).
Stage shows are arguably the annual event's weakest link; whereas Bill and Ted's Excellent Halloween Adventure is a stalwart and, now, a hallowed tradition (even if entire segments of the production can be hit-or-miss), the other performances are either sporadic or, essentially, after-thoughts. The most reliable of these ancillary shows is the Rocky Horror Picture Show Tribute, and that, well, is just a mish-mash of a film.
So what could The Walking Dead bring to the table? First of all, we have to assume that the main characters from the television series themselves will still be off-limits by AMC, as has happened in every single one of the haunted houses and scare zones over the past four years. But that still leaves a wide swath of scenarios to be cobbled together: what if audiences get to see what happened, say, at the "safe haven" of Terminus when all the townspeople were invaded by thugs and massacred, leading to their becoming deceptive, murderous cannibals? Or what about seeing the state of affairs in Grady Memorial Hospital after the fallout from the fifth season mid-season finale? (Beth!)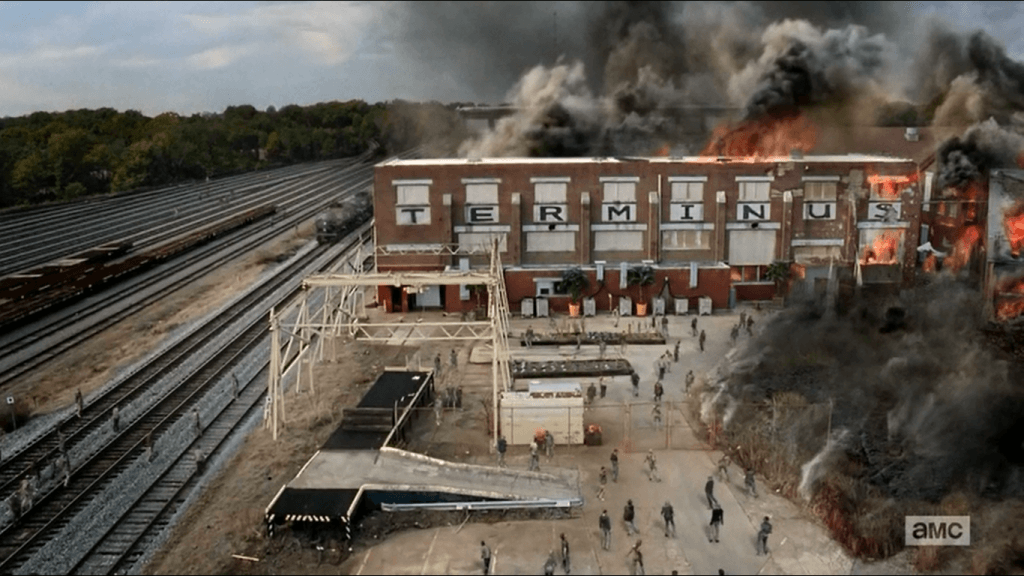 Or, even better, what about taking an entirely different tack and doing what Universal did with last year's "The Carnage Returns," in which HHN icon Jack the Clown throws his own morbid version of a vaudeville show (and which results in a really good production)? Yes, that's really getting out there, but – hey – that's what the point of doing something so far out of the established Walking Dead formula is all about.
Speaking of original…
2. Original content
The world of The Walking Dead seems to get bigger and bigger with every passing year; beyond the originating comic book series and the mainstream-culture-dominating television show, there is a whole host of videogames, spinoff TV and webisode series, and, next month, a permanent walkthrough attraction at Universal Studios Hollywood.
The number of perspectives into this fictitious world steadily grows – so why not add to it with the newest haunted house? Rather than strictly recreating the sixth season, Art and Design could concoct entirely original scenarios starring all-new characters in very different locations – if The Walking Dead shows the aftermath of the zombie apocalypse in Georgia, and if Fear the Walking Dead depicts the fall of Los Angeles, why couldn't HHN26's maze be set in Orlando as it's torn apart by the undead? If the Star Wars franchise is branching out this year with one-off "anthology" films, why couldn't our hypothetical maze pull a Rogue One and spin a brand-new story that sets up the TV show's very first episode in a new, fresh, and exciting way?
In this way, the haunt goes from being a passive recreation of the other media's content and becomes an active, dynamic, must-see part of the world-building and storytelling. If Universal really wanted to, it could take this one step further and do another first for HHN: coordinate with the story being told over on the West Coast, making the two experiences a two-part narrative. In this way, it would blow everybody's minds all at once – HHN diehards and Walking Dead fans alike.
1. Upcharge house
Universal has long been toying with doing a premium house off and on for years now, and other local Halloween events, such as Busch Gardens Tampa's Howl-O-Scream, already engage in the practice. What better, more surefire property to take the plunge with than The Walking Dead?
It gets even better for guests – yes, even with the extra cost factored in. Art and Design has been so focused on expanding the haunted wares it throws at the property annually, such as adding more elaborate set pieces or more walkers, what if it reversed course and actually did fewer? Highlighting the moments of quiet that even the television series is punctuated with would, of course, only heighten the tension, resulting in a superb horror experience.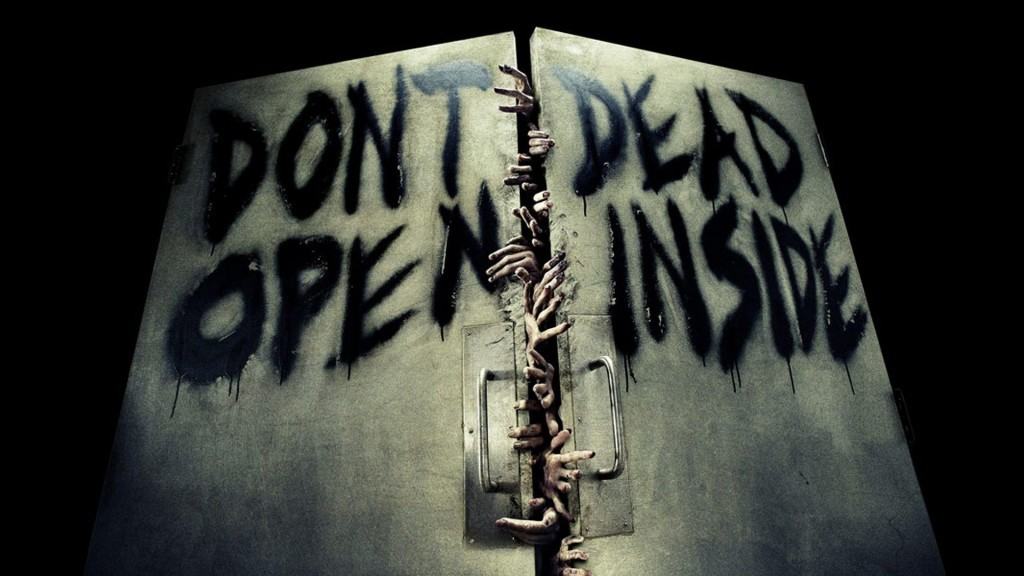 The only way for this to work, obviously, would be for Universal to admit a dramatically lower number of guests into the maze at any given time; victims would need to be pulsed through in small groups (say, only five or 10, at the very most), instead of entering as one continuous, long line. Even better, this would allow the entire experience to be reset and, thus, tailored to each group – imagine 2014's Halloween house, which recreated a number of key scenes from the 1978 film, but never having to miss any of the scare sequences by having the misfortune of being admitted at the wrong time.
The sheer potential that this setup offers is nearly infinite – which would go a long way to making this the best that Walking Dead could ever be, in or out of the parks.
What do you think – will 2016's greatest hits house be the best representation of The Walking Dead at the parks? Do you have another suggestion for a superior haunt experience? Tell us in the comments below.