This Summer will debut the latest quick-service eatery at Universal Studios Florida – Illumination's Minion Cafe. Located in the new Minion Land, it serves as one of the park's flagship restaurants and is part of the more significant area, which also includes other eateries such as the Bake My Day sweet shop and attractions like Despicable Me: Minion Mayhem and the upcoming Illumination's Villain Con Minion Blast.

Recently, we made our way to take a gander at the soft opening of Minion Cafe, along with its menu, and we are excited! The cafe's aesthetics will immerse patrons in the world of everyone's favorite henchmen, Kevin, Stuart, Bob, and Otto, upon entry with incredibly vibrant Minion-related theming throughout. Within its Dining Room and the Minion Break Room, a quick gaze will catch the sights of Minion-themed tables and easter eggs, such as Stuart's wrecked guitar from the self-titled Minions (2015) movie. The menu also provides plenty of its own references as guests have the opportunity to actually try Agatha's Honeymoon Soup from Despicable Me 3 (2017). Even the splattered sauce portion of Mel's Meatball Mountain's plating refers to the chaos behind the kitchen doors, unseen by guests. Truly, the restaurant is alive with the spirit of Minions.
Getting into the food, the Minions are serving an eclectic selection of creative fare from bowls, to handhelds, and desserts, which offer a ton to choose from. Frankly, there isn't a bad meal here, but we know how it can be. Whether it's a solo guest conquering the parks or families trying to control their own Minion madness, some direction is always appreciated. So here are our favorite menu items from Illumination's Minion Cafe.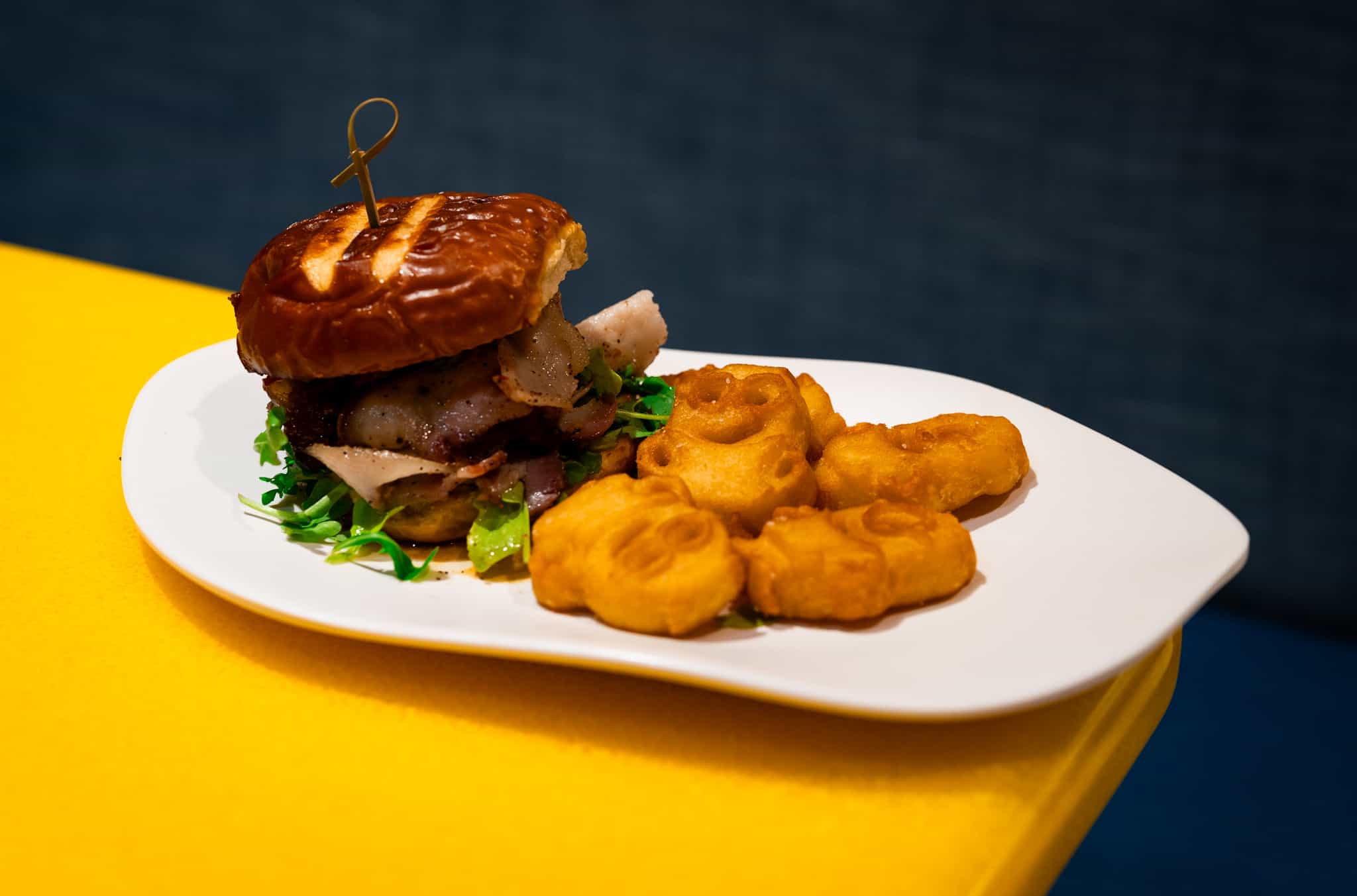 Uncle Dru's Belly Fillin' Pork Sandwich
$13.99
Uncle Dru's Belly Fillin' Pork Sandwich is a delectable handheld item that represents all the best aspects of a sweet and savory blend of flavors. The pancetta is slow-roasted to perfection, and its accompaniment with the sweet apple butter brings a wonderfully balanced taste. This played very well with the chimichurri which helped round out the sandwich. The pairing of crispy plantain strips brings an extra sweet, fruity crunch to the dish while also remaining true to the Minion theme.
This is easily our favorite item on the menu as it's delicious, filling, and different from anything else you can find within the parks. To boot, it's one of the best things you can find at Universal Orlando Resort and, if we may be so bold, this may be the best sandwich of its kind in Orlando. Of course, this is humbly stated as everyone is entitled to what they like, but if you must make a choice, let this be the one you make when visiting the parks.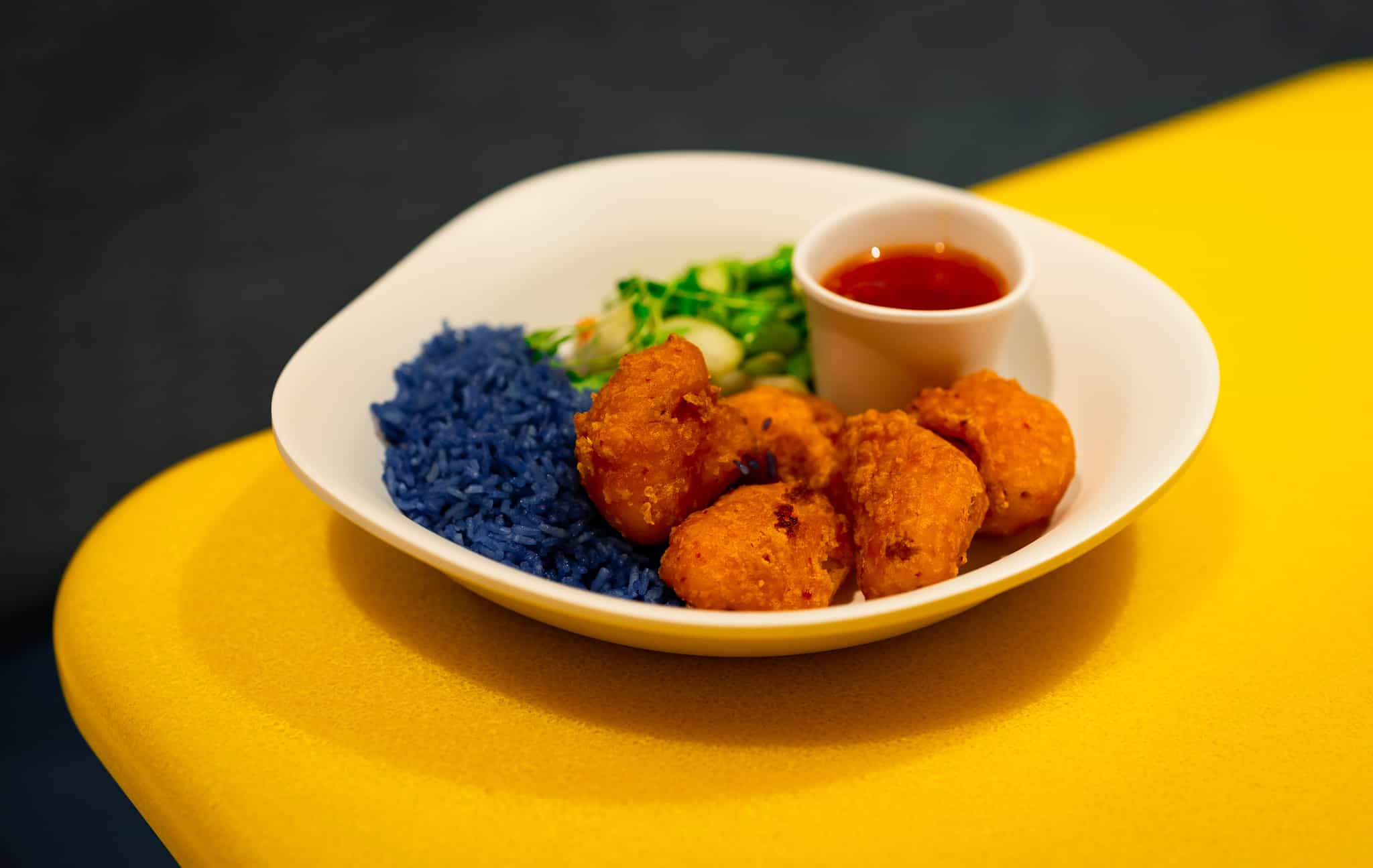 Carl's Crispy Cauliflower
$14.99
This entree bowl features cauliflower florets at its center stage and proves that vegetables can be the star of any show. They're deep-fried to perfection and are accompanied by a sweet and spicy chili dipping sauce, which helps add some extra flare to the meal. This takes place alongside blue coconut sticky rice, cilantro-seasoned edamame, and Thai cucumbers which balance the savory, spicy play with some sweet freshness and welcomed texture. The cucumbers also double as a small side and a palette cleanser for anyone wishing to experience each item wholly.
Overall, the combination of the fried cauliflower florets, sticky rice, and choice of vegetables make for an enjoyable Asian-inspired dish. While the sweet and spicy chili sauce does bring a mild heat, it leads more into the sweet spectrum. We'd suggest this as a great mid-day meal for anyone wanting something refreshing and filling while not being heavy as the portion size is also pretty generous for the price.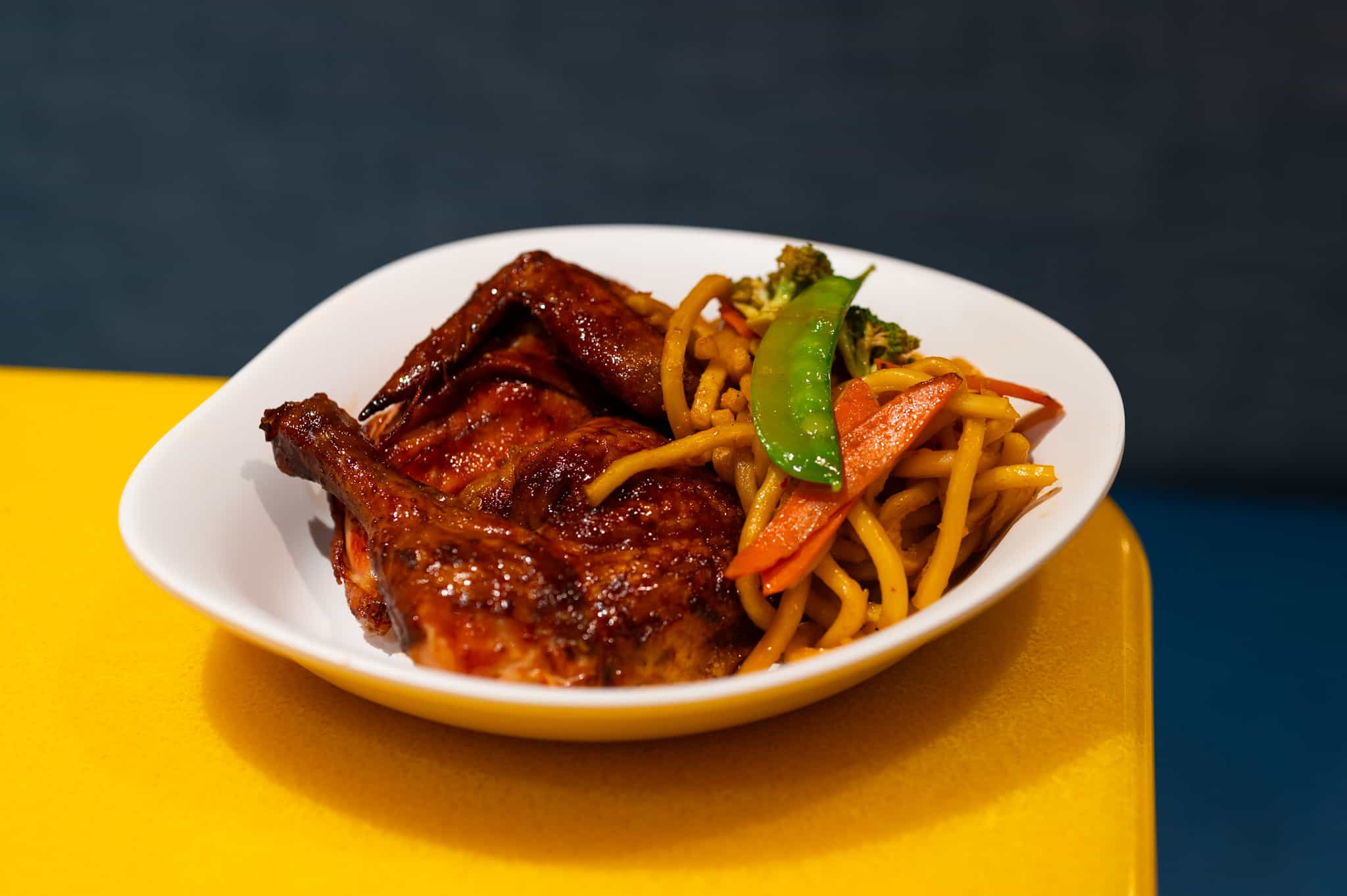 Chicken Stuart's Szechuan Surprise
$15.49
The featured player of this dish is the rotisserie chicken, which serves as a mainstay from the former Universal Monsters Cafe and a favorite of just about every attendee. What makes this take different is its added glaze of Szechuan spice. The spicy umami with notes of citrus and flower plays incredibly with the chicken's smokey and savory traits. With that said, the inherent sizzling bite of the sauce tends to linger, and eating too much at once can be a bit, well- surprising. Just be mindful of your pace and it'll make for a fun, tasty dish.
Paying homage to anything doesn't come easy. Especially when it's a former flagship of the park. To that, we'd say that Universal hit it out of the park with this dish. Not only did they put a new, mouthwatering spin on one of the park's most popular items, but the masterminds behind Minion Cafe chose to keep the original rotisserie and pizza ovens from Monsters Cafe. This means every chicken that's ordered is essentially a tribute to the former establishment.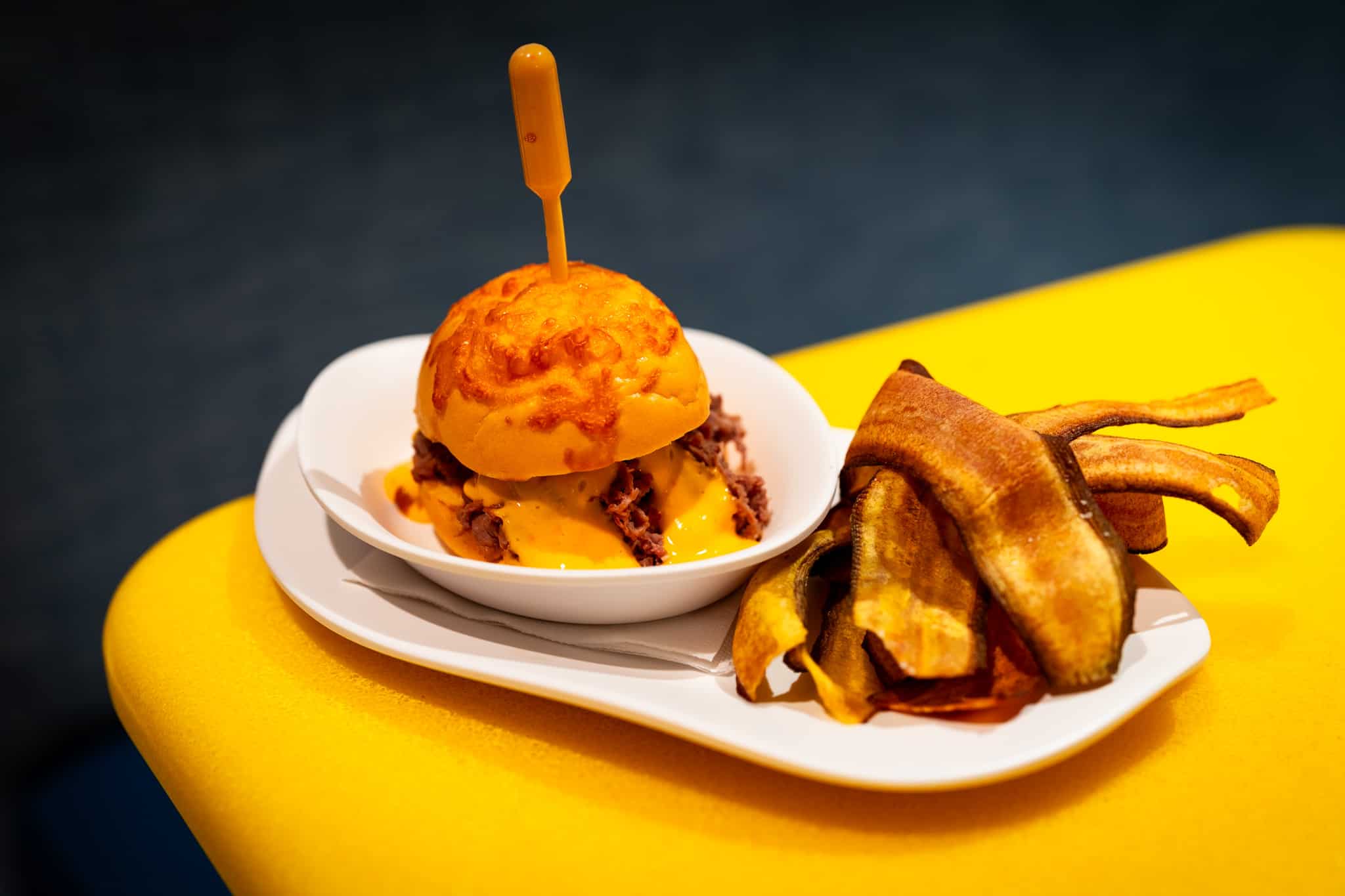 Steak and Cheese Ray Sandwich
$14.99
Put simply, this sandwich can be thought of as Universal Orlando's take on Philly Cheese Steak, but better. The Minion chefs start by marinating the roast beef filling in French Onion sauce and top it with caramelized onions, both of which assist in accentuating the beef's savory flavor and tenderness. While many similar dishes suffer from being just a tad on the salty side, this one doesn't. Before being placed fully in its cheese and onion brioche bun, it's given a "blast" of pimento cheese sauce and then paired with crispy plantain strips (do we sense a banana-related pattern here?) providing guests with a familiar and festive dish.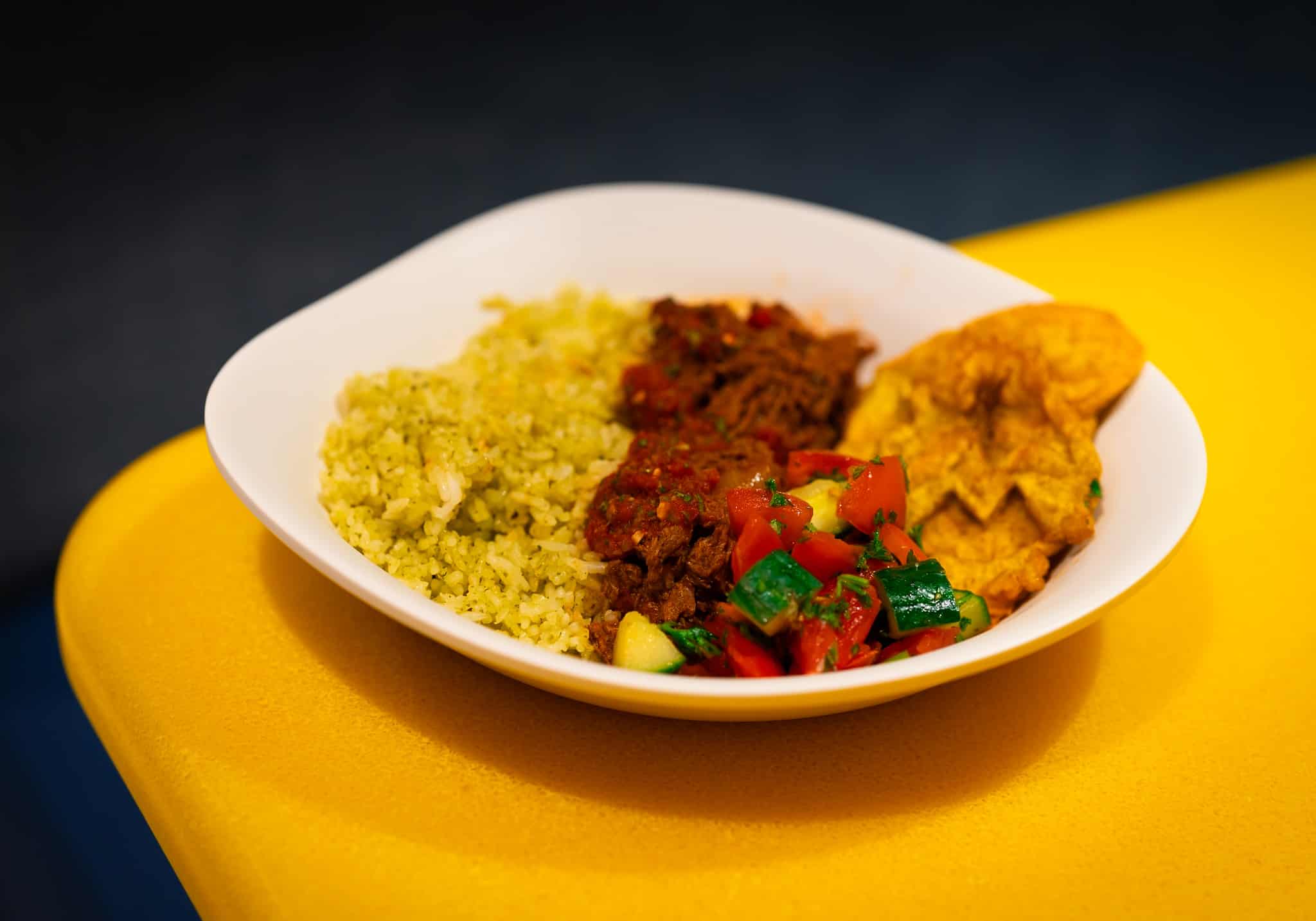 El Macho's Salsa y Salsa Ropa Vieja
$16.99
This bowl is a solid choice for anyone looking for something with a Latin flare. It pairs braised beef with 'El Macho' tostones, cilantro rice, cucumber and tomato salad, and salsa roja. What sold us on this dish was the addition of the cucumber and tomato salad, which brough a bright freshness to the plate. As with each of the menu items at Minion Cafe, the portion size is good for the price and the plating is exceptional as it welcomes patrons to take it in visually before and upon consumption.
As always, anyone wanting to get a taste of what the Minions have in store can do so and save on Universal Orlando Resort tickets from your trusted source at Orlando Informer!