Over the course of the past two years, Universal has been slowly but surely revealing every last facet of its brand-new "water theme park": its attractions, backstory, and, most intriguing of all, its TapuTapu wearable.
But what's been missing in this deluge of information (see what I did there?) has been Volcano Bay's food and drink offerings, something which is of particular importance given that the company has boasted time and again that its amenities will be spread all throughout the park instead of clustered together in one location up at the front (thereby necessitating that guests hoof it all the way back to the entrance if they get hungry or require some liquid refreshment). It's a small but critical piece of info that Universal has been deliberately keeping back.
Until now.
Just today, Universal has lifted the curtain on Volcano Bay's final component, and we couldn't be more excited at the results. Here's everything that the next-generation water park will have in store for you once you've strapped on your TapuTapu and plunged into the lazy rivers that will take you all throughout its various lands.
Food
https://www.youtube.com/watch?v=TV-2pkwLBog
So, what does Universal have in store for us? Over 60 different "island-inspired" dishes, ranging from snacks to specialty burgers to, of course, desserts. And while the company has only unveiled a small portion of that wide-ranging menu, these first few dishes more than clearly speak for themselves: Plantain Chips and Guacamole, Mango BBQ Pulled Pork Sandwich, Poke Poke Bowl, Kohola Chicken Sandwich, Taco Sampler, Quinoa Edamame Burger, Island Chicken Salad, Tropical Baby Greens Salad, BBQ Chicken Pizza, Jerked Mahi Sandwiches, Tapioca Pudding, and Chocolate Pineapple Upside Down Cake are just briefly mentioned, but we get a little bit more information on the slowly-smoked glazed Hawaiian Ribs (which are served with boniato mash and sweet plantains) and the Coconut Curry Chicken (which consists of braised chicken, green coconut curry sauce, white rice, coconut, and cilantro, and is served with those same sweet plantains).
(Don't worry – if you're like me and don't have a rather adventurous palette, or if you just aren't into the whole South Pacific culinary scene, there will still be traditional theme park fare on hand, such as hamburgers and chicken fingers.)
Although only briefly mentioned, the company has promised that "many," though not all, of these offerings will be part of the Universal Dining Plan.
Locations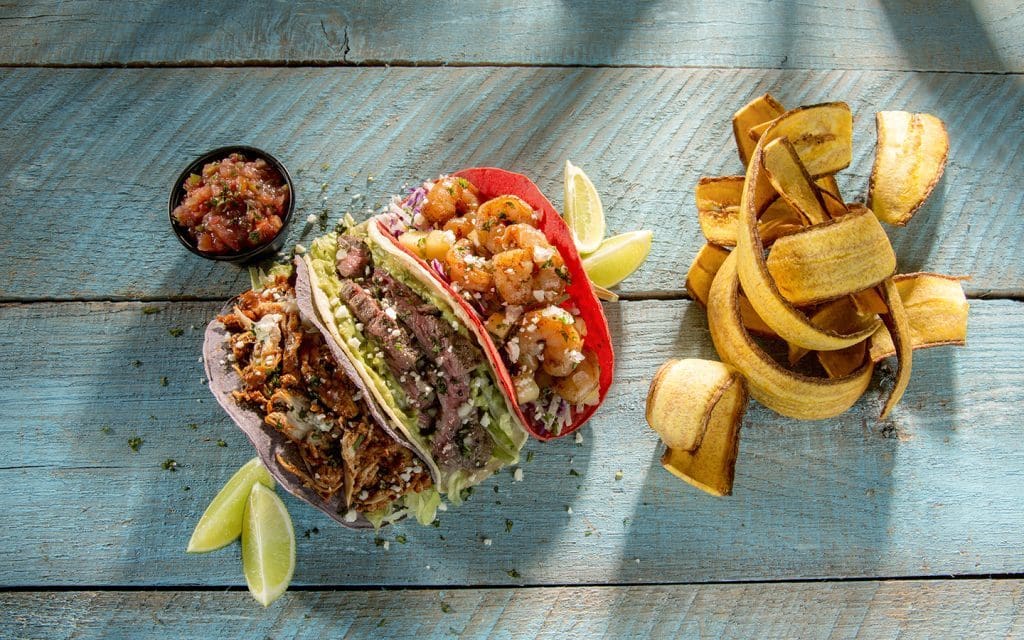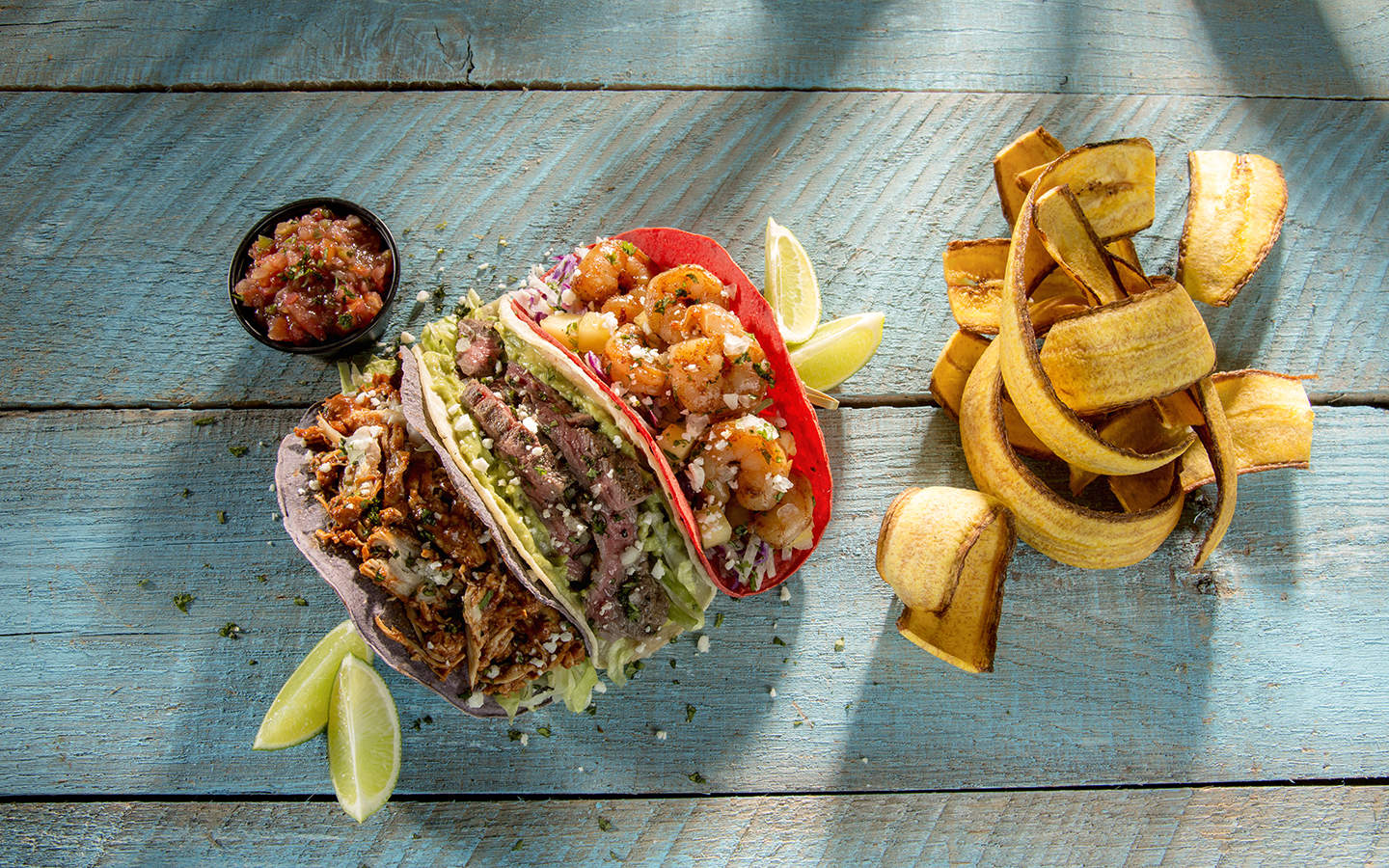 Eating is always fun, but you have to know where to go in order to do that greatest of all past times, right? Unfortunately, here Universal is a little more tightlipped – we don't know where, exactly, the various venues will be located on the map, and we don't have any information in the form of visuals or complete menus.
Still, what we do have is a preliminary list of the park's various dining locations:
Kohola Reef Restaurant & Social Club – located in Wave Village, this is a table-service eatery.
Whakawaiwai Eats – what appears to be a quick-service stop in River Village.
The Feasting Frog – Rainforest Village's quick-service venue is built to look like – you guessed it – a tropical frog.
Bambu – a food kiosk in Rainforest Village, offering burgers and Pretzel Dogs, that just might be the coolest venue of them all: it's made entirely out of "elegant stalks of bamboo."
Kunuku Boat Bar – Wave Village's drink stand, which takes the shape of a beached outrigger canoe, will serve draft beers, specialty cocktails, fountain sodas, and frozen drinks.
Dancing Dragons Boat Bar – another canoe bar, this one in Rainforest Village, will feature a comparable selection of drinks.
That's a good start.
What's next?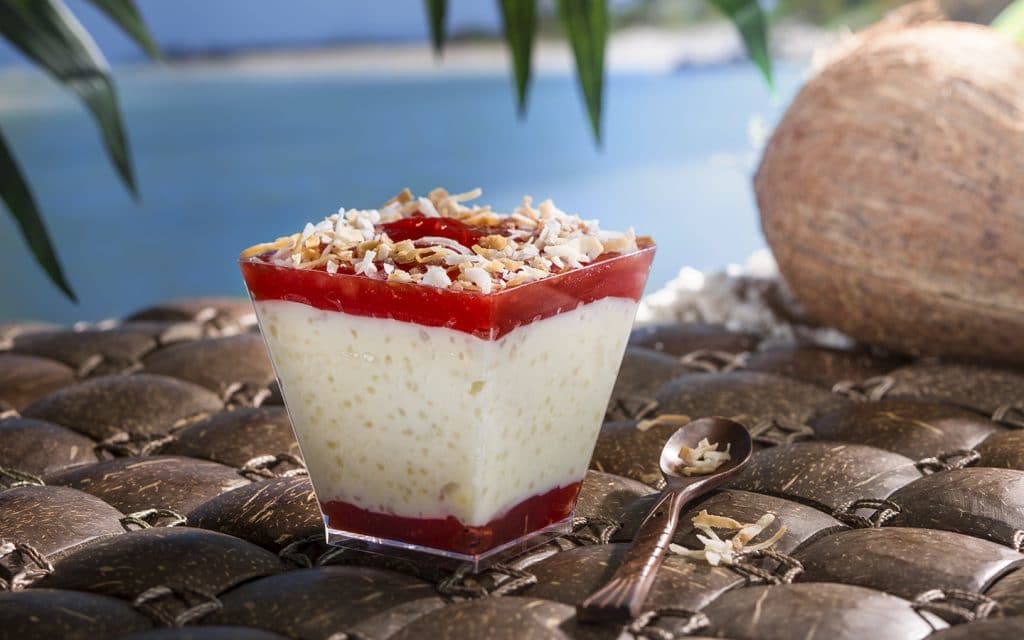 There's clearly more to be revealed – Universal, for instance, teases some signature cocktails and beer, which leads us to believe they'll pull a Springfield, USA and have some exclusively-brewed concoctions for Volcano Bay. And that, in turn, means we still need to have a rundown of the bars and taverns that will populate the water theme park.
And there's yet another type of eatery that needs to be fully established by the company: ice cream stands and other types of food carts. In a recent interview with What Culture, Dale Mason, Vice President and Executive Art Director of Universal Creative, whetted our appetite in this regard:
A lot of the buildings, like our bars – we have a really fun ice cream stand – are actually built on boats. The Waturi have pulled the boat up on the beach and decided to set up a little bar shack on top of it, complete with sails.
Not sure who these Waturi people are? No problem – here's everything you need to know about them, the creation myth of the island they call home, and all the rest of Volcano Bay's rather involved and impressive backstory.
–
Ready to eat, drink, and swim 'til your heart's content? Compare your upcoming vacation with everyone else's in the Facebook group.
For the latest news, tips, and more at Universal Orlando, Walt Disney World, and other Orlando attractions, be sure to follow Orlando Informer on Facebook, Twitter, and Instagram.