Many people have wondered what will come of Star Tours: The Adventures Continue, the 28-year-old motion simulator that got a refresh in 2011, once Star Wars: Galaxy's Edge opens just down the road in Disney's Hollywood Studios sometime in 2019. The new, ultra-immersive Star Wars land, after all, will be specifically placed during the sequel trilogy of the cinematic saga (which began with 2015's Episode VII: The Force Awakens and will continue with next month's Episode VIII: The Last Jedi), and Star Tours breaks the illusion of continuity or setting by skipping around all three time periods from all three trilogies. While this may not seem like much to the average guest, to Disney's storytellers – who are going so far to sell visitors on the idea that they're really in that galaxy far, far away that they're going to be making a first-of-its-kind hotel right on theme-park property – that's something notable and potentially problematic.
Now we have an idea of how the company is going to circle that square, at least for the time being: it's going to use the current attraction in order to help set up the next.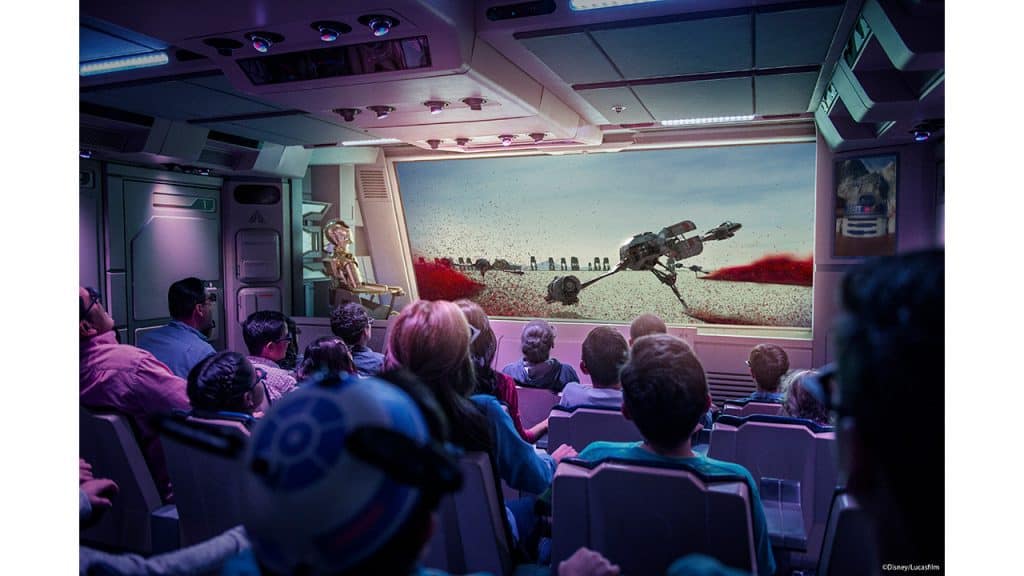 Early this morning, during a press event showing off the new locations that will be inserted into Star Tours starting today, Disney announced that the mysterious planet that Galaxy's Edge will be set on – a locale that, the company has promised, has been designed in conjunction with Lucasfilm and which will have full extension with the rest of the Star Wars Expanded Universe – will be one of the two new worlds that riders will be able to visit. (The other is Crait, which will be formally introduced in The Last Jedi [though readers will be able to sample it beforehand in a few new SW novels].) What's more, the company has at long last revealed the name of the mysterious planet: Batuu.
We've long known that Batuu sits on the very edge of known space and was once, thousands of years ago, the epicenter of galactic trade, before hyperspace travel and the Old Republic arrived, shifting the commercial and political center to the Galactic Core. It's nice to finally have a name to go alongside that backstory, and if Star Tours is anything to go by, we're hitting just the tip of the interstellar iceberg: we should expect more morsels of information to drop (maybe even during the ride's new segment), along with more appearances of Batuu in all the other Star Wars media, including the comics, videogames (hey — Star Wars: Battlefront II also drops today!), and, even, the movies themselves (the still-untitled Episode IX is scheduled for release just a few months after Galaxy's Edge bows to the public).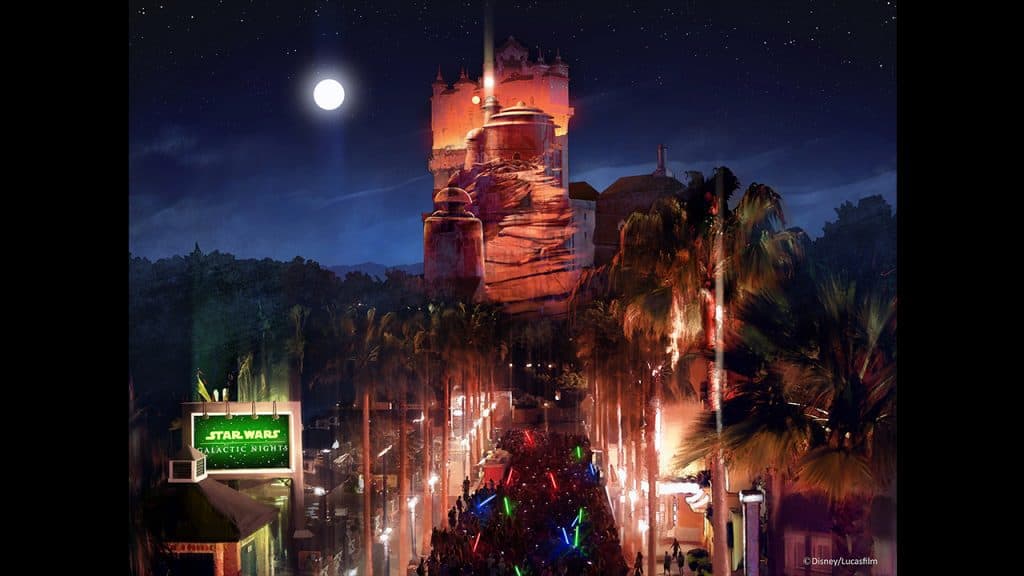 As for Hollywood Studios, Disney's specific cross-pollination within its theme-park empire continues full speed ahead. It was also announced this morning that Star Wars: Galactic Nights, an after-hours hard-ticketed event scheduled for December 16 (that's one day after Episode VIII hits theaters), will feature Luke Skywalker's hut on the beautiful and remote planet of Ahch-To, the site of the very first Jedi Temple and the setting of The Force Awakens's dramatic climax. Given that the Hollywood Studios event will also feature a mini-projection-mapping show called Star Wars: Galactic Destinations, using the Hollywood Tower Hotel as a canvas to display a number of stunning locations from across the galaxy, we might well be looking at Batuu's next appearance already.
–
Want a complete rundown of Batuu, its experiences, and its inhabitants? Be sure to see our complete guide to Star Wars: Galaxy's Edge.
And for even more on Disney's various (interconnected) Star Wars attractions, follow Orlando Informer on Facebook, Twitter, and Instagram.