Let's get the big news out of the way first: Halloween Horror Nights, the nation's premiere Halloween event, is returning to its roots this year by having an icon preside over the entire ordeal. Even better, for the first time this icon is going to be none other than Chance, Jack the Clown's lady-friend who helps him pick out and then prepare his victims for torture (and who, it must be said, bares more than a passing resemblance to Harley Quinn, the famed supervillain from DC Comics who will be getting the big-screen treatment for the very first time in this summer's Suicide Squad).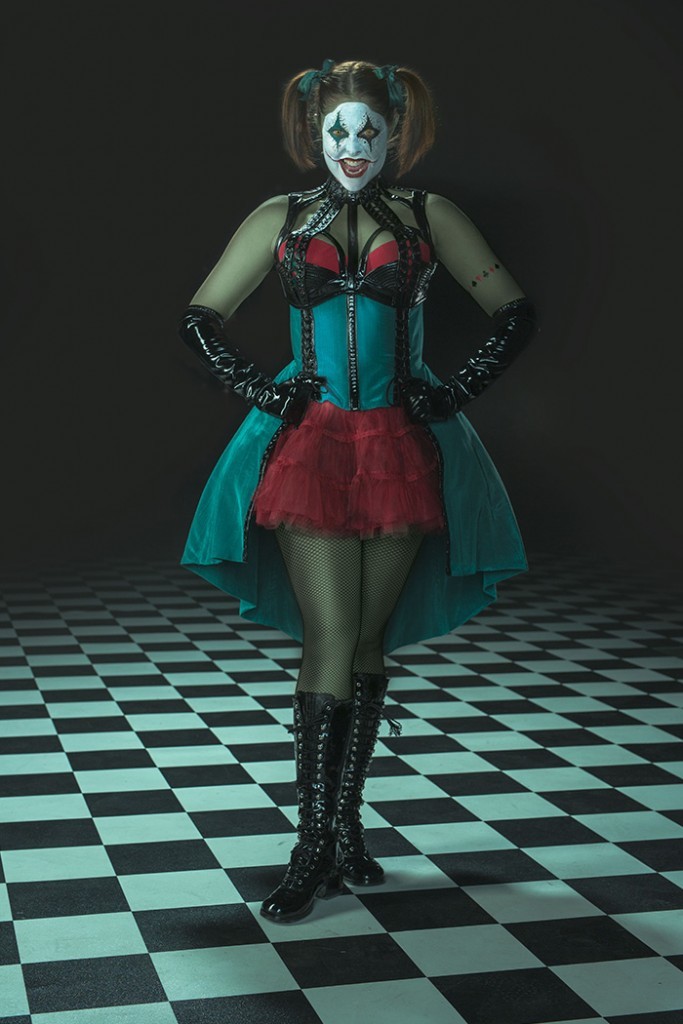 This is actually a fairly major announcement, one that not only promises to make this year's HHN something truly special but which also just might portend even more similar developments. For all those new to the Horror Nights fold – and for those diehards who might enjoy reliving all their past trauma – we've compiled this quick primer on Chance's past and all the little pieces of foreshadowing that Universal has dropped for her future.
Let's get to it, shall we?
The backstory
Chance made her grand debut at Halloween Horror Nights 17 (that's way back in 2007, for all you numerically challenged), appearing as the not-so-lovely assistant to Jack the Clown, a former-clown-turned-serial-killer-turned-supernatural-entity. Originally appearing in a live show – "Jack's Carnival of Carnage," which had her (what else?) help Jack torture people on stage – she has been brought back several times since, being featured in everything from scare zones to alternate-reality games to marketing materials.
Jack, of course, is Horror Nights's most famous character, a popularity which originated with his being the event's very first icon (a kind of mascot that serves as the chief symbol and central narrative device of the whole proceedings). But by the time Universal entered the current decade, it mostly eschewed the practice of utilizing icons – until last year's 25th anniversary, which saw Jack being resurrected to serve as the face of HHN once again. Chance, of course, was brought back right alongside him, most prominently being featured in the "Carnage Returns" show that served as a type of mirror production of the original '07 performance.
The stage show was an immediate success – and, perhaps, the unintentional catalyst for the premise of this year's Halloween Horror Nights.
What's new for this year
Speaking on Universal Orlando's official blog, Mike Aiello, the Director of Entertainment and Creative Development at Universal Orlando (and the head honcho of Horror Nights), has said that this year's event will literally pick up exactly where last year's left off: Chance has been arrested and thrown into a cell for all the carnage she unleashed during her latest killing spree with Jack the Clown. However, as Mike says:
This is not a tragedy for her. This prison is a toy box. It's within the confines of her cell that she enters her horrific "theatre of the mind." She knows that the acts committed inside her mind will manifest in the real – both equally deranged and gothically beautiful.
This Silent Hill-esque dichotomy between reality and Chance's deranged fantasies will serve as the very premise behind HHN26, with all nine of the haunts (yes, Universal today slipped in the confirmation of the number of haunted houses) and scare zones all taking place "within the confines of [Chance's] terrifying theatre."
The clash of – and confrontation between – these two worlds will also go on to serve as the basis of Chance's very own maze and scare zone, which Aiello confirmed were going to occur on Twitter; he even went so far as describing these experiences as being like fever dreams. It sounds positively deranged – and we couldn't be more excited about either the event's overriding narrative or the actual scares.
Oh, yeah – one last thing…
Lest we forget to mention it amidst all this hype and hoopla, tickets for Halloween Horror Nights 26 started to go on sale today at Universal's site, as well. As always, there's a lot of options, most of which are overwhelming, so please be sure to check out our special guide to tickets, Express Passes, and RIP tours. That should help lay everything out, typically in painstaking detail.