Welcome! We're deep into our examination of Walt Disney World and Universal Orlando. This third round covers our final six topics, which we'll compare between the two resorts to find out which (if either) does it better. We'll also give our thoughts on ways that they both can improve the guest experience.
So far, after going through our first 11 subjects, Universal and Disney stand tied (we ignore those areas where there is no clear winner). This makes this the tie-breaker round!
Get caught up by reading the first and second articles. I'll just get a coffee and wait here – no rush.
A note about 2020
This article was written during the COVID-19 pandemic of 2020 and 2021. Both Universal and Disney have had to make operational adjustments during this time. We looked at this post from a "when everything is running at full capacity again" angle but noted coronavirus-related operational adjustments that will be happening until well into 2021.
1. The resorts' official websites
The official websites of the theme-park resorts are your second stops for vacation planning – obviously, Orlando Informer is your first visit (just paying the bills, folks!). Disney World's site is robust and photo-friendly, though it does have some navigational quirks. We find it's easier to use the links at the top of the page to find what you want, rather than scrolling the main page – it takes some getting used to.
Universal's site is streamlined, with defined categories (such as parks/hotels) and pics. This is easy to navigate and to understand. Disney's main page feels like a bunch of photos with no context as to where those photos take you; Universal has a "Deals and Specials" tab, which can be helpful if you're looking for a quick listing (though you may want to read this before booking anything).
Ultimately, both sites take some time to learn how to navigate.
Verdict: Universal
Having the main topics on the front page – rather than a semi-hidden menu – is a big plus.
Room for improvement: Disney
A "Deals and Specials" tab, or central location to find promotions, would be helpful.
2. The resorts' official apps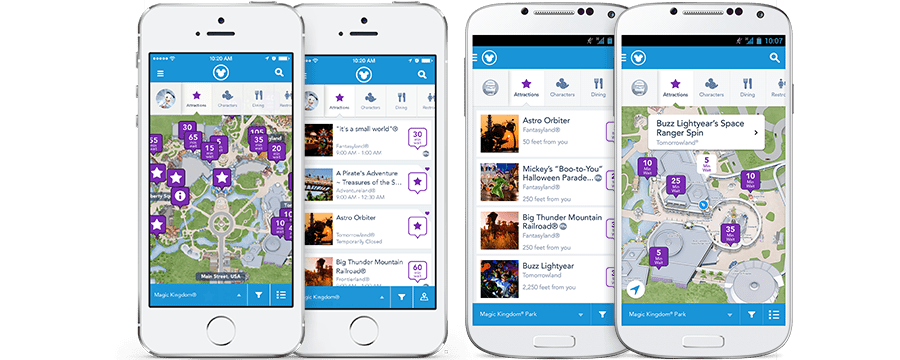 Tapping around the official resort smart-phone apps is an essential part of your visit. The My Disney Experience app lets you book FastPass+ reservations and manage your MagicBands. While FastPass+ is currently not being used until late 2021, the app also gives you so much more – wait times, show times, mobile food ordering, maps, and the ability to purchase tickets. And another key Disney World app is Disney Play, which provides trivia, games, and playlists, as well as unlocking interactive elements inside the Star Wars: Galaxy's Edge land.
Universal Orlando's official app lets you reserve a spot in Virtual Lines, order food, and check showtimes. The app gives you info and provides convenience, but it has no entertainment offerings. It's a missed opportunity for storytelling and engagement.
Verdict: Disney
While it may be a hassle to have two apps, they perfectly complement each other – information/access on My Disney Experience and entertainment/enjoyment with Disney Play.
Room for improvement: Universal
Adding games when you're in line for specific attractions – Jurassic Park trivia, Fast & Furious car-part information – would be a fun addition.
3. Value hotels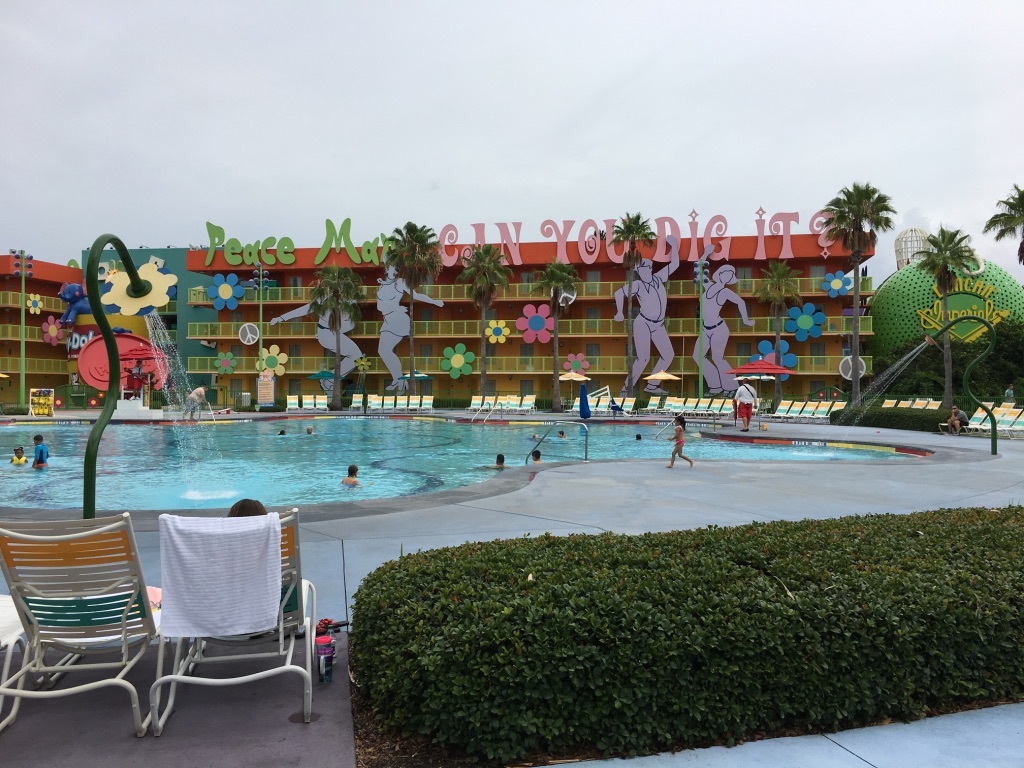 Both Walt Disney World and Universal Orlando offer deluxe and moderately priced hotels, but, for this article, let's say you just want the least expensive place to crash. At Disney, this is Art of Animation, Pop Century, and the All-Star Resorts. These motel-style properties offer no-frills accommodations, featuring pools, food-court dining, and buses to the parks. All of them are themed, but not to the level of, say, Animal Kingdom Lodge.
Universal's value hotels are Cabana Bay Beach Resort, Aventura Hotel, and the new Endless Summer Resort complex. These venues are well priced and feature nice theming that doesn't feel "value." They come with some fun amenities, like lazy rivers and rooftop bars. And, geographically speaking, the Universal value resorts are closer to their parks then the Disney ones are to theirs.
Verdict: Universal
The theming of Cabana Bay has set a new standard for the budget category. Also – bowling alley!
Room for improvement: Disney
New value hotels that upgrade the theming would tip the scales towards Disney as the accommodation king.
4. Attraction-specific merchandise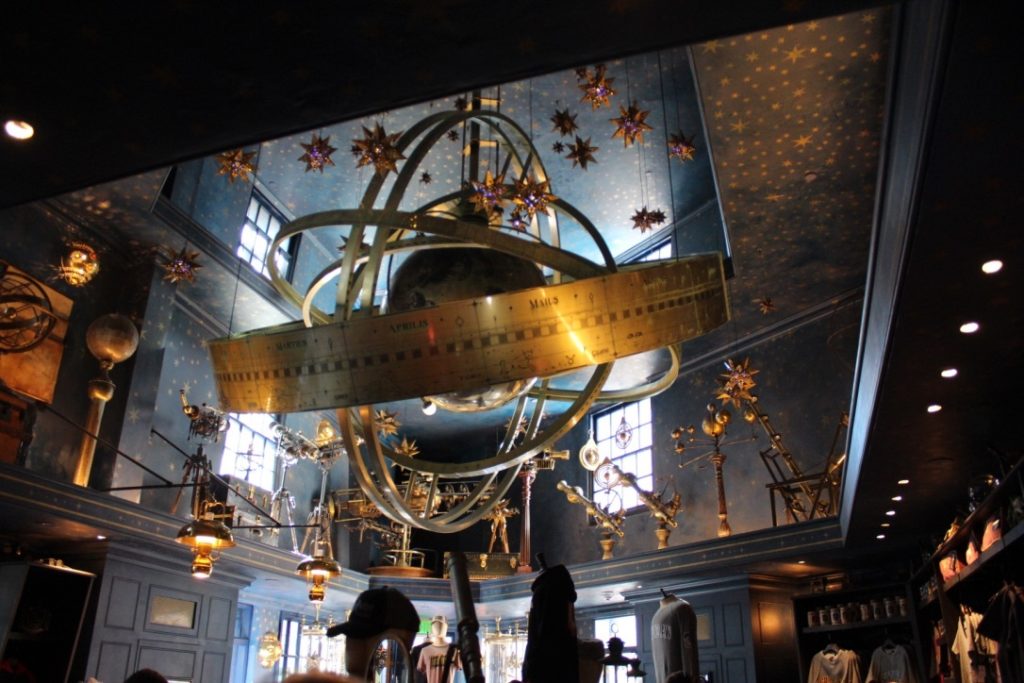 Sometimes, you want more than a (resort name) and (year) shirt or mug that you could pick up at the airport. Attraction merchandise is a relatively untapped opportunity.
Universal got this rolling with The Wizarding World of Harry Potter – house robes, scarves, wands, and hundreds of other items. Outside of that, however, there is little attraction-specific merch. I can get a Skull Island: Reign of Kong shirt, but not an E.T. Adventure one – only generic E.T. stuff.
At Disney, you can get a Banshee in Pandora – The World of Avatar or your own Jedi robes in Star Wars: Galaxy's Edge. And while you can purchase any number of The Twilight Zone Tower of Terror shirts, there is zip for Jungle Cruise.
Verdict: draw
While the newer, immersive theme-park lands thrive with attraction/land merch, individual rides are a mixed bag.
Room for improvement: Disney
There's opportunity for smaller, specialized attraction paraphernalia – Kilimanjaro Safaris, Soarin', or Jungle Cruise. (Yes, I just want a Jungle Cruise shirt. [Not sorry.])
5. Parking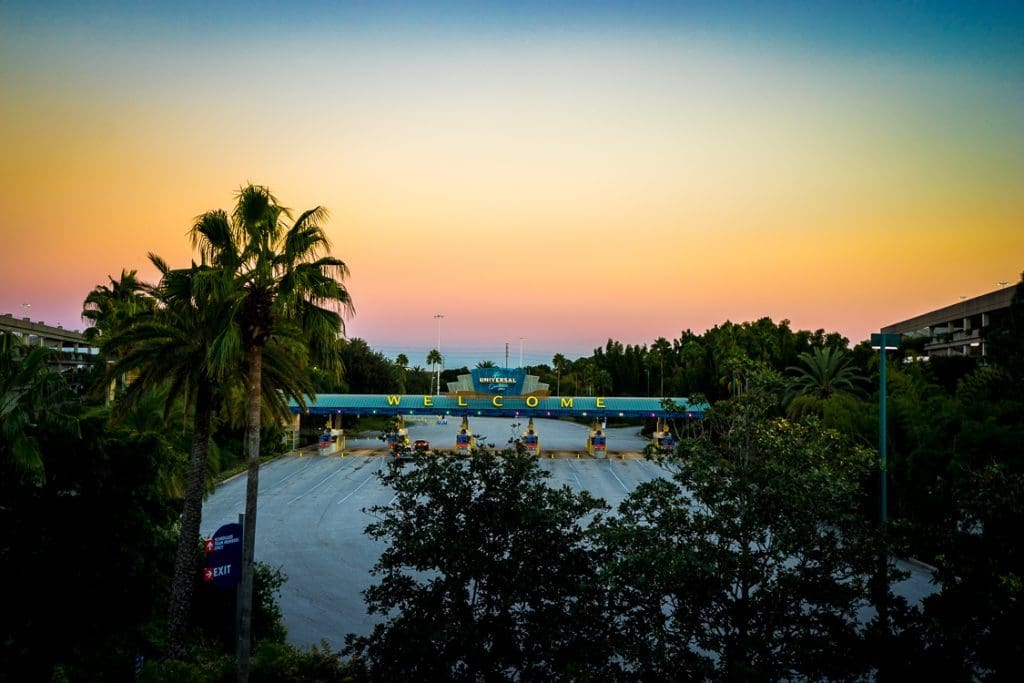 Universal Orlando and Disney World have significantly different parking set-ups.
At Universal, you're sent into a massive maze of a parking structure. Once you've parked, there is a nice hike to the official entrance to the resort. Covered escalators, stairs, moving walkways, and elevators will get you there.
Disney parking consists of massive parking lots outside of the theme parks, with the exception of Magic Kingdom; here, you park your car, take a tram, go through security, then take either a boat or the monorail to the park's entrance. (Due to COVID-19, all Disney parking lot trams are currently closed, meaning… a long walk to the park entrance.)
While walking through the parking lot in the morning may be fun, the same can't be said after a long day in the park. With little ones. And souvenir bags. (You get it.)
Verdict: Universal
Universal has a slight edge due to the mostly covered walk to/from your car, and you don't need to trek the massively sized Disney World lots with zero tram service.
6. Attraction lockers
Many Universal Orlando attractions – Men in Black Alien Attack, The Incredible Hulk Coaster – have no room for bags; before boarding, guests must place their belongings in free storage lockers, located near the rides. The process of finding a locker, putting your stuff inside, and then, afterwards, getting your stuff out can take time. Repeat this process throughout your Universal day, and the lockers become yet another thing you're waiting for.
Walt Disney World does not have any thrill attractions with required locker use; there is designated "space" on Mission Space and Avatar Flight of Passage for bag storage.
Verdict: Disney
Room for improvement: the guest
To make Universal's locker process easier, go with smaller bags (or none at all!) that can fit inside one locker. Leave the shopping until the end of the day, so you're not shoving souvenir bags into the lockers, too.
---
With a final score of three to two (not including the draw, of course), Universal is the victor in round three – and the overall winner of all 17 categories, with a grand total of seven to Disney's six. Now, let's see how things change as we continue to move forward, into 2022 and beyond.
What are your own picks? Head on over to either our Universal Community or Disney Community on Facebook to let thousands of other fans know. And then be sure to follow Orlando Informer on Facebook, Twitter, and Instagram for the latest news and tips at Universal Orlando, Walt Disney World, and other Orlando attractions.