Starting at the US Travel Association's IPW convention, which is currently being held in New Orleans, and continuing on its official blog, Universal has finally gone ahead and started to divulge some first-ever specific details about Volcano Bay, its brand-new, next-generation water park that it's been billing as its third park at Universal Orlando.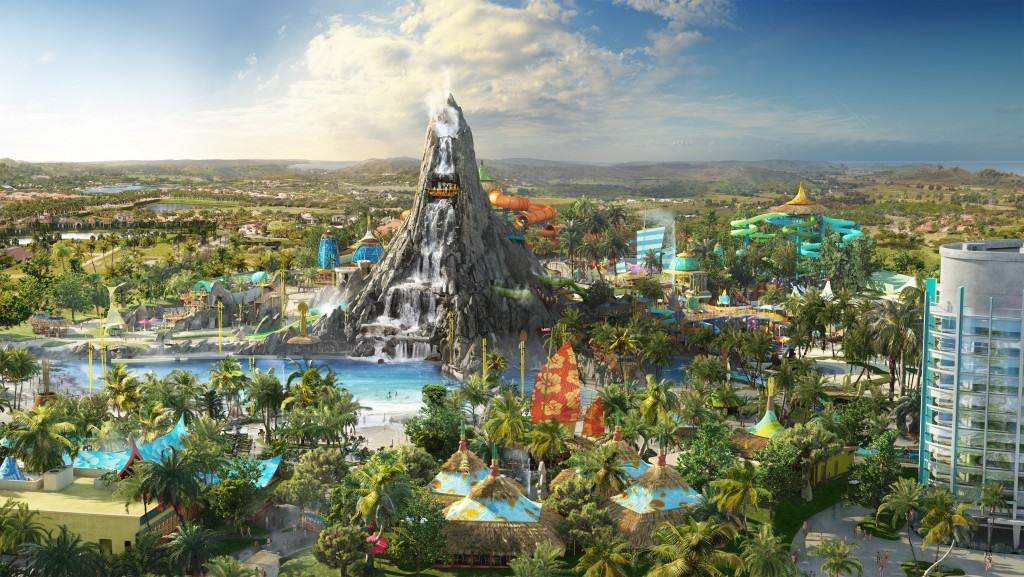 According to the Orlando Sentinel, which was present at this morning's presentation, among the first confirmations was the little nugget that the water park will contain 18 (!) unique attractions.
Additionally, international tickets for Volcano Bay go on sale soon. Tickets will be sold in the form of a brand-new, 3-Park Explorer ticket valid for travel dates beginning June 1, 2017. The tickets will be sold on international websites and via travel professionals. Other ticket options will be announced at a later date.
But that's nothing compared to the bevy of reveals that the company directly unveiled on its own website, including Volcano Bay's backstory, the breakdown of its four lands, and the names and premises of its various water slides.
Ready to dive in? Hold your breath – there's a lot to get into.
Universal's Volcano Bay's story
"Water is life. Life is joy."
This seems to be the tagline for Universal's newest creation. Guests will visit the Waturi islanders, who call the Pacific isle of Volcano Bay their home. The water of Volcano Bay is, of course, enchanted – it holds the secret of time, which the Waturi have discovered.
The Waturi found that by spending every waking second doing the things you love, with the people you love, it is possible to make happiness last indefinitely.
In summer 2017, you'll have the opportunity to experience "Waturi time." Universal is dubbing Volcano Bay an "adventure-drenched water theme park filled with thrills and relaxing indulgences." The best part? According to the promotional material released, "no standing in long lines. No wrestling with tubes. No waiting for the fun to begin."
The third theme park will have resort-like amenities, such as concierge locations and lockers. Expect highly-themed restaurants and bars located throughout the park, offering signature food and beverage options with impressive volcano views.
Universal's Volcano Bay's layout and attractions
As mentioned before, the water park is divided into four different areas:  the Volcano (Krakatau), Wave Village, River Village, and Rainforest Village. Just as at a traditional theme park, each section has its own individual characteristic or unique attractions.
https://www.youtube.com/watch?v=PZ-tKJf5tGI
Unlike other parks, however, one giant, all-encompassing lazy river, named Kopiko Wai Winding River, seems to connect all the various water slides one to the other, so that guests won't have to hoof it on hot concrete from one ride to the next, and Kopiko Wai even enters the titular Krakatau, the mighty fire and water volcano, at several different points; it's long been rumored that dark-ride components will be housed here, and, if true, this would easily make the Winding River one of the flagship attractions at the park. The front gate will be located right next to the brand-new Cabana Bay Beach Resort towers, which are under construction at the moment, and right behind that will be the massive wave pool on Waturi Beach that has previously been featured in the original concept art from last year.
KRAKATAU
Universal Studios Florida has the globe. Universal's Islands of Adventure has the lighthouse. Now, a mighty fire and water volcano, named Krakatau, will tower over Universal's third park.
This unique park icon will change as day turns to night: during the day, it will feature streaming waterfalls; at night, Krakatau begins to burst lava into the night sky.
More than aesthetics (as impressive as they may be), the 200-foot volcano also houses three "pulse-pounding" water slides, which are all located to its rear.
Ko'okiri Body Plunge
Of course the volcano has a god – Vol, who is honored by taking the "incredible" Ko'okiri Body Plunge. Brave a 70-degree fall through a drop door and then shoot down a 125-foot slide, followed by "a watery tribute from Vol himself." Oh, yeah – Ko'okiri also has the distinction of being the world's first slide to travel through a pool filled with other swimmers.
Kala and Ta Nui Serpentine Body Slides
A pair of trap-door water slides, guests plunge simultaneously down Kala and Ta Nui, the sea and sky, with their 124-foot tubes intertwining amongst one another.
Punga Racers
A kiddie-friendly ride (a nice variation after the two decidedly adult water slides), Punga Racers is a four-lane, single-rider slide that has guests race one another on their manta ray mats.
But wait, there's more!
A "state-of-the-art marquee attraction found only at Volcano Bay" will be announced at a later date. It's expected to be the aforementioned water slide with dark ride elements that will call the Krakatau home.
WAVE VILLAGE
Located at the base of Krakatau volcano, this village is a "peaceful escape" that doesn't feature any slides but does boast the park's only swimming pools.
Waturi Beach
Featuring both a multi-directional wave pool and a sand beach, Waturi also features private one- or two-story cabanas (that, yes, look exactly as posh as you'd expect).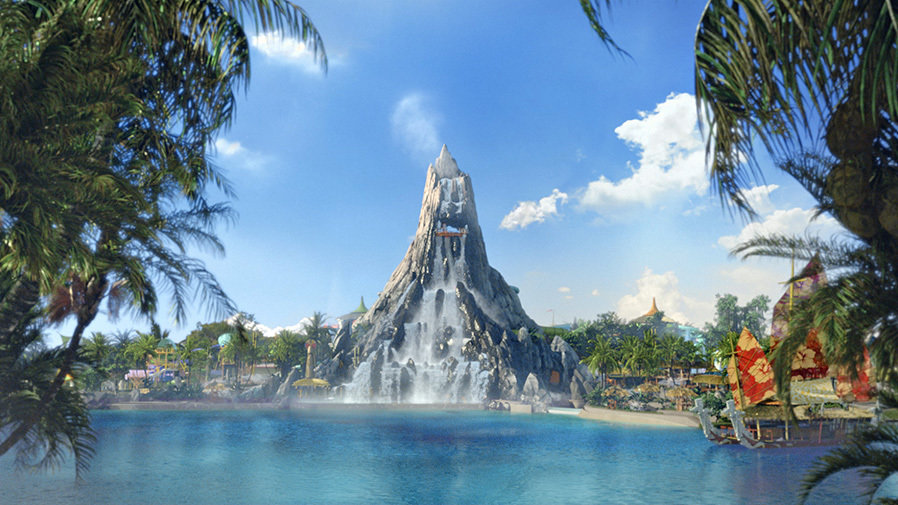 The Reef
Situated right next-door to Waturi's wave pool, The Reef is a "leisure pool" meant for relaxing – and for watching those brave riders hitting the Ko'okiri Body Plunge slide.
RIVER VILLAGE
Slides, slides, and more slides await at River Village, which doubles as the kiddie area of the water park.
Honu and Ika Moana
Honu, the sea turtle slide, sweeps across a massive dual walls, while Ika Moana, the whale slide, sprays water on riders from the center of the raft. These two interconnected slides pay homage to the ancient Waturi history of riding the ocean waves on – what else? – friendly sea turtles and whales.
Tot Tiki Reef
A toddler play area that features spraying Maori fountains and kid-sized water slides and, even, a volcano.
Runamukka Reef
Another (three-story) playground, Runamukka Reef is meant for older kids; its watery wares include kid-friendly slides, water guns, dump cups, sprinklers, and bubbling geysers.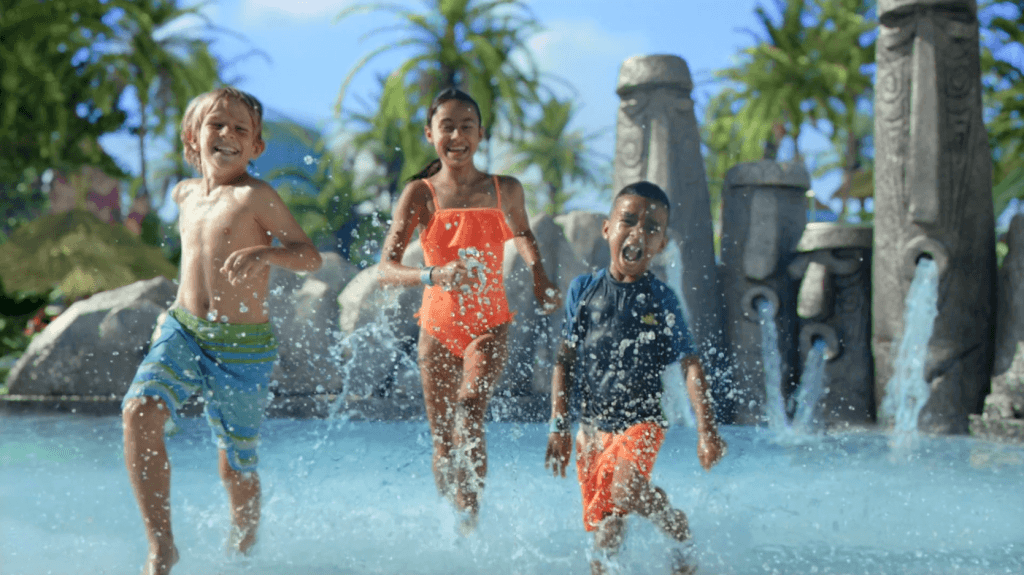 Kopiko Wai Winding River
The omnipresent lazy river enters Stargazer's Cavern here in River Village, revealing the magic night above (not unlike Knockturn Alley in The Wizarding World of Harry Potter – Diagon Alley).
(Fun note: Kopiko also passes through Krakatau's hidden caves, which feature "spontaneous water effects.")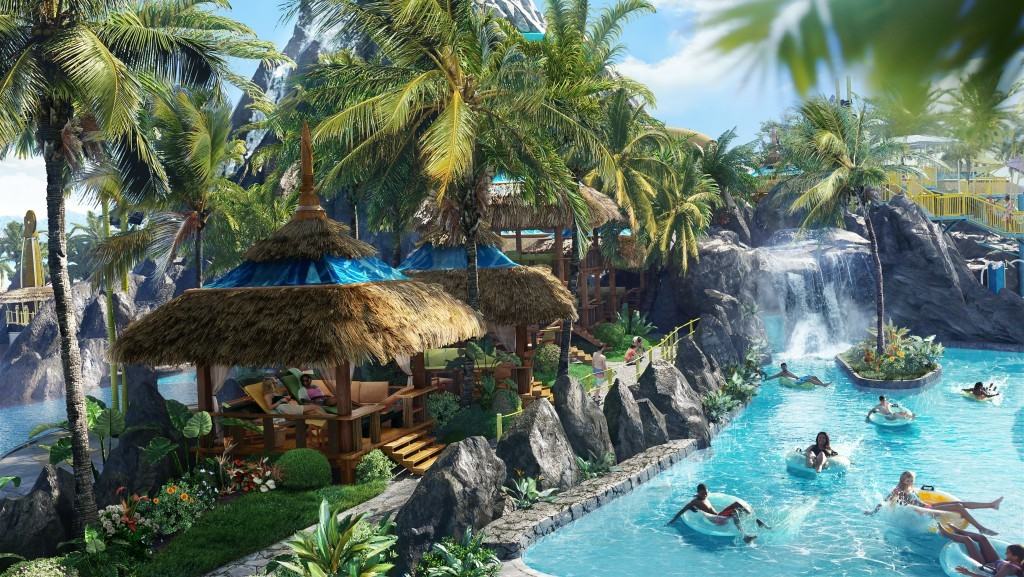 RAINFOREST VILLAGE
The fourth and final land, this one is reserved for the thrill seekers – Universal's favorite demographic.
Ohyah and Ohno Drop Slides
Another pair of water slides, Ohyah has guests climbing a cliff, twisting down a slide, and then plummeting four feet above the pool below; Ohno, meanwhile, is accessed via a rope bridge and spits riders out six feet above the pool.
Maku and Puihi Raft Rides
These "lava tubes" feature six-person rafts that can go down one of two different paths:  Puihi (wild) features dark, winding tunnels and a zero-gravity drop; Maku (wet) careens through a deep volcanic gorge and spins around "bowl-like formations," making it the first "saucer ride" in North America.
TeAwa, the Fearless River
An inner tube slide that plunges guests into churning rapids and choppy waves in a loose recreation of a whitewater ride.
Taniwha Tubes
Four twisting tracks (for either single- or double-riders) offer slightly different paths down, but all seem to fall prey to "mischievous" Moari statues that spray jets of water "when you least expect it."
Puka Uli Lagoon
Because every thrill ride-laden land needs a tranquil pool for swimming and relaxation, right?
Universal's Volcano Bay: Other important information
Beyond the official reveals, Universal had a few more specifics to offer up. Volcano Bay will be 28 acres in size (which is actually comparable to Disney's two water parks, Typhoon Lagoon and Blizzard Beach, minus their parking lots and back-stage areas), and it'll feature various amenities – such as dining – all throughout, eliminating the need for guests to leave their surroundings and bottleneck in one specific location (usually at the front of the water park).
Additionally, Universal Orlando executives promise that Volcano Bay has been designed to save guests from carrying around water tubes (where the omnipresent lazy river no doubt comes into play) and to also keep wait times to a minimum (perhaps the first sliver of a confirmation that the park will feature a Walt Disney World-esque MagicBand system, which rumors have been suggesting for the past year or so).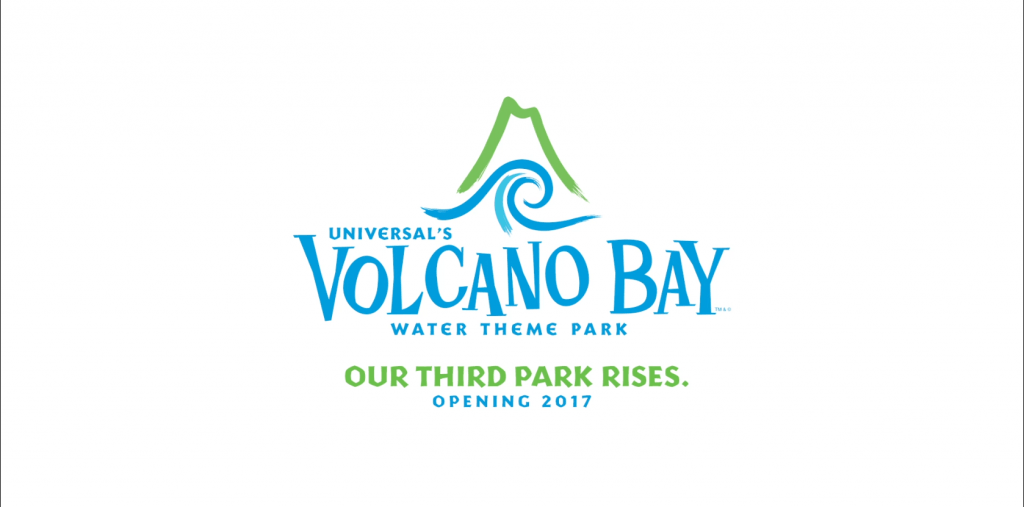 Finally – and most tantalizingly – comes word that the central Krakatau section of the park will contain a secret attraction, the likes of which are supposed to be equally unique and exciting. Color us intrigued.
Want even more on Volcano Bay? Be sure to check out the biggest Easter eggs from the original concept art and our wish list of the park's offerings.
What do you think of Volcano Bay so far – disappointing? Exciting? Share your thoughts in the comments below.