My favorite saying is, "I just don't want to look back one day and think, 'I could have eaten that!'" Nowhere does this play out more than when I am visiting Universal Orlando Resort. From arrival to departure, I am in constant pursuit of my next gastronomic delight. Each trip, I make a must-eat list, the way some people make to-do lists, and it usually contains seasonal items as well as familiar favorites.
But I've also created another, special list, one that only features offerings that are available on a regular basis. And for extra fun, I even tasked myself with arranging them alphabetically, with one item standing for each letter.
Here, then, are my ABCs of Universal Orlando treats, both savory and sweet:
A for Artic Coke Cooler
This is available in the UOAP Lounge, the annual passholder-exclusive venue located in the Hollywood backlot. The Artic Coke Cooler crystalizes 20-ounce Coca-Cola beverages for even cooler, crisper, ice-cold refreshment.
This one is kind of a two-fer. You get a cold drink and an experience – after choosing your product, you get to watch it crystalize right before your eyes. (I highly recommend the Powerade on a hot Florida day.)
B for Butterbeer Potted Cream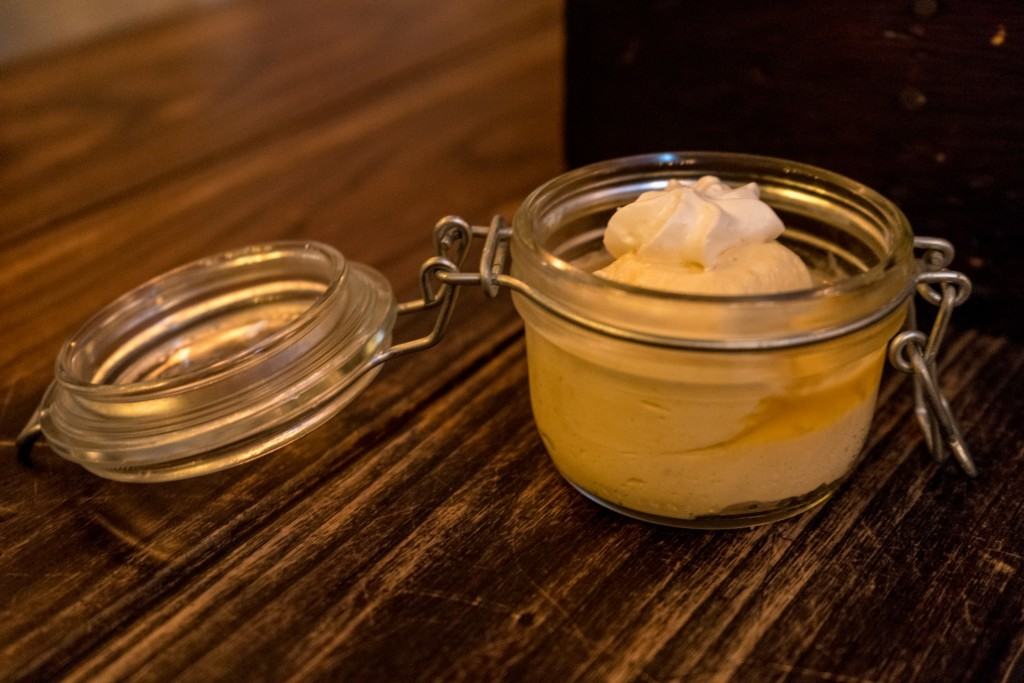 If you like your treats sweet, cold, and creamy, then Butterbeer Potted Cream just might become your new favorite. You can find it in either The Three Broomsticks (located in The Wizarding World of Harry Potter – Hogsmeade) or The Leaky Cauldron (in Diagon Alley).
(You can read about Butterbeer in all its delectable forms in our complete guide.)
C for churro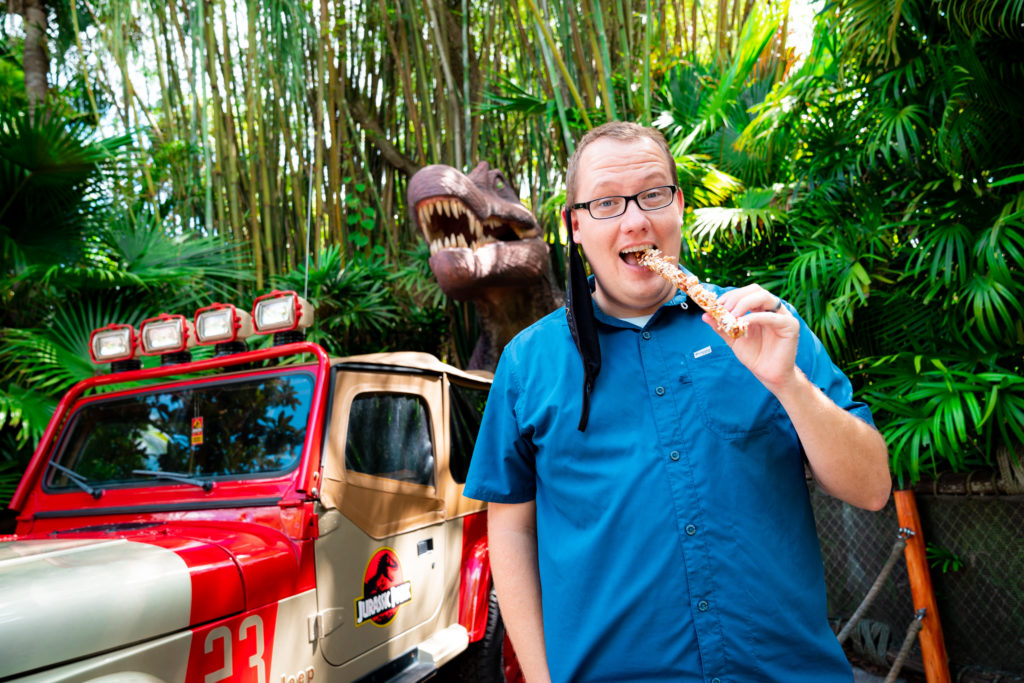 The churro at Natural Selections in Jurassic Park isn't your everyday theme-park variety – this snack stand sells a dulce de leche churro that will have you exclaiming, "Delicioso!"
D for Dole Whip Pineapple Sorbet
D is for the Dole Whip Pineapple Sorbet from Wimpy's in Toon Lagoon. I know what you are thinking – wrong park. Well, Dole Whips are not just available at Walt Disney World Resort. Wimpy's offers it straight up, or you can twist it with vanilla soft serve. (And if you're not going to be in Islands of Adventure, you can also find it at Schwab's Pharmacy over at Universal Studios Florida.)
E for elixirs
The Wizarding World of Harry Potter – Diagon Alley's elixirs come in four flavors: the Draught of Peace (berry), Babbling Beverage (fruit punch), Fire Protection Potion (watermelon), and the Elixir to Induce Euphoria (pineapple). Each is sold separately, and they can be purchased with or without a bottle of Gilly Water to mix it in.
(Read more about the elixirs and all the rest of Diagon Alley's specialty drinks in our insider's guide.)
F for fudge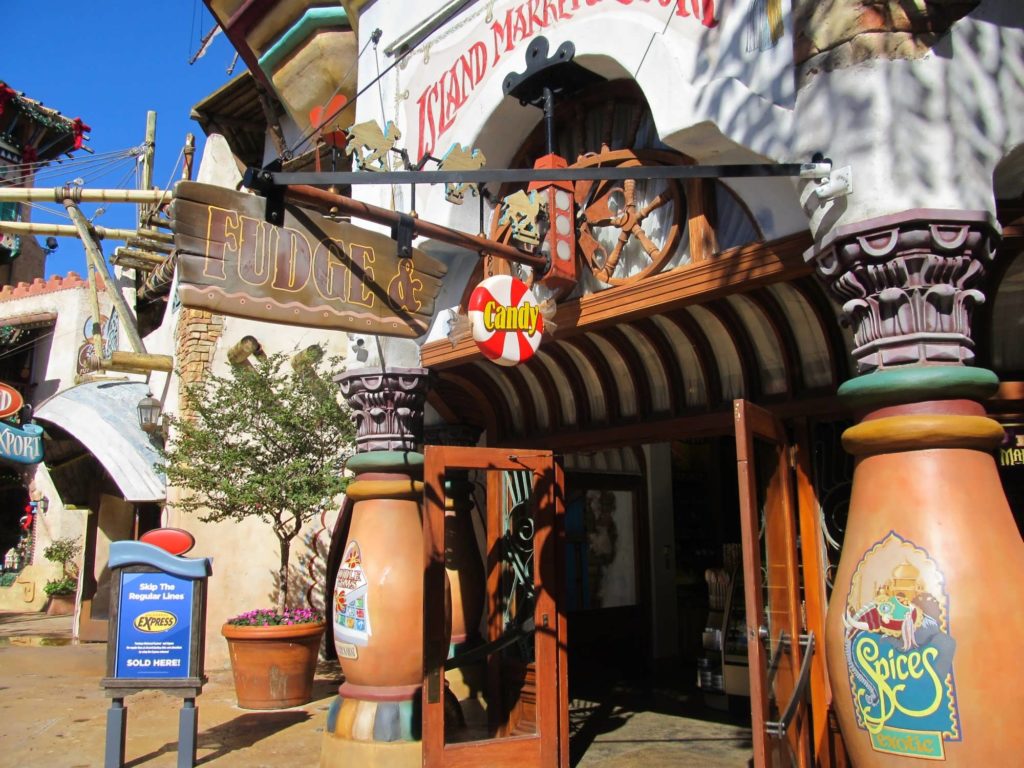 Fudge from Island Market and Export Candy Shoppe in Port of Entry has become my favorite item to pick up on going-home day. It allows me to bring a little something sweet away with me for when the Orlando Blues start to kick in. And if you are there at the right time, you can even see the fudge being made. (Fingers crossed that you are there on a day when they are making peanut butter fudge – it smells amazing!)
G for Goose Juice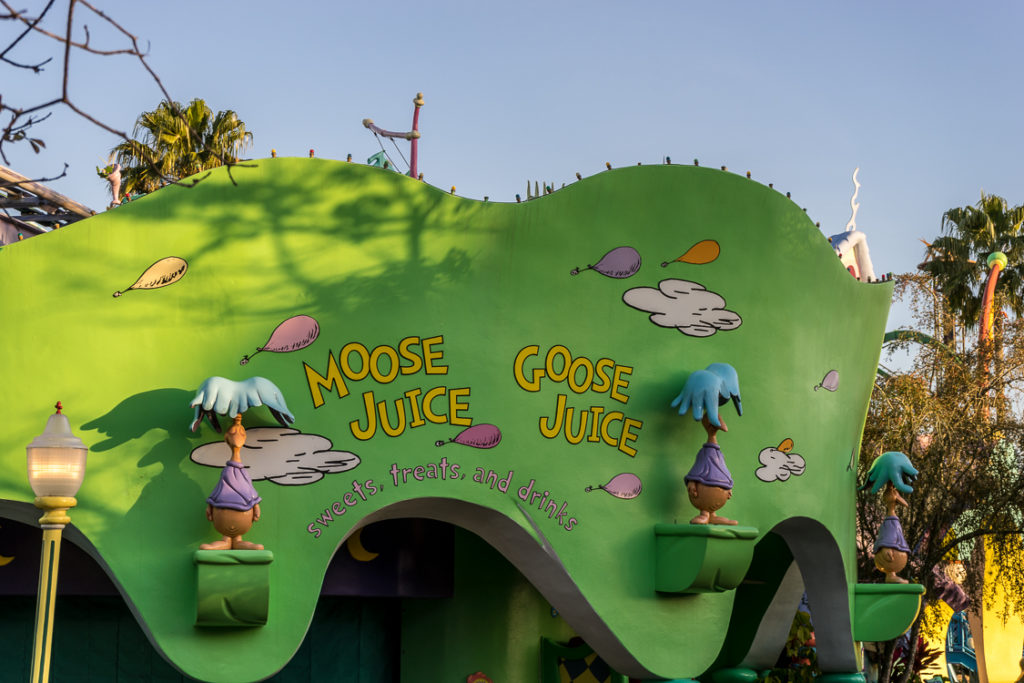 Goose Juice – which can be found at Seuss Landing's Moose Juice, Goose Juice, of course – is a sour-apple slushy that will make your mouth pucker. And if this isn't your thing, then try the Moose Juice, which is a sweet orange slush.
H for hot dog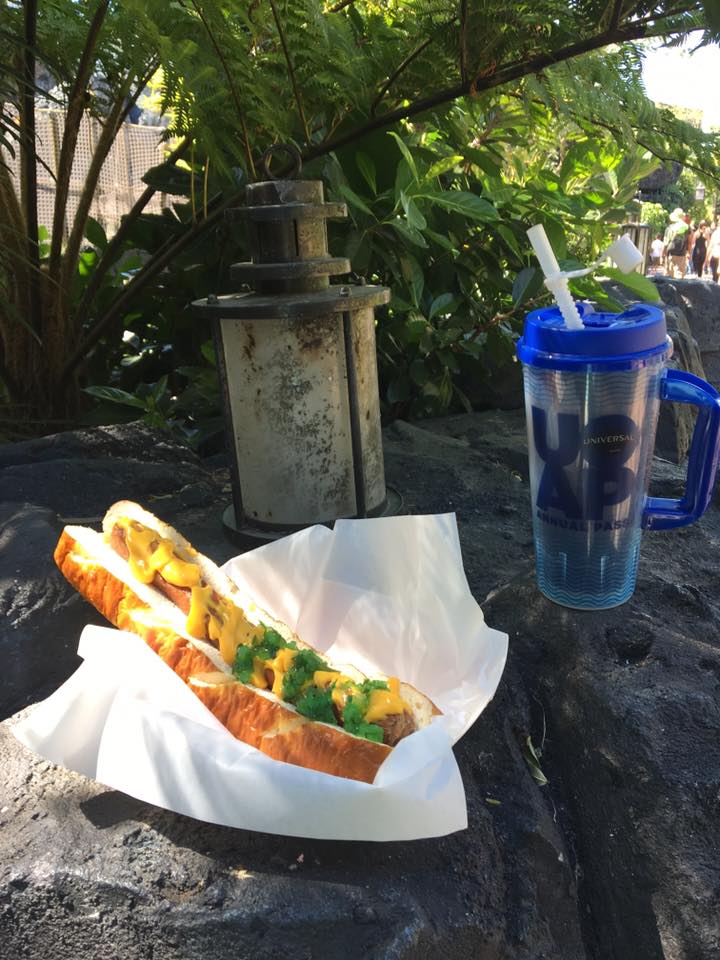 Not just any hot dog – I'm talking about the Kong Dog from the Mess Tent in Skull Island. This thing is as impressive as the gorilla it's named after: it's a third-of-a-pound dog served on a pretzel roll with relish and liquid cheese. If you can finish it, you have earned bragging rights for the rest of the trip.
(Pretzel dogs are also available at Whakawaiwai Eats in Volcano Bay – because who doesn't want to eat a giant piece of processed meat in a ton of bread while you are in a bathing suit?)
I for ice cream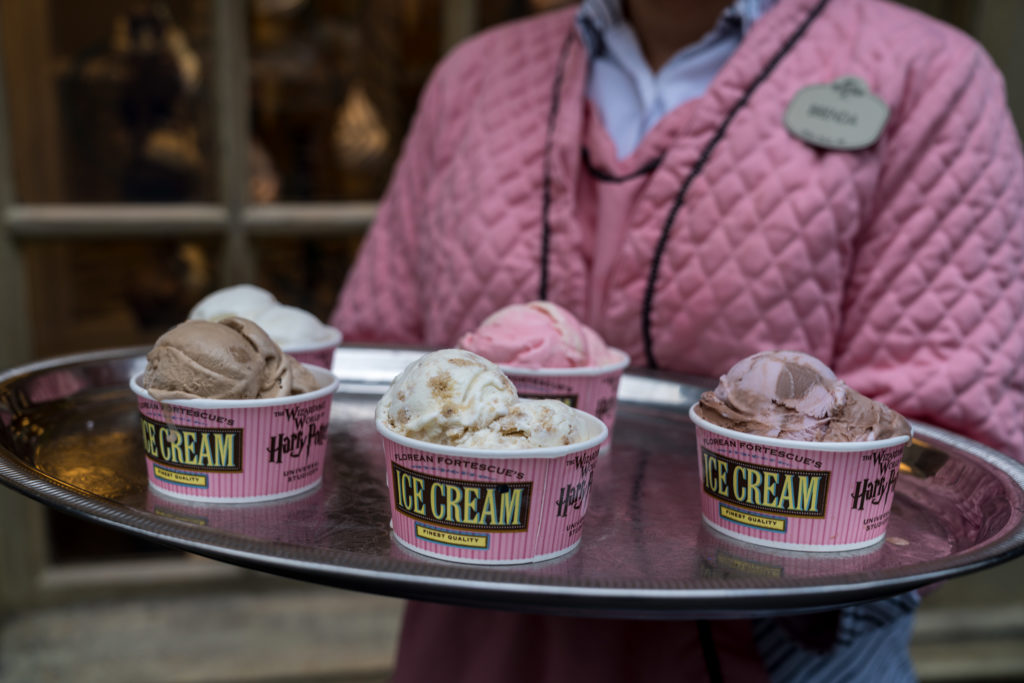 Sure, there are a lot of places to get ice cream in a theme park, but none is quite like Florean Fortescue's Ice-Cream Parlour in Diagon Alley. They serve hard-packed and soft-serve in waffle cones or paper cups – or, if you're feeling fancy, in a souvenir container. (Fun fact: the bottom screws off for more compact packing.)
Florean Fortescue's signature offering is Butterbeer ice cream, which is a magical mix of vanilla soft-serve with a Butterbeer-flavored swirl. I recommend it for second breakfast at least once each trip.
J for jumbo cookies
You may be able to pick up a cookie almost anywhere at Universal Orlando Resort, but why not head into Croissant Moon Bakery on your way in (or out of) Islands of Adventure?
And remember – you are on vacation, so why not have it with a cup of coffee and call it first breakfast?
K for key lime cheesecake
The key lime cheesecake that is available exclusively at Jurassic Park's Thunder Falls Terrace is cool, creamy, and tart. What's more, you can take it outside on the patio and watch the splashdown from Jurassic Park River Adventure. Dessert and a show – who could ask for more?
L for Lemon Squeeze
While the Lemon Squeeze from the cart in Port of Entry is an item that you can find at any local amusement park or county fair, everything for some reason just tastes better at Universal.
M for milkshakes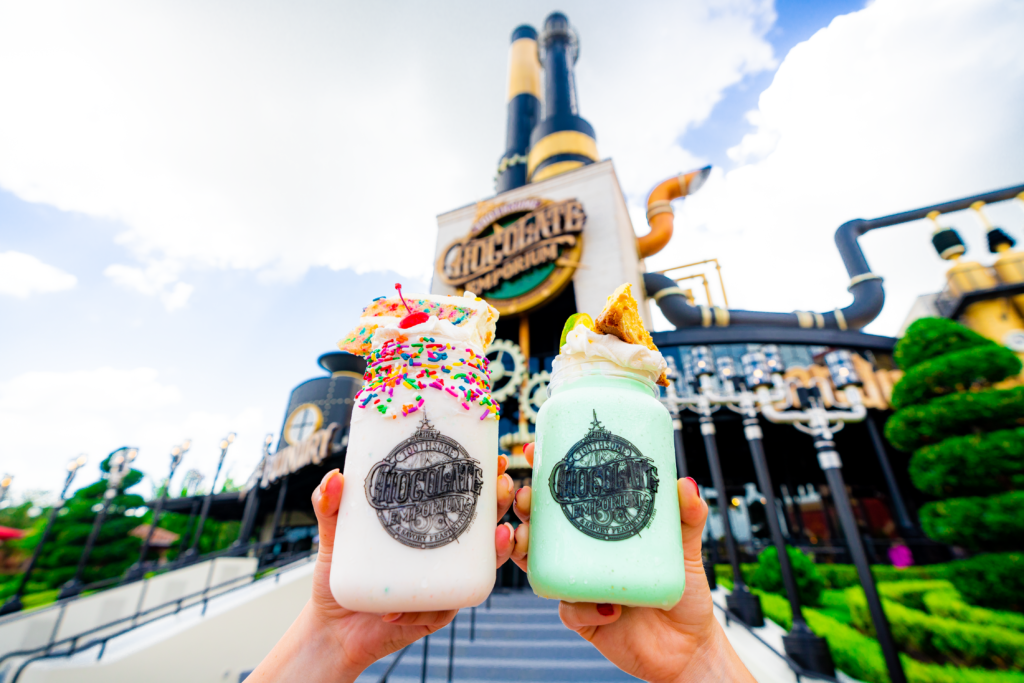 Milkshakes from The Toothsome Chocolate Emporium & Savory Feast Kitchen, located over in CityWalk, are at the top of the theme-park-treat food chain, in my opinion. These over-the-top shakes are really two desserts in one: the first being the cold, creamy milkshake itself, and the second being whatever other dessert creation it is topped with. These include marshmallow crispy treats, confetti cake, cupcakes, slices of cheesecake, and many more.
N for nachos
The Pulled Pork Nachos from Jurassic Park's The Watering Hole are not the best nachos you will ever eat, but they are a great snack to go along with whatever adult beverage you choose to get from this location.
O for Otter's Fizzy Orange Juice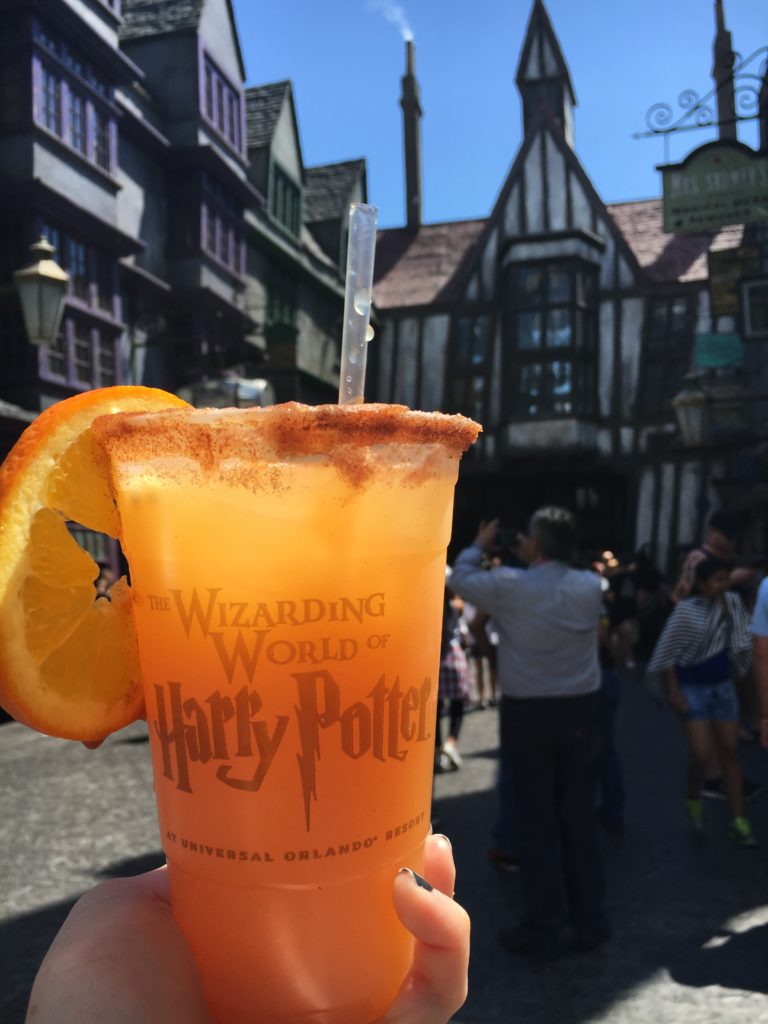 Otter's Fizzy Orange Juice, which can be found in The Wizarding World of Harry Potter – Diagon Alley, includes a stroke of genius that needs to be celebrated: a cinnamon sugar-rimmed cup. It makes for a sticky, sweet cup of awesomeness.
Want to make it even better? Sit at one of the tables at The Hopping Pot and watch witches and wizards try their hand at mastering magic with their interactive wands, especially if the mermaid fountain is activated and someone gets wet.
P for Pop Tart
Head over to the TODAY Cafe and pick up one of their Pop Tarts. These are not your run-of-the-mill boxed toaster pastries – they are homemade versions that are well worth your morning stomach real estate. The flavors are seasonal, so check back each time you visit Universal Studios Florida.
Q for Quick-Service Dining Plan
I know that this isn't really a treat, but it's worth mentioning that each Quick-Service Dining Plan card does allow you to get two snacks in addition to your quick-service meal. (Though this may still not make the dining plan worth it for you and your family – see our insider's guide for much more.)
R for roasted nuts
This treat at Snooker & Snookers Sweet Candy Cookers in Seuss Landing is sweet and crunchy and smells amazing.
S for Scotch Eggs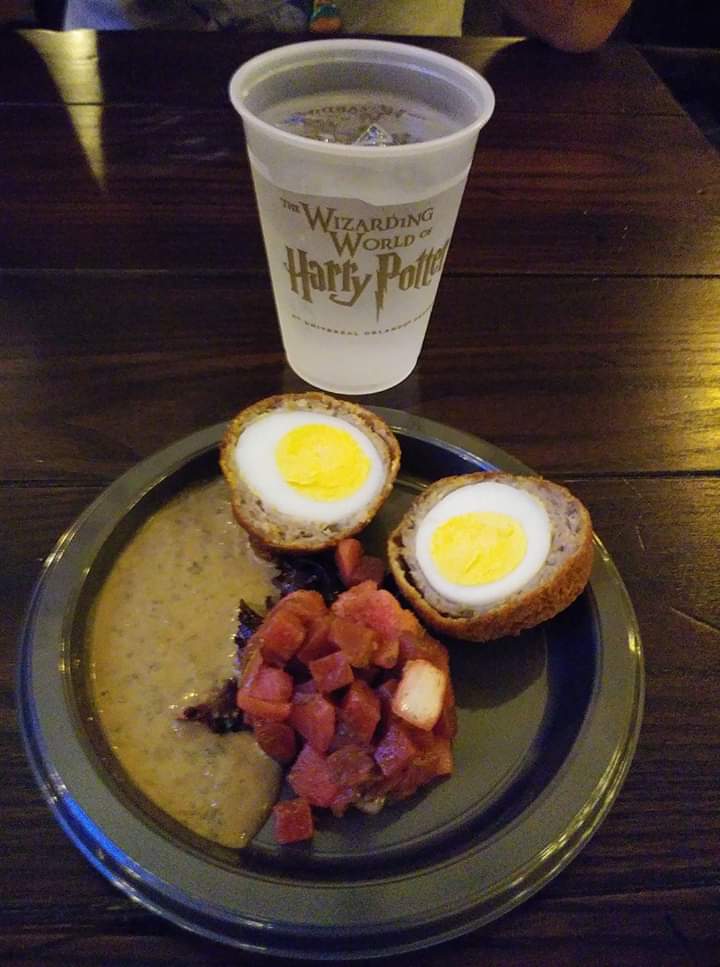 If you are in search of a savory treat, then I would recommend you give the Scotch Eggs at The Leaky Cauldron a try. You can order them any time of day, and they are listed in the side-item section of the menu. I have even been known to order them at breakfast!
T for tots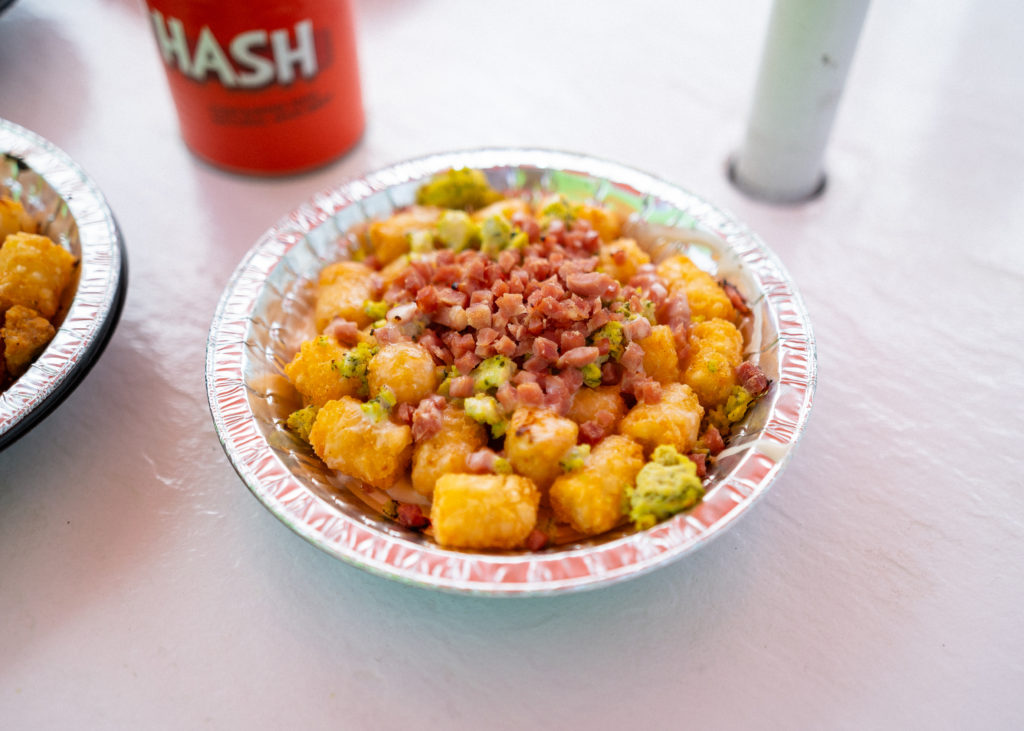 Really, who doesn't love a tater tot? But the ones from Seuss Landing's Green Eggs and Ham Café come in a few over-the-top options, like Brisket Philly and, of course, Green Eggs & Ham. And don't feel one bit guilty about stabbing someone at your table with your plastic fork for trying to steal one of your tots!
U for unlimited drink refills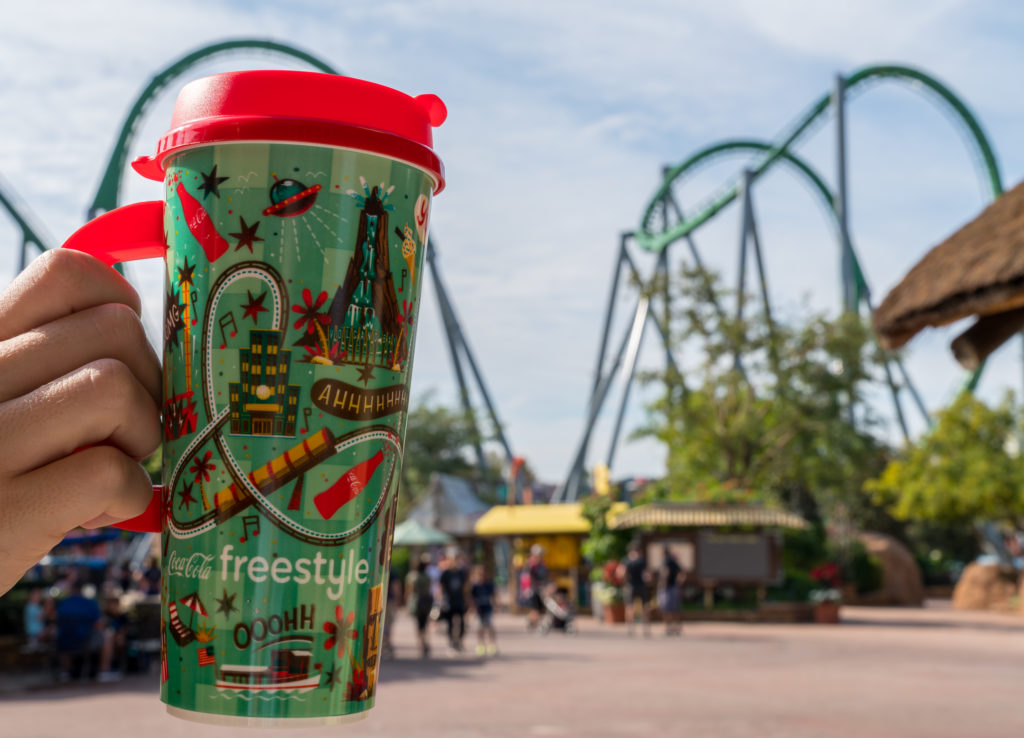 Coke Freestyle machines are located all over the three parks and CityWalk and provide the ultimate in refills. If you want flavored beverages throughout your Universal day, this cup pays for itself rather quickly.
V for Voodoo Doughnut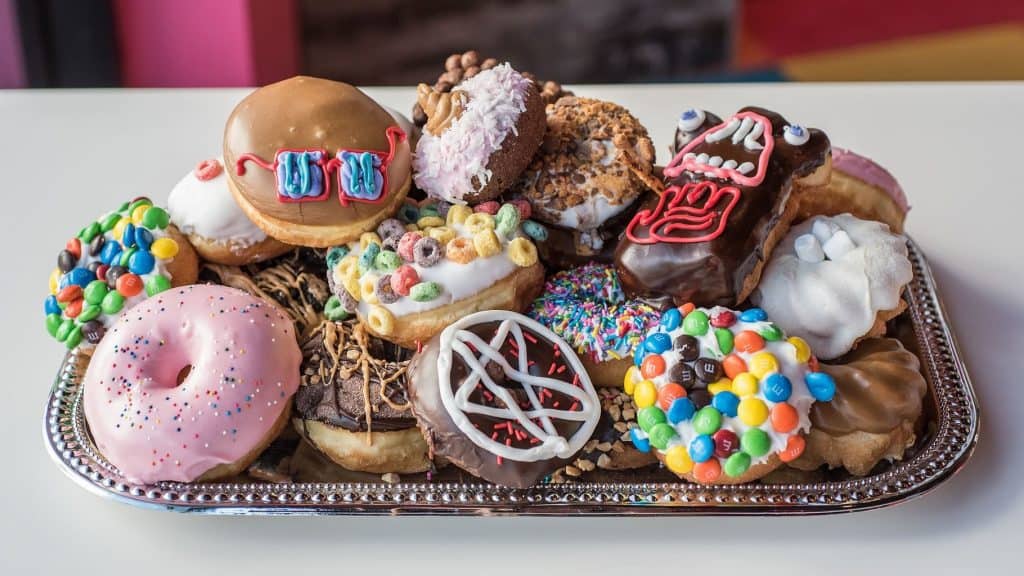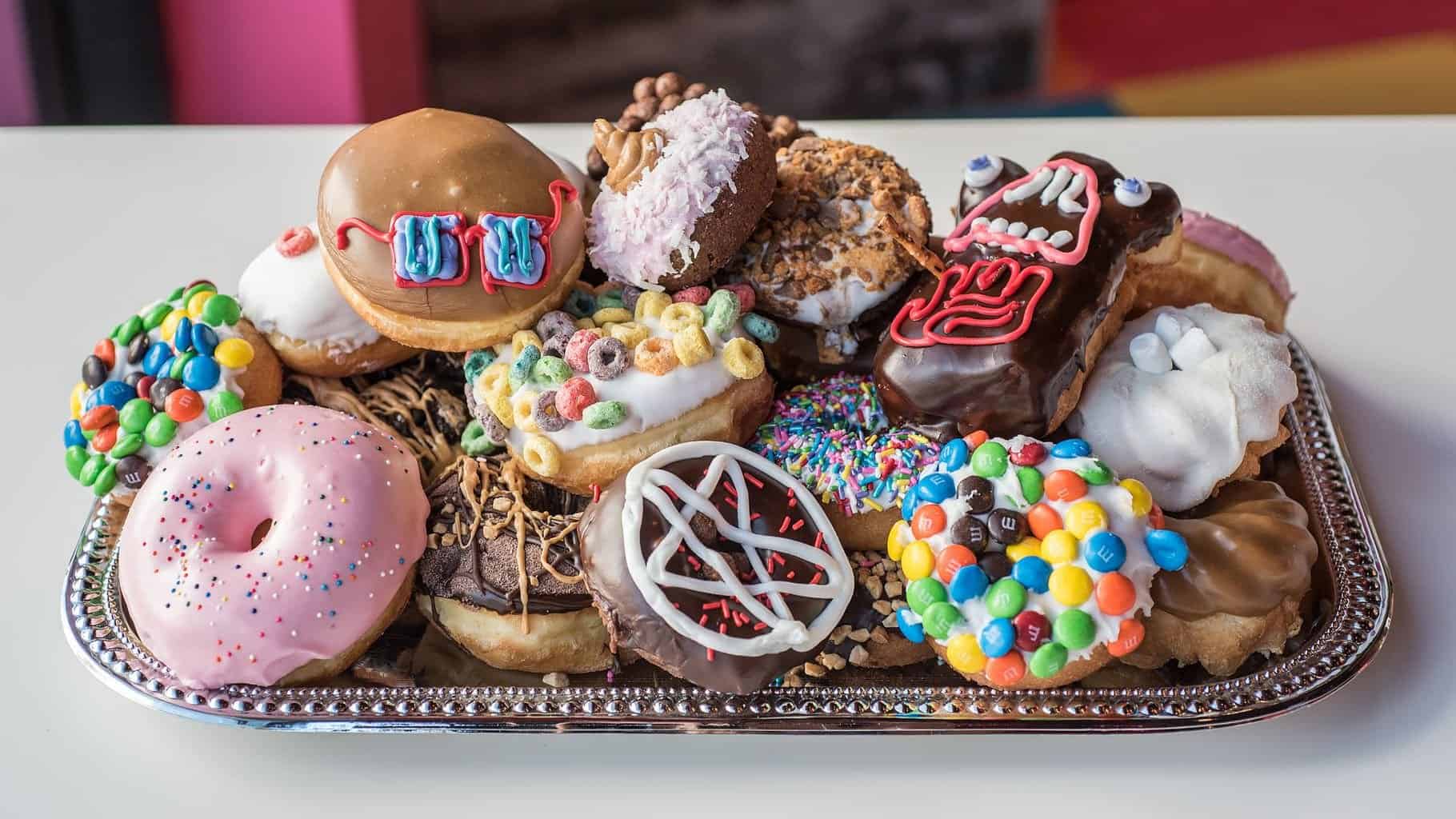 Voodoo Doughnut in CityWalk also sits at the top of the theme-park-treat food chain, right next to Toothsome Chocolate Emporium, in my humble opinion. This is not your everyday doughnut shop, and you will find all sorts of crazy creations inside.
Bring your sweet tooth, because you will need it.
W for Waturi Fusion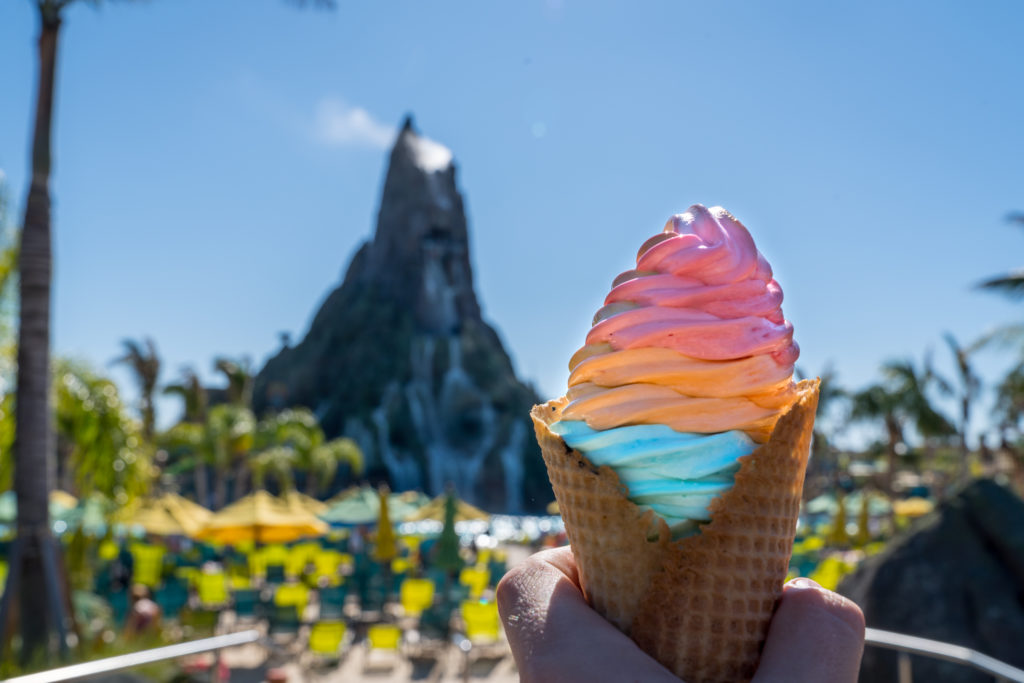 The Wateri Fusion ice cream, found exclusively at Volcano Bay, is one of my personal favorites. I cannot leave the water park without getting one!
X for extra toppings
Okay, okay – I fudged on this one a bit. Schwab's Pharmacy at Hollywood is a great place to get ice cream, and they will top it with a variety of things for you, including gummy bears, hot fudge, M&M's, and whipped cream. This is a really cool old-style soda fountain shop and is well worth your time for a visit.
Y for Yuengling
Yuengling Beer can be found in several locations throughout Universal Orlando. This is a draught beer from America's oldest brewery, located in Pottsville, Pennsylvania. If you are visiting Universal from the northeastern United States, this might make you feel right at home.
My suggestion is to order a pint at The Hopping Pot, along with some beef pasties. Not too far away is the show stage in Diagon Alley – just walk your happy little butt over there to enjoy your drink, snack, and a show.
Z for Buzz Cola
I searched high and low for a theme-park treat, either sweet or savory, that starts with Z. The best I could come up with is Buzz Cola, which can be found in Springfield: Home of the Simpsons. May I suggest getting your Buzz at Bumblebee Man's Taco Truck, along with an order of chicken tacos (because – c'mon – who doesn't like tacos)?
---
Thank you for traveling around Universal Orlando Resort with me in search of the best theme-park treats. Hopefully, I have either listed some of your favorites or given you some ideas about what to try on future trips. Enjoy your eating adventures as much as other aspects of your visit – hopefully, when you get home, you won't regret having not eaten something!
Also make sure, once you're back home, to share all of your experiences – and pictures! – with 120,000+ other Universal die-hards in our Orlando Informer Community on Facebook. And then follow Orlando Informer on Facebook, Twitter, and Instagram for the latest news and tips at Universal Orlando, Walt Disney World, and other Orlando destinations.