Whether you're a Ravenclaw-esque enthusiast like myself who heartily ingests any and all ride factoids or someone braving their first time on a roller coaster, it's good to have some prior knowledge on the subject. Naturally, coasters are something of an artificial species – they come in all different sizes, themes, and classes. One could even say that every theme park doubles as its own "Kingdom Animalia," of sorts.
This is definitely true at Universal Orlando, which offers a class of roller coaster to pair perfectly with each of its unique guests. And given the soon-to-arrive Jurassic World VelociCoaster, we at Orlando Informer found ourselves inspired to take stock and get to better know the resort's roster of amazing coaster experiences.
The following is our accounting of each ride. Although we could – and probably would – speak endlessly on this subject, we've simplified the descriptions to fast-facts first and a quick excerpt afterwards, which will help provide additional details and information. And for anyone unfamiliar or looking to take that next step in his or her roller-coaster endeavors, we've also categorized the list by intensity, to show which attractions you can consider "entry level" to – well, you get the picture.
Entry-level roller coasters at Universal Orlando
Woody Woodpecker's Nuthouse Coaster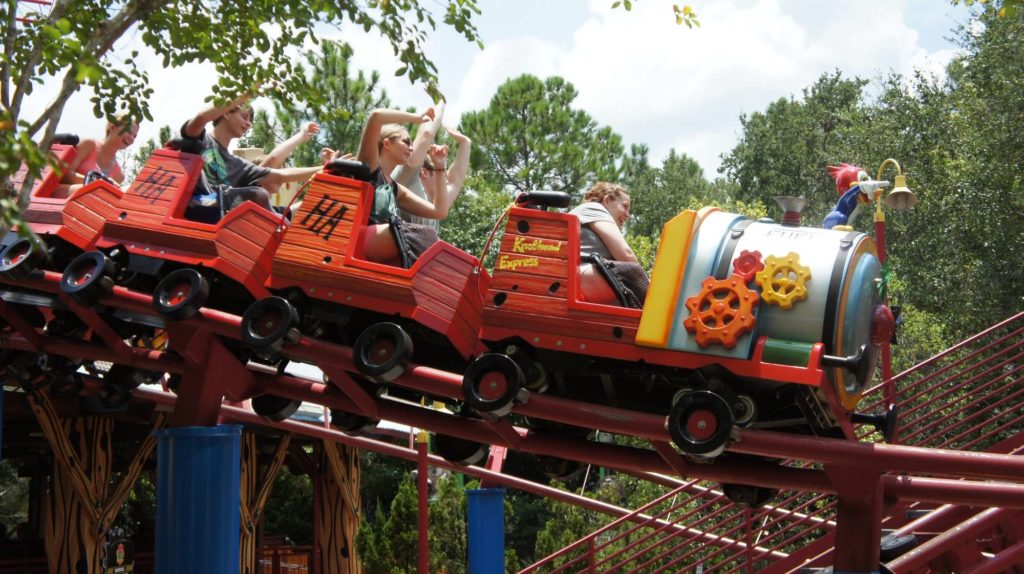 Woody Woodpecker's Nuthouse Coaster holds the double honors of being Universal Orlando's very first roller coaster as well as the attraction that helped officially launch Woody Woodpecker's KidZone back in 1999. It is, of course, designed for families and has the interest of the younger crowd in mind. This ride favors very vibrant decor and an easy-to-follow story of a wild and entertaining train ride around a literal nut factory with Woody as your "host."
Despite its wacky name and what you may expect from the titular woodpecker, Nuthouse Coaster's pace isn't very fast, and the track stays mostly low to the ground, with just enough tight turns and twists to entertain you. As long as no one in your family is easily scared or squeamish, this would prove to be a fun way to start or end your day.
Flight of the Hippogriff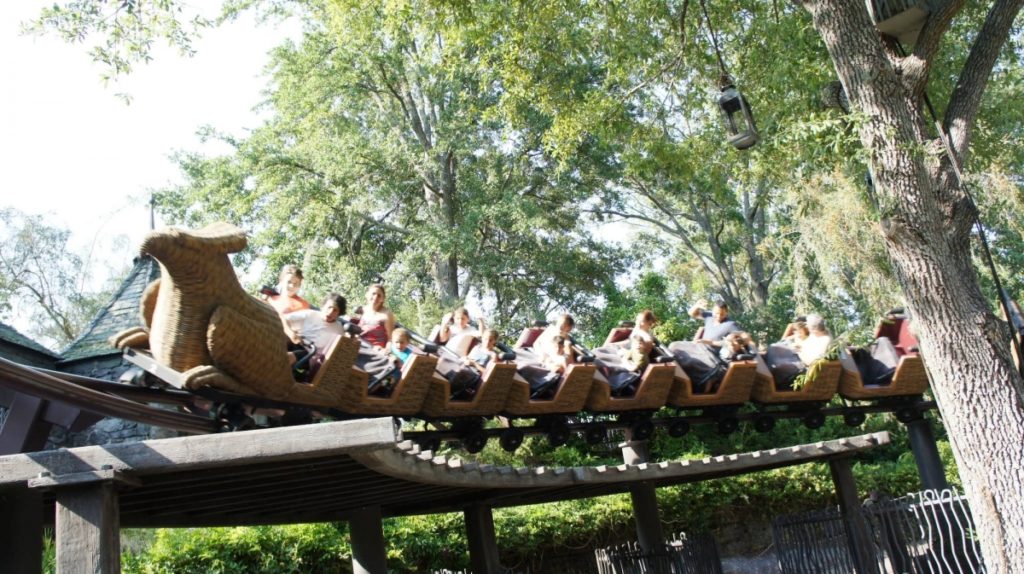 After originally starting off life as Flight of the Unicorn, this kiddie coaster got swept up in the Harry Potter makeover and was reborn as Flight of the Hippogriff in 2010. The attraction's new concept revolves around a lesson in riding Buckbeak the hippogriff by Professor Hagrid, who utilizes wicker replicas (aka your ride vehicles). After boarding them and getting settled under the lap bar, guests are encouraged to bow to an animatronic hippogriff, as is customary with these magical creatures.
The overall experience is fun and family friendly, as the ride doesn't go very fast or feature any inversions. Still, although Flight of the Hippogriff isn't scary by any means, some guest feedback suggests that the little ones may find it just a wee intense at first, due to how high it climbs and how quickly it reaches its top speed. With that said, however, Hippogriff does offer a great mid-ride look at Hogwarts Castle and at Hagrid's hut (which can be seen in even greater detail in Hagrid's Magical Creatures Motorbike Adventure), which makes it worth a try.
Easy roller coasters at Universal Orlando
Hollywood Rip Ride Rockit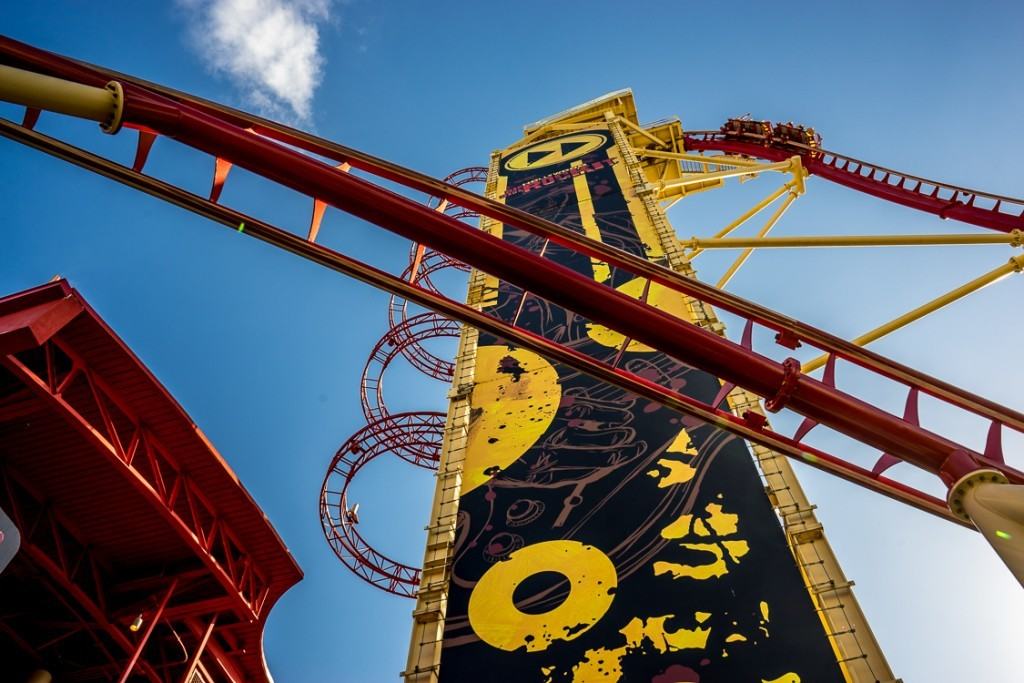 Hollywood Rip Ride Rockit boasts a fun, music-centric theme and a great soundtrack for guests to choose from that features an accessible "secret list." If you get good enough at the selection process, this could allow you to set a different tone for each time you ride.
While this is one of the faster coasters on Universal Orlando Resort property, I always suggest Rockit as anyone's "first big roller coaster." Yes, that initial 167-foot vertical lift seems very daunting, but it's easily the scariest part of this attraction; once you're over that steep hill, you're in for a fun, smooth ride. Sure, its top speed is just short of The Incredible Hulk Coaster's maximum pace, but you'd never guess it, and Hollywood Rip Ride Rockit doesn't actually ever go upside-down. This allows for a happy medium of achieving easy thrills while testing the waters of the more intense coaster experiences in the parks.
Hagrid's Magical Creatures Motorbike Adventure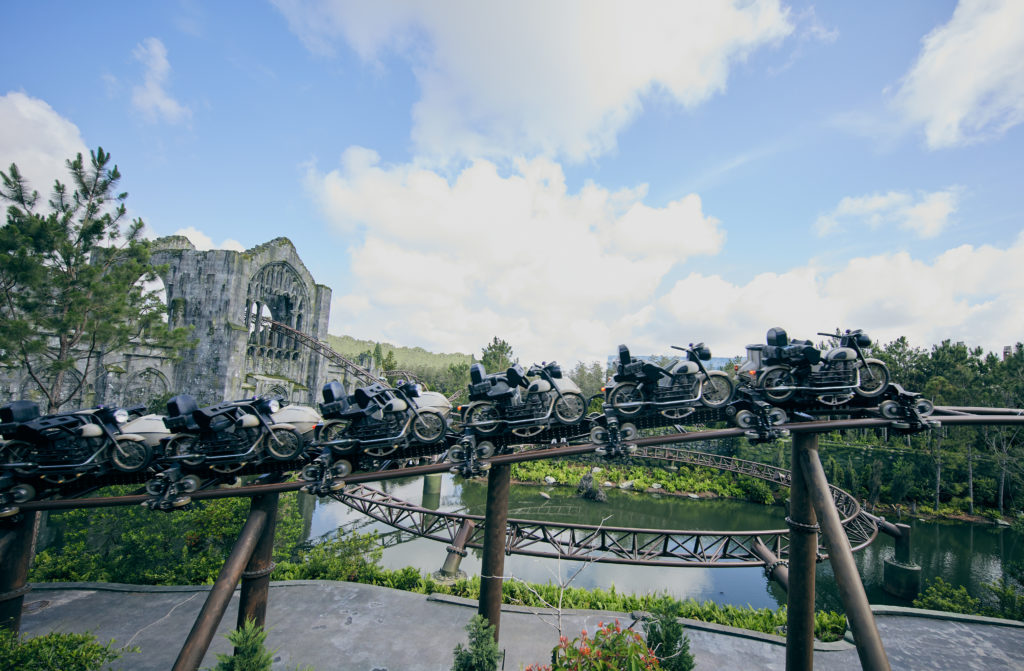 Hagrid's Magical Creatures Motorbike Adventure not only challenges you to say its name three times fast, but it also serves as Universal's first official half-giant step into the realm of "story coasters," roller coasters which endeavor to tell a narrative during the ride itself (and not just in the queue). Rubeus Hagrid takes center stage as your host, leading you on a field trip deep within the Forbidden Forest to learn more about the Wizarding World's magical creatures. Guests board cars that are designed after Hagrid's motorbike, complete with a main seat and sidecar, both of which have lap-bar restraints to keep you safe. True to everything Harry Potter, the queue is highly detailed, and the ride portion boasts some great animatronics that include many fantastic beasts, as well as one of the professor himself.
If Hollywood Rip Ride Rockit looks too intimidating, this would be an excellent alternative as an introductory coaster – not only won't you find any inversions, but it also isn't terribly fast or intense. With that said – and without spoiling anything – readers will want to make note of a backwards portion (in which the motorbike "breaks down in mid-air," as it's want to do) and a very sudden drop straight down.
Moderate roller coasters at Universal Orlando
Revenge of the Mummy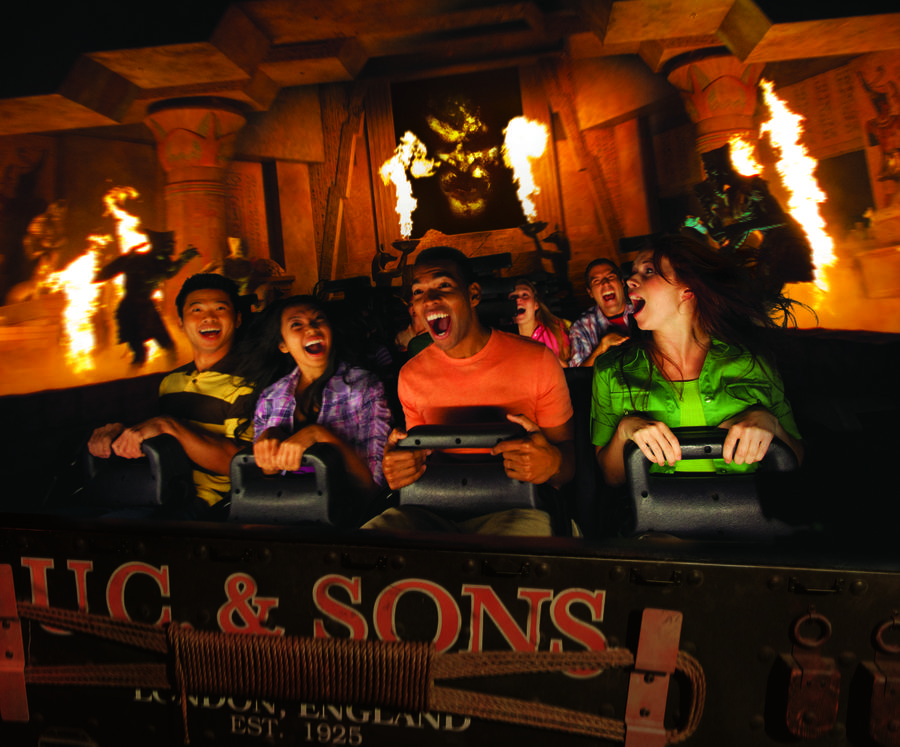 We at Orlando Informer hold no secrets about our love for this attraction, as we've covered it extensively.
Put simply, Revenge of the Mummy takes place behind the scenes of a fictitious sequel to The Mummy, starring a coffee-deprived Brendan Fraser – a production which eventually goes horribly wrong. As you traverse the queue, you'll notice the scenery blend from a movie shoot to a 1940s Egyptian-tomb excavation, which culminates in a boarding area with lap bar-equipped vehicles that have been designed as mine carts to fit the theme.
It's certainly not Universal's fastest coaster, but what it lacks in speed, it makes up for in thrills. If pressured, it's hard to pinpoint the most intense part of the ride experience, as there are so many; instead, it's better to say that the only reason Revenge of the Mummy is categorized as "moderate" is due to the ride never going upside-down. If you do choose to venture onto this attraction, there's a ton of fun and humor you'll be rewarded with.
Intense roller coasters at Universal Orlando
The Incredible Hulk Coaster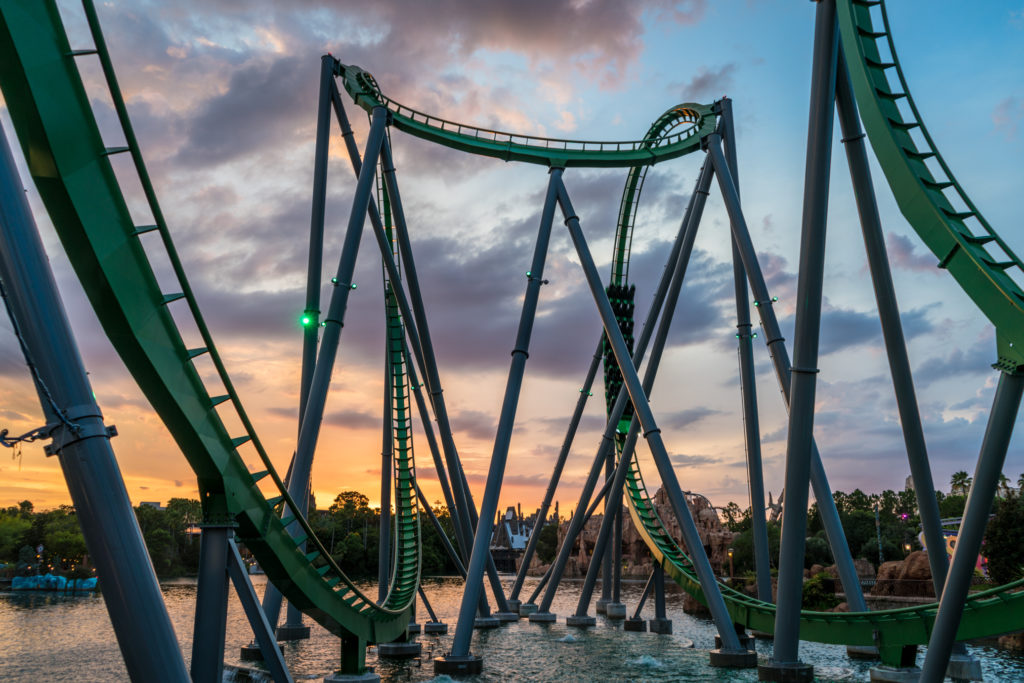 The Incredible Hulk Coaster is traditionally a must-do for anyone visiting Universal Orlando. In its current iteration, which debuted in 2016, guests take the role of "experimental test subjects" for General Thaddeus Ross – his latest attempt to take down the menace that is the Hulk. After winding through the military lab, riders board the roller coaster's sleek, green vehicles, which come equipped with shoulder restraints and seat belts.
After being brought into what's meant to be the center of a gamma core, passengers are launched into the actual ride experience, accompanied by the Hulk's roar and the musical stylings of Fall Out Boy's Patrick Stump. The track involves an exciting flurry of twists and loops, which you smash through nonstop at top speed, making it an immensely thrilling ride and easily the resort's most intense coaster.
---
Which is your favorite of Universal's roller coasters, and which do you think delivers the best overall experience? Share your thoughts with 125,000+ other Universal Orlando Resort fans in our Orlando Informer Community on Facebook.
And be sure to follow Orlando Informer on Facebook, Twitter, and Instagram for the latest news and tips at Universal Orlando, Walt Disney World, and other Orlando destinations.