Since March 12, we've been painstakingly following Universal's plans regarding all of its resort – its three parks, seven hotels, and CityWalk dinning/shopping/entertainment complex – first to shut everything down and, now, to start them all back up. CityWalk was actually first, reopening on May 14, and then it was the parks' turn: on June 1, the company admitted a limited number of its team members, just to do a sort of technical rehearsal and see how all of the "stringent new health, safety, and hygiene procedures" were shaking out. The next day, June 2, Universal not only had all of those employees back, it also opened the gates a bit wider, allowing them to bring a friend along – which, luckily, included a number of Orlando Informer individuals.
On June 3 and 4, annual passholders got their turn in the sun, and then – at long last – it was the general public's chance, getting to go back to the parks that were closed for two-and-a-half months (and which are now open to only 35% capacity, according to the CEO of NBCUniversal, Jeff Shell).
What's it like being back to Universal Studios Florida, Islands of Adventure, and Volcano Bay after a 78-day absence? Read on to find out.
Just a brief coronavirus refresher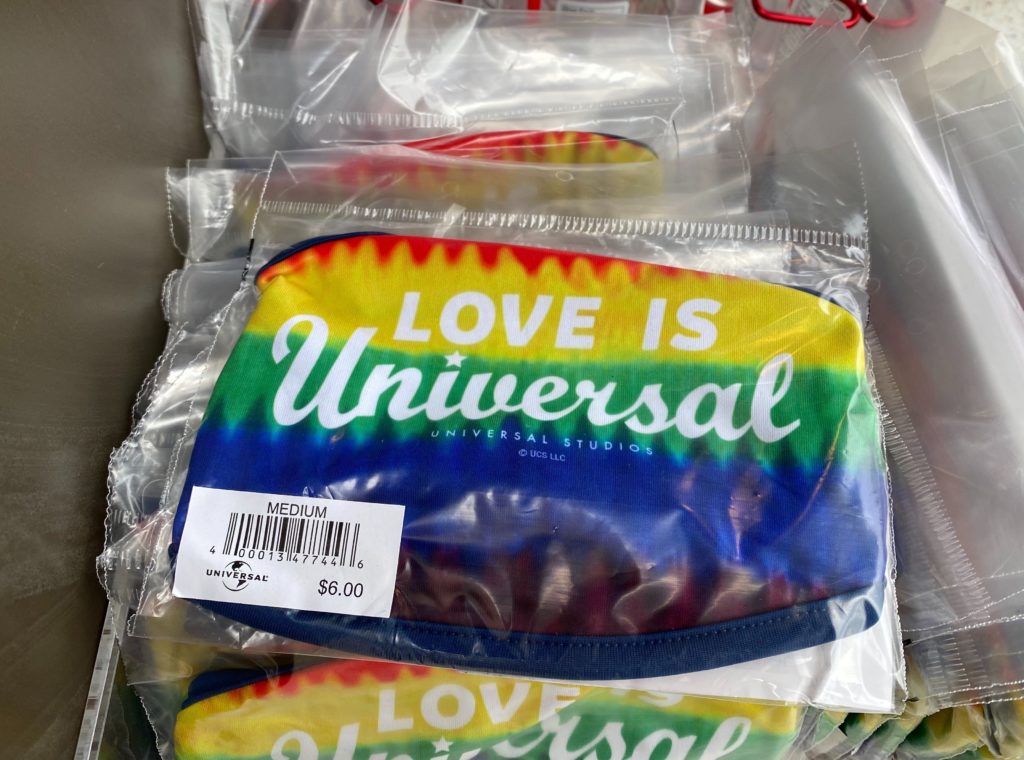 We've already gone over this at length with the CityWalk reopening, but it bears repeating (just quickly!) here.
Before you get to set foot in any of the three parks, you'll need to (a) wear a mask (Universal has extras if you don't, including both free and premium varieties) and (b) get your temperature checked. This last item can actually be done at a whole host of different points, depending upon how you first enter Universal Orlando property: at the parking garages (on the way to CityWalk), at the mini-security checkpoints on the way over from the hotels, or at the resorts themselves directly. Once you've been checked, you'll be given a wristband so that you won't have to go through the whole process again.
(Speaking of masks, we need to note that Universal finally has themed ones on sale throughout the resort – "Love Is Universal" was the first one that we came across, and an annual passholder and a more general Universal Studios-branded one have since been added to the mix. All are available in small, medium, and large, and all cost $6 apiece or three for $15.)
What are the attractions like?
The biggest question that everyone's had ever since Shanghai Disney Resort came back online was whether a number of the attractions' new safety practices, such as social distancing in the queues and on the ride vehicles themselves, would carry over to here. While we've known the answer would largely be yes – there are markers all over the floors in the queues, for example, and riding parties will have either empty seats or rows surrounding them – we can now say, after spending a few days back at Universal Orlando, that there are also a few Universal-specific things you should be aware of.
Virtual Lines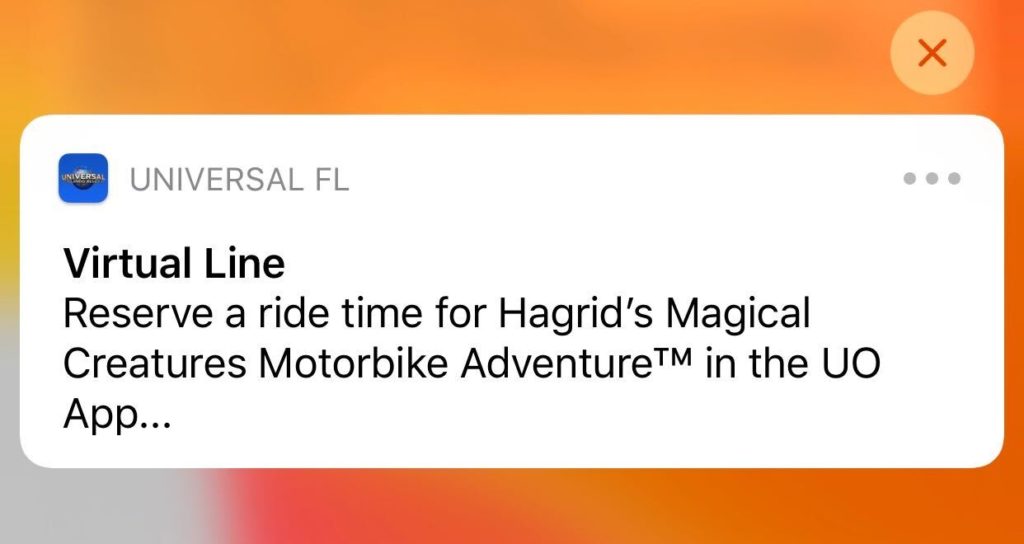 As the company had previously promised, it has implemented a Virtual Line at several of its rides, meaning that you can use the Universal Orlando app to secure a return time – and, indeed, at some of these attractions, this is the only way to hop on. To make matters a little on the complicated side, which rides utilize the feature can change literally on an hourly basis (to help manage the standby queues and overall wait times), but to help compensate for this, Universal will alert you on your phone when you're walking close to a currently-Virtual Line-enabled attraction (it also does this with mobile ordering-endowed restaurants, as well). Just be sure to have your Bluetooth connection turned on.
To give you an example of what you may encounter when you enter the parks, here's a list of what the eligible experiences looked liked early in the afternoon of Tuesday, June 2:
(We should point out here that while you can have multiple Virtual Line reservations at the same time, you cannot have multiple ones for the same attraction. Also, if you'd rather not tap through the Universal Orlando app to obtain a return time, you can simply scan a QR code that is stationed on a sign outside the ride – think of these as the replacement of the kiosks in the pre-COVID-19 days.)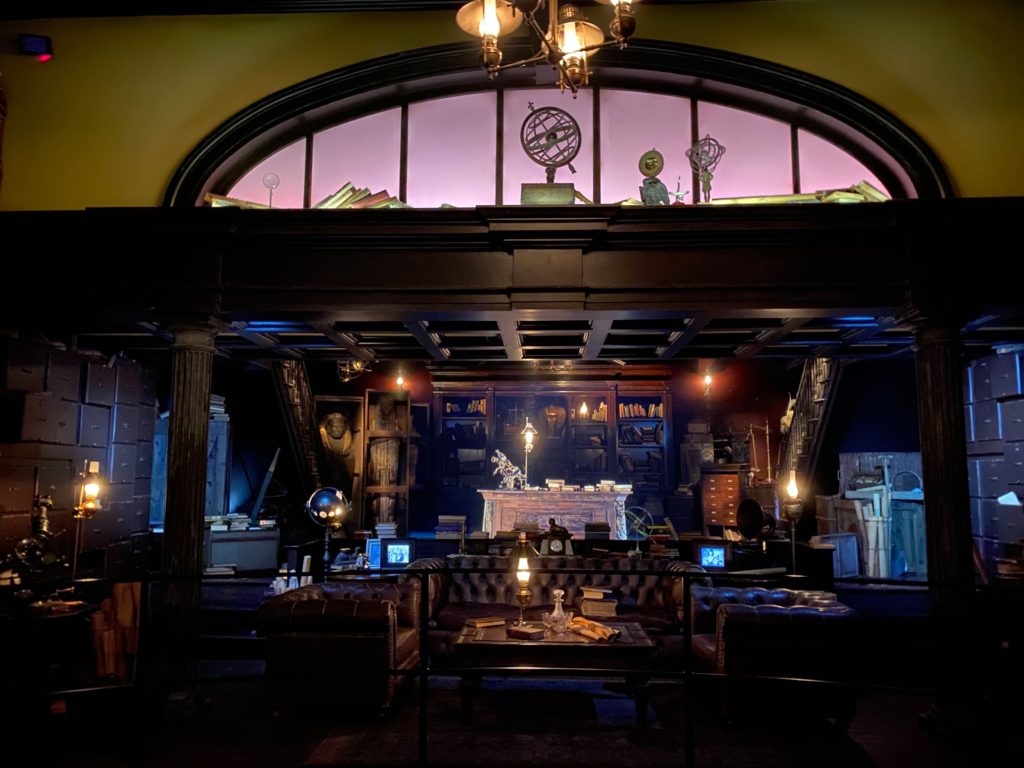 Let's use Harry Potter and the Escape from Gringotts as an example of what else you can expect to find – or not – when you return to the parks. When we hopped aboard early on the morning of June 3, during the annual passholder preview, it took 40 minutes to board (using Virtual Line). Only the first and last row of each ride vehicle was seated, and, during our escape from the wizarding bank, we noted that the ride's water misters were still being employed, even though Universal had previously said that they might not be. Also, the queue's photo op was still being offered up, just with social-distancing markers on the floor, but its preshow (where guests get to meet Bill Weasley and the goblin Blordak) has been temporarily discontinued.
Oh, okay – here's one more example. At the Ollivanders location in The Wizarding World of Harry Potter – Diagon Alley, you and your party make a reservation and then wait outside, in the Carkitt Market area behind the wand store, for your turn (only one party goes in for the "wand chooses the wizard" show at a time). And as an added bonus, the wizarding clerk even asks if you have a preference who among your party will be chosen to get the experience.
The play areas, shows, and character interactions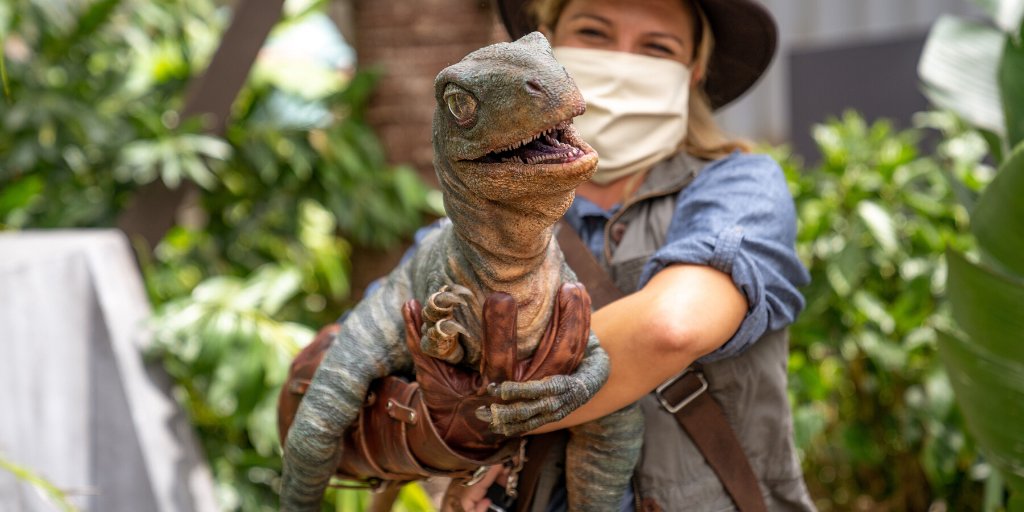 Unfortunately, due to their high-contact nature, all of Universal Orlando's various play areas, like Curious George Goes to Town at Universal Studios Florida and Me Ship, the Olive at Islands of Adventure, are closed for the foreseeable future.
And this is also something that has fundamentally altered the resort's myriad character meet-'n-greets – you can now find, say, the Scooby gang up on a stage, away from the foot traffic, waving to guests and brandishing their own, color-coordinated face masks. But to help make up for the lack of physical immediacy, Universal has decided to park the various floats from its Superstar Parade out in Hollywood and stationed more of its characters up on them, and it still has the Shrunken Head interacting with visitors over in Diagon Alley even when the Knight Bus Conductor sits the meeting-and-greeting out. And, even better, it's trotted out some of its more elusive celebrities (King Julian, for instance, was spotted up on the entry arch in Port of Entry the past few mornings, welcoming everyone back) and some brand-new faces (have you seen Sierra, the six-month-old velociraptor yet?).
For Universal's various shows, there are a few notable changes to record. For starters, several productions have been suspended for the time being (including Sing It! and Fear Factor Live), and at least one other has been repositioned, presumably to help with crowd flow and social distancing – look for Marilyn Monroe and the Diamond Bellas in front of the Universal Orlando's Horror Make-Up Show building. (This newly erected stage also doubles as a socially distanced meet-'n-greet for the likes of Betty Boop and Beetlejuice.)
And speaking of Horror Make-Up, it eventually came back online a week after the park's reopening, bringing along with it several changes – the biggest being the addition of Beetlejuice to help direct guests where to sit.
What's dining and shopping like?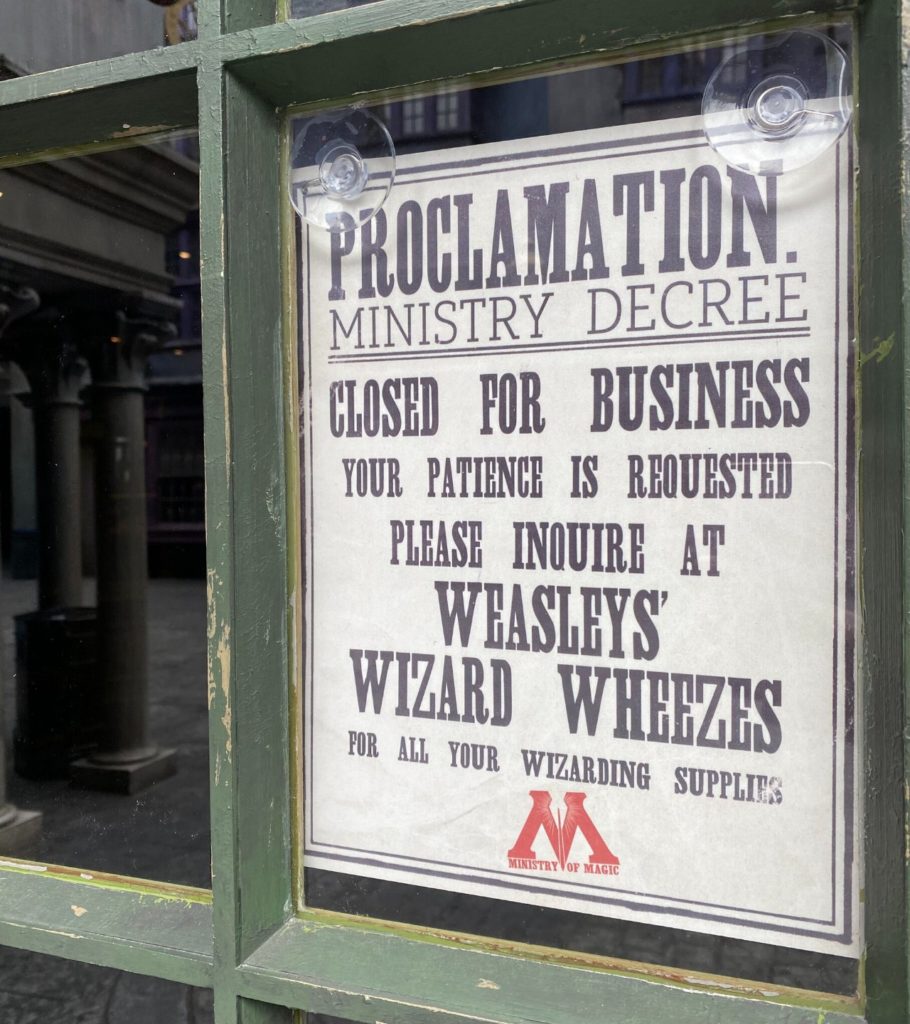 For the most part, the process of snagging your food at Volcano Bay, Islands of Adventure, and Universal Studios Florida is essentially the same as at CityWalk, which we've already covered pretty in-depth: the preference for mobile ordering and cashless payments, blocked-off tables to maintain social distancing, and limited menus and hours of operation.
There are a few wrinkles for the parks, however, starting with the fact that – just as with the attractions – guests must use hand sanitizer before taking their seats. Furthermore, at a number of the venues, you'll be seated first, and then order (instead of the other, normal way around), and once your food arrives, you yourself will grab your items off of the tray. So far, not every restaurant has reopened (Duff Brewery and Classic Monsters Cafe, we miss you), and we can also say that the Starbucks in Port of Entry has made condiments available only upon request and has barred all indoor seating.
Now, onto shopping. While some stores are down for the time being (such as Magical Menagerie and Globus Mundi over in Diagon Alley), most of the others are still operational – and beyond the added presence of hand sanitizer for sale, they're pretty much the same as before the pandemic. (Yes, you're even able to pick up and look at the merchandise.)
(And even though it's not a shop, this might be a good place to note that the Annual Passholder Lounge in Hollywood has also remained closed.)
New: U-Rest areas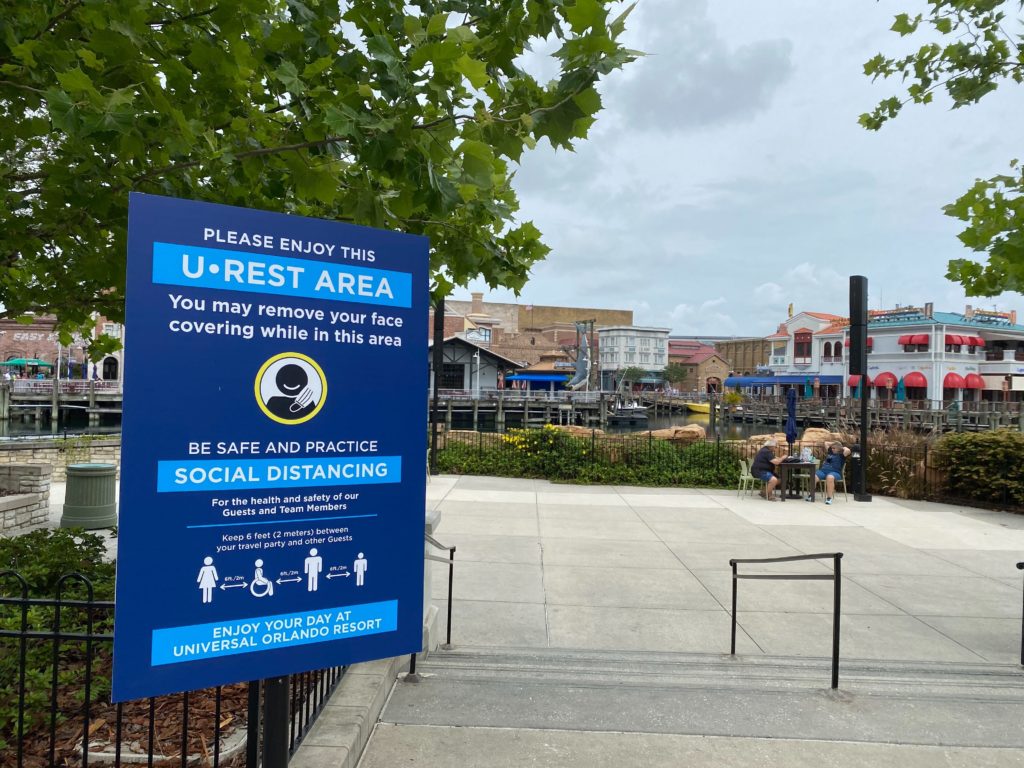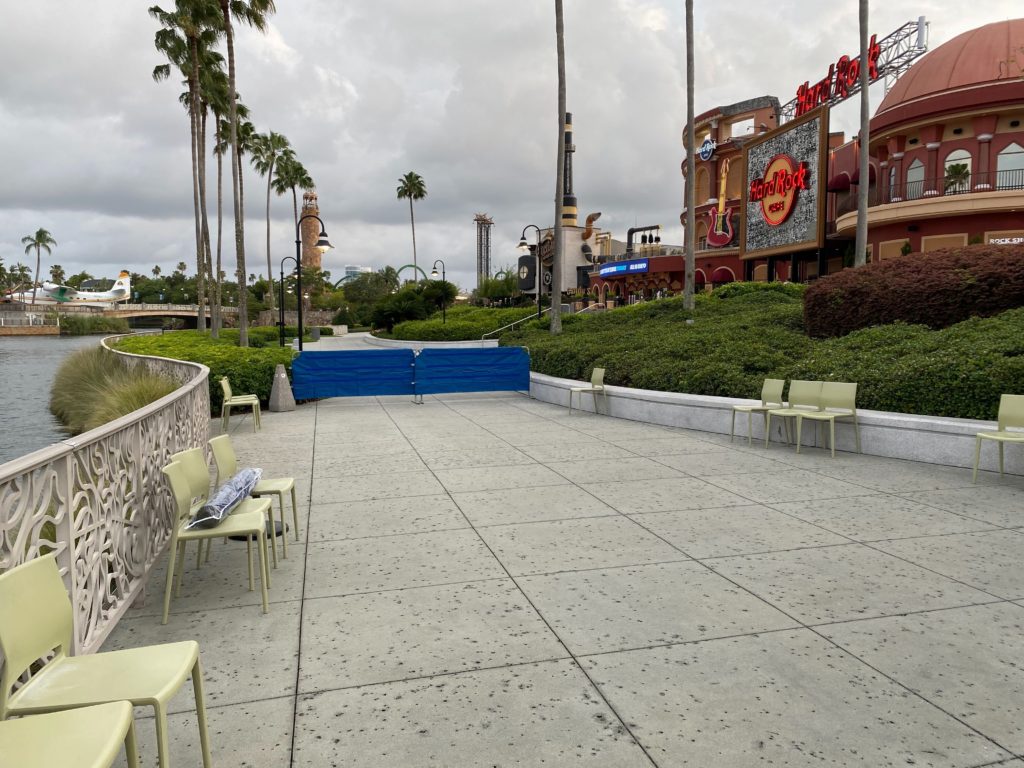 A new development that has started to sprout up across Universal Orlando is a little something called U-Rest areas. While in these sections of the resort, guests are able to remove their face masks and relax on benches, just to get a bit of a breather – but please be aware that social distancing must still be practiced.
So far, we've come across five of them:
In front of Hard Rock Cafe Orlando (CityWalk)
In Central Park (Universal Studios Florida)
Next to Fear Factor Live (Universal Studios Florida)
In Port of Entry (Islands of Adventure)
Inside the amphitheater that used to house the Eighth Voyage of Sindbad stunt show (Islands of Adventure)
What about Volcano Bay?
A lot of the changes that we've already seen at CityWalk and the theme parks are also present at Volcano Bay. Guests are still required to wear face coverings upon entering the water park, but they're not allowed in or on attractions that feature a great deal of water, such as the various slides or, say, Kopiko Wai Winding River. Don't worry, though – everyone is still expected to practice social distancing, and only one travel party will be allowed to board each raft or tube to help accomplish this. (All the life guards and other employees still brandish their masks, however.)
Just as with the theme parks, Volcano Bay's banks of lockers practice social distancing, as well (guests are pulsed in, and every other bank is shut down for cleaning), and there are markers everywhere where a line forms. Not every restaurant has reopened (such as Dancing Dragons Boat Bar), and, finally, the last major change of note is that the team member who hands out a TapuTapu wearable is now wearing gloves.
I'd like more theme-park COVID info, please!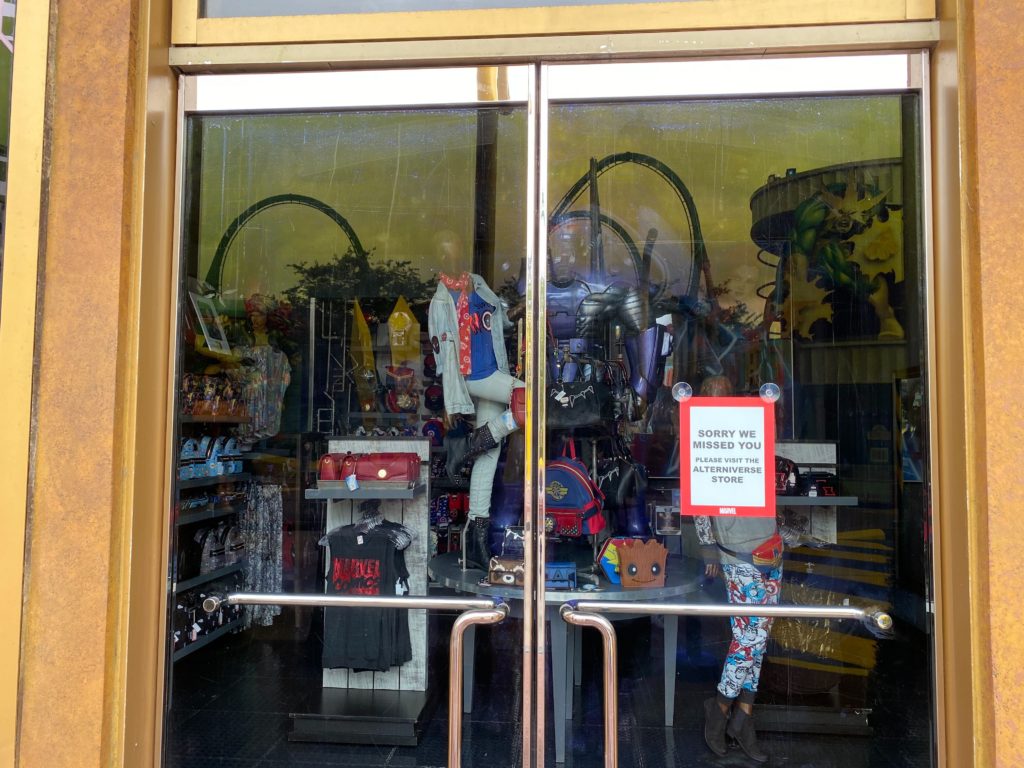 Sure! We'd be happy to help.
Here are the articles that we've been consistently maintaining during the ongoing coronavirus outbreak:
Walt Disney World and Universal Orlando first shut down
The theme-park resorts start to open back up
How to visit CityWalk during COVID-19
How to visit Disney Springs during COVID-19
How to visit Universal Orlando's hotels during COVID-19
How the Shanghai Disney reopening could influence its Stateside counterparts
Last updated: 2:34 pm, 06.08
–
Have questions about the phased reopening at Universal Orlando Resort's parks? Ask 100,000+ other Universal die-hards in our Orlando Informer Community on Facebook.
And be sure to follow Orlando Informer on Facebook, Twitter, and Instagram for the latest news and tips at Universal Orlando, Walt Disney World, and other Orlando destinations.