UPDATE (3:32 PM, 06.08): the club-level offerings at Hard Rock Hotel and Royal Pacific Resort have just reopened. We have more info below.
–
We've already visited the parks of Universal Orlando during the team member-only reopening period, and now it's time to report back in on how the resort's hotels have been faring in the age of the novel coronavirus.
First, we have a short recap for you. All seven of Universal's hotels closed down back on March 20, five days after the parks did and just three after CityWalk, the resort's dinning/shopping/entertainment complex (this was to allow any guests who were impacted the opportunity to arrange new lodgings elsewhere, if needed). All but one of them came back online at 11:00 am on June 2, and they've been humming along since.
We're going to just quickly walk you through the most notable changes, using our stays at Hard Rock Hotel and Sapphire Falls Resort as an example, so you know what to expect when you make your triumphant return to Universal Orlando.
(Are you a member of our Orlando Informer Community on Facebook? If so, you can digest all of this info in video form!)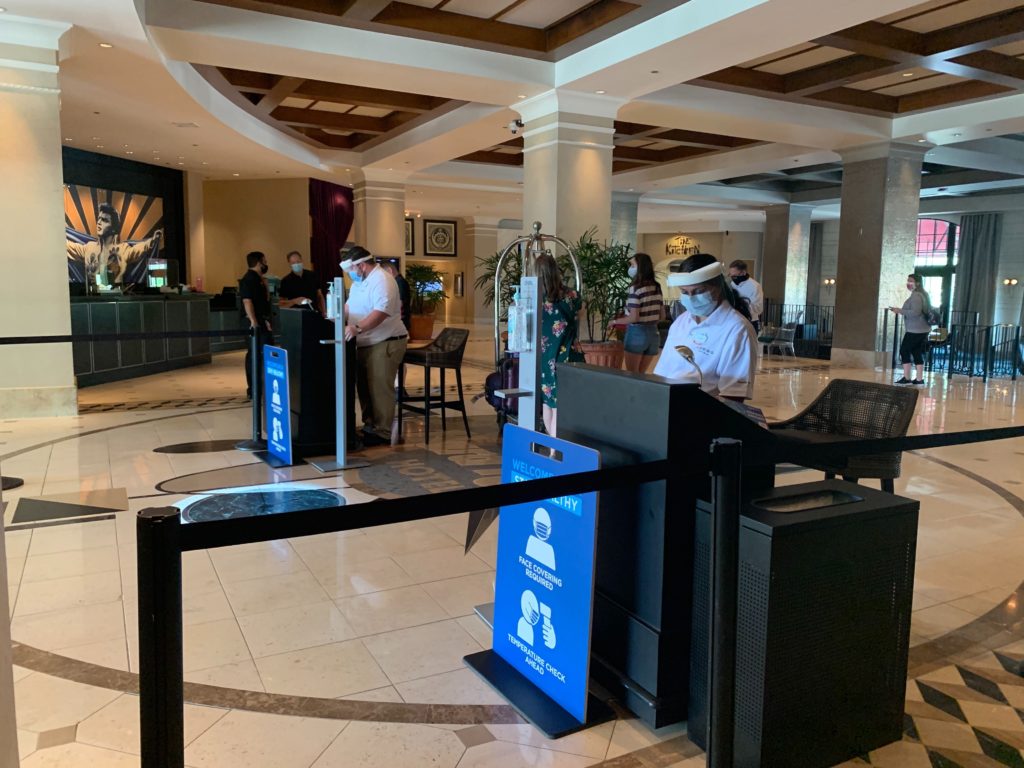 Which hotels are open? Six of the seven Universal resorts are back welcoming guests as of June 2 – the only one missing is Portofino Bay Hotel. (Are you wondering about the imminent eighth venue, Endless Summer Resort – Dockside Inn and Suties? That was originally supposed to debut on March 17 but has since gotten its grand opening pushed back to a vague "summer 2020." We'll keep you updated.)
Temperature check: when you first set foot anywhere on Universal Orlando property, you'll need to have your temperature checked, which is done with a contactless thermometer – and the resorts are no exemption. If your temp is at 100.3 degrees or lower, you'll receive a color-coded wristband, which ensures that you won't have to undergo the same procedure again over at CityWalk.
Please note that each hotel will only have a few main entrances open for outside visitors to come in, thereby guaranteeing that the check can be implemented. At Hard Rock Hotel, we observed that the main door had one side exclusively reserved for entering and the other for exiting – and it's here that you'll also spot just the first in a long line of hand-sanitizer locations.
Checking in: on the one hand, there really isn't that much different here – you wait in line, step up to a counter, and give the employee your information. On the other hand, you'll see that everything has been COVID-ized: social-distancing markers in line, a plexiglass barrier between you and the team member, the option for contactless payment, and, most notably, a digital copy of all maps and registration information texted to you so that you don't have to touch anything. Oh, and only one member of your party needs to check in, which will help with social distancing in the line.
Are there still bell services? Yes, there are!
What about valet? No, we're sorry – just like over at the Universal Orlando parking garages, valet isn't currently available.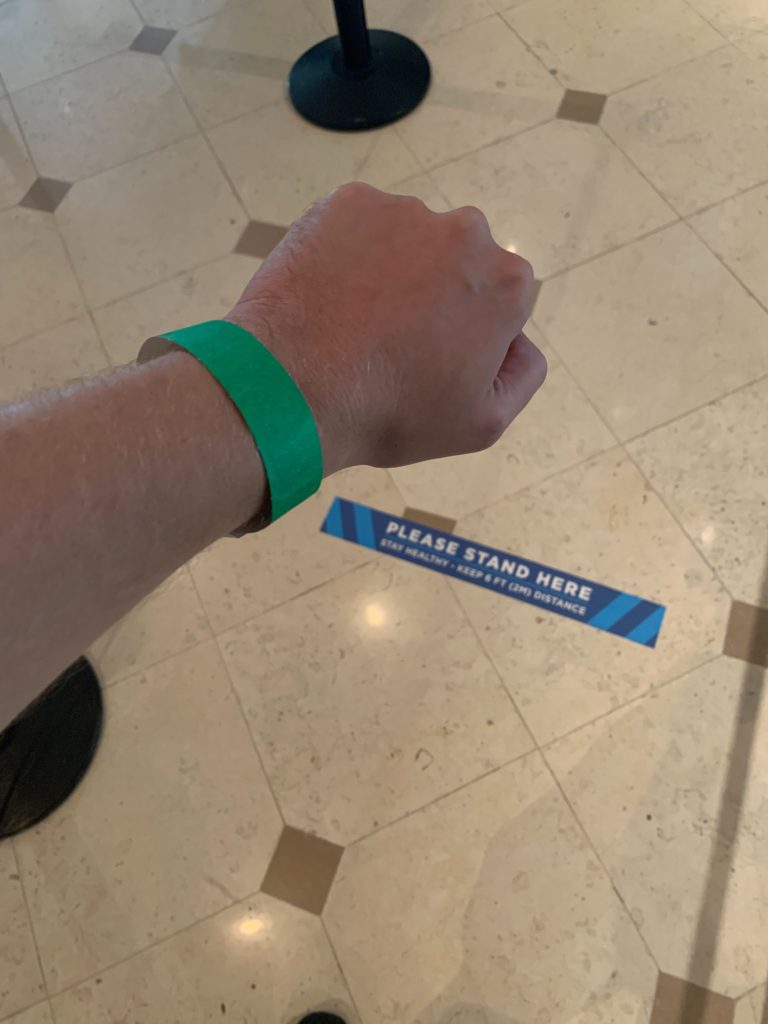 Hotel privileges: a big perk of staying at a Universal hotel – other than the immaculate theming and delicious food, of course – is the whole raft of benefits that are extended to you. These are all essentially the same here, ranging from Early Park Admission to the ability to put charges on your key card to complimentary Express Passes (if your venue of choice offers them, naturally).
Are the hotels' restaurants and bars open? Yes, they are, but you'll note that a number of the new safety practices and procedures seen elsewhere at the resort are also present and accounted for here: one-use paper menus (or digital ones, if you'd prefer), blocked-off tables to ensure social distancing, truncated hours of operation (such as lunch-only), and a limited range of culinary options. Oh, yeah – everything that used to be a buffet is now being offered up a la carte.
(The lineup of restaurants and bars may be malleable, however, so be sure to check with the staff when you arrive.)
What about the hotels' club level? Almost a week after the hotels reopened, two of the venues' club-level offerings started back up. We have the full details below.
The hotel pool(s): given that the pools are a huge draw to Universal Orlando's portfolio of properties, you'd better believe that they're open and waiting for you. Just make sure to wear your mask on the way there (and, also, when going to the area's restrooms and bars). You don't have to use your face coverings once at the pool, since the lounge chairs are all arranged in clusters for the different travel parties (and are wiped down after each group leaves) and, well, masks aren't allowed in the water. Also, please note that the kiddie pools and hot tubs are currently off-limits (given their smaller natures), but – hey – the slides are still operational!
Is room service available? Yes! The team member will just leave your items outside of your room, thereby minimizing personal contact, and they'll even do it in eco-friendly containers, to boot. (Also, since we're talking about it, fresh linens and towels can be delivered to your room in a sealed bag upon request.)
What about the theme parks? Universal had originally said that it was going to guarantee entry to every guest staying at one of its hotels, but this has since changed; now, the company promises to give priority to such patrons if and when the parks hit capacity.
Transportation to the parks: the water taxis and/or shuttle buses are up and running, and social-distancing practices have been adopted here, as well – certain seats or rows have been blocked off by a sign, and, on the water taxis, only two people are allowed to sit per bench.
Anything else I need to know? Why, yes – since you asked, there are a couple of quick items to round up here. The elevators are all to be used by just one travel party at a time; where and when possible, guest rooms will stay empty for anywhere from 24 to 48 hours in between check-ins; and the price of refillable mugs at some of the hotels has been reduced since the Coca-Cola Freestyle machines are currently offline.
Universal Orlando hotels' club levels during COVID-19
Starting on Monday, June 8, both Hard Rock Hotel and Royal Pacific Resort started up their club-level services once again. With the caveat that the new protocols and practices can continue to change, here's what Loews has on tap for right now:
Modified hours: food service in the morning will be from 7:00 to 10:00 am; in the evening, 5:00 to 7:00 pm; and dessert, 8:00 to 9:00 pm.
Increased cleaning and disinfecting will be implemented.
Lounge seating has been modified for social distancing, including some tables being rendered for the use of only one party and other tables being removed entirely.
The club concierge team continues to operate as the personal concierge for club-floor guests and their planning needs.
Modified locations: at Hard Rock, the club locations have been moved to the foyer, outside terrace, and Apollo boardroom. (They remain the same at Royal Pacific.)
I'd like more theme-park COVID info, please!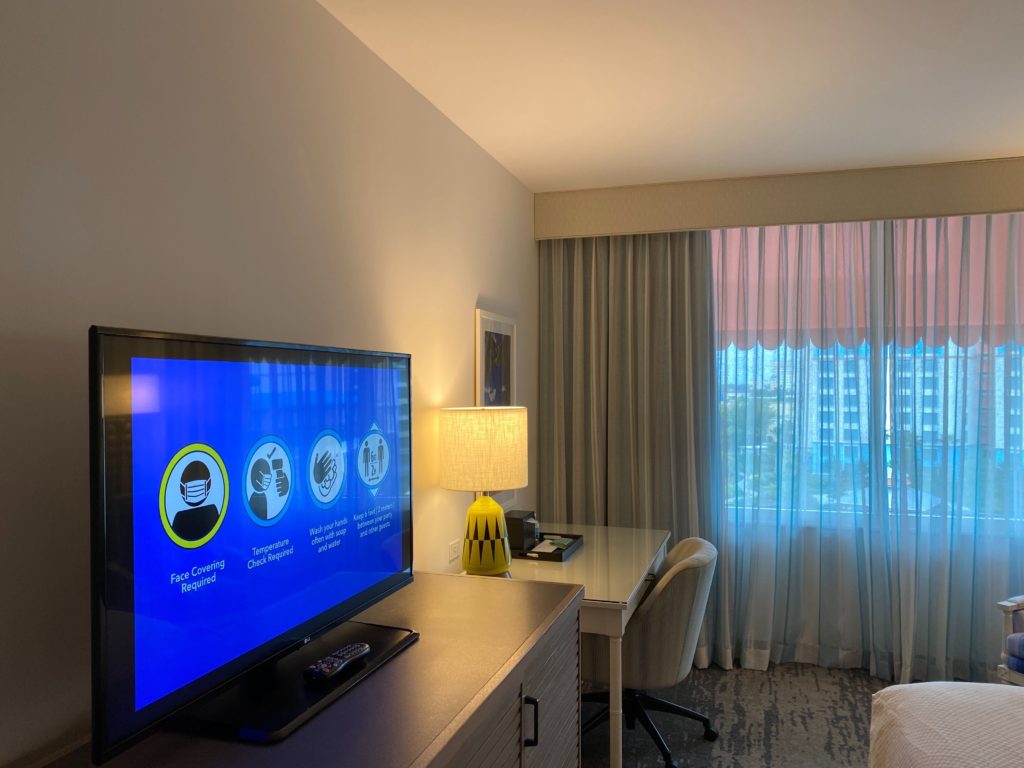 Sure! We'd be happy to help.
Here are the articles that we've been consistently maintaining during the ongoing coronavirus outbreak:
Walt Disney World and Universal Orlando first shut down
The theme-park resorts start to open back up
How to visit CityWalk during COVID-19
How to visit Disney Springs during COVID-19
How to visit Universal Orlando's parks during COVID-19
How the Shanghai Disney reopening could influence its Stateside counterparts
–
Have questions about the phased reopening at Universal Orlando Resort? Ask 100,000+ other Universal die-hards in our Orlando Informer Community on Facebook.
And be sure to follow Orlando Informer on Facebook, Twitter, and Instagram for the latest news and tips at Universal Orlando, Walt Disney World, and other Orlando destinations.