This article has been tagged as a rumor. Please read our note from the editor to learn about rumors on Orlando Informer.
On Christmas Eve, Screamscape gave everyone a slightly early Christmas present by dropping a sizzling new rumor onto the themed online scene: a new nighttime show at The Wizarding World of Harry Potter – Hogsmeade "may be in the works" for as early as 2017.
Now that the wizarding cat is out of the Muggle bag, we figured it would be as good of a time as any to go ahead and make it official: there is no "may" about it – Universal is currently developing the show, and it is going to bow in the new year. We here at OI HQ have been hearing whispers about this exciting new development for the past several months or so, and while we're happy to finally share some of these details with you, we do have to add one important caveat to the mix: we don't know everything that is currently on the drawing board, and, even if we did, there's the big likelihood – knowing Universal – that things would change in the final months leading up to opening night.
So, with that mind, let's go ahead and lay all of our Hogsmeade cards on the table, shall we?
What is the new nighttime show?
The as-of-yet-untitled Harry Potter nightly show at Islands of Adventure will take a cue out of the opening celebrations for both Orlando's and Hollywood's Hogsmeades and use the iconic Hogwarts Castle as the canvas for a short projected film. Called projection mapping, Disney has been using the technology to great effect for quite some time now, doing such magical things as encasing Cinderella Castle in ice for its Frozen-themed performances.
While we don't know what, exactly, will be displayed on the castle, we do expect the effect to be similar in spectacle, if not necessarily in tone; our best guess at the moment is that the symbols and mascot of each of the four Hogwarts houses will wrap themselves around the structure and the rockwork it sits on, much like what was seen at the Hollywood kickoff earlier this year. We suppose there is the potential for clips from the eight Potter films to be cut together in an exciting or uplifting fashion, much like guests already see at the Universal Cinematic Spectacular lagoon show over at Universal Studios Florida, but probably not for new footage to be shot or otherwise created (such as using computer-generated imagery with the original cast), as that seems like an awfully big expense for an application that probably won't generate new ticket sales – at least, not in the way that a big, new attraction, such as Harry Potter and the Escape from Gringotts, would (although, it has to be said, the potential for Hogwarts Express-esque upgrades to park-to-park tickets is huge).
There's one more unknown that has to be added to the list. There have been many rumors of a holiday-themed Harry Potter event of some sort, which the recent Halloween and Christmas additions over at Universal Studios Japan have only added to, and this type of projection mapping would seem to be a natural fit for such festivities. Unfortunately, we have received no word one way or the other whether this will be the case.
What will the performance schedule be like?
This is where things start to get really interesting. As anyone who has been to either of the Wizarding Worlds during the busier times of the year knows, neither area is particularly well-suited to large crowds – which is doubly true for the back area of Hogsmeade, where both Harry Potter and the Forbidden Journey and Flight of the Hippogriff are located. Should Universal go ahead and publish showtimes, wouldn't that little area around Hogwarts Castle reach capacity in no time flat, and probably stay that way for at least a half-hour before the performance even starts?
This is why it seems like Universal is currently leaning in the direction of having randomized times each and every evening, with there being several performances to help compensate for the unpredictability. Think of the Tree of Life Awakenings at Animal Kingdom, which consist of short, little vignettes projected unto the park's central icon and which follow no published schedule (although Disney likes to say that they occur roughly every 10 minutes – an interval that Universal, more than likely, will not be emulating).
Oh, yeah – we should probably back up for a moment and add that the Hogwarts Cinematic Spectacular (note: this joke title is definitely tongue-in-cheek) will premiere sometime during the first half of 2017, most likely during the early summer months, and is currently expected to last until the third quarter of the year… although we can certainly see the company revisiting this decision and extending it through the last stretch of '17, should popular demand warrant it.
Surprise: Work has already started in the area
We mentioned already that we had been hearing murmurs of the project's development for a good little while now. What we failed to add is that we've also been tracking physical, tangible evidence of the nighttime show for the past few months, as well.
Let's jump back to sometime in the middle of October. While the rest of the theme-park-going world was enjoying the many wonderful spectacles of Halloween Horror Nights, we were busy taking pictures of Hogsmeade and the neighboring Jurassic Park land, where preparations had just begun – a number of trees that were planted to help provide a (admittedly porous) border between the two islands had been quietly chopped down, as can be seen in this photo: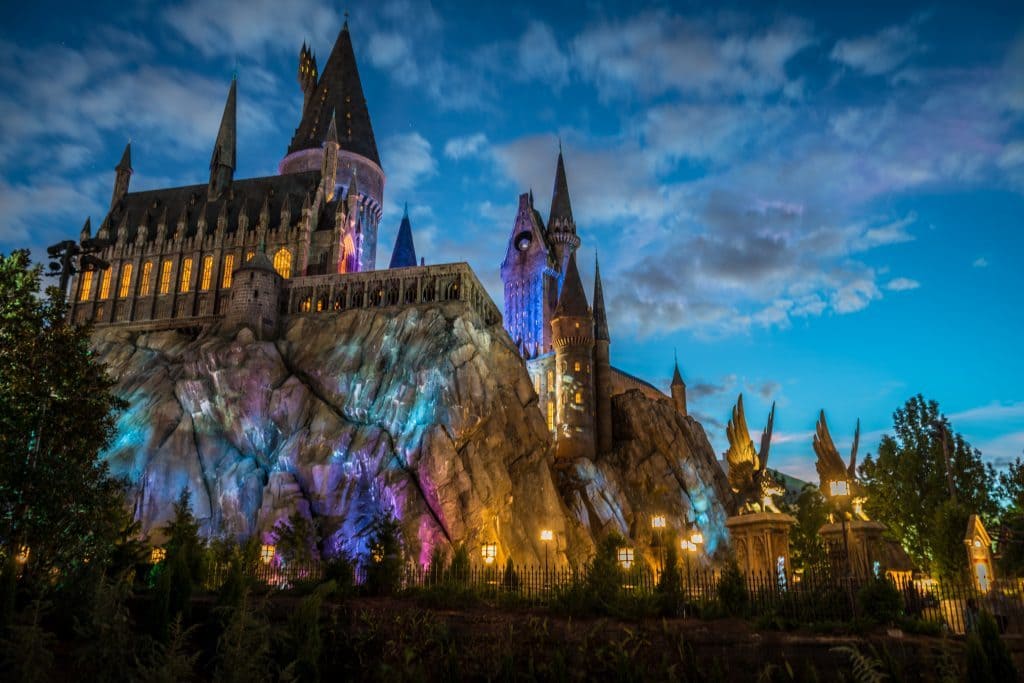 Compare the above picture to this one of the castle prior to the landscape change: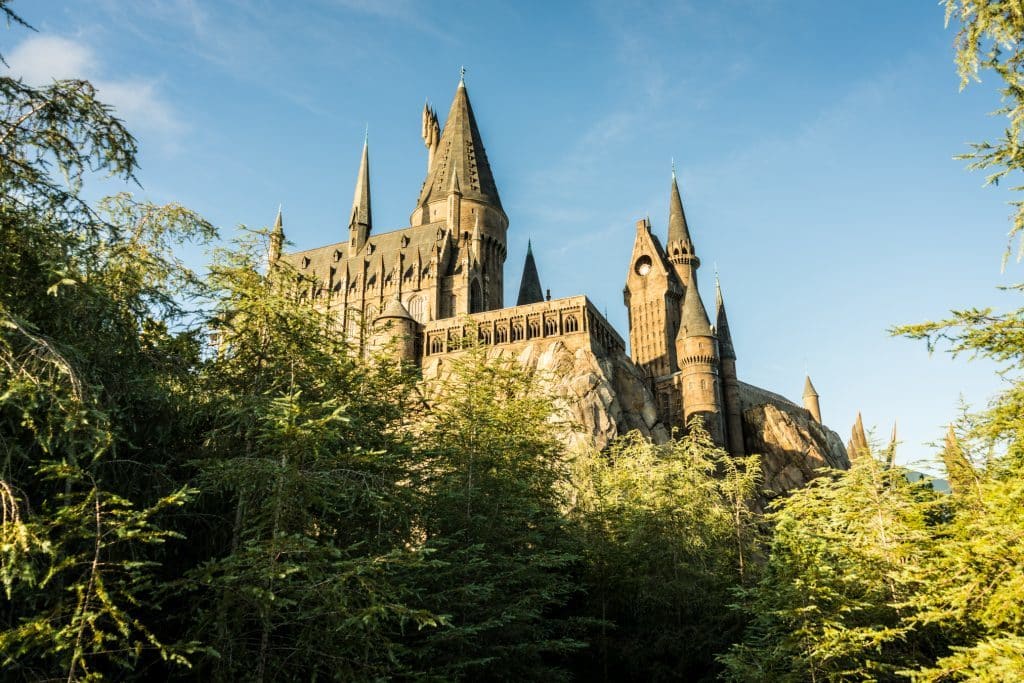 This is for two purposes. Firstly, it'll allow the projectors that will seem to magically envelope Hogwarts Castle with splendid (albeit unknown) imagery a clear line of sight to the building, and, secondly, it'll provide a little bit more in the way of viewing space. The removal of the greenery is an unfortunate development, but it's also a necessary one – call it the cost of progress, even in the wizarding world.
Can you tell me anything else?
Why, yes! Since you asked so nicely and all…
The original performance, back during Hogsmeade's opening at Universal Studios Hollywood, was produced by an outside design and production agency called the Thinkwell Group, and it's likely that it'll return to produce this new show. The projectors to be utilized will probably be manufactured by Christie (thanks to Universal's recent partnership with them), and the media that will play out on the castle just might be handled by Moment Factory out of Canada, another returning vendor from earlier this year.
Christie is also hiring more developers to produce projection mapping solutions for #UniversalOrlando.

— Taylor Strickland (@WTStrick) July 21, 2016
The Orlando and Hollywood opening moment featured a temporary setup for all this fancy equipment, using scaffolding strategically placed around the area, but Florida's permanent show will require a permanent solution – all of the several projectors will be housed in structures themed to the area, so that they blend in. We should expect to see these being erected over the course of the next few months.
Why add a new show in the first place?
The Harry Potter nighttime show will be Islands of Adventure's grand addition for 2017, taking its place alongside Universal Studios Florida's Race through New York Starring Jimmy Fallon, Cabana Bay Beach Resort's 400-room expansion, and that small trifle known as Volcano Bay water park. The idea here is not only to keep adding a little something extra to both of the pre-existing parks, in order to prevent attention from being dominated by all the other sectors of Universal Orlando Resort, but to also keep filling in all sorts and types of experiences for guests and their families; Disney has long mastered the art of shows and parades, and while USF has recently joined the fray with such (upgraded) fare as the Superstar Parade and the Cinematic Spectacular, Potter will mark IOA's very first such offering.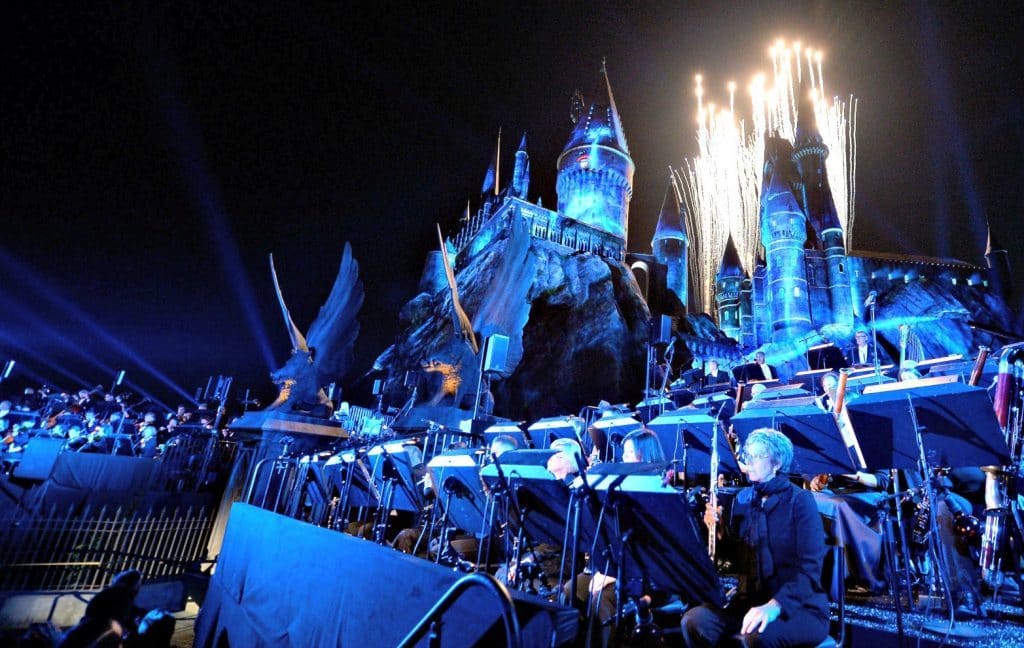 There's also the trend that Universal has worked very hard to instill in the Wizarding World's short seven-year lifespan: the near-constant addition of new experiential items without being forced to resort solely to building new rides. New Butterbeer varieties (hot drinks, potted cream, and, most recently, fudge) and the insertion of interactive wand locations have been the name of the game thus far in Orlando, while holiday parties (replete with prowling Death Eaters and giant, interactive Christmas trees) have been added to the docket over in Japan; a Hogwarts-centric performance is a natural progression of such an approach.
Finally, this new show just might signal something of a grand resurgence for Hogsmeade – if certain recent rumors are to be believed (and it's looking increasingly likely that they should), then there should be a second development befalling the area next year: the removal of the long-lived Dragon Challenge coaster. If so, expect its replacement attraction(s) to arrive in the following years, solidifying a whole new era in the first Wizarding World's existence.
What would you like to see in this new nighttime show? How do you think crowds should be handled? Leave your thoughts in the comments below.
Don't miss the latest Universal Orlando news, tips, and more! Follow us on Facebook, Twitter, and Instagram. Join our Facebook group to discuss the parks with other vacation planners!