On the night of July 4, Universal had a very special surprise for all of the guests spending the holiday at the resort: a technical rehearsal of its brand-new nighttime spectacular, Universal Orlando's Cinematic Celebration (which, we learned during the occasion, still officially has its somewhat-unwieldy subtitle of Epic Cinema under the Stars).
We were there for the first-ever public showing of the production, of course, and we even managed to livestream the event on our Facebook page. But we understand that many a reader may not want to have the wonderful Cinematic Celebration's exact contents spoiled, or that still others, on the other extreme, may want a little bit more detail added to the proceedings. We're actually going to scratch both of those fanboy itches right now with this write-up.
This is how we're going to proceed: first, we'll provide a general, spoiler-free overview of what Universal's newest and best lagoon show has to offer, just to whet your appetite (no pun intended). Then we'll throw up the spoiler warnings and start to move into some specifics, breaking everything down for you in some detail.
Now, then – let's get to that Epic Cinema under the Stars.
Cinematic Celebration: Overview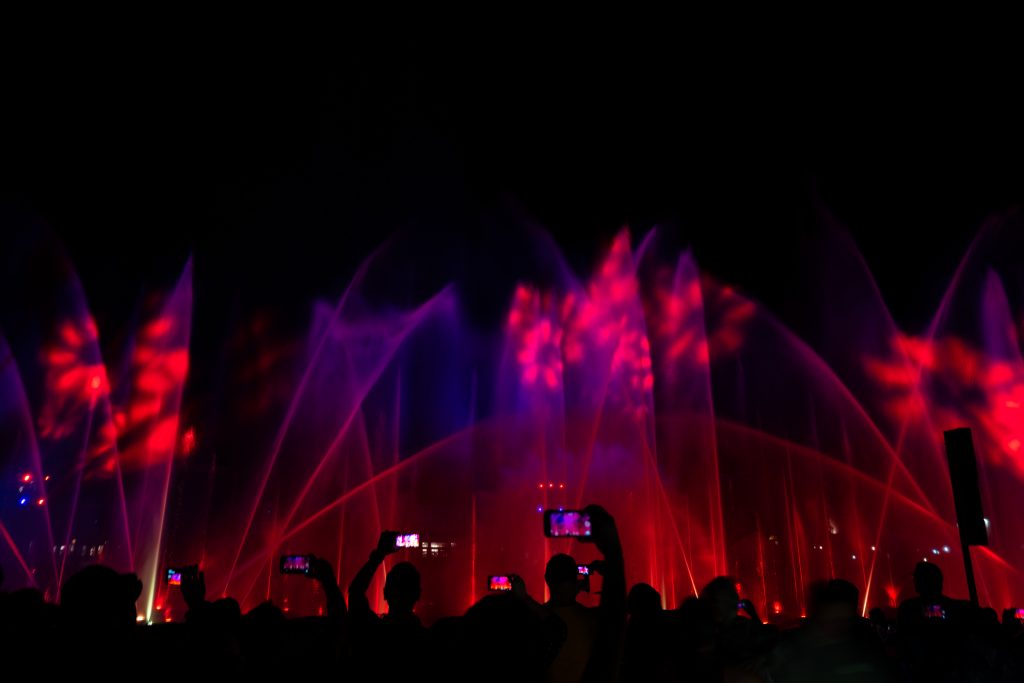 Unlike the three previous nighttime spectaculars that have popped up over the past 28 years at Universal Studios Florida, Universal Orlando's Cinematic Celebration has been designed to be viewed from just one specific area instead of being accessible from all around the park's central body of water. This one simple move makes all the difference, allowing the company to stack several different layers up and to provide a depth of field that is unparalleled in Universal Parks and Resorts's history.
One hundred twenty fountains provide the bulk of the movement, action, and energy of the production, shooting to some truly impressive heights during particularly climactic moments and, even, moving to spray almost any which way during others (the diagonal jets, as simple as they are, are actually one of our favorite parts of the whole show). With the combination of dynamic lighting, changing the color of the fountains from blue to red to green in just a matter of seconds, the resulting effect is simultaneously riveting and entrancing.
Then there's the 40-foot-wide water screens that materialize in giant sprays right in the midst of this aquatic action, which allow the various footage to be projected in a typically-Universal-larger-than-life way. Although it may sound like all of the other commotion surrounding the film scenes would be distracting, it isn't in the slightest; the two actually work in tandem to create this all-pervasive viewing environment that almost literally takes on a life of its own – something which is only aided and abetted by the fact that Cinematic Celebration's various vignettes sometimes engage in somewhat-abstract imagery in addition to the projection of various movie clips.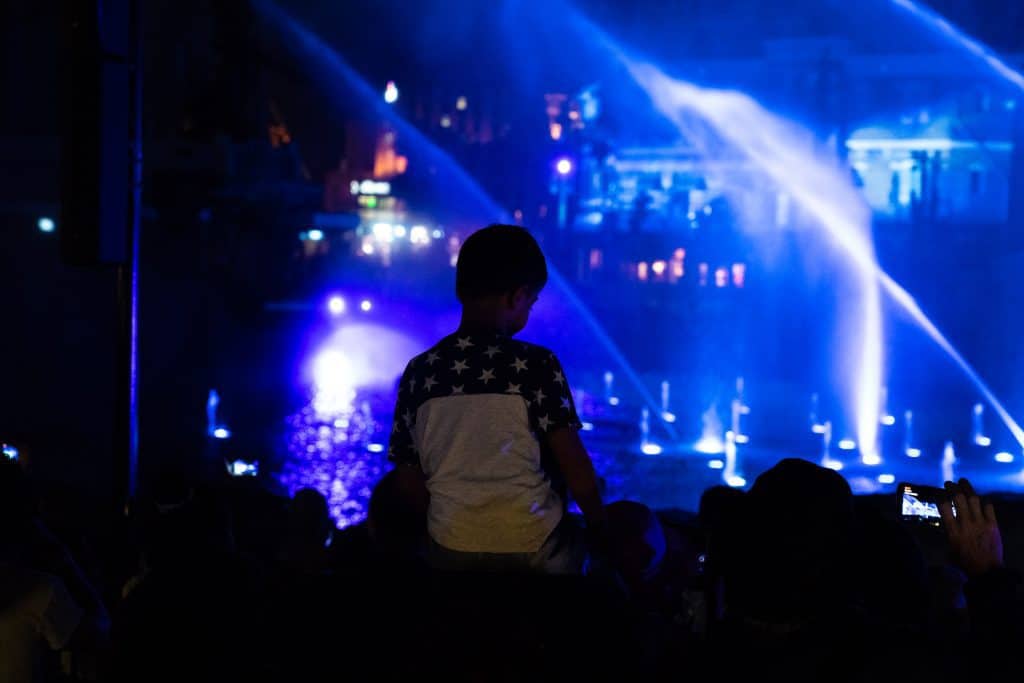 Bringing up the rear is the projection-mapping that paints the buildings on the other side of the lagoon in whatever colors, footage, or, even, patterns that are needed to complement the main bulk of the action over the water. This final layer of media more than seals the nighttime-spectacular deal, making the audience feel as if it's in some sort of giant performance space – whatever's going on in the background may not always be completely noticeable, but, trust us, your subconscious will always pick up on it, providing that one final element that you may not have known that Universal needed to conjure a complete, immersive experience.
What's truly impressive about this Disney's World of Color-esque setup is not only its depth of vision, but also its breadth – when you tilt your head in either direction to look down the length of the lagoon, you'll notice a variety of screens, fountains, colors, and projected imagery that vary in size and effect and that complete the picture. When taken altogether, one can't help but be impressed by how much of a cinematic celebration this new show really is.
(Before we move on from this general overview to the realm of the specific, we have a few more pieces of reading for those of you who are spoiler-averse: we provide a brief-but-more-or-less-complete rundown of what the previous nighttime productions consisted of here, and a full-blown breakdown of Cinematic Celebration's predecessor, Universal's Cinematic Spectacular: 100 Years of Movie Memories, here.)
Cinematic Celebration: Breakdown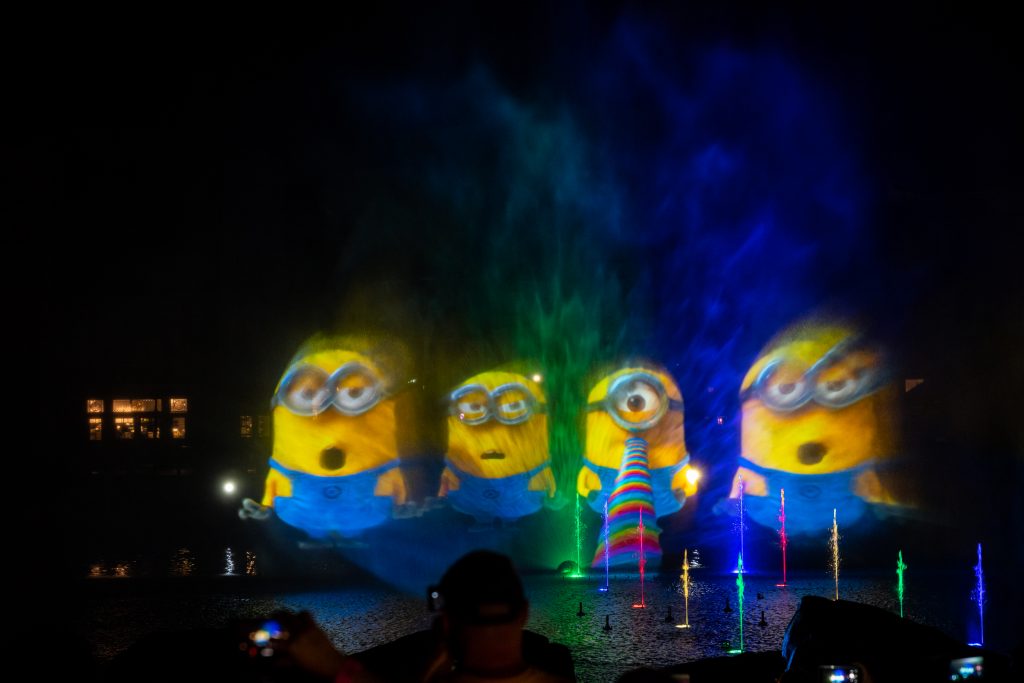 Now it's time for the fun, spoiler-filled part. (Look away if you want to know nothing of the specific contents of Universal's new nighttime extravaganza!)
Universal Orlando's Cinematic Celebration consists of seven different sequences, each roughly two minutes in length and each dedicated to one particular movie franchise or studio: Jurassic World, Fast & Furious, E.T., DreamWorks Animation (which consists of How to Train Your Dragon, Kung-Fu Panda, and Trolls), Transformers, Harry Potter, and Illumination Entertainment (Despicable Me/Minions, The Secret Life of Pets, and Sing). Buttressing these is both a prologue and epilogue, with the former relying on purely music, color, and the water fountains to set the stage and the latter utilizing every trick in the Celebration bag – including a montage of nearly every single film series involved – to end on a giant, pyrotechnic bang (we should probably note here that there were no fireworks capping off the end of last night's rehearsal performance, most likely due to weather conditions).
Each segment primarily consists of various scenes from the various movies in question being projected on the 40-foot water screens, whether that be Dominic Toretto racing his trademark car, Owen Grady facing off against his pack of personally-trained velociraptors, or Harry Potter riding the hippogriff Buckbeak across the Black Lake, next to Hogwarts Castle. While this may sound somewhat anticlimactic, it's actually quite the opposite – with all of the production's effects going off in full force all around (and within) the film footage, it brings these familiar scenes to life in a way that you've never quite experienced before. It's nothing short of thrilling.
And, furthermore, these greatest-hits sequences are punctuated with some rather abstract moments, like when the Fast & Furious section revs to life by projecting a thumping red pulse larger-than-life over the lagoon, or when flashlights crisscross the darkness as the unseen government agents are looking for E.T., or when some rather nifty transforming iconography is draped across the various buildings and over the water as the Transformers (who else?) take the watery stage. It's just enough to not only add variety to the more familiar elements, it also more fully takes advantage of the layered media that Universal has orchestrated for Cinematic Celebration – you just may find yourself enjoying these quick interjections more than reliving your favorite cinematic memories.
Speaking of which, please allow us to relive some of our own favorite moments from the show's debut performance last night: seeing the Universal logo cap off the beautiful introductory sequence was surprisingly effective; hearing the majestic Jurassic Park score while doing a flyover of Jurassic World sent chills down our spine; witnessing E.T.'s heart light up warmed our own; the particularly over-the-top moments from The Fate of the Furious, such as all of the various cars raining down from some surrounding buildings and skyscrapers, were even more epic than ever before; Gru asking his Minions to kick off the finale was perfectly scripted and performed; and, it goes without saying, seeing the Dementors swoop over Universal Studios Florida's lagoon and, once Harry had saved the day, seeing the various Hogwarts house colors dominate the area made us smile like nothing else.
The show may be some 20 minutes long, but it truly feels as if it flies by in a frenzied, whirlwind collection of heartbeats – once that gigantic spray of water reaches its mammoth apex and the lights and music cut off, you'll still be ready for more.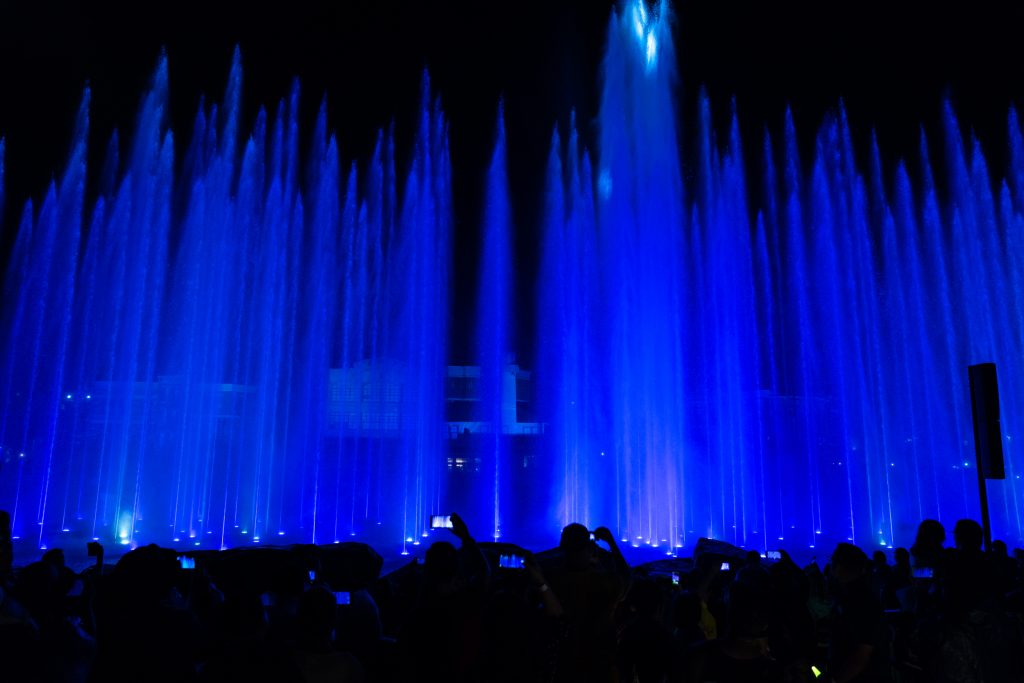 Universal Orlando's Cinematic Celebration: Epic Cinema under the Stars is currently in its technical rehearsal period, which means that it can start or stop unexpectedly over the course of the next several days, if not weeks. It is scheduled to officially start sometime this summer.
–
Be sure to follow Orlando Informer on Facebook, Twitter, and Instagram for the latest news and tips at Universal Orlando, Walt Disney World, and other Orlando experiences.