Russ Dagon, Vice President and Executive Project Director at Universal Creative, revealed the details of Universal's sixth on-site hotel Monday.
The sixth on-site hotel, titled Universal's Aventura Hotel, will be a prime value property that towers above its neighboring on-site hotels Loews Sapphire Falls Resort and Universal's Cabana Bay Beach Resort. Dagon's team is responsible for the creation of both of these properties as well.
Straying away from Universal's other five on-site hotels, the property appears to have less of an overarching theme. In addition, the hotel will have 16 floors, making it the tallest on-site hotel by quite a margin.
The hotel will have open spaces and refreshing natural colors. Dagon specifically mentions that the guest rooms will boast colors like sea blue and rose. Like Sapphire Falls, which opened this summer, Aventura will also offer floor-to-ceiling windows. However, this new hotel will take it a step further; the entire tower will be glass.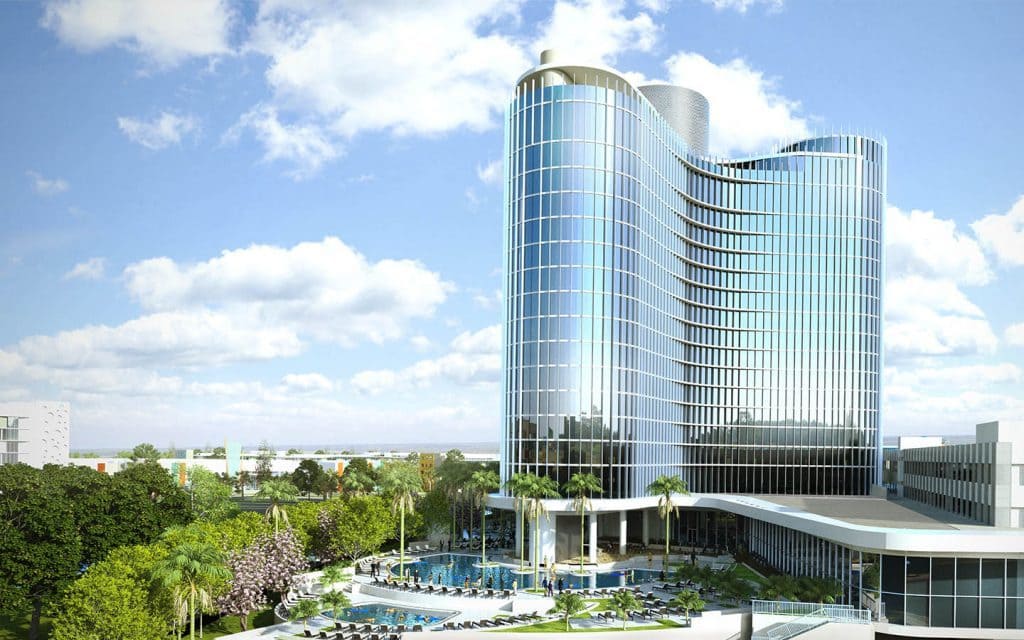 Unique to Aventura is the hotel's rooftop bar. Offering cocktails and small plates, Dagon says you'll be almost level to Volcano Bay's centerpiece 200-foot Krakatau volcano.
Just off of the hotel lobby will be a "casual food hall" with five different cuisine options. While not announced today, sources tell Orlando Informer that the options under consideration are burgers, sushi/noodles, rotisserie, pizza, and tacos. There will also be a Starbucks in the lobby.
Like every other on-site hotel, Aventura will have a bar near the lobby. It will have a great pool and matching pool bar. It will also have a splash pad for kids and fire pit. Like its sister prime value property, Cabana Bay, Aventura will not offer water taxi transportation to the parks. It will, however, offer a walking path and complimentary shuttles.
Other amenities planned for Aventura include a Universal Orlando ticket desk, car rental available on-site, a fitness center, and Universal Studios Store. Only self-parking will be available.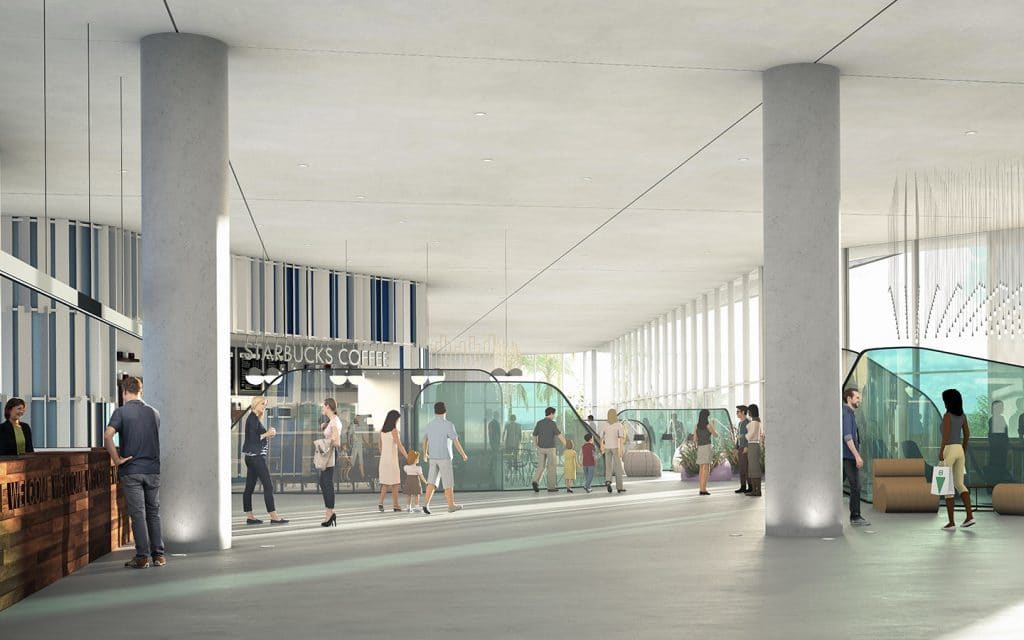 Universal's Aventura will sit on 5.87 acres and have 600 guest rooms, including 13 kids' suites. Based on the number of rooms, it will be the smallest on-site hotel. Next in size is Hard Rock and Portofino Bay, with 650 and 750 guest rooms respectively. As we pointed out when first reporting on Aventura a few months ago:
This move plays into Universal's overarching occupancy goal for its Orlando resort. Before this apparently-never-stopping round of hotel construction that was brought about by the presence of The Wizarding World of Harry Potter – Diagon Alley in 2014, Universal Orlando had 2,400 rooms. Now, once Aventura debuts, the resort will be looking at 6,200 – and that's literally only half of what the company's stated goal is (crash-course reminder: some four years ago, new corporate owner Comcast gleefully announced its grand goal of amassing some 15,000 hotel rooms in its Orlando empire). For this reason, don't be surprised when the company announces its seventh hotel before Aventura even opens for business.
The property will open in Summer 2018. Next summer, Cabana Bay will open a 400 room expansion. Reservations for the new hotel will become available in early 2017.
Follow Orlando Informer on Facebook, Twitter, Instagram, and join our Facebook Community for the latest news on Aventura.