Update 1/17/12 12:46pm
Apparently someone on Universal Orlando's social media team didn't read the memo all the way through. Initially Universal's Facebook post stated that next Wednesday's media-only webcast event would reveal "ALL the details about ALL the amazing new experiences." (I didn't add the capitalization.) Well, now their Facebook page is saying:
You may have heard we're making a big announcement next week about all of the new experiences we're opening for you in 2012. And, some of you may be wondering whether that announcement will include an update on what we have planned for the JAWS! area… We want you to know that won't be part of our announcement.

We will be sharing details on many other new & exciting entertainment offerings. Actually, we're creating more new entertainment experiences for you in 2012 than during any other year in our history! Want to see if you can figure out what we're going to announce? Then stay tuned for some hints and sneak peeks leading up to the big day.
And the original post has been deleted.
So, scratch any news about JAWS and WWoHP. Instead, expect opening dates for Hollywood Drive-In Golf, Despicable Me, news about the Spider-Man upgrades, and info about the new USF lagoon show and other tie-ins to Universal's 100-year anniversary.
Harry, my good friend, you will have to wait.
Update 1/17/12 11:12am
Today Universal Orlando announced a media-only webcast event for next Wednesday, January 25. It sounds like they are set to unveil their plans for everything discussed in the article below, including Despicable Me, the replacement for JAWS, WWoHP expansion, the new USF lagoon show, and their entertainment tie-ins to Universal's 100-year anniversary celebration.
The Universal Facebook page promises to be giving out hints leading up to the event.
Now back to the original story!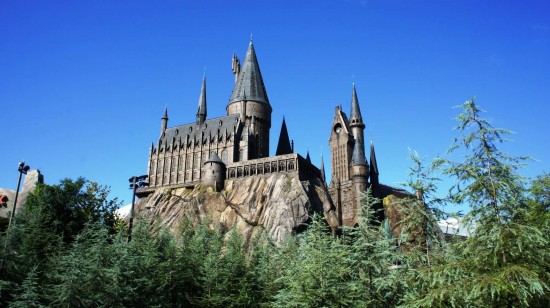 Since this is my first post for icFlorida.com, and because it is the beginning of a new year, I thought it would be appropriate to start with an overview of what's been happening at Universal Orlando Resort. Let's start by taking a look back at 2011.
The year 2011 will always be known in Universal history as the year that the Wizarding World of Harry Potter catapulted the resort's attendance–and revenue–to record-breaking levels. While the Wizarding World actually opened in June of 2010, it wasn't until the summer of 2011 that we could actually compare year-over-year numbers from before and after Harry Potter got his new home in Central Florida. And that comparison is quite incredible: For the second quarter, Universal's attendance was up an astonishing 41 percent, and revenue soared 61 percent year-over-year.
While it would be impossible for Universal to continue to post such impossible gains this year, a visit to the Wizarding World over the holiday break clearly showed that Harry is still captivating theme park fans. Forbidden Journey, the signature attraction inside the Wizarding World, routinely had a wait time of 150 minutes (that's two and a half hours!), and the resort has all but run out of room for the line of guests trying to enter the attraction's queue.
But, for fans of Universal Orlando, 2011 was also a year of other astonishing, if not so celebration-worthy, news. In October, Universal announced that the well-loved Dragon Challenge coasters would no longer duel. The decision came after guests, in two separate incidents, were injured by what was speculated to be debris flying from one coaster toward the other. (For those not familiar with Dragon Challenge, the attraction features two separate coasters whose tracks are interwoven. When dueling, the two coasters came within 18 inches of each other.) The two coasters are both still in operation, but they now are in a "chasing" pattern and launch at separate times.
2011 also marked the end of Jimmy Neutron's Nicktoon Blast, the last of the Nickelodeon attractions to fade from the park map.
Finally, the biggest shocker of all came right at the end of the year, when the resort announced it would be closing JAWS and the Amity area in one month. JAWS was not only an icon of Universal Studios Florida, but it was only one of the remaining two major attractions still in operation from when the theme park first opened (the other one is E.T. Adventure). Despite the outpouring of criticism from Universal fans, JAWS final voyage was on January 2, 2012.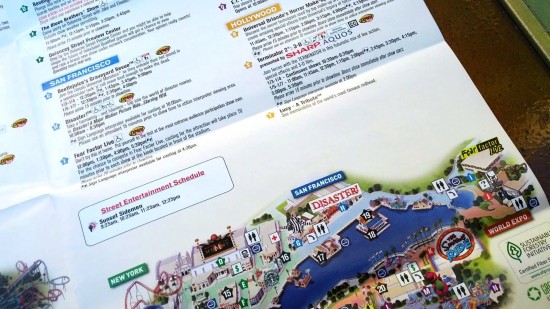 Out with the old, in with the new
If everything goes as we think it will, 2012 will be another thrilling year for Universal Orlando. As we discuss what is coming up for the resort, it is important to separate fact and speculation. First, let's talk about what we know for sure.
Although we do not have an exact opening date, we do know for sure that Jimmy Neutron's Nicktoon Blast will be replaced by a refurbished simulator ride themed after the computer animated movie Despicable Me. As part of the announcement, Universal created this fun "flash mob" video:
[youtube_video]NxfzgBn__t4[/youtube_video]
You can get updates on the construction of Despicable Me here (although I haven't actually posted an update in a while since the building has remained largely unchanged for over a month).
We also know for sure that Hollywood Drive-In Golf, a brand new mini golf attraction will make its debut during 2012 at Universal CityWalk. I personally am very excited for this to open, as it will bring some much need family-friendly entertainment to an area dominated by restaurants and nightclubs.
You can follow the construction of Hollywood Drive-In Golf here.
In addition to Despicable Me and Hollywood Drive-In Golf, we are certain to be getting a new nighttime lagoon show at Universal Studios Florida. The large domes from the not-so-spectacular Universal 360 Spectacular have been retrofitted and repurposed. Although the construction work on these domes–now barges with huge scaffolding–is obvious to anyone who walks along the USF lagoon, Universal has not yet announced details or an opening date for the new show. However, many expect that there will be a tie-in to Universal's 100th anniversary celebrations. (Oh, did I forget to mention that this year the Universal company is 100 years old?). Here is a video of the barges I shot recently:
[youtube_video]IhlOfJkprH0[/youtube_video]
The last piece of news that we know for sure is perhaps the biggest. Universal has officially announced that they are expanding the Wizarding World of Harry Potter at the Orlando resort. However, it is essential to point out that this is all we know. There are no official plans; there is no official timetable. There isn't even an official location for the expansion.
But if there is one thing theme park fans do well, it is speculate and share rumors. Perhaps the biggest rumor right now is that the expansion of the Wizarding World will actually occur not in Islands of Adventure, but over in Universal Studios Florida where JAWS and Amity were located. It is believed by some that the area will be transformed into the "London" of the Harry Potter stories, with a real Hogwarts Express train to transport guests between Harry's London and Hogsmeade Village over in the current Wizarding World.
I have talked to people who are absolutely convinced this is going to happen. I have also talked to people who are absolutely convinced that the JAWS and Amity area will be used for something completely different, and that the expansion of the Wizarding World will take over Lost Continent, the "forgotten" island at Universal's Islands of Adventure.
The important information to takeaway right now is that Universal has made no official announcement about what the expansion of the Wizarding World will look like, nor have they announced what is replacing JAWS and Amity.
And that, my friend, is exactly why 2012 is going to be such a thrilling year for fans of Universal. No matter what happens, we are finally going to learn what will replace JAWS, how the Wizarding World will be expanded, and exactly what new attractions are to be built that will impress us even more than Forbidden Journey!
Update
Yesterday I was at Universal Studios Florida and discovered that classic movie posters have been placed on the construction walls surrounding the shuttered Amity area. Perhaps this will fuel speculation that the area will indeed not become Potterland 2.0, but instead the new attraction will be a tribute to Universal's 100-year anniversary. What do you think?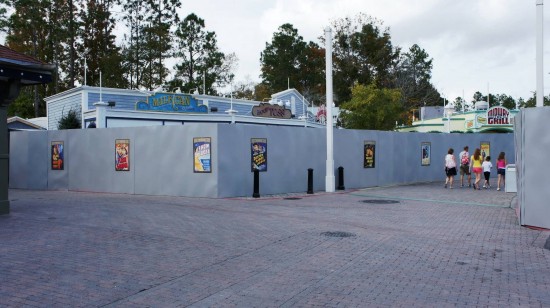 This post was originally published on the icFlorida.com website.