Universal Orlando: A culinary odyssey
When I took my wife to Universal Orlando back in February for her 30th birthday, we didn't have much time to spend at the resort, thanks to the wonderful flexibility of the public school system (she teaches eighth-grade English, in case you're curious). I spent some seven months carefully — some might say obsessive-compulsively — researching the sights, attractions, and hotels that UOR had to offer, crafting a three-day, three-night blitzkrieg across Universal's 800 (or so) acres.
What surprised me almost immediately was just how much time I spent on — and enjoyment I got out of — looking into the food side of the equation. And while my wife spends the most time telling friends and family about the lazy afternoon spent lying around Portofino Bay's pools, and while I jammer on endlessly about the Incredible Hulk Rollercoaster, what I truly keep going back to were, oddly, the restaurants at which we were constantly dining. (Given that this was our first trip to Orlando in over a decade, I decided to throw caution to the winds and eat out for every meal. My stomach thanked me, although my wallet certainly didn't.)
Indeed, Universal has a lot to serve to the culinary enthusiast (for a theme park, at least), and I'm offering up our dining roadmap to you all to either stand as a template for how to structure your days eating around the parks or how to simply avoid an enormous bill.
The first night was designed specifically to arrive at the resort, stroll around CityWalk for a bit (to soak up both the atmosphere and some good food), and then snuggle up in our cozy bed at Portofino to prepare for the ungodly early admission to the Wizarding World of Harry Potter the next day. While we arrived much later than I had thought, thanks to airline delays and Mears shenanigans (friendly tip: avoid using them if you can), we still had more than enough time to enjoy some spicy shrimp and Forrest Gump trivia from our waitress. Eating at the restaurant at 9:45 on a weeknight during slow season is a wonderful experience, as servers are more attentive and the building becomes something of a museum, allowing you to peruse the memorabilia hanging on the walls without annoying patrons attempting to devour their meals. This was by no means the best food we had at Universal Orlando, but it did account for some of the most (culinary) fun.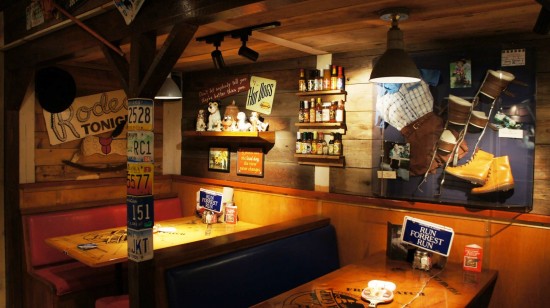 Sal's won our breakfast spot both mornings due simply to its being open by 6:00 am (I told you Early Park Admission was unnaturally early). Its cozy size and richness in detail are appealing, but the cafeteria-style selection of food made it more a utilitarian meal rather than a culinary delight.
Imagine our surprise at how quickly we were able to tick off every last item on our Harry Potter to-do list and how (comparatively) empty the park was, allowing us to stroll right into the Three Broomsticks for a quick bite with absolutely no reservations — and very little wait time. I have to admit that my summation of the experience is right in keeping with the bulk of Internet opinion: decent food (though my wife enjoyed the smoked salmon more than I did) with absolutely unparalleled theming and décor. The Hog's Head Pub is unbelievably tiny but lavishly detailed — not to mention frozen butterbeer, the single best substance at UOR — and even the seating area in the back is a nice little area to relax, write out your letters to your little cousins (with Hogsmeade postmarks), and try to ignore the constant whining of the Mandrakes. Eating here is just as much of a must as, say, riding the Amazing Adventures of Spider-Man.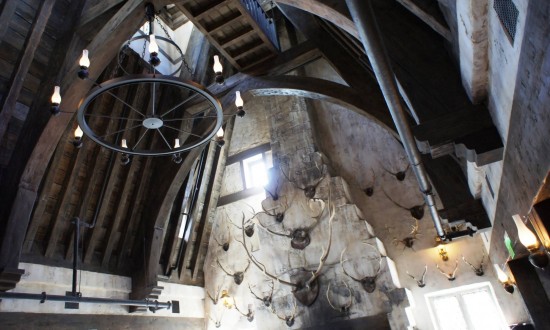 Day 2: Lunch – Mythos (Islands of Adventure)
What possibly more can be said about Mythos? Nothing – so just eat there already.
Easily the most controversial dinning spot in Orlando, it seems, Emeril's was both fun and expensive, though not quite as much as we had feared it might be (probably because neither one of us drinks). Sitting next to the kitchen added a nice visual flair to the food, but the restaurant is so aesthetically pleasing, it's certainly not a necessary component. The only real drawback I found was finding something to eat; the menu was a bit too fancy for my homegrown, down-to-earth (not to mention picky) tastes.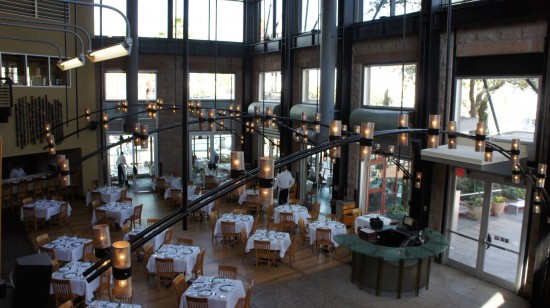 Given that Finnegan's is generally listed as the flagship full-service restaurant at USF, Lombard's turned out to be the biggest dinning surprise for us during our stay, thanks simply to the sheer quality of the food (indeed, in a trip filled with terrific food, this ended up being my wife's favorite meal). Chomping away at your Snapper while watching the fish do their thing in the giant aquarium is surprisingly relaxing, not to mention pleasant.
This restaurant cannot come recommended highly enough. The visiting-your-Italian-mom's-kitchen feel is unique at the resort, the food is top-notch, and the wait staff is of high enough quality to match that of Japan, the Land of Service. Even if you're staying at another hotel (even – gasp – an off-site one), Mama Della's should be on your itinerary of places to visit, no questions asked.
Day 4: Breakfast – Trattoria del Porto (Portofino Bay Hotel)
A nice, slow, outdoors breakfast of cinnamon French toast is the perfect meal – and the perfect way – to end a whirlwind touring weekend. Much like Mama Della's, our waiter was singularly polite and attentive, and the lazy Sunday atmosphere was spot-on. Though perhaps not worth a trip specifically to eat here, you can't go wrong stopping by if you're already staying at Portofino.
See my follow up post: Final thoughts on Universal Orlando cuisine
[sws_author_bio user="msunyata@yahoo.com" size="105″ authorposts="More OI posts by Marc" name_format="About the author"] [/sws_author_bio]