Everyone is keenly aware of this year's big additions to Universal Orlando Resort – this month's Race through New York Starring Jimmy Fallon, next month's Volcano Bay, and, just possibly, a Harry Potter nighttime show later this year – which means it might be a good time to pivot to those wonders that Universal has planned for 2018 and beyond. Fast & Furious: Supercharged is first up, arriving sometime next summer, while Super Nintendo World looms large on the horizon as the biggest development at the resort since the opening of The Wizarding World of Harry Potter – Diagon Alley three years ago.
As it turns out, Universal is certainly preparing for these arrivals already. A patent (yes, another one, after the Floo Network and wrap-around screen filings from the past few weeks) has recently been uncovered by the Orlando Business Journal (yes, yet again) – a patent which seems primed for either of these two new arrivals.
The patent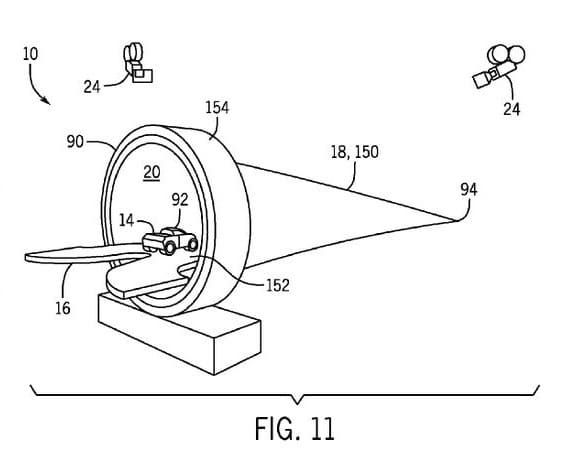 Officially called "amusement park ride tunnel," this new paperwork spells out a specific type of dark ride mechanism. Put simply, it calls for a ride vehicle to enter a tunnel, which would then be filled with either projections or various structural items – or both – that would help to simulate a fast speed (these projections could be of "the sky, clouds, trees, buildings, bodies of water, wild life, aircraft, trains, other vehicles, and the like"). Even better, a host of special effects could be deployed, such as wind or lighting tricks, and, furthermore, the entire space could be physically lifted or descended as the vehicle makes its way through it, further heightening the illusion of acceleration.
There's one last salient point the documentation makes in regards to this ride tunnel: it could help shrink its corresponding show building's overall footprint, thereby maximizing the space that Universal has to work with at its resort (a necessity, as Universal Orlando's 890 acres is nothing compared to Walt Disney World's 1,300).
The case for Fast & Furious
Given the patent's preoccupation with speed, the first potential use for this new mechanism in the parks has to be Fast & Furious: Supercharged. And, indeed, this would seem to be an ideal fit at first glance – the sensation of going crazy-fast would be spot on, and the inclusion of various obstacles would fit with the film franchise's love affair with over-the-top action sequences that see Dominic Toretto and his crew (er, sorry – family) racing their various cars through various implausible scenarios.
There is a big mark against this new concept being F&F-compatible, however, and that has to do with what we already know about the Universal Studios Florida ride. Based off of the experience from Universal Studios Hollywood's Tram Tour that debuted two years ago, Orlando's version will essentially pull a Skull Island: Reign of Kong: take the original's ride footage, place some more story both in front of and after it, and then encase it in a brand-new, immersive show building (oh, yeah – and also preface it with a Jimmy Fallon-esque Virtual Line).
Since rumors currently hold that Kong's ride vehicles will also be utilized for the East Coast Supercharged, it's unknown how likely it is that this now-patented ride tunnel would make an appearance – though having it act as a type of transition from the attraction's newly-fashioned intro to the centerpiece that is Hollywood's ride footage is certainly plausible.
The case for Mario Kart
Given that the flagship ride for Super Nintendo World seems to be some type of Mario Kart experience, and since it's highly unlikely that Universal would want actual go-karts used for the attraction, this patent seems to be a shoo-in for Universal Studios Florida's third IP-based land.
There is actually much here that could be used for the entirety of the ride, from pulling sharp turns – a staple of the videogame franchise – to dodging and weaving through various question-mark blocks, turtle shells, and other types of obstacles. And as OBJ even notes, the lip of the tunnel in the paperwork's illustrations has the telltale appearance of Super Mario Bros.'s legendary warp pipes – not a conclusive note by any stretch of the imagination, given the placeholder nature of such pictures, but a possible nice little nod, nonetheless.
This doesn't, of course, address the fundamental question of what the ride vehicle would look like in Universal's take on Mario Kart, or how many guests it would hold (there's very little chance passengers could expect to only stick to two riders per kart), or how much, if any, interaction there could be between the different vehicles – say, by throwing bananas or launching turtle shells. But, if intended for Nintendo's corner of Universal Orlando, there could be a certain visceral quality to the experience which would help it stand out from the (F&F) pack.
–
Be sure to follow Orlando Informer on Facebook, Twitter, and Instagram for the latest news, tips, and more at Universal Orlando, Walt Disney World, and other Orlando attractions.