UPDATE (2:00 pm, 09.22.20): Universal has just announced that it's going to expand its Halloween Seasonal Experience from just the weekend of September 18-20 to this upcoming weekend, September 26-27, before blowing it out to daily operations from October 3 through to November 1.
(If you'd like to read our review of Universal Monsters: The Bride of Frankenstein Lives, you can do so here.)
---
In a surprise move, Universal today announced that it is going to open two of the haunted houses that were originally intended for Halloween Horror Nights 2020 (y'know, before it was cancelled due to the COVID-19 pandemic) for limited daytime operation this fall in what it's calling its Halloween Seasonal Experience Testing. The first of these haunts needs little introduction, given its status as one of the most iconic horror properties in the entirety of cinematic history, but let's go ahead and give it one, anyway.
Universal Monsters has been something of a recent trend for Universal, despite the franchise's 97-year history: in 2018, Universal Studios Hollywood featured a maze devoted to the classic figures, (slightly) revised for the present day; the East Coast picked up the baton the following year, giving it the Universal Orlando Resort treatment (i.e., bigger budgets and more expansive costumes and sets); and, finally, also in 2019, Universal kept the Californian Monster lovefest going with a new take on the property, reimagining 1943's Frankenstein Meets the Wolf Man in haunted-house form. For this year, guests will be getting yet another dose of the Universal Classic Monsters, this time in the guise of The Bride of Frankenstein Lives.
It is immediately after the 1935 film The Bride of Frankenstein, when Frankenstein's Monster attempted to kill both himself and his newly assembled Bride (who roundly rejected him) by destroying his creator's laboratory. She has survived, however, and, now, she's apparently had a sudden change of heart, attempting to procure one body part at a time to bring her beloved back to life (again).
Here's what Universal had to say in its press release:
"We belong dead" – the last words of Frankenstein's Monster on that fateful night, when his Bride rejected him. But his end was her beginning. Now the Bride is stepping out of the shadows to bring him back. And there's nothing she won't do as she sharpens her brilliance by experimenting on unsuspecting victims. The mate will have her monster – and the monster, his mate.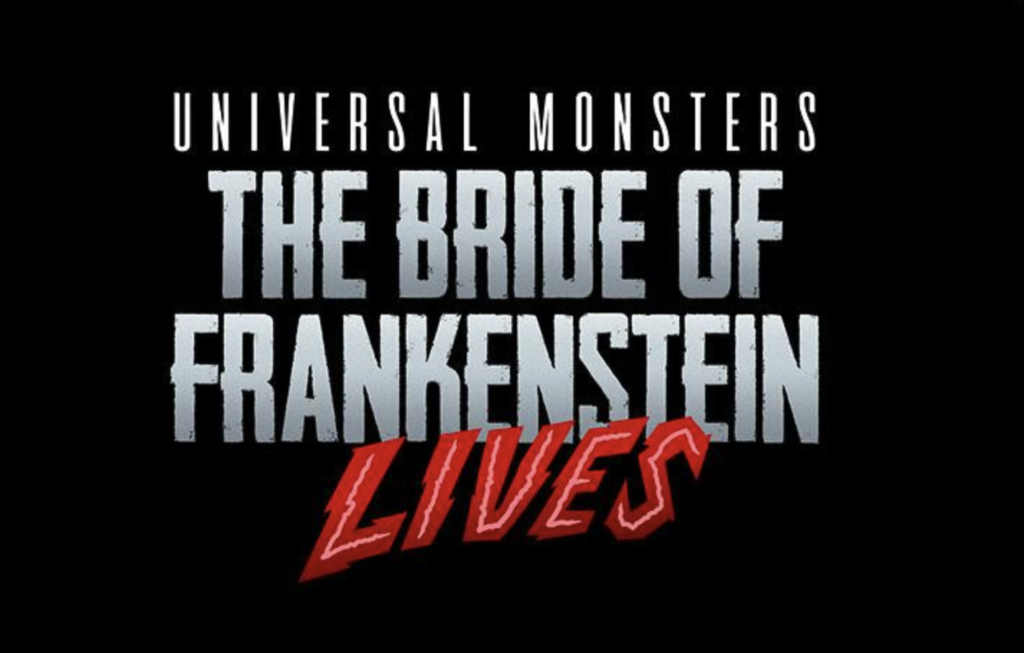 Despite the Bride of Frankenstein's vaunted perch in the cultural consciousness, the character has had a remarkably small number of appearances over the years: she was originally referenced in Mary Shelley's classic 1818 novel, as an incomplete project begrudgingly undertaken by Dr. Victor Frankenstein, but she was finally given full form – and an iconic appearance – in the 1930s, when Universal Pictures started adapting the source material for the silver screen. (The same story goes for Frankenstein's Monster himself, actually, taking on a cinematic form that was largely different from his original incarnation but which has since gone on to become the definitive rendition.) It was in Bride of Frankenstein, then, the direct follow-up to 1931's already-influential Frankenstein, that Elsa Lanchester sealed the legendary deal, bequeathing all future generations the high-haired, shrieking being, even if the Bride would only ever show up that one time on film.
The Bride of Frankenstein Lives has a pretty-wide-open-but-exciting setup, allowing Universal a fairly blank slate when designing the house's story, sets, and players. It also represents a potentially novel take on the Classic Monsters universe, offering up a different experience from the past two years' worth of reinterpretations or retellings. And who knows? With Universal Pictures continuing on with its "Dark Universe" makeover of the original '20s and '30s shared cinematic universe, maybe the Horror Nights original entry will help spark a new film starring the Frankenstein characters at long last.
Universal Monsters: The Bride of Frankenstein Lives will arrive at Universal Orlando Resort for its Halloween Seasonal Experience Testing, alongside Revenge of the Tooth Fairy. It will utilize a Virtual Line, which you can read all about here.
---
Find out everything you ever wanted to know about Halloween Horror Nights – plus more! – in our insider's guide. And then discuss this sudden, unexpected development with 150,000+ other Universal die-hard fans in our Orlando Informer Community on Facebook.
And be sure to follow Orlando Informer on Facebook, Twitter, and Instagram for the latest news, tips, and more at Universal Orlando, Walt Disney World, and other Orlando attractions.