The next announced haunted house for Halloween Horror Nights 2021 is another blast from the (recent) past.
Universal Monsters: The Bride of Frankenstein Lives debuted on September 18, 2020 for select daytime operation during Universal Orlando's stripped-down Halloween festivities; together with an opened-earlier-than-ever-before Tribute Store and a sister maze in the form of Revenge of the Tooth Fairy (and, later on, for just one weekend, the Beetlejuice haunt, as well), the experience provided at least a slight taste of the resort's most popular annual event during a year that was absolutely dominated by COVID-19. And, now, that experience will help headline a full-fledged Horror Nights outing (along with Beetlejuice, incidentally), finally delivering on The Bride of Frankenstein Lives's promise.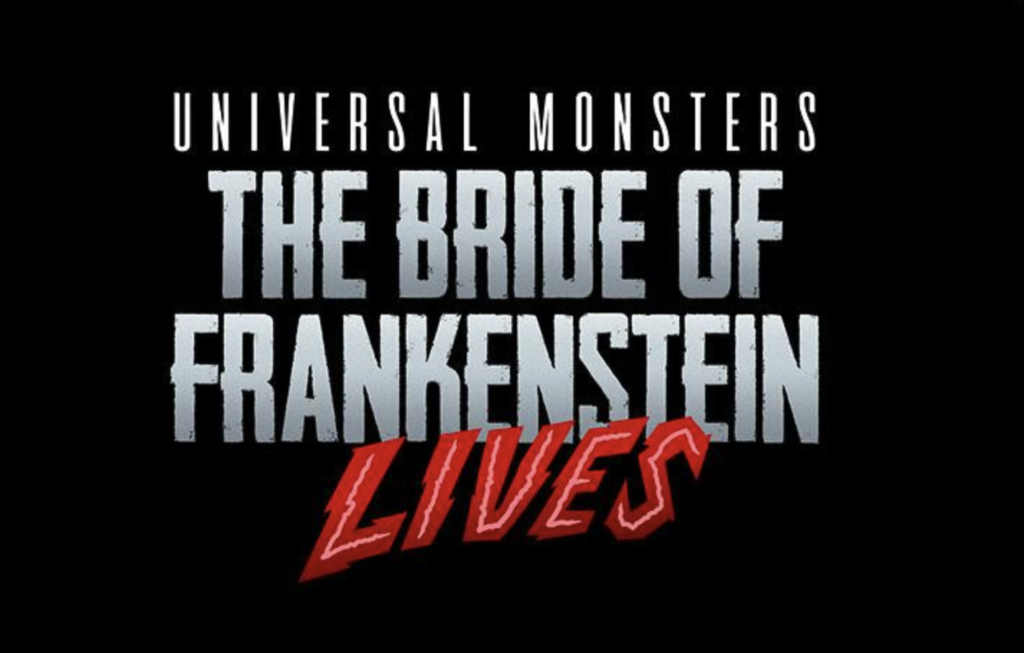 At least, that's the theory – Universal hasn't officially commented on whether there will be any differences from last year's showing. But here's what we do definitely know thus far: this is a house filled with grand and beautiful sets, detailed costumes and scenery, and the presence of some other Classic Monsters spouses – namely, Dracula's. These three characters, like the titular Bride of Frankenstein herself, have been around in the popular culture for quite some time but have never quite gotten their time in the narrative spotlight – they originally hailed from their source novel (in this case, Bram Stoker's Dracula in 1897) and then made their way to the movie screen, starting with 1931's Dracula. They continued to make appearances in nearly every subsequent film and television adaptation of the classic book, usually taking on quite seductive (and, sometimes, explicit) forms, perhaps best exemplified by Bram Stoker's Dracula, the 1992 cinematic outing that was helmed by Francis Ford Coppola. They never managed, however, to make more than fleeting background appearances, essentially replicating the minor role that the three so-called "sisters" played in the original novel (and the author's subsequent short story, 1914's "Dracula's Guest," which seems to be a deleted chapter from Dracula).
Both (sets of) characters also have something else in common: troubled behind-the-scenes development cycles in Hollywood as of late. Frankenstein's Bride was meant to receive her own remake, starring Angelina Jolie and placed within the Dark Universe shared cinematic universe; now, however, with that overriding storytelling framework having gone belly-up, the project is simply known as The Bride, it has been reimagined as a modern-day, female-empowerment picture, and it will star Scarlet Johansson in the main role. Dracula's mates, meanwhile, were set to receive their own contemporary updating in the form of the similarly named The Brides, a "sexy" and horror-filled TV series that would've been a "vampire soap about empowered, immortal women, and the things they do to maintain wealth, prestige, legacy – and their nontraditional family." Unfortunately for the much-talked-about endeavor, ABC just recently passed on the pilot, leaving it – for the time being, at least – adrift.
Of course, fans will still be able to get their Monsters mix this fall at Universal Orlando. And as far as The Bride of Frankenstein Lives goes, here's a recap of its premise once again:
"We belong dead" – the last words of Frankenstein's Monster on that fateful night, when his Bride rejected him. But his end was her beginning. Now, the Bride is stepping out of the shadows to bring him back. And there's nothing she won't do as she sharpens her brilliance by experimenting on unsuspecting victims. The mate will have her monster – and the monster, his mate.
Universal Monsters: The Bride of Frankenstein Lives will join Beetlejuice, Haunting of Hill House, and Texas Chainsaw Massacre at Universal Orlando's Halloween Horror Nights, which runs for a record-breaking 42 select nights, from Friday, September 3 to Saturday, October 31. You can read our review of the 2020 version of the house here.
---
Find out everything you ever wanted to know about HHN – plus more! – in our insider's guide. And then discuss it all with 125,000 other Halloween die-hard fans in our OI Community Facebook group.
And be sure to follow Orlando Informer on Facebook, Twitter, and Instagram for the latest news and tips at Universal Orlando, Walt Disney World, and other Orlando experiences.