Ever since the Boy Wizard first flew his broom into Universal Orlando Resort, a brand-new element has emerged on the theming landscape: food. From 2010 onward, no theme-park experience would be considered complete without an accompanying exclusive dish or beverage, such as the Wizarding World's Butterbeer or Volcano Bay's Pan-Pacific lineup.
Since then, however, we've seen some changes to the various menus located throughout Universal's property – and now we're seeing some more, specifically regarding the new water theme park and NBC Sports Grill & Brew, one of the most recent additions to CityWalk. The specifics of each case may be different, but they're nonetheless worth looking into; not only will these alterations potentially impact your upcoming vacation, but they will also go a long way to informing what Universal's theming future will consist of.
Volcano Bay expands… a little
Back in July, just two months after the water park first opened, we reported that Volcano Bay had almost 30 items removed from its initial – and rather impressive – menu. Some of these changes were more comprehensible (a goodly portion of the specialty burgers and barbecue items, for example), while others were far less so (removing The Feasting Frog's signature offering, tacos, which formed a prominent part of the eatery's logo).
Our initial hypothesis regarding this pretty substantial shake-up was that it had to do with what must have been a lengthier-than-expected food-prep process; lines got too long and guest complaints got too numerous, so Universal felt it necessary to take bold action. But given the fact that (a) so many of these gastronomical selections were so embedded in the water park's marketing, and (b) the resultant menu (which now included corn dogs and a bacon cheeseburger) was so much closer to what's available at either Universal Studios Florida or Islands of Adventure, we also predicted that at least some of these alterations would be temporary.
Fortunately, we were right.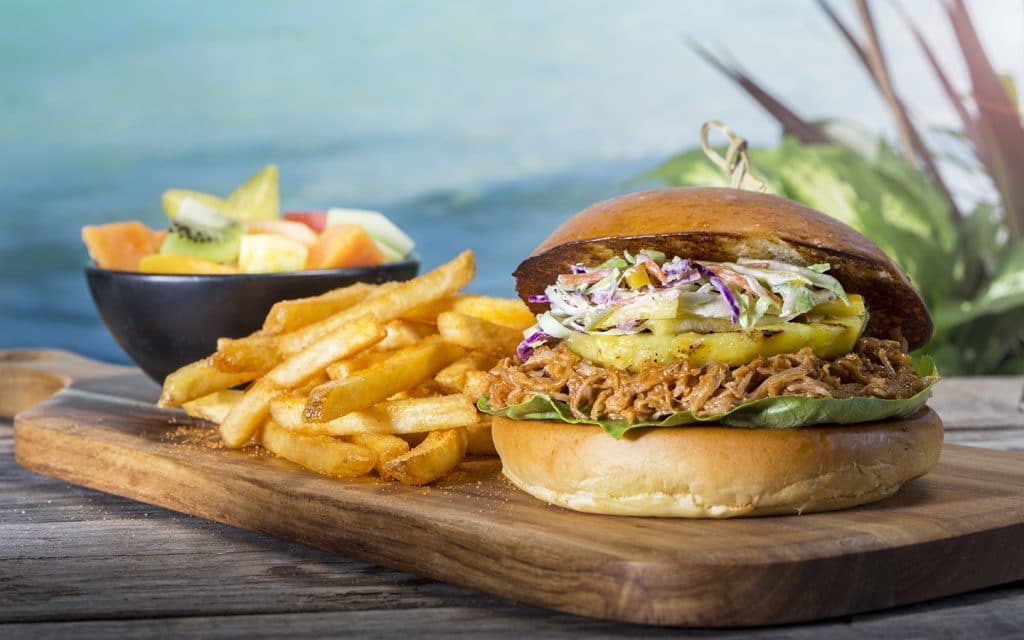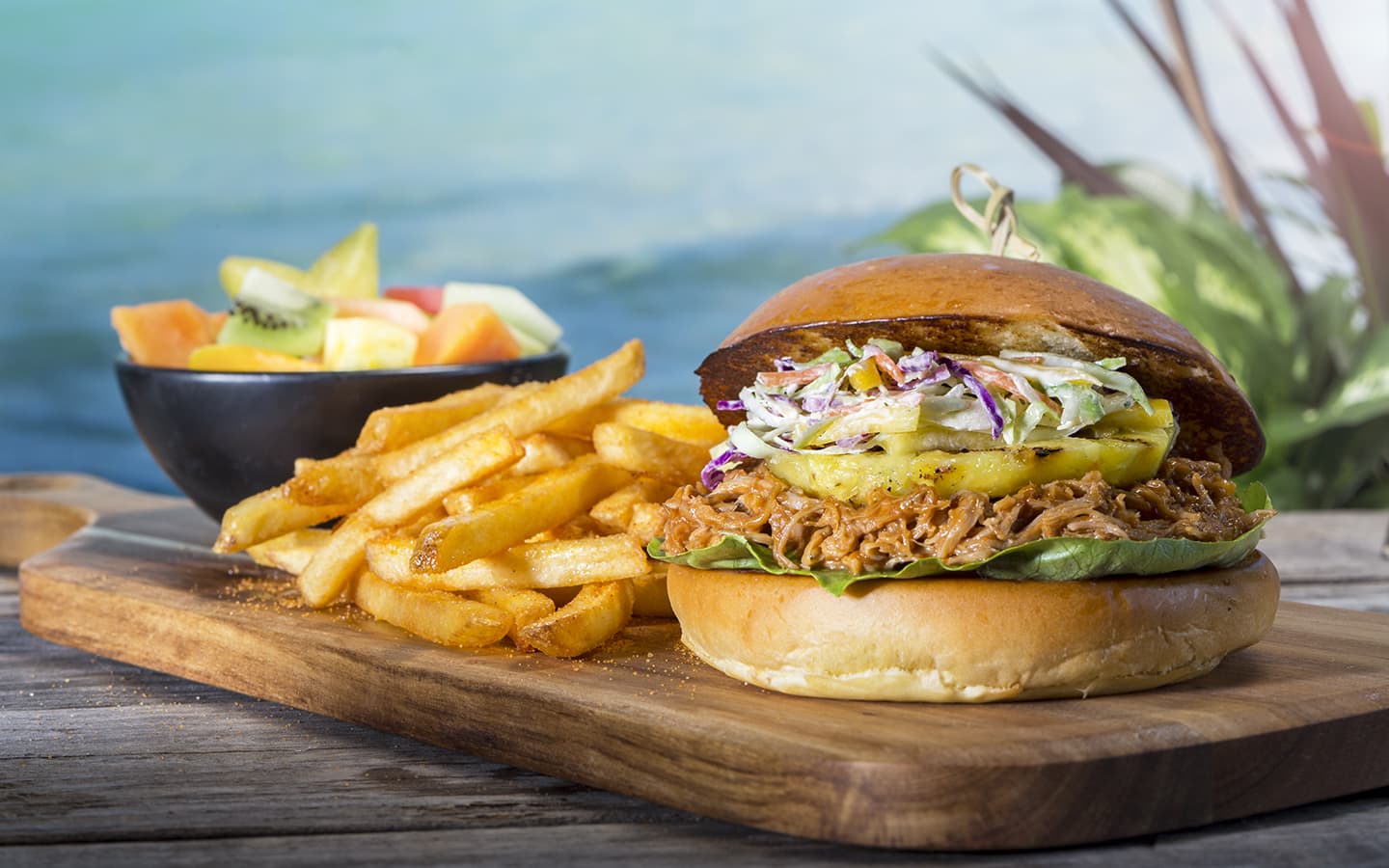 Many of the 28 missing items have been restored over the past three months (beyond those flagship tacos, that is). At Kohola Reef Restaurant and Social Club, what can be called Volcano Bay's flagship venue, guests can once again find the Mango BBQ Pulled Pork Sandwich, Kohola Chicken Sandwich, Quinoa Edamame Burger, and Smoked Glazed Chicken. And at Bambu, meanwhile, the titular Bambu Burger (and, also, the Quinoa Edamame Burger) has been restored in all its glory.
This should go a long way to shoring up the water theme park's culinary reputation, helping it to stand out from not only the other parks at Universal Orlando, but also from all those across the entire globe. We'll be keeping an eye out to see whether the company is done tweaking Volcano Bay's offerings as we head into the all-busy holiday season, which should be the true test of whether everything is finalized or not.
NBC Sports Grill & Brew contracts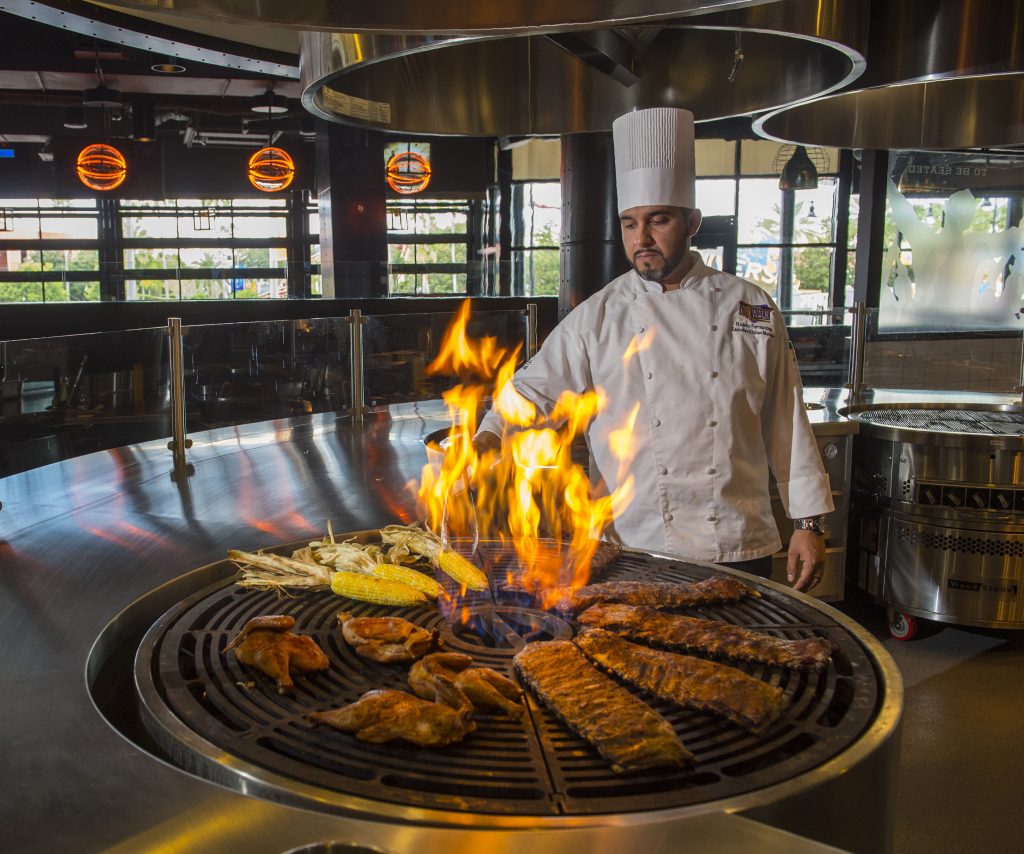 While NBC Sports Grill & Brew is, essentially, your standard sports bar (it replaced NASCAR Sports Grille, after all), its claim to fame – beyond being the first NBC Sports-branded restaurant – was in its way-larger-than-normal food and drink menu, offering somewhere around 100 selections of each.
It was remarked upon in the themed community that such a massive lineup wasn't meant to last – if anything, guest preference would work its magic, weeding out those items that weren't popular and, thus, allowing Grill & Brew to become more efficient in its service. It appears that this, indeed, has been the case, as a number of items – most particularly in the appetizer, steak, and dessert categories – have been cut, with a few new options appearing in their wake.
It's easiest if we just list everything out, so that's precisely what we're going to do:
Appetizers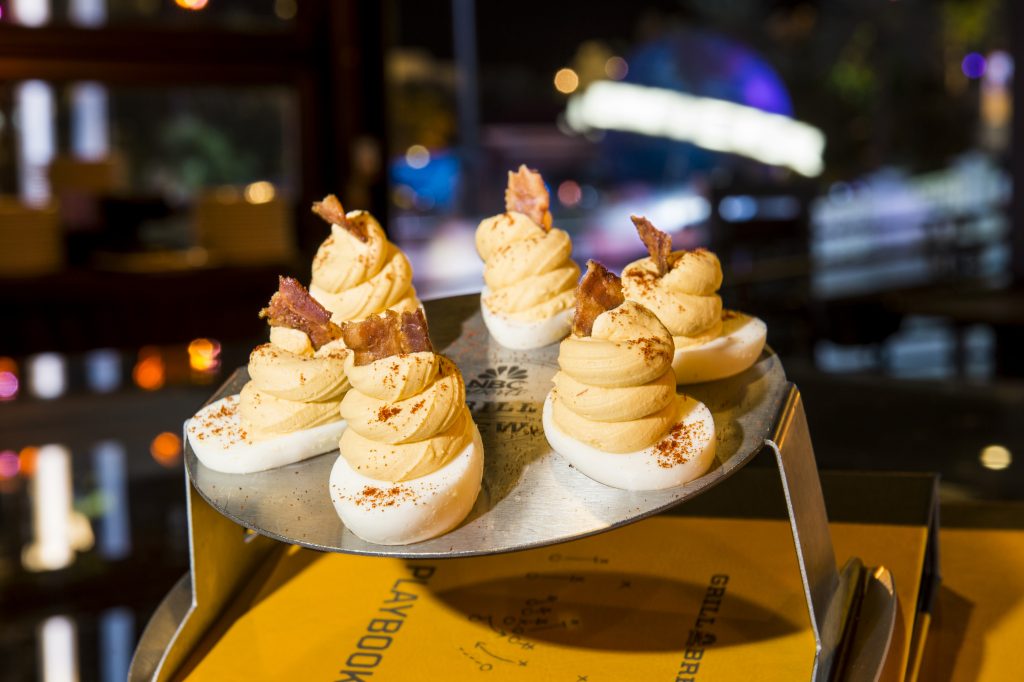 Removed
Blue Cheese Chips
Deviled Eggs
Southern Fried Sliders
Fire-Grilled Wings
Pint of Prawns
Fried Calamari
Crispy Reuben Rolls
Chicken Nachos
Poutine
Added
Loaded Chili Nachos
Black & Blue Kettle Chips
Crispy Pretzel-Crusted Calamari
Salads
Removed
Added
Burgers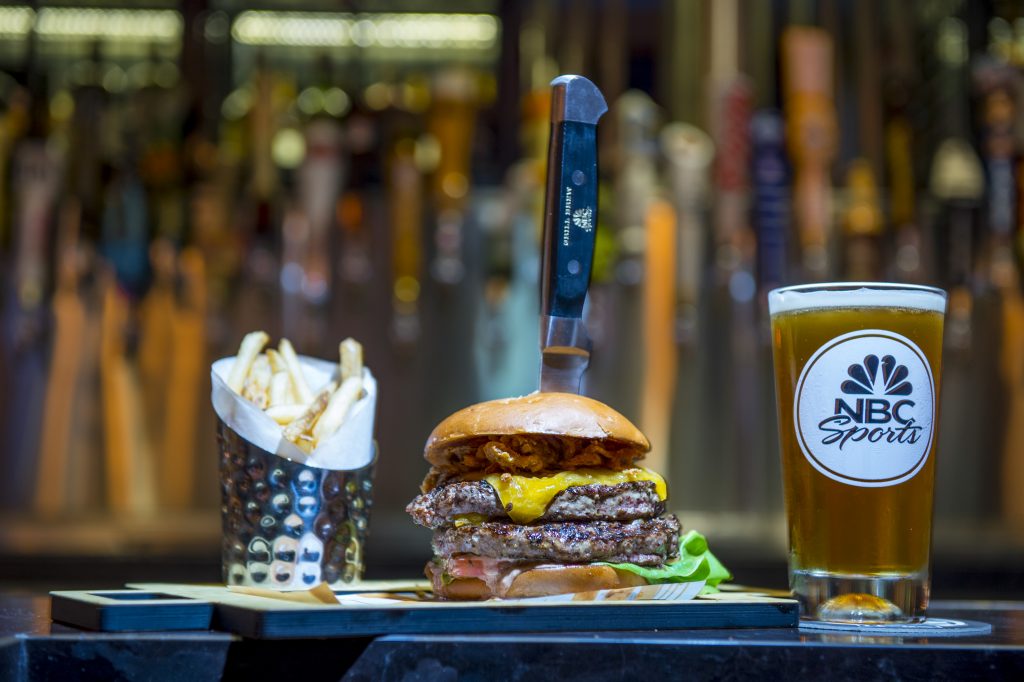 Removed
Brie
Turkey BLT
Farmhouse
Quinoa & Edamame Burger
The Bratwurst
Added
Fired Up Jalapeno
Turkey
Chili
Sandwiches
Removed
Grilled Fish Sandwich
Cuban Meatloaf
Portobello
Chicken Salad Sandwich
Added
Meatloaf Panini
Smoked Turkey Club
Crispy Grouper Sandwich
Entrees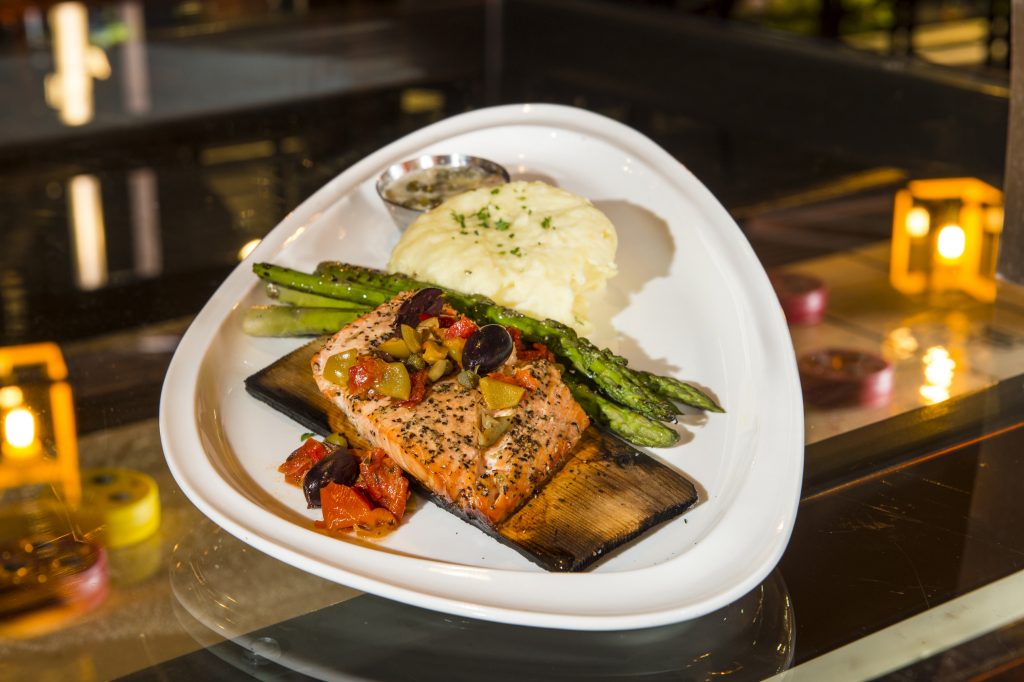 Removed
Grilled Pork Loin
Caribbean Mahi
Added
Grilled Chicken Pesto Pasta
Creekstone Farms 21-day dry-aged Midwest Black Angus Beef
Removed
14-ounce Rib Eye Steak
Filet Mignon
Dessert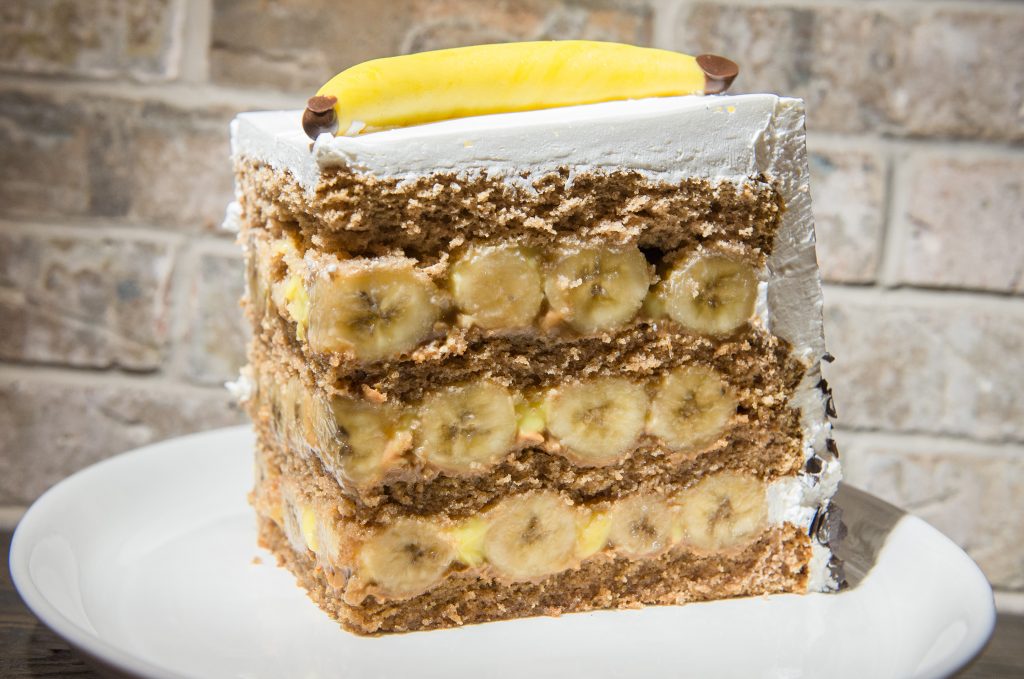 Removed
Big Banana Cake
Rocky Road Sundae
Chocolate Banana Bread Pudding
Added
Cocoa-Nut Cake
Chocolate Banana Cream Pie
Hot Fudge Brownie Sundae
Is NBC Sports Grill & Brew still worth your time and money? In our humble opinion, yes, absolutely – especially during a game (any game, in case you're wondering). Are the replacement options just as good – or, potentially, better – than what was initially served up? We'll leave that up to you to decide, especially since taste (literally, in this case) is so subjective.
What we will say is this: expect the Grill & Brew alterations to factor heavily into whatever new restaurant Universal inserts into CityWalk next, whenever that may be.
–
Be sure to follow Orlando Informer on Facebook, Twitter, and Instagram for the latest news, tips, and rumors at Universal Orlando, Walt Disney World, and other Orlando attractions.