It's time for a little update on what is shaping up to be one of the single biggest projects that Universal Parks and Resorts has ever embarked upon in its roughly 55-year history.
First, though, we should probably (quickly!) backtrack. Universal Beijing Resort, just the second full-fledged theme-park resort that Universal has ever made, was originally announced on October 13, 2014. Since then, progress has been slow but steady: groundbreaking occurred in November 2015, which allowed work to proceed on filing permits and planning with the Chinese government; mass grading of the site started in October 2016; and a joint venture between Universal and various Chinese governmental/business entities (which is formally called Beijing International Resort Co., Ltd., in case you're curious) was formed in December 2017.
It was May 2018 where things really stated to heat up, however. With the financial numbers of Shanghai Disneyland's first full year of operations having just come in, all the various backers of Universal Beijing were inspired to double their investments in their own Chinese park, making its budget balloon to an absolutely unprecedented $6.5 billion (that's a full billion more than what Disney and its local partners spent on Shanghai Disneyland, the previous record holder). Suddenly, what was originally regarded as simply Universal's third international theme park – a sleepy project, especially given the fact that most of the company's overseas ventures had completely fizzled out – became a major news story and a possible harbinger of what Universal Orlando Resort's own future might be (something which we fully explored in our write-up at the time).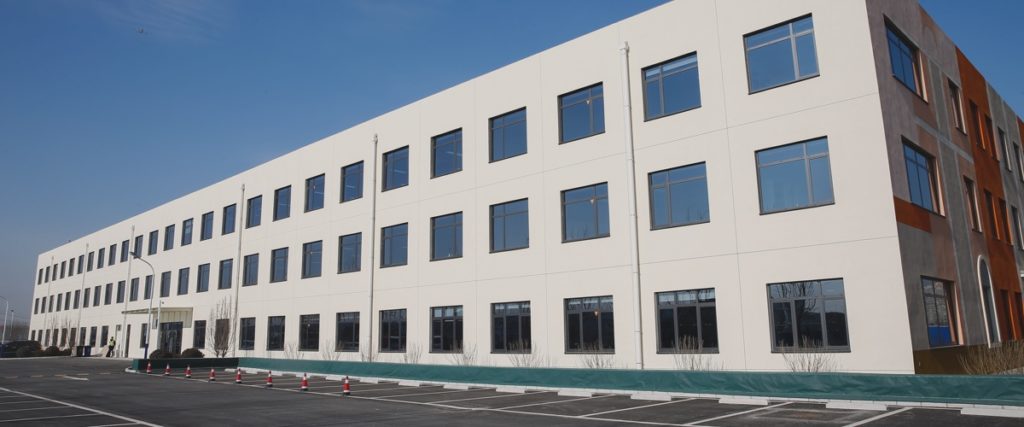 Universal plowed on with, seemingly, renewed vigor. That August, utility and foundation work began, and in December, the Project Management Center was completed, a building which now offers "environmentally-friendly, multi-functional support facilities" for the various construction workers and administrative personnel that are on site – in fact, several hundred employees moved into the new complex that very month.
Now, with all of the planning and design work at long last completed, Universal has happily announced that construction proper has officially begun. All of the various attractions, back-of-house buildings, and transportation facilities will now be going up, although it's still expected that this process will take at least another year-and-a-half to complete; Universal Beijing isn't currently expected to have its grand opening until sometime in 2021.
There is, however, the possibility that that might be sooner. The mayor of Beijing also recently issued a press release of his own, talking about the progress of transferring a number of administrative functions from downtown to the eastern suburb of Tongzhou, the location of the new Universal resort; several new facilities are going to be built here, including governmental offices, a school, theater, library, museums, hospital, a sports stadium, and a "comprehensive" transportation hub. So far, a total of $11 billion has been invested in the move, and the mayor's office noted that it's chugging along so well, the process is actually going to be sped up – and that certainly includes the construction of Universal Beijing, as well.
Of course, that opening date – whenever it may be – will only represent the first phase of the new location: just like how Universal Orlando Resort originally started with just Universal Studios Florida, Universal Beijing Resort will initially consist of Universal Studios Beijing, Universal CityWalk Beijing, a (probably massive) parking garage, and the first two on-site hotels, one of which will be a Nuo Resort and the other themed to Universal itself (for the first time in the company's history!). It is currently expected that at least one additional park, whether theme or water, will be added in the years after this initial opening, along with several more hotels – at nearly 1,000 acres, the site certainly can support all that, at the very least.
Even before Universal Studios Beijing has its grand debut, however, there will be yet another staggered opening: a dedicated subway station will bow as early as this year, with current estimates placing the completion of its construction by the end of September and the beginning of its service by the end of December. This new station will connect two different metro lines right unto CityWalk itself (not unlike what Universal Studios Japan already does), allowing local citizens and international visitors alike the chance to experience "convenient transportation, leisure, and entertainment options."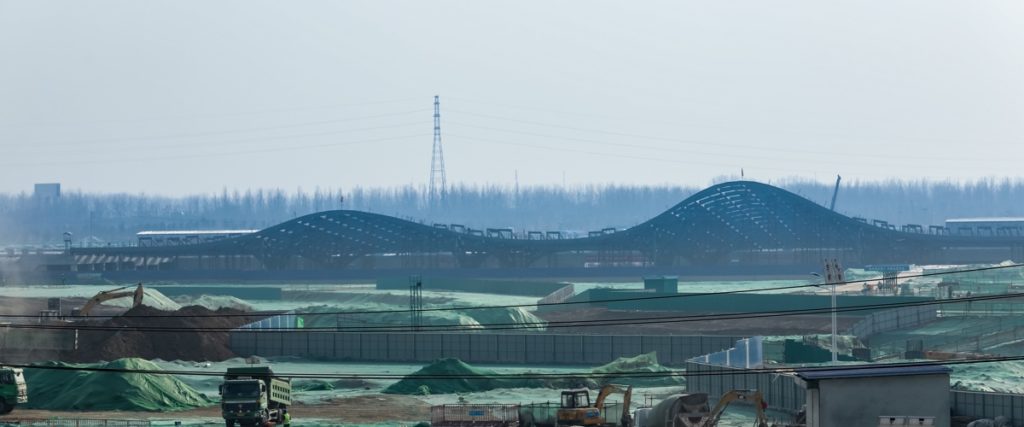 Seeing such progress (finally!) take shape is encouraging, but the real dose of adrenaline, of course, will come once Universal Studios Beijing's contents are revealed. Universal's biggest theme park of all time (it could be as large as 300 acres, which is roughly equivalent to taking Universal Studios Florida, Islands of Adventure, and Volcano Bay and adding them all together) will combine several all-new attractions, some of which will "reflect China's cultural heritage," along with a type of greatest hits of all of the company's pre-existent experiences, which will be gathered from Hollywood, Orlando, Japan, and Singapore; placeholder concept art includes such items as Universal Music Plaza, Jurassic Park, and, of course, The Wizarding World of Harry Potter – Hogsmeade.
When combined with the biggest-ever budget and real estate, the possibilities are pretty much limitless – something which should not only get any red-blooded theming fan excited, generally, but which also sounds suspiciously similar to the situation here in Orlando, with a brand-new massive chunk of land and construction just beginning on it.
–
Excited about Universal's future? Discuss it with 50,000+ other fans and vacation-planners in our OI Community Facebook group.
And be sure to follow Orlando Informer on Facebook, Twitter, and Instagram for the latest news and tips at Universal Orlando, Walt Disney World, and other Orlando experiences.