Updated 06.05, 9:30 am: Universal has published a new blog post providing a few more details and a home video version of the virtual tour. We've incorporated both in the article.
International Pow-Wow 2017, the trade show for the US Travel Association, gets underway today at Washington, DC, and Universal decided to mark the occasion – to all of its travel clientele, at least – by providing a sneak peek of Aventura Hotel yesterday at its booth on the show floor.
Attendees are able to strap on a pair of VR goggles and take a virtual tour of Aventura, which will be Universal Orlando's sixth (but not final) on-site resort when it opens its doors on August 1, 2018. Presenting five different environments for users to look around at – including the expansive lobby, food hall, pool area, one of its hotel rooms, and, the resort's crowning feature (literally and figuratively), the rooftop bar – they will get a rudimentary sense of what it'll be like staying at the prime-value-yet-still-posh venue. The visuals have included our first good look at the minimalist Starbucks located in the lobby and, even more impressively, just how thoroughly the hotel has been designed to capitalize on Krakatau, the 200-foot icon of Volcano Bay, which is located just across the street – the massive swimming pool will be dominated by it, and the rooftop bar will have a commanding view of it.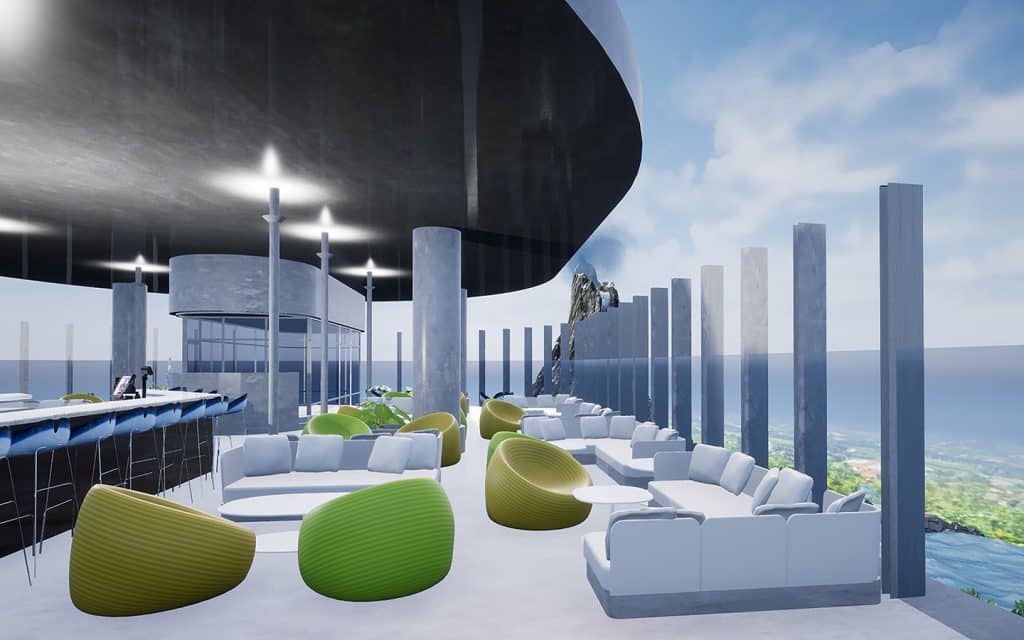 While this is all good and dandy, the real gem here comes in the form of brand-new info that Universal has managed to divulge to visitors while they take the virtual tour, which we have a record of thanks to Attractions Magazine and, more recently, a new update from Universal itself. These nuggets include:
Food hall – there will be four different stations at this fast-casual destination, which we now know will include pizza and sushi(!).
Pool – just like at Hard Rock Hotel, underwater speakers will be installed, in order to allow for Universal's popular dive-in movie experiences.
Rooftop bar – not only can patrons enjoy the views of the close-by Krakatau, they will also have Hogwarts Castle (located way over in Islands of Adventure, of course) to enjoy. That should make for some beautiful sights while sampling the small plates and "custom potions."
Hotel room – and now for the kicker: the rooms will feature wooden (tile) floors, which is a first for standard rooms at Universal Orlando, and each will come with a tablet that will allow guests to control many of its features, such as the lights, television, and air-conditioning. The company is already promising this will be the most technologically-advanced hotel on-property.
Game room – Aventura wouldn't be complete without an arcade, naturally, but this one will come replete with VR experiences.
And just in case you want to take the virtual tour yourself, Universal has provided this nifty video. Try it out with a pair of VR googles or by using Google Cardboard.
The initial response to Aventura's announcement seven months ago was easily polarizing among the themed community, with half welcoming an even-more-inexpensive option than Cabana Bay Beach Resort and the other half criticizing the lack of an overarching theme. As more info like this drops, however, and as we continue to see that Universal isn't comprising either on aesthetics or on technology, it'll be interesting to see how fan and industry feedback continues to evolve.
Do you plan on staying at Aventura Hotel? Let us know either in the comments below or over on our 20,000-member-strong Facebook group.
–
Learn everything there is to know about Aventura at our complete guide.
Universal is promising more announcements this week; be sure to follow Orlando Informer on Facebook, Twitter, and Instagram for all breaking news.