It's no secret that since The Wizarding World of Harry Potter – Hogsmeade hit the drawing board there has been a dramatic change in the landscape of attractions at Universal Orlando and its two theme parks.  The alterations to the ride and show lineup of Universal Studios in particular have been rather massive.
In fact, four of Universal Studios' biggest attractions from the earliest days of the park (which opened way back in 1990) are now completely gone: Jaws, Kongfrontation, Back to the Future, and Earthquake.
With the possible exception of Earthquake, these closure of these beloved attractions resulted in a lot of angry fans and in some cases, even petitions to save the rides.
Of course, King Kong is returning to terrify park guests in Summer 2016, but he has relocated over to Islands of Adventure.  Kong will make his triumphant homecoming, appropriately enough, on a new mini-island of his own, adjacent to Jurassic Park and Toon Lagoon.
I, for one, will be glad to see the big guy back as I loved Kongfrontation and was one of those visitors sad to see it leave.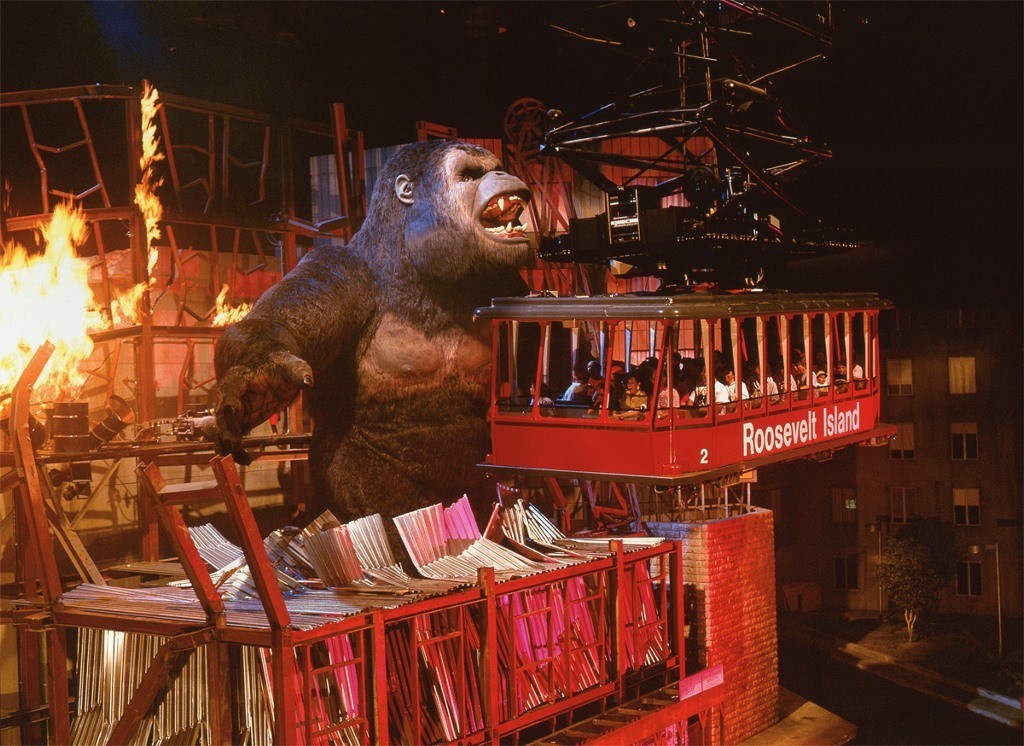 We miss you, you big ape.
That got me thinking as to what other attractions Universal should bring back, which ones they should close, and also the attractions that should never be closed or replaced.
BRING 'EM BACK (ALIVE)
I've already discussed Kong's comeback, which by all accounts sounds awesome.   Here is a pretty current Skull Island: Reign of Kong construction photo that I personally took on my visit last week…  Love the bone and skulls!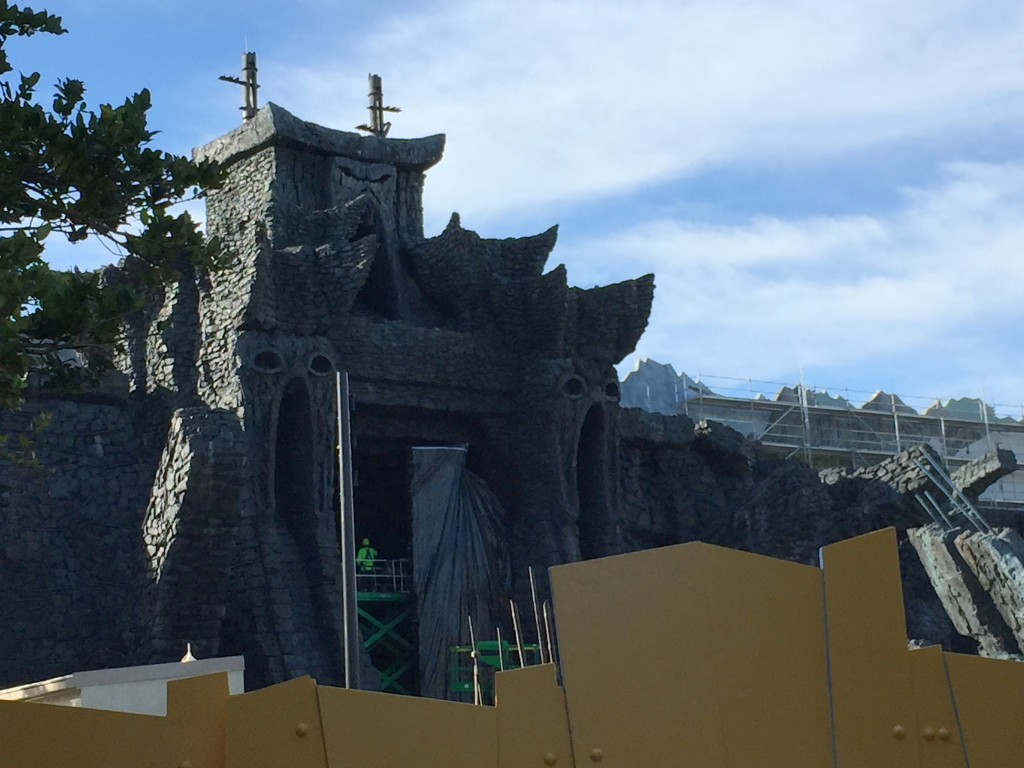 Reign of Kong Construction – December 2015
Jaws is one of my favorite movies, and it sucked to see it and all of the surrounding Amity Island section of Universal Studios go as extinct as Carcharodon carcharias's distant cousin, the Megalodon.  Now granted as a Potterhead, I love being able to visit Diagon Alley, but I miss watching Bruce swim and eat and make baby sharks.
That being said, the Jaws ride itself for me was more about the nostalgia of the film than for actually being, you know, any good.  None of the multiple versions ever worked as well as the fans hoped.
But I believe the great white shark should be brought back to the parks in some form of attraction.  Maybe not another lengthy boat ride that requires such a huge footprint, but possibly a dark ride (which could even be on the scary side) or a Peter Pan-like helicopter tour of Amity Island.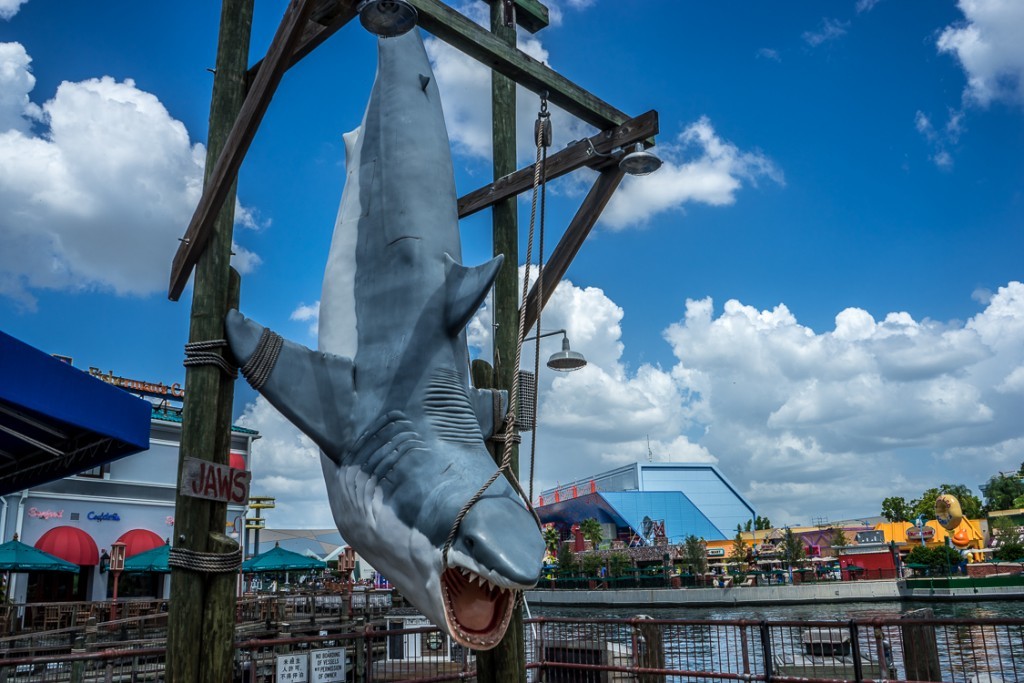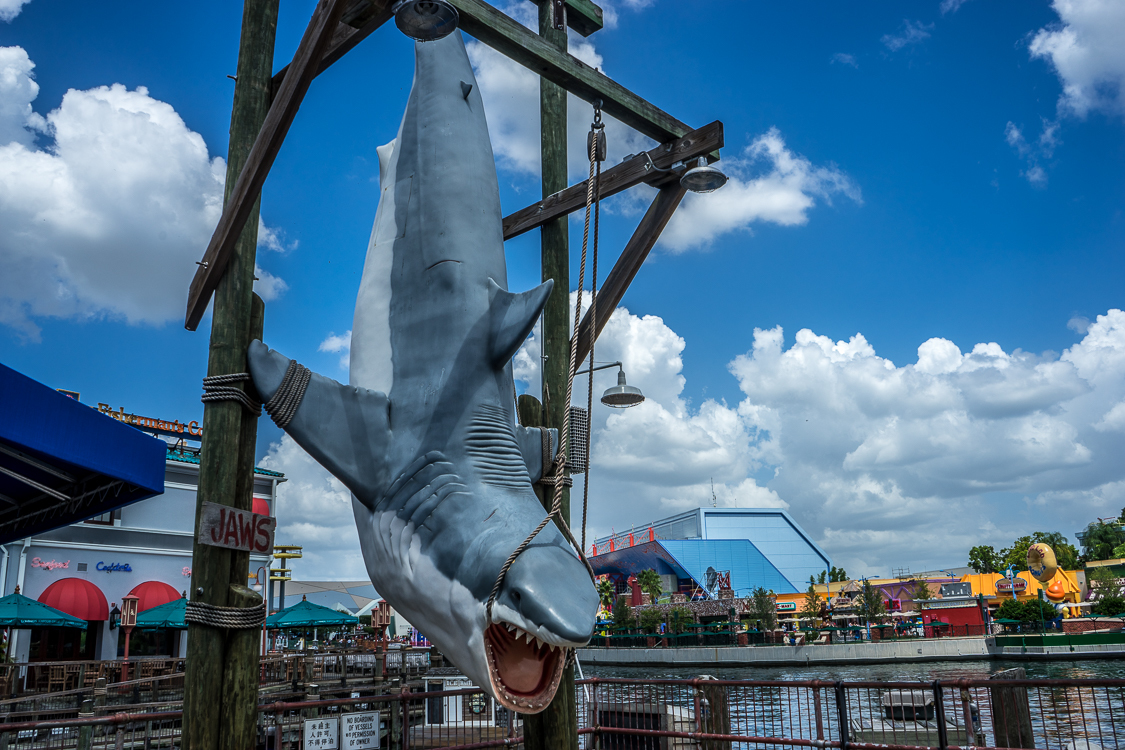 Not enough Bruce!
Another classic that needs to return to the Florida parks is the beloved Back to the Future franchise.  Marty and the Doc (and maybe even Einstein!) could take us back in time on a Harry Potter and the Escape from Gringotts style ride.  Or maybe even a family style rollercoaster.  I don't care; I'll take any excuse to get my flux capacitor going and ride in the DeLorean one more time!
Finally, though the original show (in any of its iterations) was a tad bit lackluster, the Ghostbusters should re-materialize.  Especially with the upcoming reboot of the film, Universal should shout out a firm "I ain't 'fraid of no ghost!" and renew the license to the characters.
With the advances in theme park special effects since Ghostbusters debuted at Universal Studios, it could be an awesome stage show.  Maybe it could even replace the seldom visited Terminator 2 3-D show.
SHUT 'ER DOWN
Now, in a previous article I've already discussed in-depth how and why the Woody Woodpecker KidZone should go the way of Woody's cousin, the Dodo bird.  Originally rumored to be replaced by Nintendo Land, that may now be up in the air.  Either way, it's time for this section to be retired.
Another attraction I think should vanish back into the sands of time is Revenge of the Mummy: The Ride.  I used to like this ride but it has seemingly gotten rougher to the point of being a traffic accident simulator.  Maybe it's just me getting older…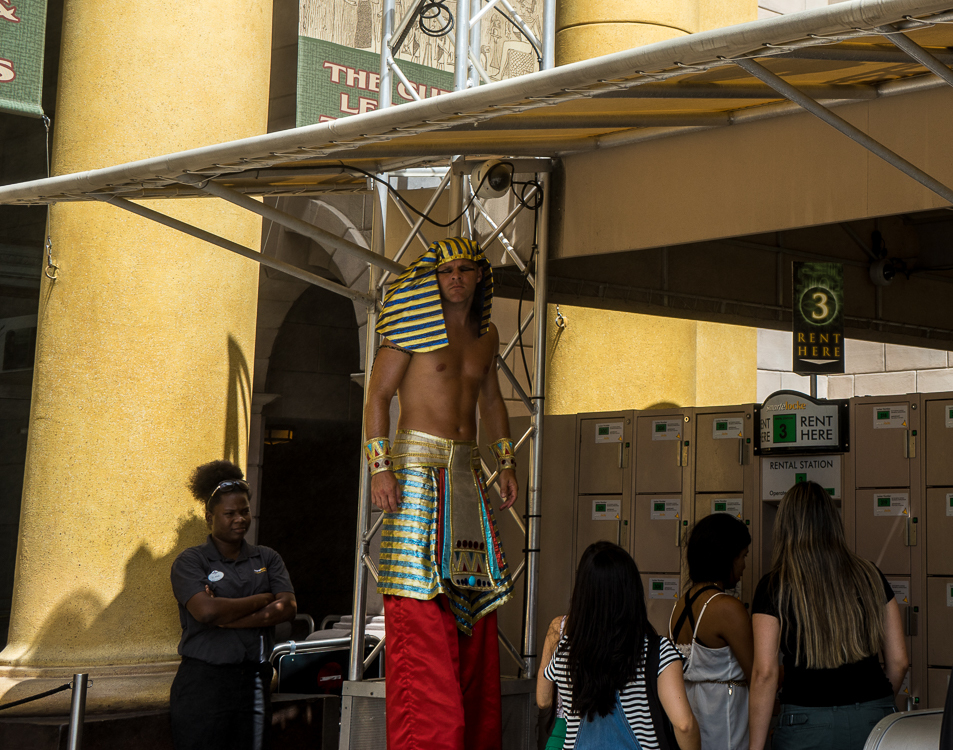 It's a wrap dude. Time to go!
Something has to magically disappear for the next iteration of the Wizarding World (long rumored to be the Ministry of Magic) and it could easily fit in the large show building footprints of either Fear Factor Live or Animal Actors on Location.  A nice Confringo spell will take care of that.
Other rides that I think should be replaced include the outdated duo of Doctor Doom's Fearfall and Dudley Do-Right's Ripsaw Falls.  Doom is low-capacity and a barebones drop tower (or two in this case) doesn't have wide appeal to most visitors.  Dudley has always been an inferior Splash Mountain, and if you want to get wet Popeye and Bluto's Bilge-Rat Barges is a much better (and more fun) bet.  Both of these choices would also offer fairly large replacement attractions.
Finally, I think it's time for what's left of the Lost Continent to get lost again.  After having much of its land and rides usurped and re-purposed by the Wizarding World, all that's left is two rather lame attractions: Poseidon's Fury and the Eighth Voyage of Sinbad.  In my opinion these two shows fall under the category of: "seen it once don't need to see it again."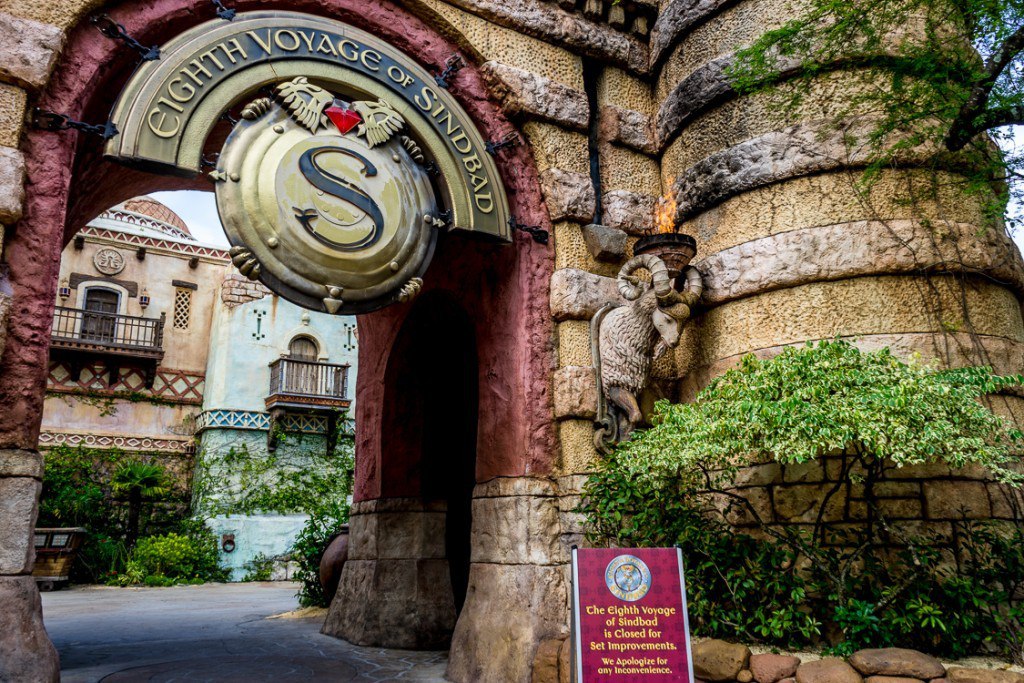 Sorry Sinbad. This should be the last Voyage!
The only thing worth keeping is the Mythos restaurant.
KEEP 'EM OPEN
Which brings us to the Universal Orlando attractions I think should never be closed, either because they are beloved, are too much fun, or just that good
Number one on this list is Transformers: The Ride 3D.   Why?  Because my son said so!  Actually it is a great attraction, fun, exciting, and who wouldn't want to be saved by Bumblebee?  In fact, Transformers goes so far as to actually improve upon the first generation of this type of ride experience…
Which would be the Amazing Adventures of Spider-Man!  Still a classic and with improved 3D video screens, this is hands-down one of the most entertaining and downright funniest attractions around.  "Hey Doc, your aim's worse than your haircut!" gets my laughing every time.  And the upside-down turns right side-up thumbs up from Spidey at the end?  Classic
From the "No Duh" files, the biggest never-close attraction at Universal Orlando is the juggernaut known as the Wizarding World.  Though I now find Harry Potter and the Forbidden Journey to be a tad rough over at Hogsmeade, I find that Harry Potter and the Escape from Gringotts has grown on me.  Criticized (I think undeservedly so) for not being thrilling enough, it allows more of Harry's younger fans to enjoy his adventures.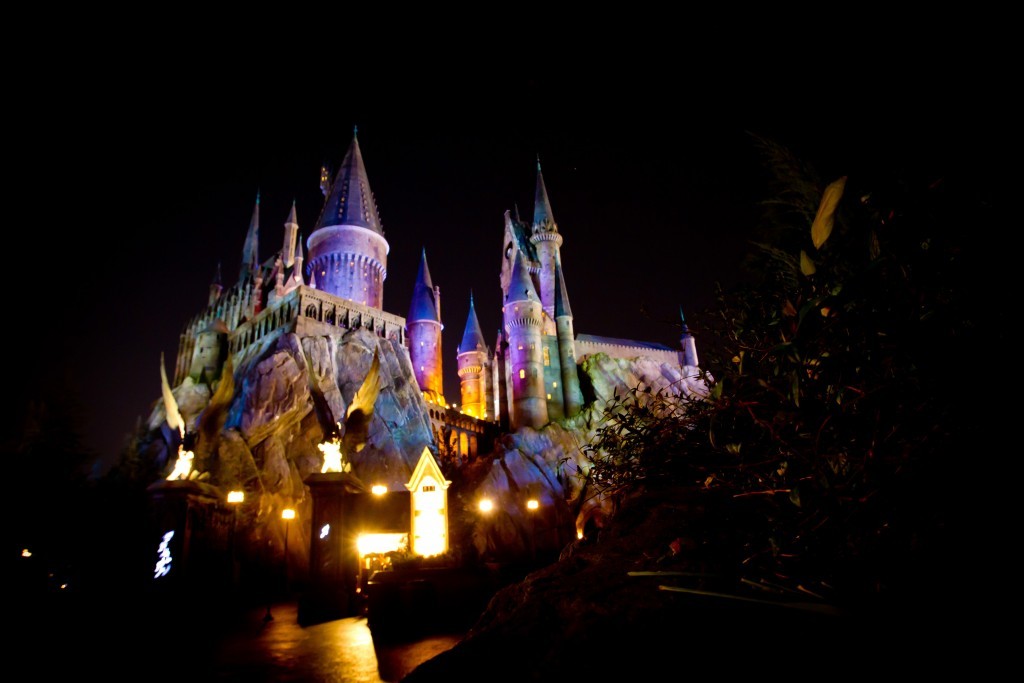 This castle isn't going anywhere!
Other attractions that should never shut their doors: Men in Black: Alien Attack is great fun and hands-down the best theme park shoot 'em up ride out there.  (Sorry Buzz!) Despicable Me: Minion Mayhem is by far the best version of the Funtastic World of Hanna Barbera/Jimmy Neutron's Nicktoon Blast ride experience.
I've already mentioned Popeye, but when it's a 96 degree Central Orlando summer day, there's truly nothing more refreshing than the Bilge-Rat Barges.  You can also get soaked and experience some dino-stalgia on the wonderful Jurassic Park River Adventure.
And finally, it's not the best ride, but I (and I'm sure many of you also) have fond memories of riding E.T. The little alien should definitely postpone going home and keep his namesake ride open for future generations to enjoy.
So that's what I think, what are your opinions about the attractions that were closed, should return, and not ever be closed? Let me know in the comments below.